Instagram:
@2dCale
Twitter:
@2dCale
Website:
www.cale.ca
1. What's your story? Where are you from?
My Story starts in Vancouver Canada where I was born, raised, and began my journey as an artist. I've been drawing and creating my own stories ever since I was a kid, including selling my own comics in elementary school. I am currently a fulltime freelance illustrator and author, working mainly in picture books. Prior to now, I've worked in games, comics, animation, magazines, and nearly everything else in between. I'm always excited for the next challenge, working to constantly grow as an artist and storyteller.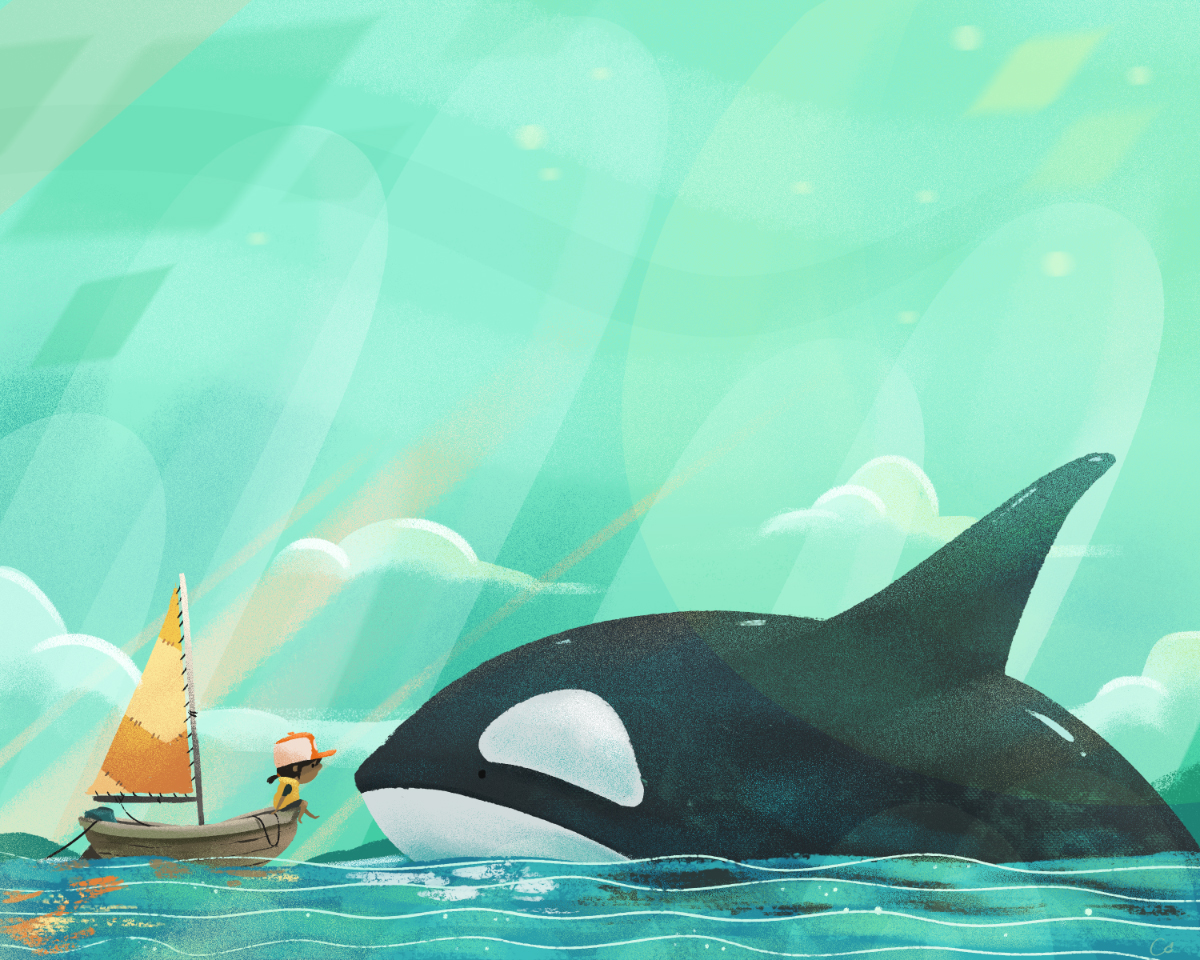 2. Tell us about your aesthetic.
I always find it difficult to describe an aesthetic or style. I suppose I would say I enjoy a graphic look, working with simple shapes and exploring interesting color palettes. I have a big fondness for art and animation in the 50-60's where the modern style of graphic simplicity was explored.
3. What is your favourite medium and why?
For the majority of my artwork, I work digitally in Photoshop. I do love when I get the chance to play with some traditional art, usually using ink, watercolor, or gauche.
4. What is your artistic process like?
I usually try to follow the essential step process when working on full illustrations. The steps include: 1) Sketching out rough thumbnails of layout possibilities. (Usually on paper) 2) Taking 1 or 2 of the chosen thumbnails and roughly sketching them digitally, at proper canvas size. 3) Look up any needed reference. 4) Choosing one layout/composition and doing a clean sketch over the rough one (digitally) 5) Pasting the clean sketch in a low-resolution file and painting color thumbnails over top to get the palette figured out before working on the final art. 6) Working back in full resolution and painting over the clean sketch to get to the final illustration. I try to always ensure I'm happy with the sketch before moving into color, as it's always extra painful to try fixing things in an illustration at the later stages.
5. Who and/or what inspires your work?
Unicorns. But when they can't be found, like most artists, my inspiration comes from all angles. I'm constantly inspired by all the creative folk in my life, including my fantastically talented wife Jessika. I also draw in inspiration from travel, movies/shows/music, and going back to some of my classic art inspirations to remind myself what I love about art/creating.
6. What role does art play in your life? How does it change the way you view the world?
Art has always played a pretty important part in my life. Growing up, drawing was always my comfort zone. While I loved sharing my creations with friends, I also relished the time alone, getting lost in my own drawings. I'm sure it's had a big impact how I see the world around me, observing it with a closer eye, and being inspired from things that most people may walk past.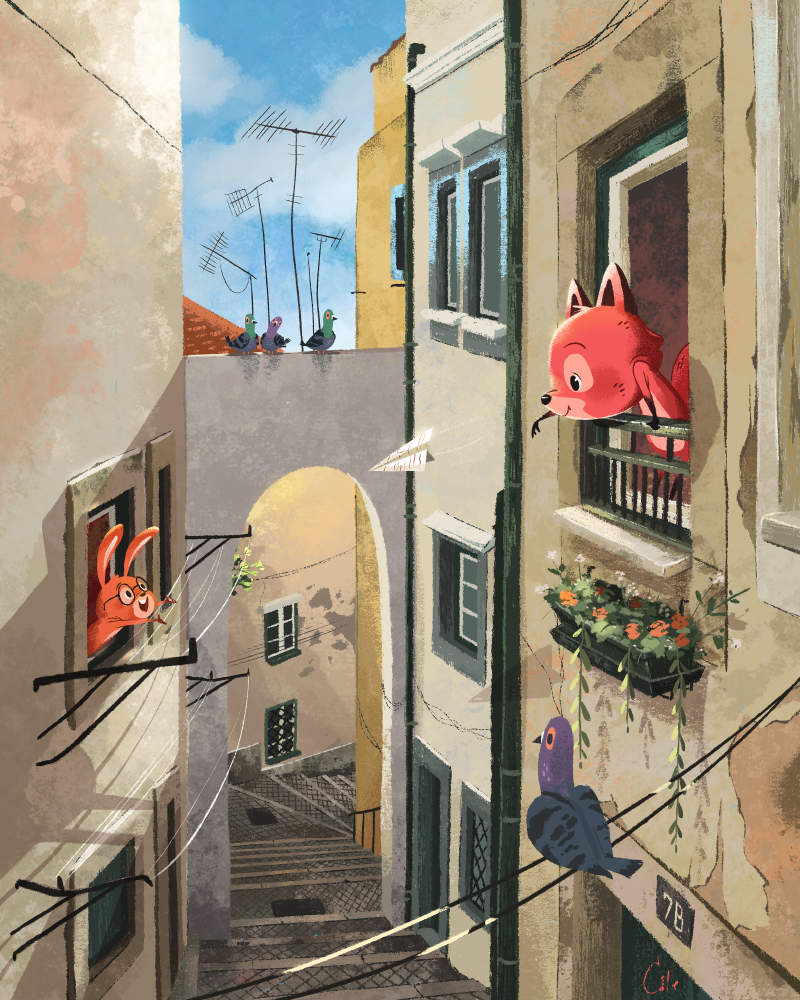 7. Where did you study?
I am self-taught, but had many people help me along the way, as well as books, blogs and uber supportive parents.
8. Where do you see yourself in five years?
I hope to still be writing and illustrating books, as well as running around the world with Jess, my partner in crime.
9. What about in ten?
I'm happy to leave that far in the future a mystery! But hopefully I'll still be creating! That and perhaps I'll also be part robot.
10. What do you hope to achieve with your art?
I hope my art can reach and connect with people, more than simply being a 5 second digested 'like' on social media. I try to create art with some feeling and story behind it, hoping that it shines through and best-case scenario brings out an emotion or a smile.
11. Now, tell us a little more about you as a person: what is your favourite food?
I'm always down for a delicious Thai Curry, or perhaps bowl of yummy Ramen… You can't go wrong with good Sushi, and I mean who doesn't love Pizza!?
12. Favourite book?
Oh jeez. I'm one of those people where 90% of my reading is books related to what I do… One of the books that still has a big impact on me is "The Illusion of Life" by Frank Thomas and Ollie Johnston. Just opening it and reading a couple pages fills me with excitement and inspiration to go draw.
13. Favourite genre of music?
I really couldn't choose 1 genre, mostly because I don't even know how music genres are divided and classified these days… I generally listen to a bit of everything. When I'm writing there is no going wrong with putting on some Yann Tiersen.
14. What are your hobbies?
I love travelling, playing ukulele or guitar, watching movies, spending time with friends over a drink, a healthy dose of videogames, going out for a longboard ride, and being a champion of cribbage.
15. If you weren't an artist, what would you be?
A merman.