Instagram:
@4ur3lia
Website:
www.aureliadurandesign.com
1. What's your story? Where are you from?
My name is Aurélia, I am a French graphic artist. I was born and raised in Paris. From the age of seven to twelve years, I lived with my parents in a French island called Réunion which is located near Madagascar and Mauritius. The culture of this island is influenced by France, Africa, India and China. I was surrounded by lots of colors and flavors. I was living in a place where different community accepts each other. To live there for a couple of years in my childhood has given me another dimension of what it is to be a person with different cultural backgrounds. Today it inspired me in my creation, I want to bring colors to the front and tell stories to inspire people to accept each other.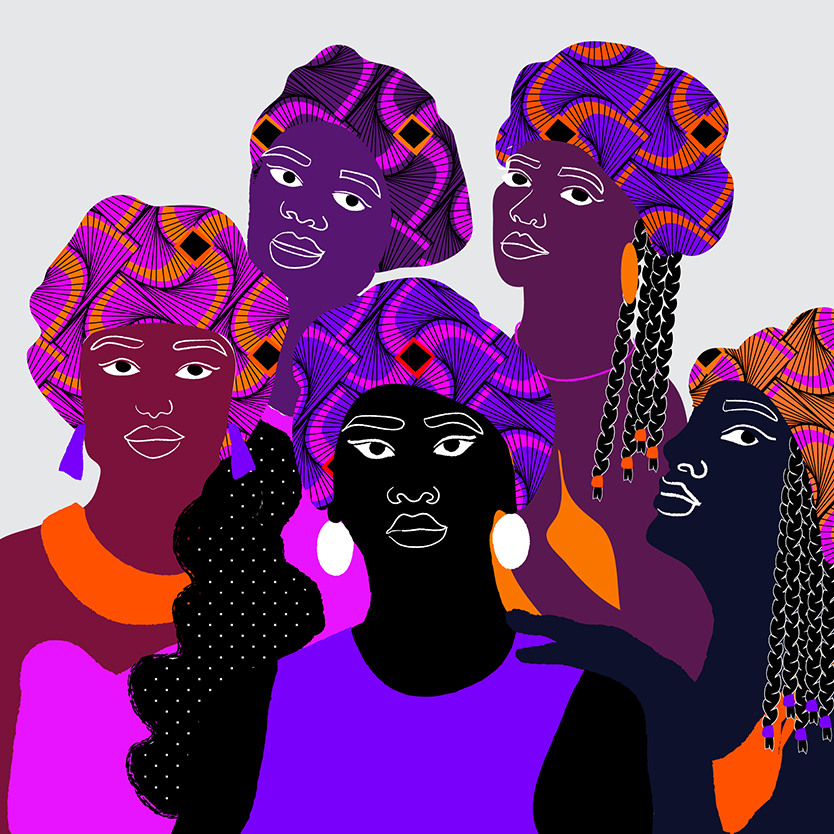 2. Tell us about your aesthetic.
Vibrant colors and elements coming from different cultures are the main elements I use in my visuals. My characters are mainly dark to show how vibrant and attractive they are with colors and patterns. My universe reflects where I come from, and I want to celebrate my origins through my illustrations.
3. What is your favourite medium and why?
I work mainly with my computer and graphics tablet because I like the render of the colors.
4. What is your artistic process like?
First I sit down and close my eyes to think about the project I want to do. I take a sketchbook and I start to draw my ideas. I can take 10 min to two days, it depends on my mood and the size of the project. This phase is very abstract because it's linked to my mind, through the years I exercised my visual memory, I observed a lot the world surrounding me by sketching it every day. And at a certain point, I started to train myself to remember what I saw without looking the model. It is how I have been able to draw less and select what elements ( expressions, shapes et construction) matters in a picture. With a lot of practice it's possible. After I draw my sketches I show it to one person I know and who know my process so I can have a feedback on my idea. I valid it and start to render the illustration with my computer.
5. Who and/or what inspires your work?
I am inspired by different artistic fields: Contemporary art : Andy Warhol, Roy Liechtenstein, Jeff Koons, Murakami, Yayoi Kusama, Xavier Veilhan... Product design : Phillip Stark, Bouroullec brothers, Matali Crasset, Doshi Leiven, Patricia Urquiolla. Architecture: Jean Nouvel, Shigeru Ban, Zaha Hadid... Photography: Platon, Richard Avedon, Henri Cartier Bresson, ... Movies: Lars Von Trier, Federico Fellini, Xavier Dolan... I received a diverse education and it was important to look at the other artists and analyze their work to build a critical artistic thinking, and I am influenced by their work in term of colors, shape, techniques, and stories.
6. What role does art play in your life? How does it change the way you view the world?
Art is every day in my life, I love seeing new artist story and read what they do and why. I like seeing someone else interpretation of the world through visuals and words, it makes me travel.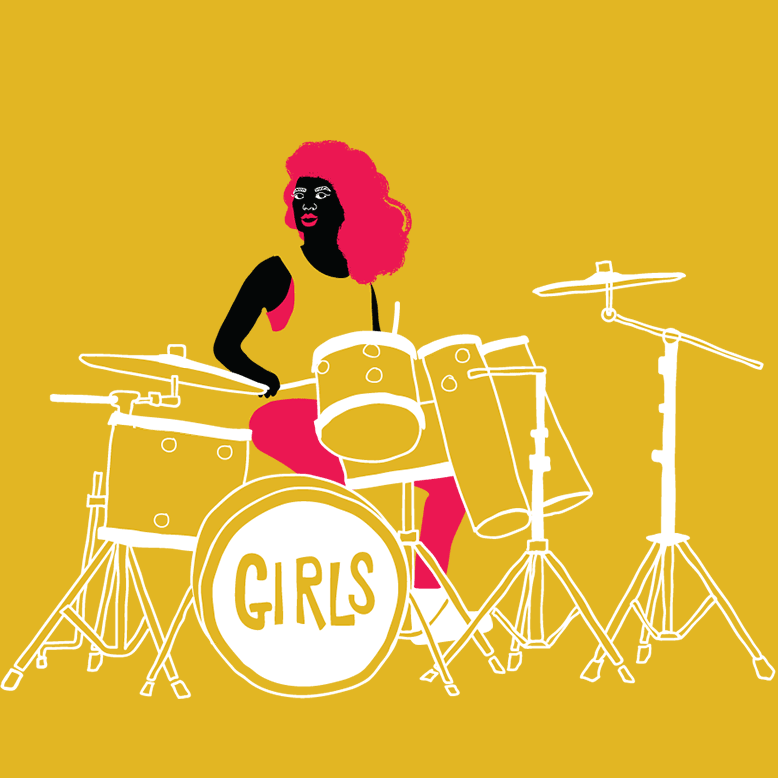 7. Where did you study?
I studied in many places because I wanted to challenge my art process, I feel like being in one school for 6 years is too long, because it's the same teacher who judges the work and as art is subjective it's nice to get advice from different people to develop and push the limits. I went to Prep'art Paris, ENSA Dijon, ESAD Orléans, and ACAD Copenhagen. I first prepared myself for a year in Paris to pass different contest of Art school in France. It was an intense year. I enter successfully in Dijon and did one year, then I went to Orléans and stayed there from the second year to the fifth year, in between I did a year of internships and a year in Copenhagen as an exchange student. My journey is not what people usually do, I just prepared to move because it fits my personality. Traveling made me braver and learn a new language so I am glad I pushed myself.
8. Where do you see yourself in five years?
I want to travel for my work and collaborate with people of different cultures. I want to bring more colors and stories to my work and I think traveling will help me to make that happen.
9. What about in ten?
In ten years, I will be established and do more crazy projects.
10. What do you hope to achieve with your art?
I want to deliver a colorful and positive message and create awareness about being a woman of color and mixed race.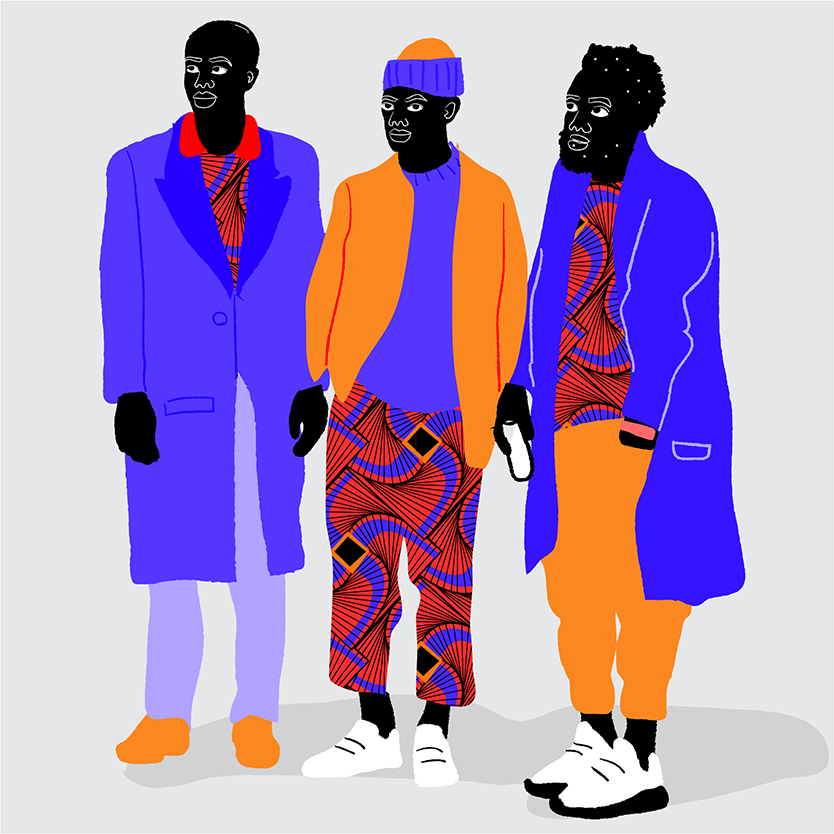 11. Now, tell us a little more about you as a person: what is your favorite food?
I love Ivorian food, French food, Italian food, Indian food, Creole food, Chinese food, and Japanese food. I love rice a lot with sauce.
12. Favorite book?
Sophie's world is a 1991 novel by Norwegian writer Jostein Gaarder. It's an introduction to philosophical thinking and the history of philosophy. I like this book because I like to understand why we are human and why we do what we do. It's an inspiration for my work.
13. Favorite genre of music?
I listen to: Danish music, French urban pop music, Australian folk music, Swedish RnB and pop music and US soul, RnB, folk, pop music.
14. What are your hobbies?
It's a hard question... What I do passionate me and takes so much time in my days that I don't have time for other hobbies.
15. If you weren't an artist, what would you be?
I would be an art history teacher.