Instagram:
@bflouw
Twitter:
@ben_flouw
Facebook:
www.facebook.com/BenjaminFlouwIllustrations
Website:
www.benjaminflouw.com
1. What's your story? Where are you from?
Hey, I'm Benjamin. I'm a freelance illustrator from Marseille, France. In the past, I've worked for animation as a color artist and background designer in London and Paris. I now dedicate myself to illustrate mainly animals, plants, landscape and all things outdoor for brands, magazines, and books.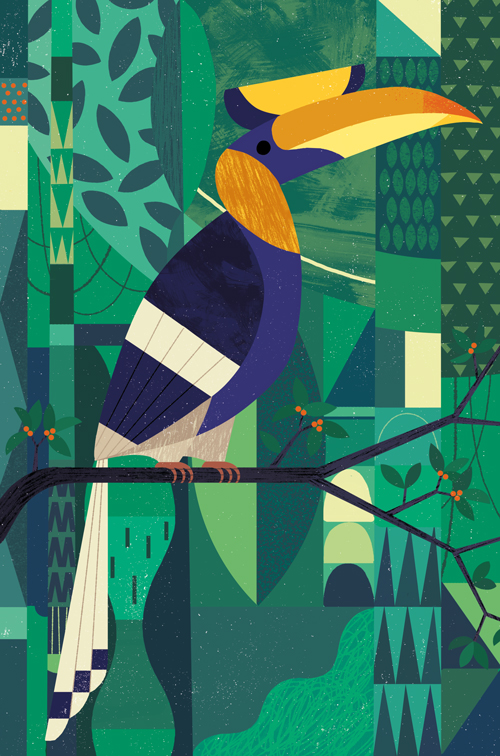 2. Tell us about your aesthetic.
Bold shapes, the simpler the better, counterbalanced with handmade textures and tiny details. And most of the times vibrant colors and dramatic lighting.
3. What is your favourite medium and why?
I'd say computer and Photoshop as it's my main tool for work, obviously because everything is really easy to edit. I found a lot of pleasure drawings with colored pencils lately as well.
4. What is your artistic process like?
Nothing too fancy: I gather some documentation, sketch some ideas, make a finer sketch, sometimes a few quick color compositions and then dive into the final illustration. I use a lot of hand painted textures that I add at the end to create detail.
5. Who and/or what inspires your work?
Style wise, I'd say it's a blend of a lot of the things I used to like in the past years like all the mid-century aesthetic, the 90's cartoon backgrounds, and all the geometrical pieces done in modern art and street art. I aspire to recreate the balance between perfection and imperfection you'll find in nature. The fact that a flower can have 5 beautifully shaped petals, perfectly arranged and spaced but each of those petals would feel a tiny bit different from the other which makes the all flower beautiful never cease to amaze me.
6. What role does art play in your life? How does it change the way you view the world?
Art is all I think of from the moment I wake up to when I go back to bed, it's always in the back of my mind whenever I'm not drawing. I'm pretty confident art (and by this I mean visual art but also literature, cinema...) can change the way people see the world. I'd like my art to engage people to go outside and see how wonderful the world is and how important it is to protect our environment.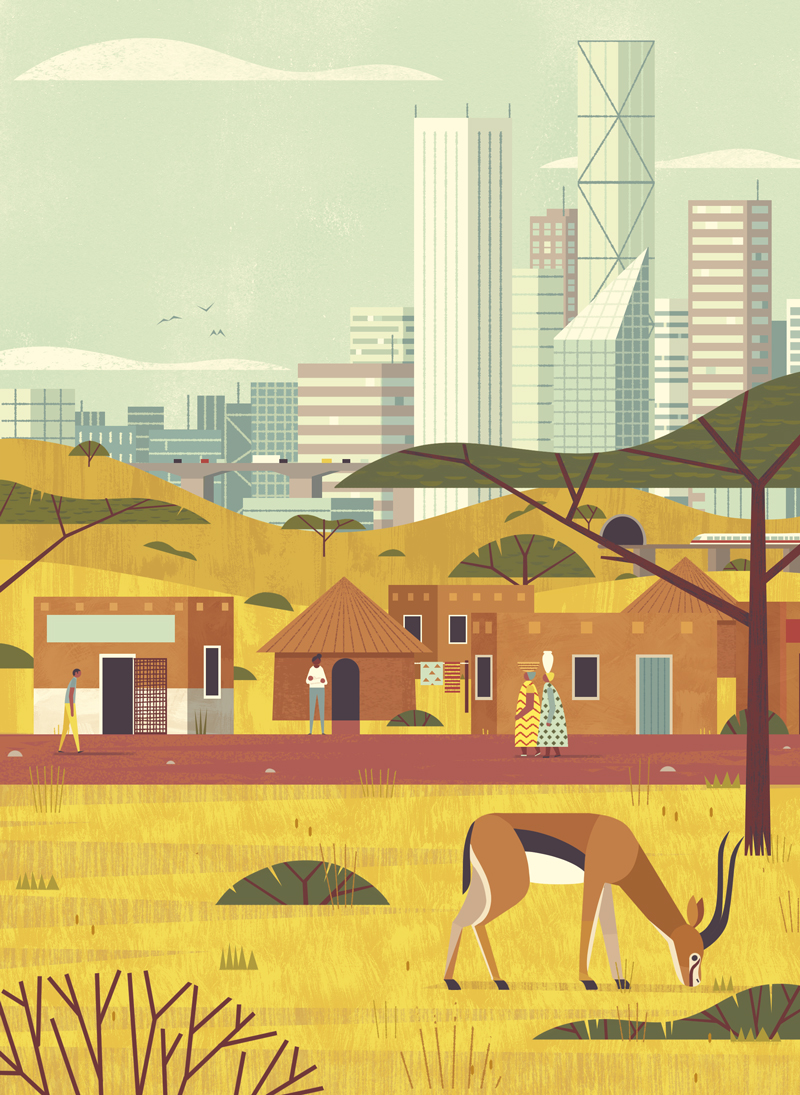 7. Where did you study?
In the south of France, in Arles. I studied in a CG animation school called Supinfocom. I didn't pursue doing animation and CG but it learned me a lot about art direction, aesthetics and project management.
8. Where do you see yourself in five years?
Right where I am now, in Marseille. Still doing outdoor illustration and maybe enjoying more of the outdoors than I do now.
9. What about in ten?
Haha, the same thing I guess. Or maybe do more art direction, or start my own business, who knows ?
10. What do you hope to achieve with your art?
As I said earlier, I think that if we show and explain to people how complex and beautiful and miraculous nature is they will be inclined to care about it more. I know all the books I had about animals and nature as a kid, and me being a huge animal documentaries nerd really contributed to my "environmental awareness" and I want to recreate that on other people.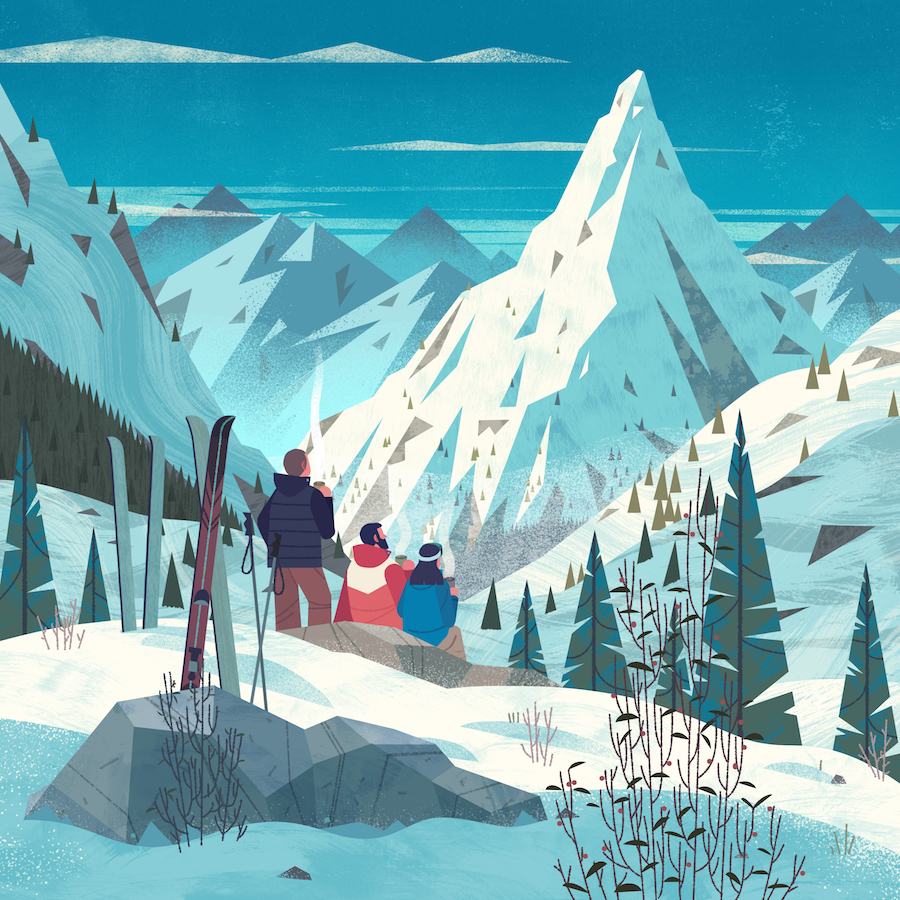 11. Now, tell us a little more about you as a person: what is your favourite food?
Those questions are the worse, it's like asking to choose which member of your family you prefer! I love food, all the food! Let's just say that I really enjoy eating burritos.
12. Favourite book?
Lately, I really enjoyed The Hidden Life of Trees by Peter Wohlleben. The author is a forest ranger, and he explains a lot of fascinating things about tree how they communicate, how they live. It's fascinating!
13. Favourite genre of music?
Depending on the mood: Jazz, folk or post-hardcore.
14. What are your hobbies?
I love hiking and diving (those hobbies drove me to live in Marseille) but I really found find it hard to find time for hobbies lately.
15. If you weren't an artist, what would you be?
Something where I get to be outside more like a park ranger or a landscaper.