Instagram:
@chuwenjie
Twitter:
@chuwenjie
Tumblr:
chuwenjie.tumblr.com
1. What's your story? Where are you from?
Hi, my name is Kat! My parents were raised in Taiwan, and moved to the US and started a family. I was born in Fairfax, Virginia, a city that's about half an hour away from Washington D.C. I grew up in an area that is pretty typical of the DMV/East Coast, in a community with lots of other Asian-American immigrants. I've always loved drawing since a very young age and in high school my whole life changed when I discovered it was possible to get paid to draw. Even though I ended up going to a university where I was studying psychology, I was always dead set on wanting to work in the animation industry. Things were difficult for a long time because I was afraid I'd never be able to break in as an industry outsider, but opportunities finally started opening up for me last year and it was like the stormclouds broke to let in the sun. Thanks to social media and slowly building up a following, I started getting noticed by professionals working in the industry and ended up as a production intern at Cartoon Network over the summer. And now, I'm starting a new job as a Vis Dev artist at Dreamworks TV this Spring! I am so excited for what the future holds for me and grateful for all of the kind people that have helped me along my journey.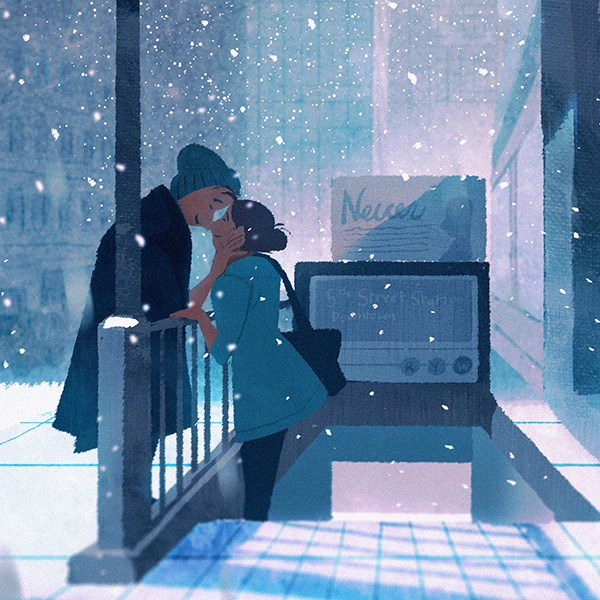 2. Tell us about your aesthetic.
I love color and light and graphic shapes. When color and light are used perfectly, it makes me want to live inside the little world that the artist has created.
3. What is your favourite medium and why?
Definitely digital. I love how direct and easy it is to pick the exact colors that you want in drawing programs, and how easy it is to draw straight lines and fill your entire canvas with colors in 15 seconds. I have so much respect for artists that work mainly in traditional media, because it really requires so many extra sets of skills like knowing how to mix pigment to get the colors you want and knowing how to properly document your work to share it digitally.
4. What is your artistic process like?
My artistic process is very fast and touch-and-go. I like to make 5 or 6 sketches at a time and kind of work on all of them quickly and simultaneously, switching between different drawings as I get bored. If one of the sketches turns out to be really good and gets the feeling that I want across, I'll focus on bringing that one to completion. In terms of my technical process, it's usually like this: rough sketch -> rough color shapes -> deciding the direction of the light and overall color -> refining -> final color adjustments and extra bits of magic like blur or noise.
5. Who and/or what inspires your work?
Music and emotions are my number one inspiration in my personal work. For me, drawing personal illustrations is an outlet for my feelings and memories. My hope is always that when someone else looks at it, I can share with them a little piece of how I was feeling as I made it. I love drawing places inspired by places I've been to while visiting family in Taipei and other major metropolitan cities. I also like to draw moments of solitude and intimacy and moments that express the way that I feel about people that I love. Oh and I also like to draw badass and/or angry women.
6. What role does art play in your life? How does it change the way you view the world?
I'm grateful for how my interest in art has helped me notice the beauty in little moments and places that might pass me by otherwise. Little moments of rim lighting on the edge of a car and subsurface scattering of light through my fingertips always pique my interest and inspire me to want to incorporate it into my drawings.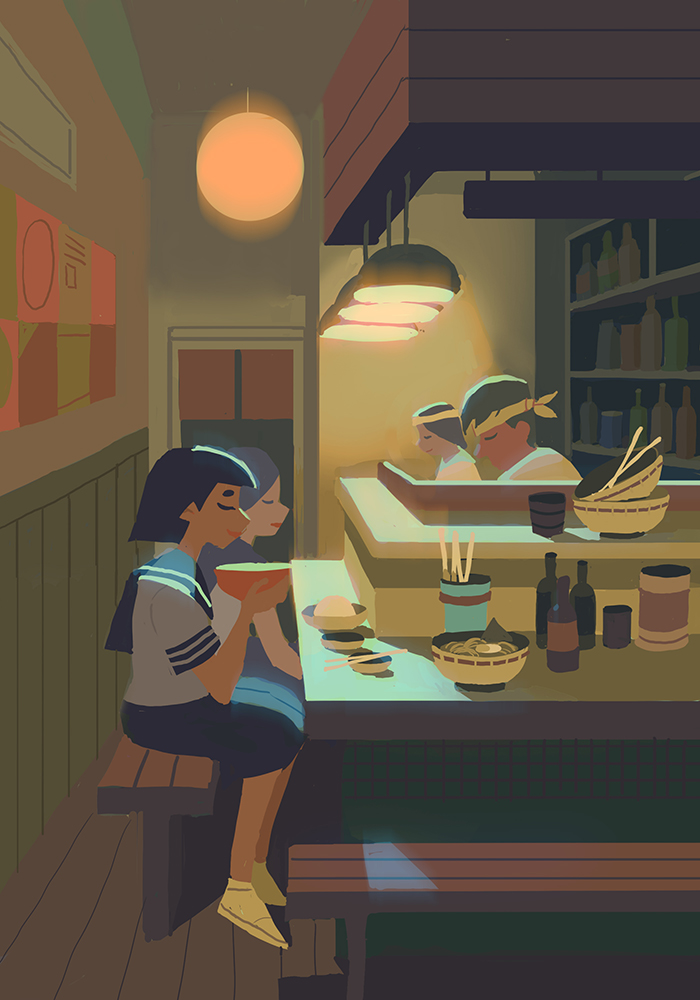 7. Where did you study?
I'm currently an undergraduate at Carnegie Mellon University in Pittsburgh, and I'm graduating in two weeks from the BHA program with a concentration in psychology.
8. Where do you see yourself in five years?
Living in an apartment in LA with a studio, my significant other, a cat or two, and a lot of plants. Hopefully also working a job that I love at an animation studio! I have some personal projects that I've been working on too, like GIRL GANG that I want to be able to publish and share within the next 5 years. I want to keep growing and developing as an artist and make art that enriches people's lives.
9. What about in ten?
Settled down, full of love and appreciation for my cats and my significant other, but maybe also with more free time to travel and draw the world.
10. What do you hope to achieve with your art?
I want my art to achieve two things: to inspire emotion in the viewer, and to tell a story that only I could tell. The reason I love animation and games is because of their accessibility and how easily they can inspire emotion and empathy in people, especially during the formative years of their lives. If I could make something that could leave a lasting impact on a person's life in the same way growing up with Ghibli films and Pokemon games left a lasting impact on me, I think I'd be satisfied with the influence of my work.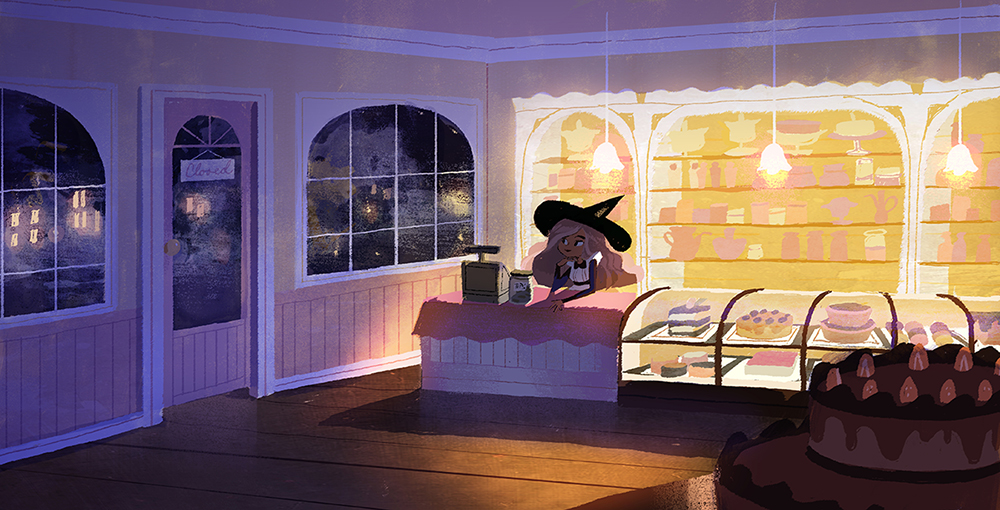 11. Now, tell us a little more about you as a person: what is your favourite food?
Mmm…there is nothing better than my parents' Chinese double-cooked pork cooked in special sauce and served with a side of stir-fried cabbage and rice. Except for maybe pork belly and hot pot. Or pork belly, Korean barbeque style. I guess I really like pork?!
12. Favourite book?
Life of Pi by Yann Martel!
13. Favourite genre of music?
In high school I mostly listened to emo and post-hardcore bands with lots of screaming and angst and I think I permanently destroyed my hearing from those years. Nowadays, I listen to lots of electronic music, J-indie, chiptune, Top 40 hits, K-pop, lo-fi jazz remixes on Youtube, Nintendo soundtracks, Hamilton soundtrack, etc. I'll listen to anything as long as it makes me feel something. My favorite J-indie artist is Galileo Galilei and my favorite electronic artists are Porter Robinson and Purity Ring. I listen to Bright Eyes, but very sparingly because their songs make me cry.
14. What are your hobbies?
Video games! I've logged like, 500 hours in Civ 5 since I started playing in 2016. I used to play a lot of League of Legends and Guild Wars 2 with my friends, but I decided to cut that out of my life to have more time to focus on making work (also because competitive gameplay was the worst and makes me want to punch a hole in my wall). My favorites are quiet little games like Animal Crossing and Stardew Valley that let you escape the stress of being alive and exist in a peaceful world for a few hours. I also like to play the piano and watch really trashy videos on Youtube.
15. If you weren't an artist, what would you be?
It's really hard for me to imagine a world where I wouldn't be making art in some shape or form, but I imagine if I had to choose a different profession for my day job I would probably want to be a therapist. At some point, that was actually my fallback plan if I couldn't make the whole art thing work out for me. I think I'm a good listener! And I do have a degree in psychology so I think that helps too. And the idea of playing a part in people's lives as a force of greater empathy really appeals to me as well, which I think is partly why I'm so interested in the role that animation and visual storytelling can play in people's lives.