Instagram: @ciara.isabel.ceramics
1. What's your story? Where are you from?
Hi! My name is Ciara Neufeldt and I make ceramics under my brand Ciara Isabel Ceramics.
I was born in Germany but grew up in a village in the south of Ireland. I moved to Glasgow, Scotland for a couple of years in 2012, then studied in Dundee for 4 years before moving back to Glasgow in 2018.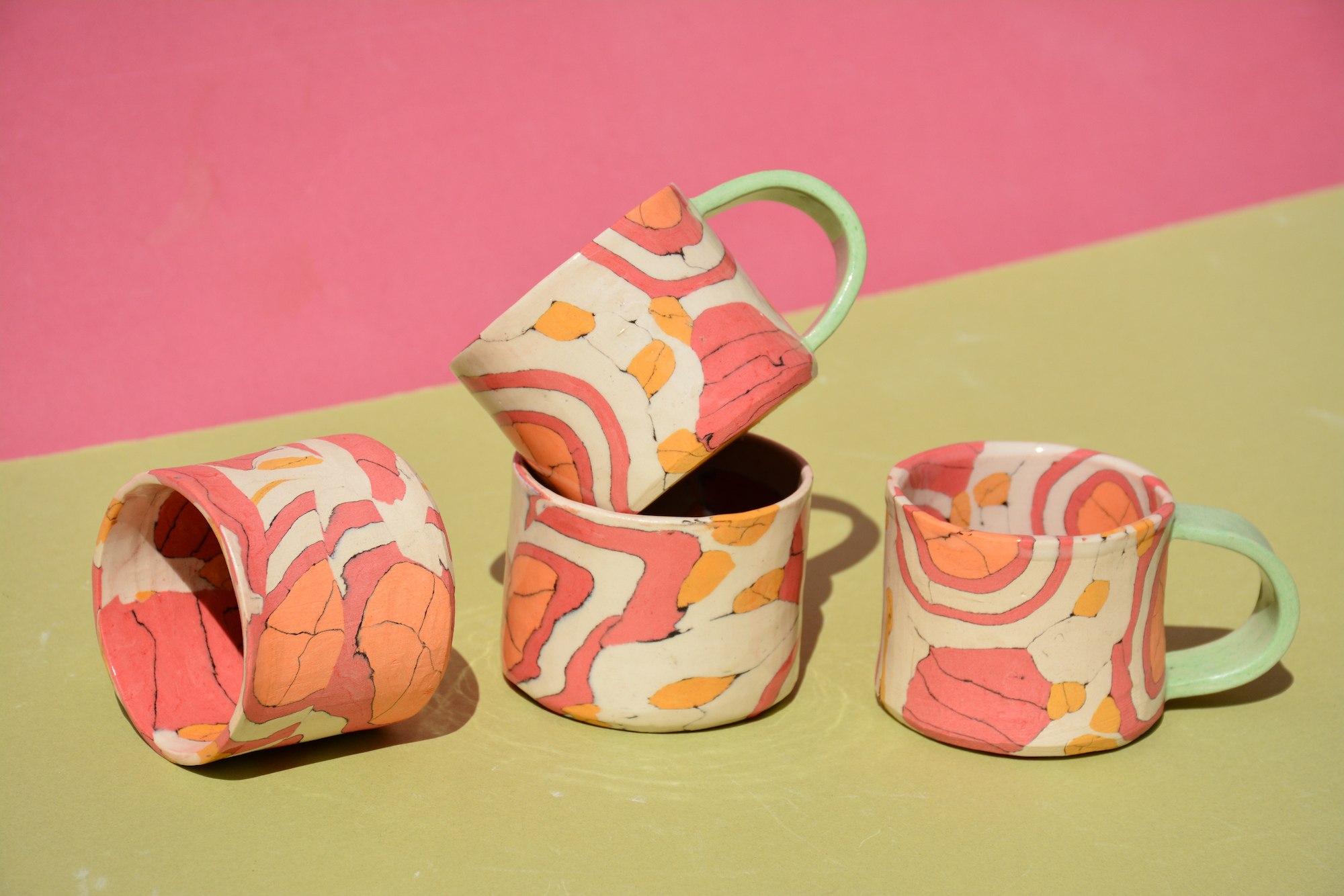 2. Tell us about your aesthetic.
My aesthetic could probably be described as fun, cheerful and whimsical. I love bright colours, bold patterns and a good dollop of gold.
3. What is your favourite medium and why?
Ceramics! I fell in love with clay when I was studying in college and that's never changed.
4. What is your artistic process like?
My artistic process is pretty loose – I'll start by throwing some colours and patterns together and not thinking too much about it. Once it's fired, I'll have a look and see what I think worked/didn't work and then implement changes for the next time. I'm not much of a planner, it's definitely a case of making first with continual editing and development afterwards.
5. Who and/or what inspires your work?
I'm inspired by a lot of different things, from sweet wrappers to photos I've taken or by revisiting older designs. I also follow a lot of wonderful illustrators, textile artists, ceramicists and painters online and I'll often save photos where I like the colour palette or use of shape.
The Pattern and Decoration Movement of 1970's America is something I've been researching lately, and I'm finding it really interesting in relation to my recent work of bigger vessels. I've also loved the work of Betty Woodman since college, she's just incredible and hugely inspiring to me.
6. What role does art play in your life? How does it change the way you view the world?
Art, and arguably more so craft, play a huge role in my life. I'm so grateful to be able to create the work that I want to, without restrictions and have the support from everyone for it to be my job.
It makes me realise there are so many wonderful people who appreciate craft and the handmade; they understand that an object can be more than just its function. Handmade objects act as a direct connection to the maker and working as a ceramicist has shown me there is a huge amount of support for that in a world of mass-produced.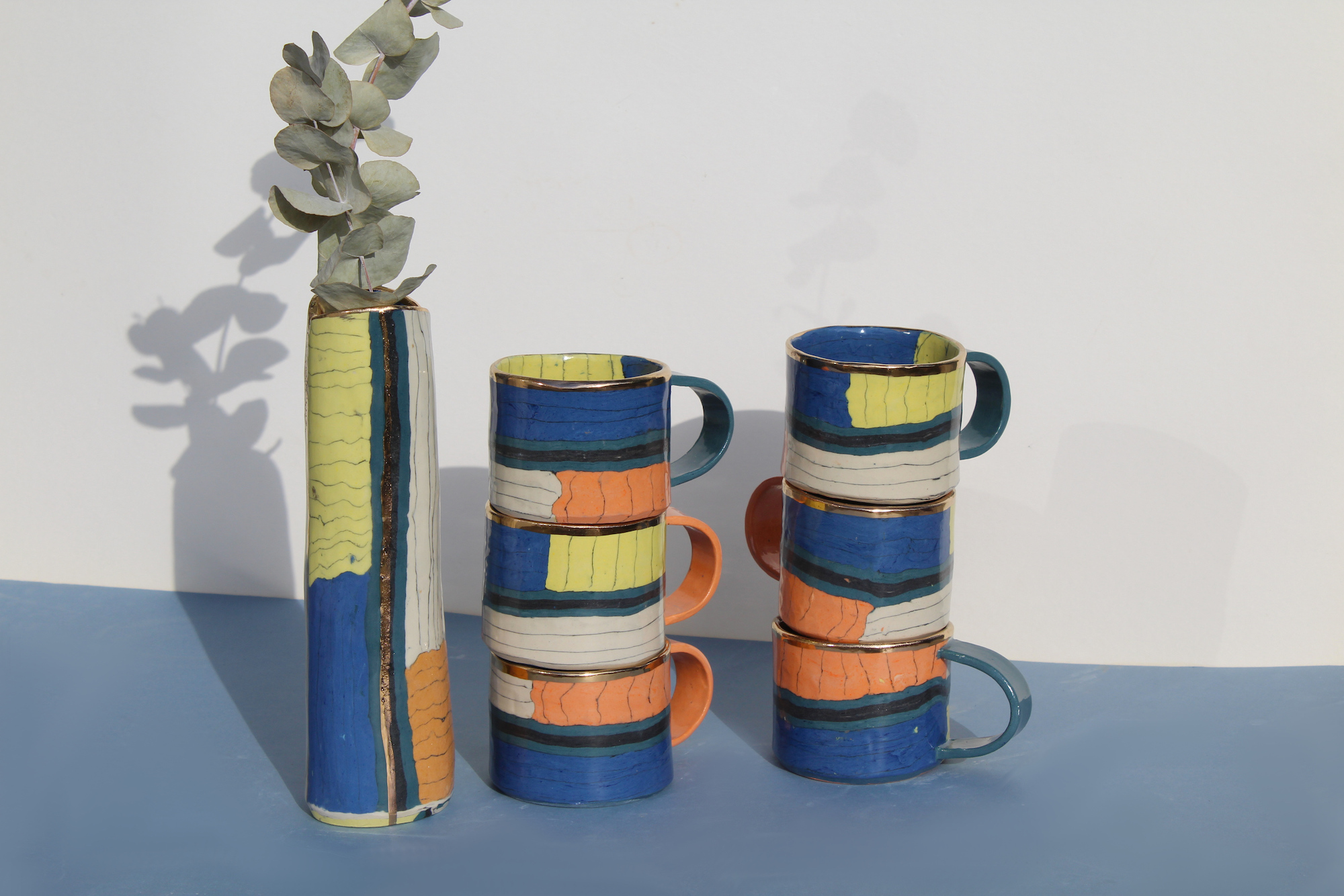 7. Where did you study?
I studied at Duncan of Jordanstones College of Art and Design in Dundee. It's one of the few colleges left in Scotland that has an amazing ceramic department, so I feel super lucky to have been there.
I also apprenticed in Cromarty Pottery in the Scottish Highlands for 2 summers and then following graduation I interned at Glasgow Ceramics Studio for 10 months, where I'm now based as a full-time member.
8. Where do you see yourself in five years?
I'd actually like to go back to school and study an MA in Ceramics, I think it would be interesting to push myself and my practice further.
9. What about in ten?
Still doing what I'm doing (but maybe in a warmer climate surrounded by a few cats!)
10. What do you hope to achieve with your art?
I just want my work to bring joy into people's lives. I think craft and art connects with people both visually and physically, thereby giving it the opportunity to brighten up a moment in their day. So, I hope that someone's morning coffee is made a bit more special and cheerier when they use one of my mugs!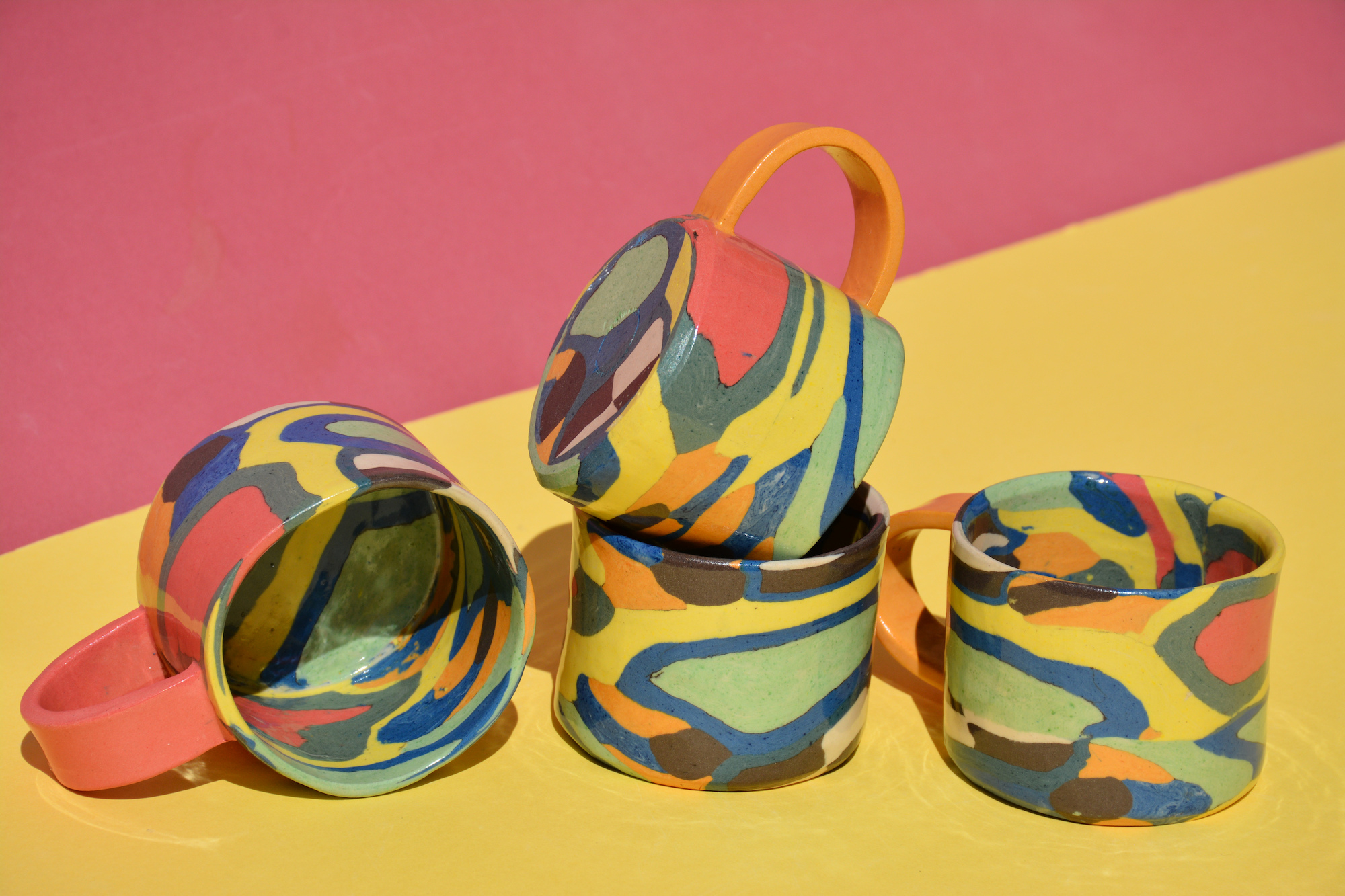 11. Now, tell us a little more about you as a person: what is your favourite food?
A massive Christmas dinner! With a big glass of red wine!
12. Favourite book?
Any novel by Chimamanda Ngozi Adichie, I love her writing.
13. Favourite genre of music?
I listen to music everyday but wouldn't say there's a specific genre that's my favourite, it really depends on my mood. Some early 00's throwbacks are always good for working though!
14. What are your hobbies?
I started learning how to roller-skate during lockdown so that's been a bit of fun. I haphazardly do some knitting too! But actually, I just really enjoy hanging out with friends and watching some trashy TV.
15. If you weren't an artist, what would you be?
Working in a petting zoo for sure.