Instagram:
@elina_ce
Dribble:
www.dribbble.com/elinace
Behance:
www.behance.net/elinace
Website:
www.ceciliagiglio.com
1. What's your story? Where are you from?
My name is Elina and Cecilia and I was born in Mendoza a small city in the western part of Argentina 31 years ago. I'm a designer. I grew up surrounded by mountains, sun and the Zonda wind, I have 2 pet cats: Ventura and Gordita, they accompany me in all my adventures. I've been very fortunate to work as a full-time designer from the very beginning of my career (almost 10 years) that's why I've gone through many areas of design until I fell in love with digital design. Currently, I'm working as part of the Brand Design team at Eventbrite and I draw in my spare time. Me llamo Elina y Cecilia nací de Mendoza una ciudad en el oeste de Argentina hace 31 años. Soy diseñadora. Crecí rodeada de montañas, de sol y viento zona, tengo dos gatas (Ventura y Gordita) las cuales me acompañan en muchas aventuras. He tenido la suerte de trabajar como diseñadora full time hace mucho tiempo (ya casi 10 años) por eso he pasado por varias ramas del diseño hasta que me enamore de lo digital. Actualmente trabajo en el Brand Studio de Eventbrite y dibujo en mi tiempo libre.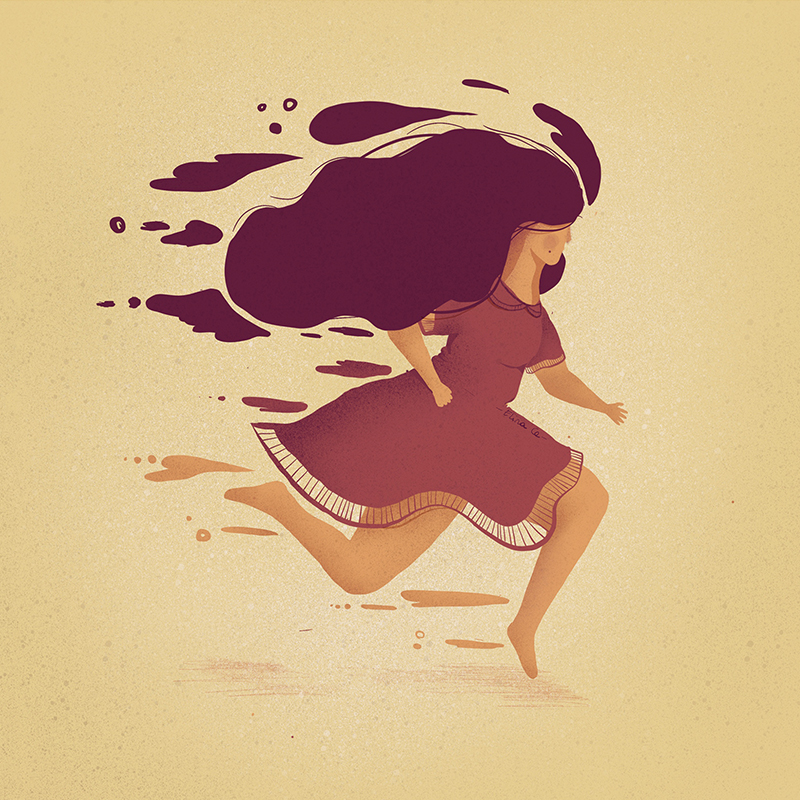 2. Tell us about your aesthetic.
I believe that I'm still looking for my personal style, I've gone through many creative stages with different methods and that process has made everything quite eclectic. When it comes time to create I like to feel free and tell stories through my illustrations this is why sometimes I use text as an anchor for my illustrations. My work is usually created based on a warm contrasting color palette to generate different feelings and sensations. Creo que aún estoy en la búsqueda de mi estilo personal, he pasado por muchas etapas creativas con diferentes métodos y eso ha hecho que sea todo bastante ecléctico. A la hora de crear me gusta sentirme libre y contar historias a través de mis ilustraciones por eso a veces utilizo el texto como soporte para las ideas que quiero transmitir. Generalmente trabajo con una paleta de colores cálidos y contratantes para generar diferentes sensaciones.
3. What is your favourite medium and why?
I've always illustrated using traditional methods, one of my biggest love is watercolor, but some time ago I jumped into digital techniques. The immediacy and ease of use of digital media has helped me a lot to continue illustration given that I don't have many hours of the day to spend on my personal projects. Desde siempre he ilustrado con métodos tradicionales uno de mis grandes amores es la acuarela, pero desde hace un tiempo me metí de lleno al área digital, la inmediatez y facilidad de uso de los medios digitales me ayudan mucho a seguir dibujando porque no tengo muchas horas del día para trabajar en mis proyectos personales.
4. What is your artistic process like?
Ideas come in many forms, sometimes is music, maybe shapes or colors of something that I see, situations, movies, things that happened in my everyday life. From there on I work on a rough draft, I take a picture and then I start drawing on my tablet. Las ideas vienen de muchos lados a veces me inspiran la música, las películas, otras veces las formas o los colores de algo que veo, una situación, las cosas que me pasan en el día. Después de que llegan las ideas hago un boceto, le saco una foto y empiezo a dibujar con la tableta.
5. Who and/or what inspires your work?
Travelling, meeting new people, there's definitely an admiration that I feel for tons of my artist and designer friends. I invest a lot of time looking for new things on the internet given that there are millions of hidden super talented treasures waiting to be found. Me inspiran los viajes, conocer personas nuevas, muchos de mis amigos diseñadores y artistas. También invierto mucho tiempo en buscar nuevas cosas en redes sociales hay muchos tesoros super talentosos escondidos.
6. What role does art play in your life? How does it change the way you view the world?
I think basically art is my way of communicating with the world. It has made me see everything in the world in a more sensitive way: the shapes, the colors, while also making me more present in the now. Also, art has helped me as a channel to truly to express my feelings. Creo que básicamente el arte es mi medio de comunicación con el mundo. Me ha hecho ver el mundo de otra manera más sensible hacías las formas, los colores. También he encontrado una manera de poder expresar mis sentimientos.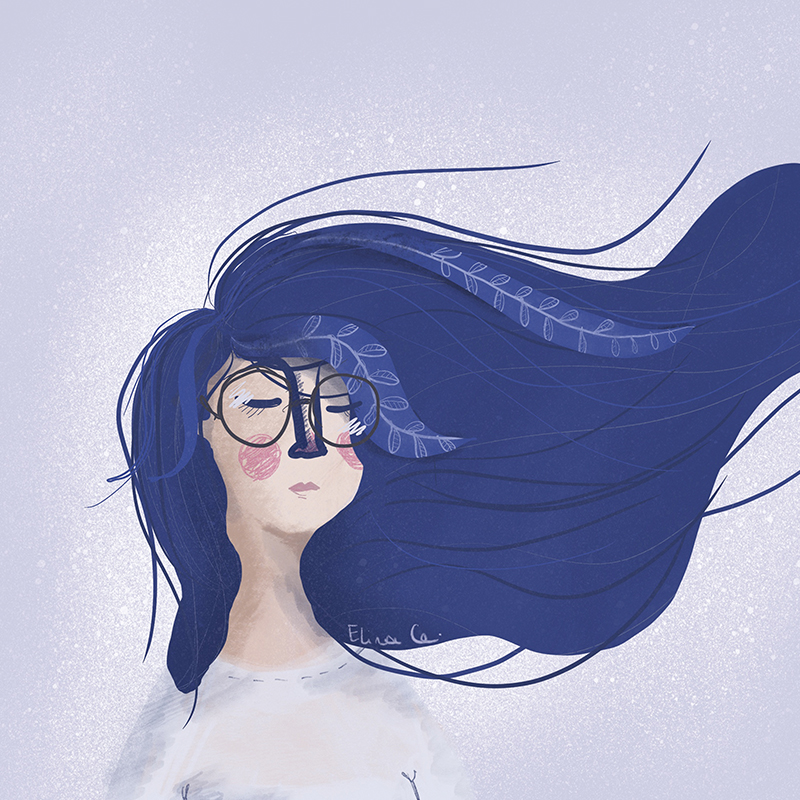 7. Where did you study?
University of Mendoza En la Universidad de Mendoza
8. Where do you see yourself in five years?
I see my life as part of an ever-changing process. I let myself be surprised everyday letting things flow even though at times they don't go the way I expect. So it is very difficult to know where I will be in 5 years but I hope that it finds me drawing. Mi vida siempre ha cambiado mucho me dejo sorprender siempre a la hora de empezar un día nuevo y dejo que las cosas fluyan a pesar de que no sea de la forma en la que yo espero. Asique es muy difícil saber en dónde estaré en 5 años pero espero que dibujando.
9. What about in ten?
OMG, I'll be 40. Pffff ya voy a tener 40.
10. What do you hope to achieve with your art?
I hope to always be able to reach people's emotions through illustration. I truly believe that there is nothing more beautiful than leaving a message in the heart of others through something you created. Espero poder siempre llegar a las emociones de la gente a través de los dibujos no hay nada más bonito que dejar un mensaje en el corazón del otro por medio de algo que salió de vos.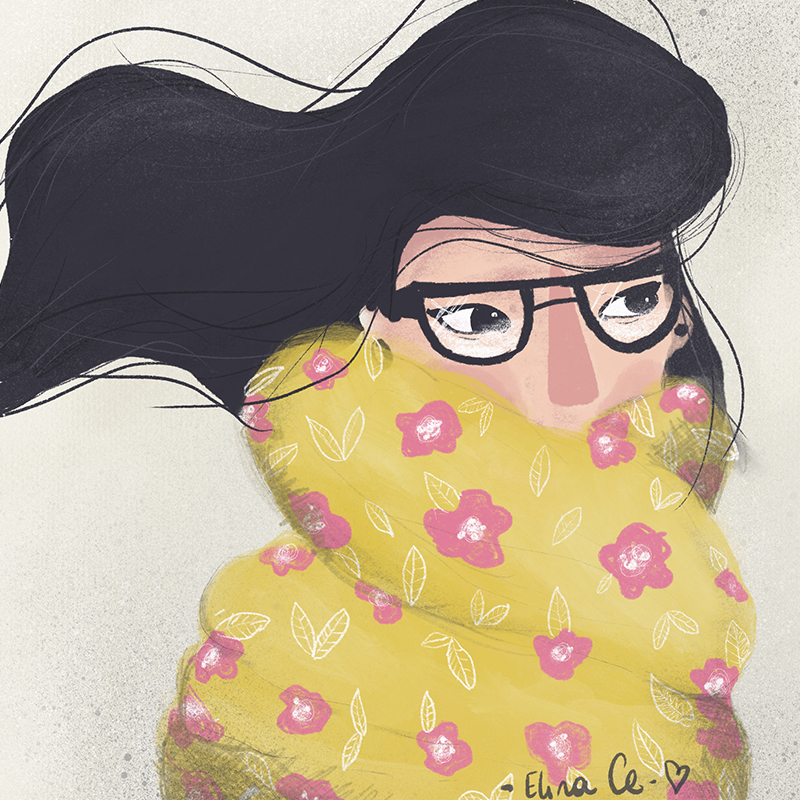 11. Now, tell us a little more about you as a person: what is your favourite food?
Pasta.
12. Favourite book?
The Little Prince. El Principito
13. Favourite genre of music?
My musical tastes are quite broad. Mis gustos musicales son bastante amplios
14. What are your hobbies?
Drawing, Taking pictures, traveling and cooking. Dibujar, sacar fotos, viajar y cocinar.
15. If you weren't an artist, what would you be?
I'll be an owner on a stamp house or something related to arts and crafts. Tendría una casa de sellos o algo relacionado con las artesanías.