Instagram:
@from529
1. What's your story? Where are you from?
Hello, everyone, Nice to meet you! First it's an honor for me interviewed by you. I'm from South Korea and working as a illustrator called '529'. 1. 당신의 이야기를 들려주세요. 어디서 왔나요? 안녕하세요. 저는 그림 그리는 529입니다. 한국에서 일러스트레이터로 활동 중입니다. 반갑습니다!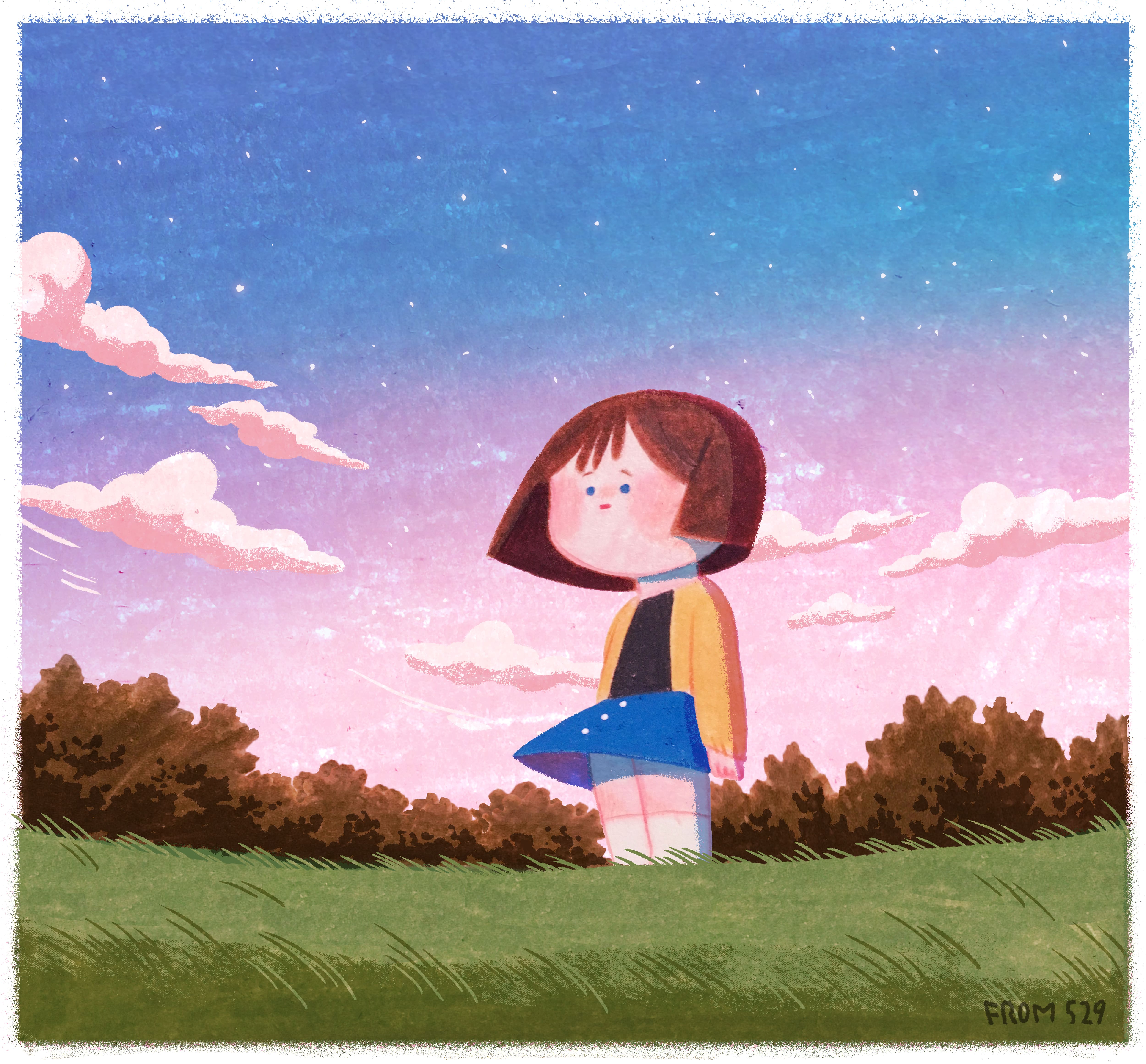 2. Tell us about your aesthetic.
Actually, we may not talk of beautiful things but aesthetic itself is abstract. I've been attracted to the things that's near while we living, such as things that usually overlooked or unseen, the usual quota of childhood memory, a glimmer of light in the window, what I felt in each season. 2. 당신의 미학에 대해 들려주세요. 사소한 것들. 누구에게나 있는 유년의 기억, 창으로 새어드는 빛, 각 계절에서 느껴지는 것 등 가까이 닿아있는 것에 큰 매력을 느껴요.
3. What is your favourite medium and why?
In any case, I mainly hand-painted, but i prefer to Adobe Photoshop program. Because it helps me to complete a little more that various tools features and simplicity of Photoshop. 3. 당신이 가장 좋아하는 작업 툴은 무엇인가요? 이유는요? 저는 주로 수작업을 하지만, 좋아하는 툴은 포토샵입니다. 포토샵의 다양한 기능과 간편함이 작업을 좀 더 완성도 있도록 도와줘요.
4. What is your artistic process like?
Every time, I wrote down whatever or simply draw things came to my mind on my cell phone. If I have enough time, I would immediately sketch the images I had inspired moment. 4. 당신의 예술적 창작 과정은 어떻게 되나요? 순간마다 머릿 속에 떠올리는 것들을 핸드폰에 메모해두거나 작은 수첩에 스케치를 하기도 하고, 그 자리에서 바로 그림으로 표현하기도 해요.
5. Who and/or what inspires your work?
As already mentioned, I've been inspired to the things that's near while we living. Once again, these are precious things to me that are sunlight on a clear, the sounds of the radio music, a passage in a book and so on. 5. 어떤 것들이 당신의 작업에 영감을 주나요? 순간마다 나와 닿아있는 모든 것들에게 영감을 받는 것 같아요. 맑은 날의 햇빛, 흘러나오는 음악, 책 속의 구절 등등 그런 모든 것들이요.
6. What role does art play in your life? How does it change the way you view the world?
It is beyond my thinking that art cannot be divorced from my life. Because art right to the heart of every moment of my lives. Everything that I look at inspired me to great things and I used to express meaning in a specific way by myself. It makes my life happier. 6. 예술은 당신의 삶에서 어떤 역할을 하나요? 그리고 당신이 세상을 보는 관점에 어떤 변화를 주나요? 예술은 삶과 분리해서 생각할 수 없어요. 제 모든 순간과 닿아있기 때문이에요. 내가 보는 모든 것들이 나에게 영감을 주고, 그걸 나의 방법으로 표현하죠. 이건 나의 삶을 조금 더 사랑스럽게 생각하도록 해줘요.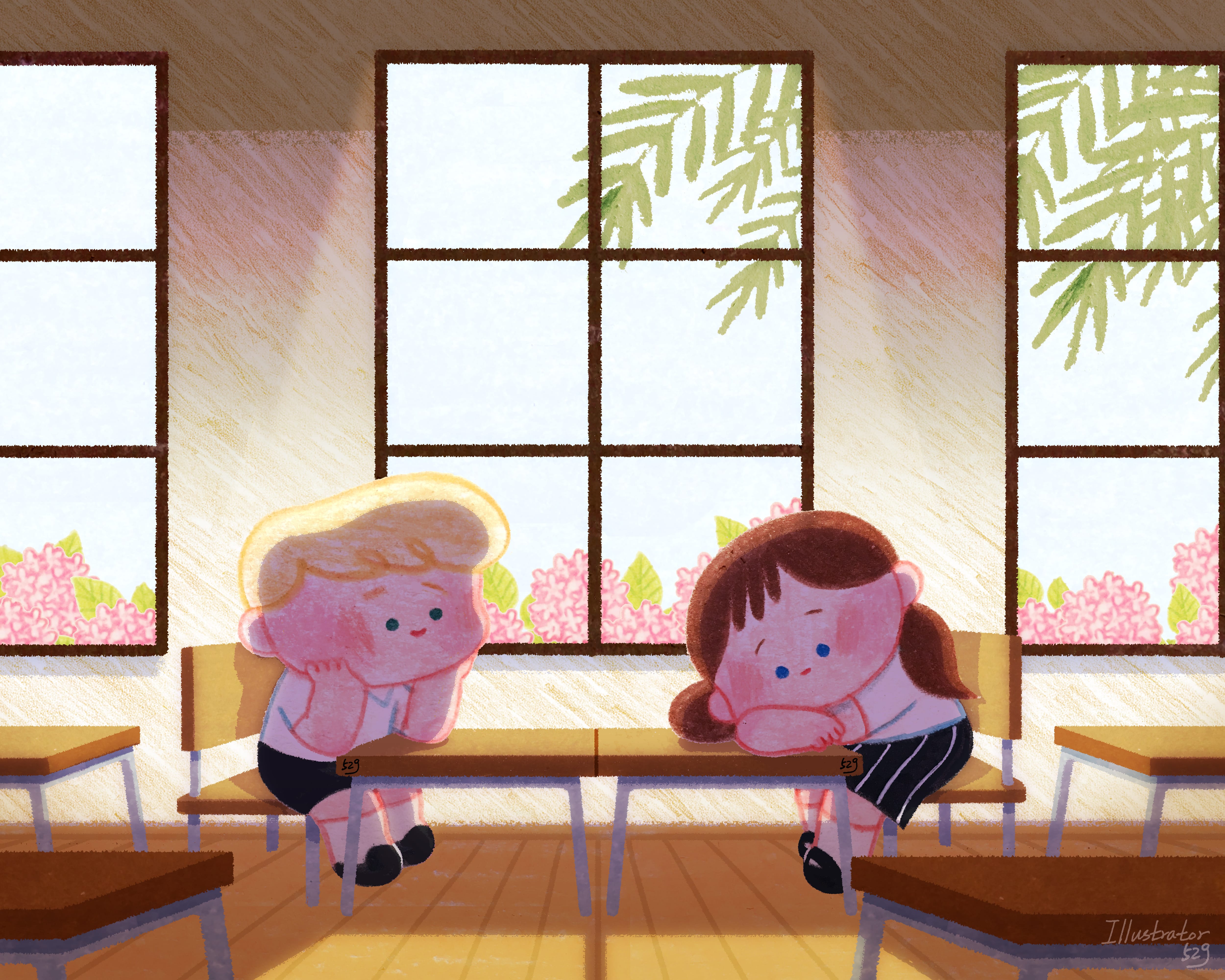 7. Where did you study?
Believe it or not, I had never really learned to draw properly, it is all my own work. That's how I learned and created drawing style all by myself. 7. 어디서 공부했나요? 저는 따로 과정을 거쳐 공부하지 않았어요. 그냥 스스로 찾아 익히거나 자연스레 제 방법을 찾은 것 같아요.
8. Where do you see yourself in five years? Working in an agency?
I'll continue to develop my drawing skills in different ways, so I'm gonna keep drawing as long as I can. If it's possible, I'd like to become a illustrator who can express myself a little more than before! 8. 5년 후에 당신은 어떤 모습일거라 생각하나요? 에이전시에서 일하고 있을까요? 지금처럼 계속 그림을 그리고 있을거에요. 아, 지금보다 조금 더 나를 잘 표현할 수 있는 일러스트레이터였으면 좋겠네요.
9. What about in ten?
It's excellent! I dream about drawing lovely picture being with one I love who totally understatand my paintings. 9. 10년 후에는요? 저와 제 그림을 이해하고 사랑해주는 사람과 함께하며 더욱 단단하고 사랑스러운 그림을 그렸으면 좋겠어요.
10. What do you hope to achieve with your art?
Of course, my feelings are important but I think the true meaning of art is to have sympathy with others. I hope my paintings will make many people in the world happy. 10. 당신의 예술로 무엇을 성취하고 싶은가요? 제가 그림을 그릴때 즐겁고 행복한 마음이 드는 것도 좋지만, 그 그림을 보는 사람들도 좋은 느낌을 받았으면 좋겠어요. 그냥 소비되어지는 이미지가 아니라, 행복한 순간에 함께 하는 그림이 될 수 있으면 좋겠네요.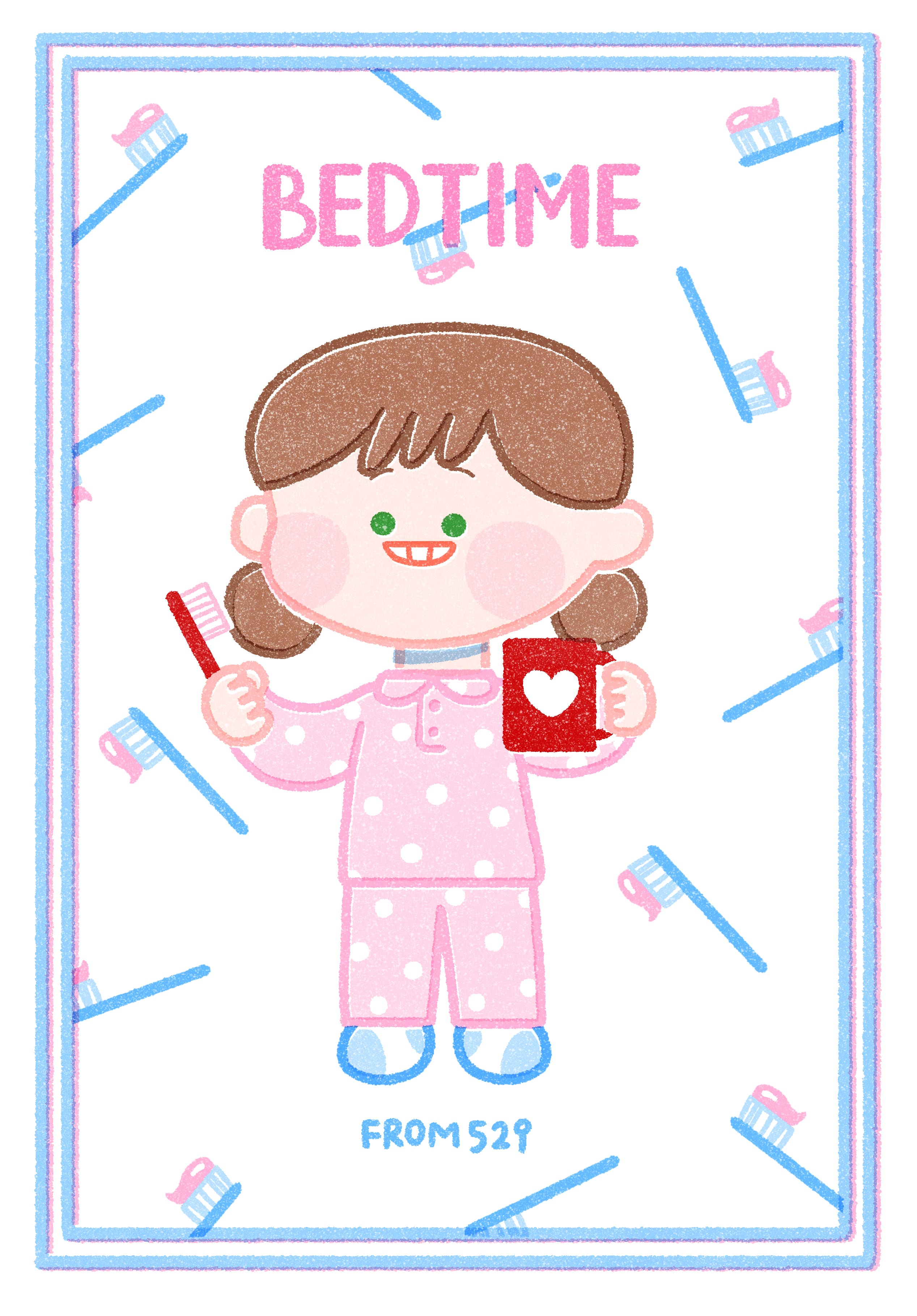 11. Now, tell us a little more about you as a person: what is your favourite food?
You make me pleasant worries, haha! I like to eat strawberry, salmon, chicken and lemonade. 11. 자, 우리에게 당신의 인간적인 부분을 조금 들려주세요. 당신이 제일 좋아하는 음식은 무엇인가요? 딸기, 연어, 닭 요리, 레모네이드를 좋아해요.
12. Favourite book?
Without hesitation, I could say series of Peanuts! My favorite part of the Peanuts is main character who with a cute smile sometimes told a cynical stories. 12. 제일 좋아하는 책은요? 피너츠 시리즈! 지금도 조금씩 모으고 있어요. 귀여운 얼굴로 가끔 냉소적인 이야기를 하는게 좋아요.
13. Favourite genre of music?
I love music which is soft so I enjoy listening to acoustic and ballad music. These days, I started getting interested in jazz! 13. 제일 좋아하는 음악장르는? 어쿠스틱, 발라드를 좋아해요. 요즘엔 재즈에도 관심이 생겨서 종종 듣고 있어요.
14. What are your hobbies?
My hobby is taking pictures, and scribbling. 14. 취미는 무엇이에요? 낙서를 하거나 사진을 찍는 것.
15. If you weren't an artist, what would you be?
I think it's probably I may operate a bookstore or café. It's all I ever thought about ever since I was a child. It is a nice atmosphere here such as smell of books, shuffling papers, quite and peace. 15. 만약 당신이 아티스트가 아니었다면 어떤 일을 했을까요? 저는 아마 책방이나 카페를 했을 것 같아요. 어릴 적부터 이 두 곳에서 일해보고 싶다는 생각을 종종했어요. 이 두 곳의 무드를 좋아하는 것 같아요. 책 냄새, 종이 넘기는 소리, 카페의 조용한 소음, 평화로운 분위기 같은거요.