Instagram:
@jane_newland
Twitter:
@janenewland
Website:
www.janenewland.com
1. What's your story? Where are you from?
Hello! I'm Jane, a freelance illustrator represented by The Bright Agency. I grew up, and live in Norfolk, on the edge of the fine city of Norwich, near ancient woodland, river and meadows with my partner, daughter and whippet. I went to Art College for 4 years, gaining a degree in illustration. I come from a very creative family and have been massively inspired by my father and grandfather. I've worked a few jobs along the way, but have always freelanced, and for most of that time I've been the house illustrator for my brother's design agency, NewlandPotter. Last year I was approached by The Bright Agency for representation, and I am now licensing my work, and illustrating children's books!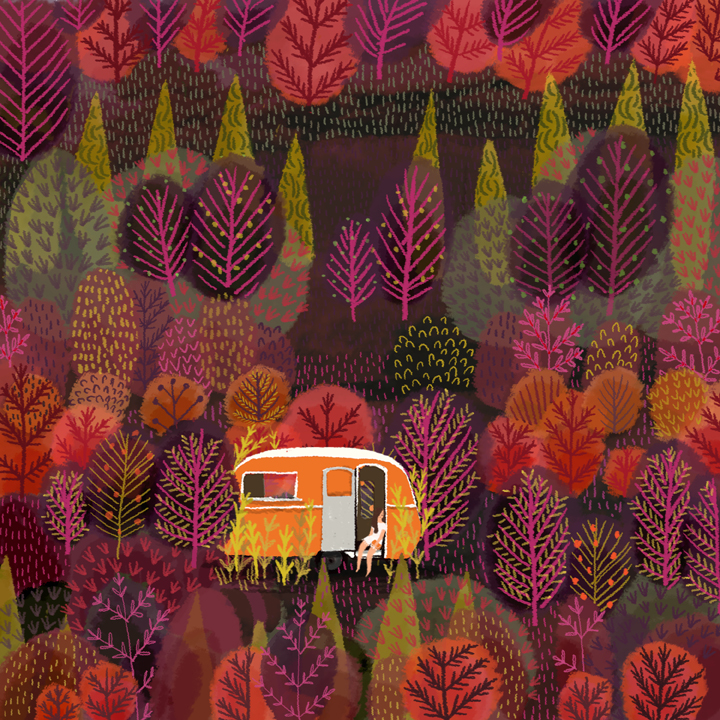 2. Tell us about your aesthetic.
Aah! I think good drawing is an absolute must, although I don't always quite hit the mark. Of late, colour has become way more important to me. Huge thanks to #colour_collective on Twitter – they post a colour each week and hundreds of artists/illustrators create a piece of work using that colour. I think it has transformed my work. I hope I convey a sense of peace, solitude, escapism, adventure and joy through my work.
3. What is your favourite medium and why?
My favourite medium is Photoshop. I love the way I can work in layers… I love being able to try things out without having to start from scratch each time…the un-do key…the endless tweaking opportunities,,, I think it's amazing! Like having an enormous art box, without all the mess.
4. What is your artistic process like?
For my personal work, I choose the colour palette first. Usually my ideas are prompted by the colours I've chosen, or by something I've been daydreaming about. Then I usually dive straight in and paint in copious layers in Photoshop. I may spend a bit of time looking for reference, but not so much these days. It was a conscious decision to try and work more from my own imagination. I use varying degrees of opacity, and a roughish brush, and just keep building the layers up. And no surprise, I love adding lots of detail!
5. Who and/or what inspires your work?
My father and grandfather have been the biggest influences on me, and massive inspiration. Also nature. Other artists too, but of late, another conscious decision, to not look too much at what other artists are up to – I'm trying to hone my own style.
6. What role does art play in your life? How does it change the way you view the world?
Art is my escapism from the real world, and it can be the biggest buzz. I guess it's made me more observant, looking at the details in life.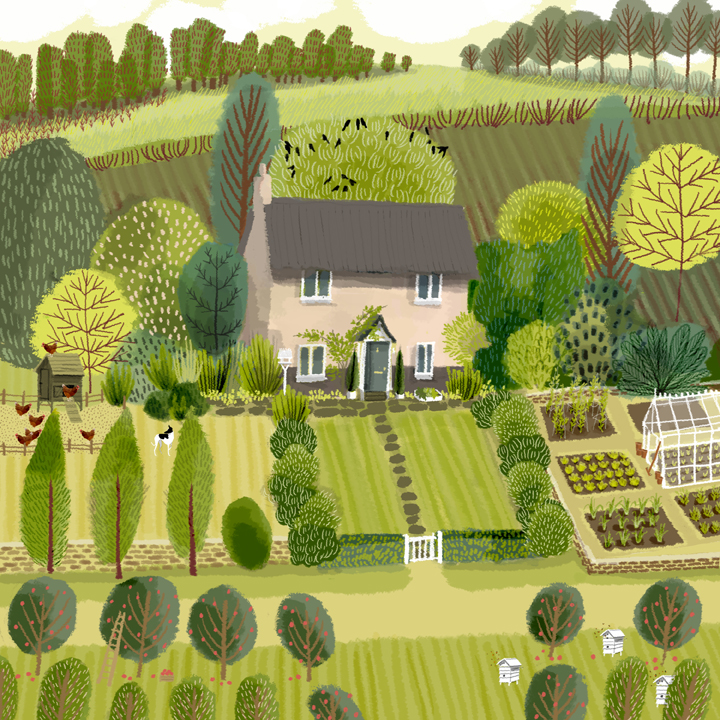 7. Where did you study?
I studied at Maidstone College of Art, England, for 3 years, gaining a BA degree in illustration.
8. Where do you see yourself in five years? Working in an agency?
Well I just got representation last year with the awesome Bright Agency, and have been working with incredible clients these past few months. So in 5 years, I would love to be doing more of the same!
9. What about in ten?
Same!
10. What do you hope to achieve with your art?
I hope I spread a little happiness, provoke the odd thought …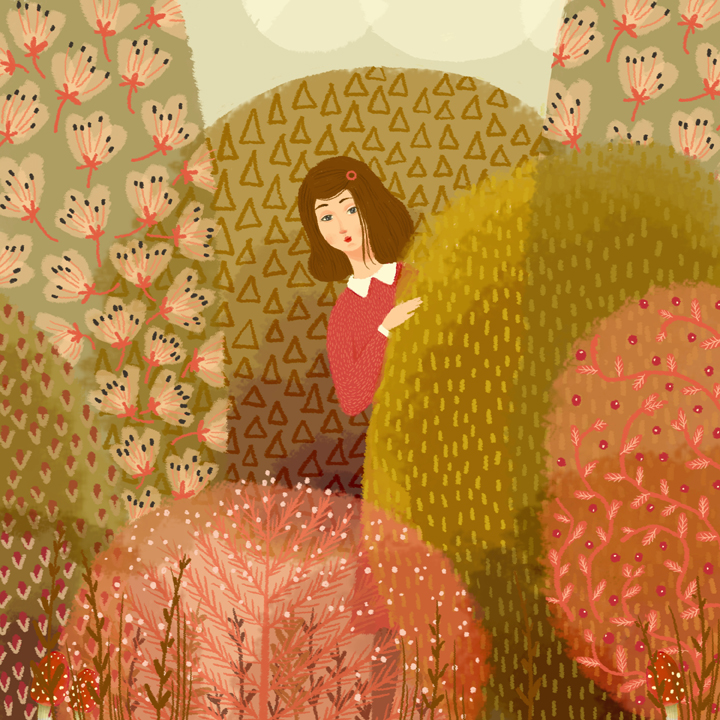 11. Now, tell us a little more about you as a person: what is your favourite food?
I haven't really got a favourite, though I do prefer savoury to sweet
12. Favourite book?
I've gone from being an avid reader to zero in recent years, but my favourite as a child was The Secret Garden
13. Favourite genre of music?
I love music and most genres of it. I studied A level music, and play flute & piano so music has been, and still is very important to me.
14. What are your hobbies?
I don't have much spare time at the mo, but to relax - gardening, and more art
15. If you weren't an artist, what would you be?
A musician or a gardener if possible! But I can't imagine not being an illustrator.