Instagram:
@joeandersonstudio
1. What's your story? Where are you from?
I live on a small island off the coast of Washington State in the US surrounded by nature. I spent several years in Asia and Latin America traveling, living and working. I have worked as a graphic designer and a teacher and recently have branched off into freelance illustration.
2. Tell us about your aesthetic.
I am drawn to simpler forms, graphic art, folk art and the textures and effects of printmaking.
3. What is your favourite medium and why?
I enjoy working digitally because of the variety of tools at my disposal. I also appreciate the ability to undo and redo things easily in Photoshop. This opens up doors for experimentation and happy accidents to occur.
4. What is your artistic process like?
It all begins with paper and pencil and a prompt (an article, a theme, direction from an art director). I usually start with word lists, word associations and thumbnail sketches. It's really important for me to not edit during this stage and remain open to all ideas. Once I have a sketch that I like, or I have one approved by an art director, I bring it into Photoshop in a reference layer and build the illustration up from there. I use digital brushes and scanned hand-made textures to draw and collage together my compositions.
5. Who and/or what inspires your work?
Everyday life, music, people's stories, nature, news, travel, and other artists' work.
6. What role does art play in your life? How does it change the way you view the world?
Art plays a central role in my life. It encourages me to be a better observer of the things and events around me.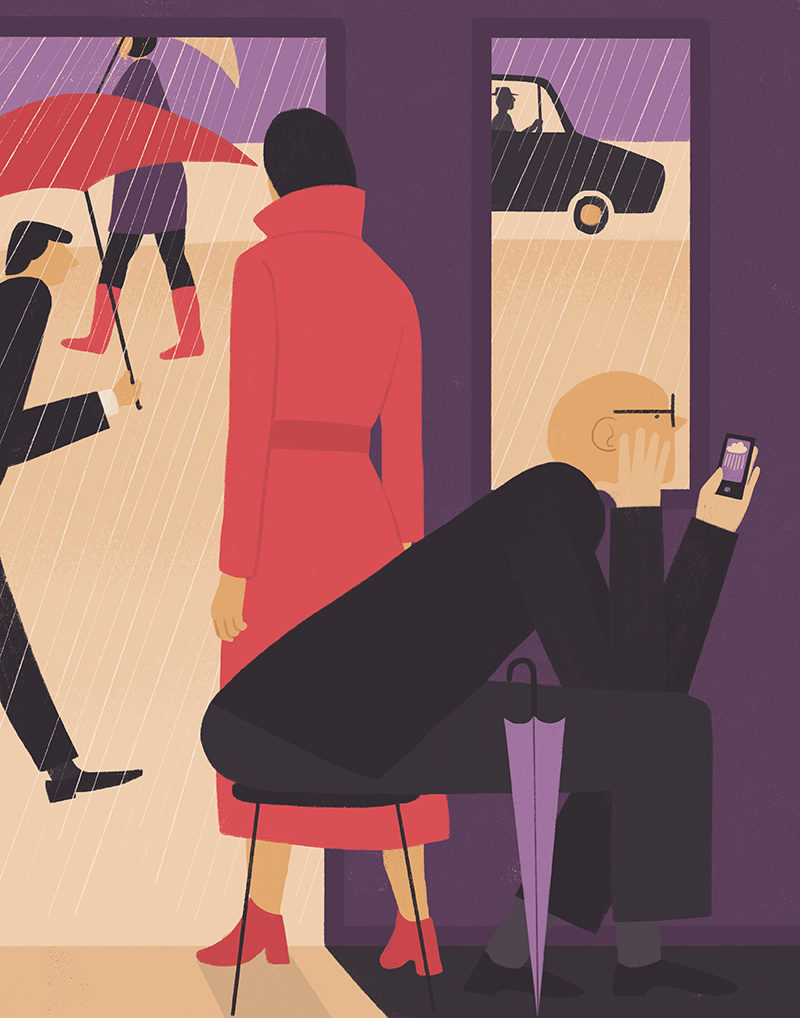 7. Where did you study?
I went to art school at the University of Washington back in the 90s before the internet. All of my graphic design and illustration pursuits have been self-taught.
8. Where do you see yourself in five years? Working in an agency?
I hope to continue editorial assignments for magazines and newspapers. I imagine breaking into the publishing world and hope to be illustrating book covers and kids books by then. I would also be happy to be illustrating for retail/advertising clients as well. I am open to working with an agent.
9. What about in ten?
That is too far out for me to say. I do anticipate art will still be in the middle of my life, though. Who knows where print media and the technologies for making art will be at that point. I imagine there will be opportunities not currently in existence for illustrators at that time.
10. What do you hope to achieve with your art?
If I can delight or surprise someone or make someone pause from the blur of modern life for even a second and think, I am happy.
11. Now, tell us a little more about you as a person: what is your favourite food?
Apples and Indian food are at the top of the list.
12. Favourite book?
Jitterbug Perfume.
13. Favourite genre of music?
Jazz, funk, West African and Afro-Cuban music, not necessarily in that order.
14. What are your hobbies?
Traveling, hiking, cycling, sea-kayaking, gardening, cooking and playing the drums.
15. If you weren't an artist, what would you be?
A teacher, park ranger or a mailman.