Instagram:
@la_nonette
Facebook:
www.facebook.com/LaNonetteIllustration
Tumblr:
lanonette.tumblr.com
Website:
www.lanonette.com
1. What's your story? Where are you from?
I'm originally from Groningen, a small city in the north of the Netherlands. I grew up with my two sisters plus two dogs & two cats and we also had rabbits, hamsters and pet-rats (not all at the same time though). My dad was an artist en took care off us while my mom worked full time as a psychologist. I grew up in kind of a Pipi Longstocking type of household that was so messy but fun. It did make me kind of an weird girl though haha. I was always drawing, and it turned into a way to express myself. My dad is from Brussels and is bilingual, he speaks Dutch and French. Also I spent a lot of my youth in France and that is where my alias cam from. My full name is Manon Nanette and I found out there are French cakes called Nonettes, my two names combined. It just stuck with me and I made it into my artist persona. Turned out Nonette is also a French village. They must be really annoyed with me, because when you google them I also tend to pop up.. sorry!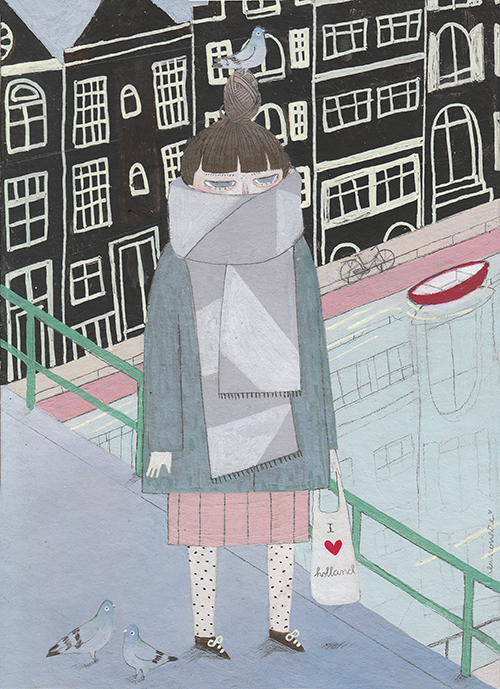 2. Tell us about your aesthetic.
My aesthetic is really feminine. I think there is such power in showing femininity and it's makes me angry society sees it as almost a weakness to be soft and kind. You can be really strong and feminine at the same time. I like to combine hard shapes and fragile lines and colors. My characters are badass but they more have layers as well. They are not two-dimensional characters.
3. What is your favourite medium and why?
When I paint I use my own layered technique with gouache and acrylics. A face kan have like 10 layers which gives it a see through kind of appearance. It does take a lot of time to use this technique so for commissions I usually draw. When I draw I love fineliners and Molotow markers.
4. What is your artistic process like?
Before I can do anything I need food and coffee. Music also has a big part in my process, I look for the perfect mood and find silence distracting. Then I sit at my desk and wait for inspiration to hit me. A lot of the time ideas just pop up and I will have kind of an idea what I want to do before I start to work. If inspiration does not hit I try to force it with making mood boards from online images and sketching. Just keep on sketching! There are weeks when I'm bursting with creativity but then sometimes nothing comes out. When really nothing comes out I try to be nice to myself and give myself a little break: It usually means that I'm tired or a little overwhelmed so some me-time can work wonders. I found that if you are too hard on yourself you end up just blocking yourself more. So my big tip is, be your own best friend.
5. Who and/or what inspires your work?
So so many things inspire me. Fellow artists of course, my friends, animals, nature.. I love modernist architecture: I used to live in Barcelona, Spain, and that city just buried me in patterns, colors and beauty in such unexpected places. Changing your environment is really good to get new ideas so I try to make as many (lowbudget) trips as possible. Fashion is also a big inspiration: I draw one of my outfits every monday! And than of course badass girls. Sometimes I see a girl and I'm just like: I HAVE to draw her!
6. What role does art play in your life? How does it change the way you view the world?
A really big part. My dad is an artist so I always had art in my life. I'm living with my boyfriend who is also an illustrator (Doeke van Nuil, check him out) so we live, breath and sleep art. I like to buy (screen)prints from fellow illustrators and surround myself with their creativity. I look at a lot of things like I would look at and artwork, searching for compositions and interesting shapes. I like structures, color-play and patterns so this comes back in my interior and my clothes. And I change my hair color a lot, it's pale blue at the moment. Like I am a canvas myself. I think being an artist means you do look at the world differently. I can just stop in the middle of the street to take a picture of an hallway with like unconventional colors that inspire me. I'm always looking for beauty and surprises and I focus a lot on little details that others might not even notice.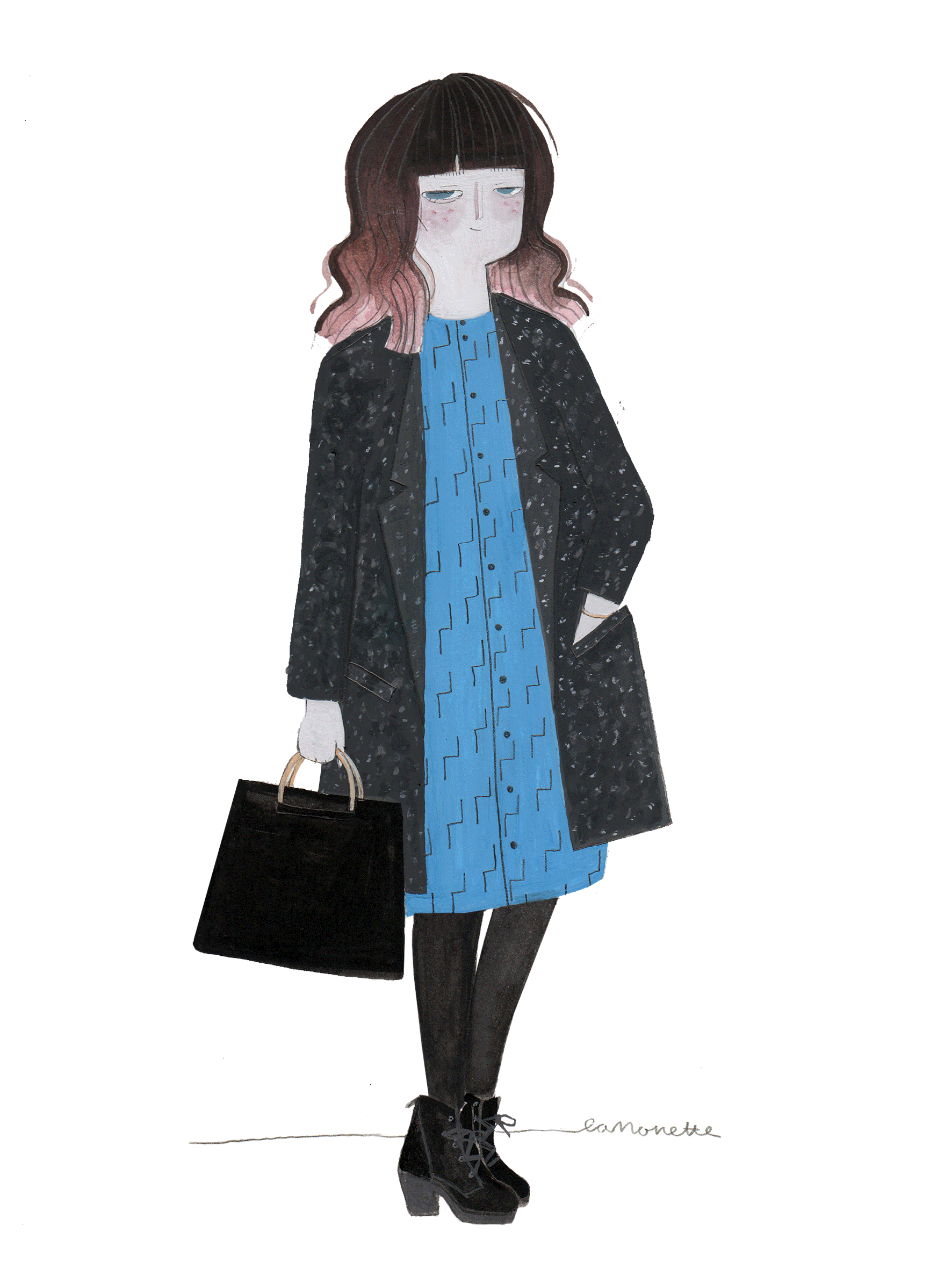 7. Where did you study?
I studied Illustration Design at Artez in Zwolle, NL and I did an Illustration Erasmus at Escola Massana, Barcelona, ES.
8. Where do you see yourself in five years? Working in an agency?
Currently I am non-exclusively represented by a Dutch agency (New Chique) and of course I would love to have international representation. I love my work so the big dream is to have a normal income, don't stress about money and maybe even buy a house and rent a really big studio with friends where we can all be creative and work. I would really would like to make a book about (sustainable) fashion because clothes are a big part of who I am. And also I want to make a graphic novel!
9. What about in ten?
In ten years I want to be an household name, with my own books an merch and to travel around the world to inspire others :)
10. What do you hope to achieve with your art?
A big part of my work is communicating with my audience, make them feel things I felt. I want to break some boundaries of course and help make illustration an serious form of art. I like to educate as well: Though my works I can make people aware of what is not right in the world and maybe persuade them to be more vocal about it.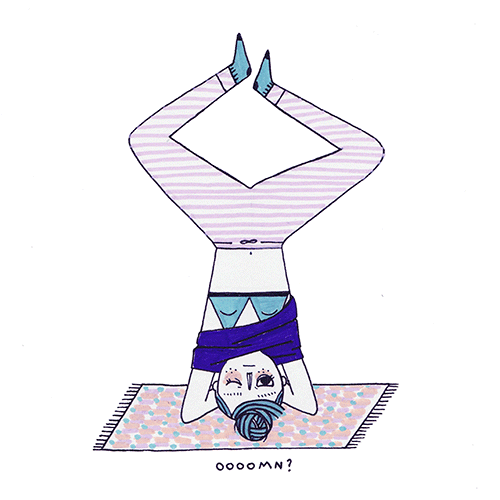 11. Now, tell us a little more about you as a person: what is your favourite food?
It's so hard to chose just one type of food! I love food! Italian, Thai, Indian and recently discovered Libanese food. I cook with a lot of veggies as I am an vegetarian. My boyfriend and I both like to cook so I always have something jummie on my plate.
12. Favourite book?
Kitchen - Banana Yoshimoto
13. Favourite genre of music?
At the moment I'm listening a lot to Solange, ABRA, Frank Ocean, Kiiara.. When I really ned to focus I listen to more classical music like Agnes Obel and Philip Glass. But I also love Ariana Grande haha.
14. What are your hobbies?
I do yoga at home to shut up my brain and I recently took on modern dancing. Then cooking ofcourse, going to concerts, watching series and hanging with friends. Does browsing the internet looking for stupid memes count as a hobby?
15. If you weren't an artist, what would you be?
I would probably be a psychologist like my mom. It was one or the other ;)