Instagram: @poff_hoi
1. What's your story? Where are you from?
Hello. I'm Jun. I'm an illustrator living in Seoul, Korea.
안녕하세요. Jun입니다. 저는 그림을 그리며, 한국의 서울에서 활동합니다.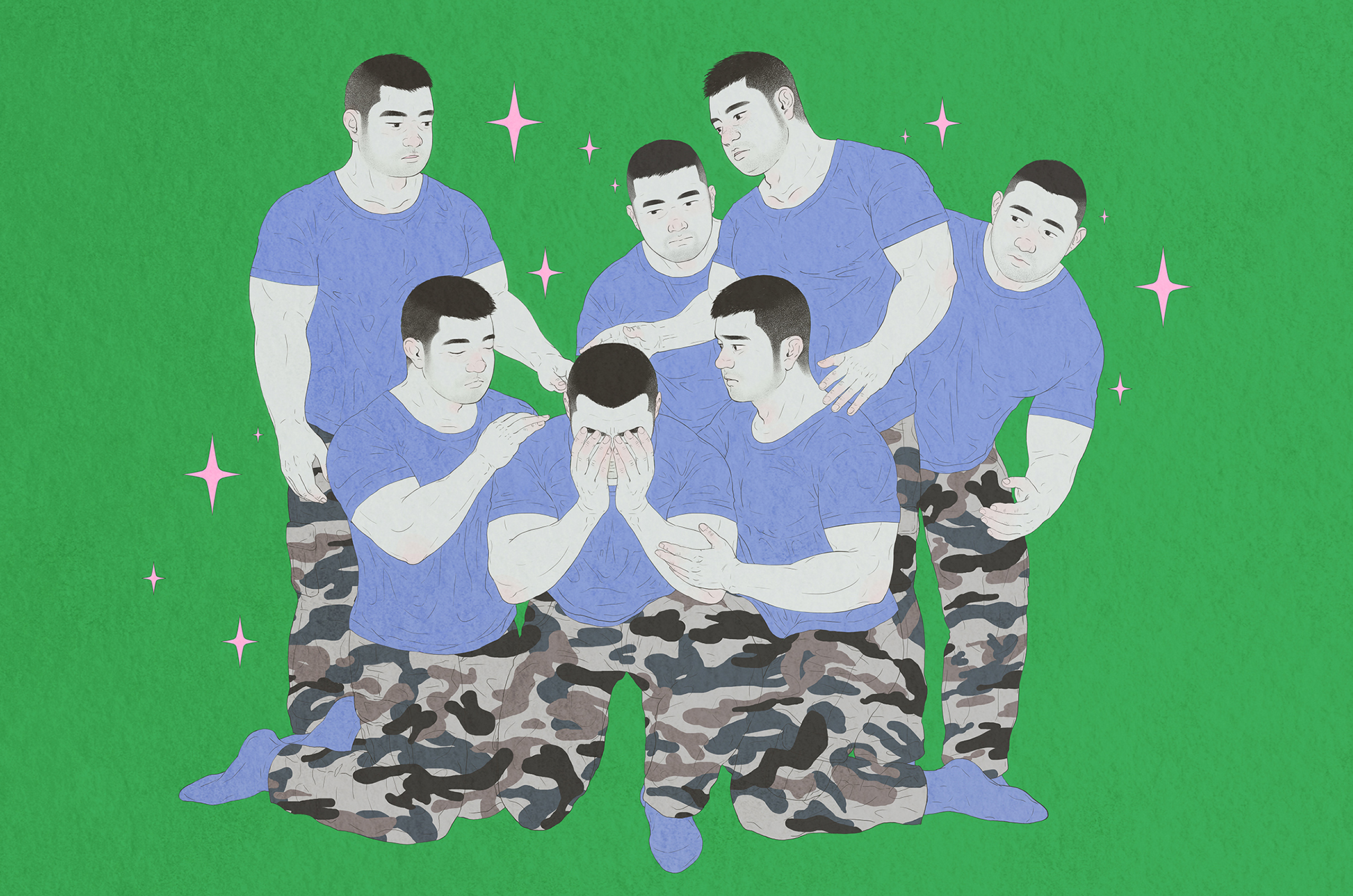 2. Tell us about your aesthetic.
I mainly focus on the situated emotions which are sometimes fleeting and sometimes flashed back. They consist of queer temporality and imagination.
저는 주로 덧없이 지나가거나 순간적으로 되돌아오는 상황적인 감정들에 주목합니다. 이러한 것들은 퀴어 시간성과 퀴어적 상상들과 연결되어 있습니다.
3. What is your favourite medium and why?
I mostly work digitally. For me, it is the most familiar medium. I think the nature of the digital is connected to the way I view the world. I am interested in the possibilities that digital work can show us, such as being shared and displayed in a virtual space or being transformed into material media.
저는 디지털 작업을 주로 합니다. 저에게는 가장 친숙한 매체입니다. 디지털의 속성이 제가 세계를 보는 방식과 연결되는 부분이 있다고 생각합니다. 저는 가상의 영역에서 공유되고 전시되거나 또는 물질적인 속성으로 변환이 되는 등 디지털 작업이 보여주는 가능성들에 흥미가 있습니다.
4. What is your artistic process like?
I usually get ideas from everywhere around me. I simply sketch the images that come to mind and then make a detailed composition. I do all my work with digital tools.
아이디어는 주변의 곳곳에서 얻는 편입니다. 떠오르는 이미지들을 간단하게 스케치하거나 메모 한 뒤 구체적인 구성을 합니다. 모든 작업은 디지털을 기반으로 합니다.
5. Who and/or what inspires your work?
I get inspiration from my experiences with my everyday activities and also from my daydreams, cartoons and movies.
공상이나 꿈, 일상에서 영감을 얻는 경우가 많고 때때로 만화나 영화 등에서도 영감을 받습니다.
6. What role does art play in your life? How does it change the way you view the world?
Art works like meditation. It sometimes gives me chances to face directly to my unconscious memories. I realize and understand new dimensions of the relations, events, and emotions through every act of painting.
저에게 예술은 명상처럼 작동합니다. 그것은 때때로 저에게 무의식적 기억들을 대면하게끔 하기도 합니다. 그림을 그리는 과정을 통해서 저는 관계와 사건들, 그리고 감정들의 새로운 차원들을 깨닫고 이해하게 됩니다.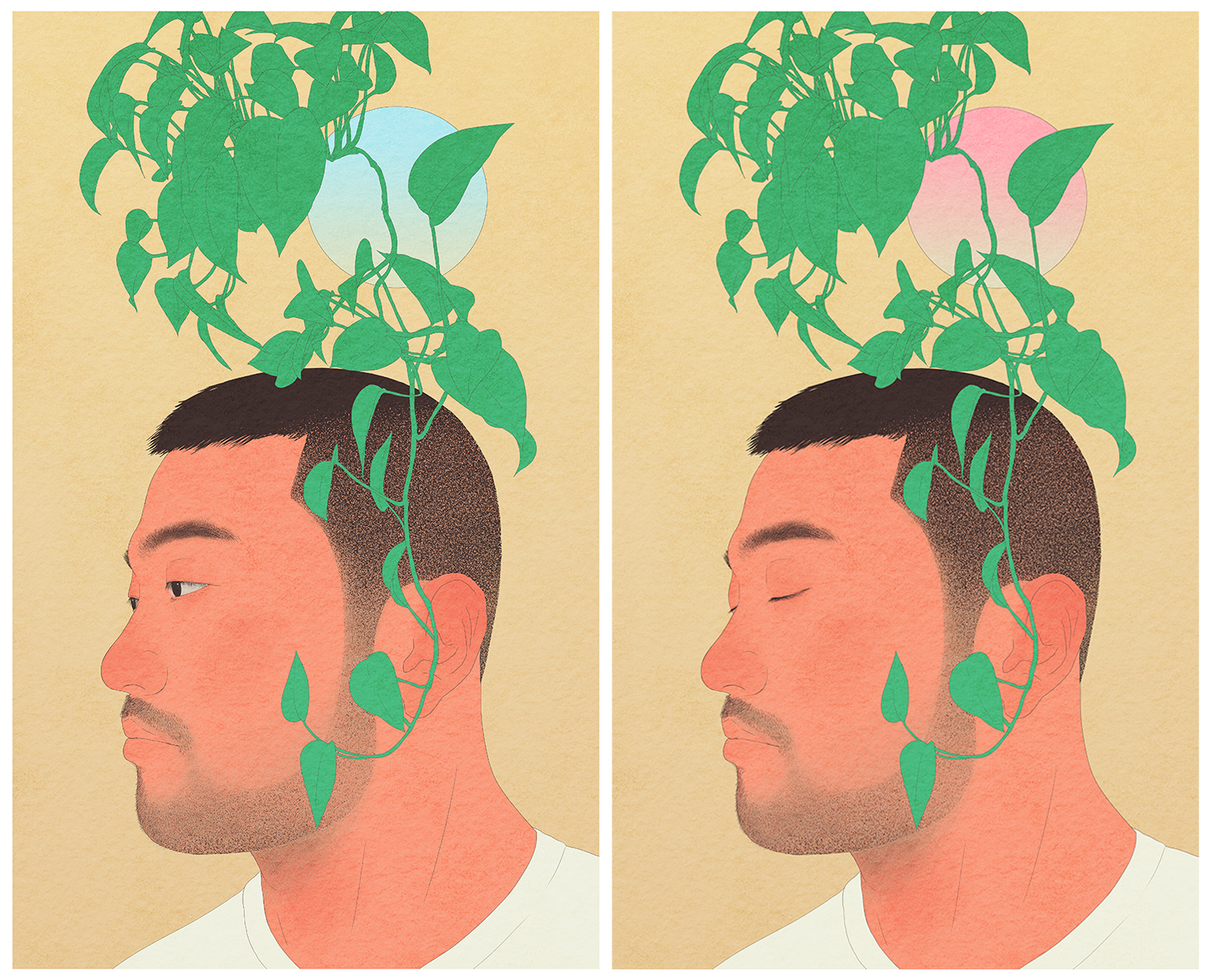 7. Where did you study?
I studied Moving Image Design at a university in South Korea.
대학에서 영상디자인을 공부했습니다.
8. Where do you see yourself in five years?
I hope my work includes more diverse subjects in the future.
미래에 제 작업이 더 다양한 주제를 포함하고 있다면 좋겠습니다.
9. What about in ten?
I cannot imagine where I will be after ten years. All I can do is trying to spending a good time with beloved people.
10년 후에 제가 무엇을 할지는 상상하기 어렵지만, 할 수 있는 것은 사랑하는 사람들과 건강하고 행복한 시간을 보내기 위해 노력하는 것입니다.
10. What do you hope to achieve with your art?
I just want to continue to fail and try to reveal a certain side of everyday's queerness through painting.
특별히 이루고 싶은 것이 있다기 보다는 단지 그림을 통해 계속해서 퀴어적인 어떤 면을 드러내고 실패하고 또 시도하고 싶습니다.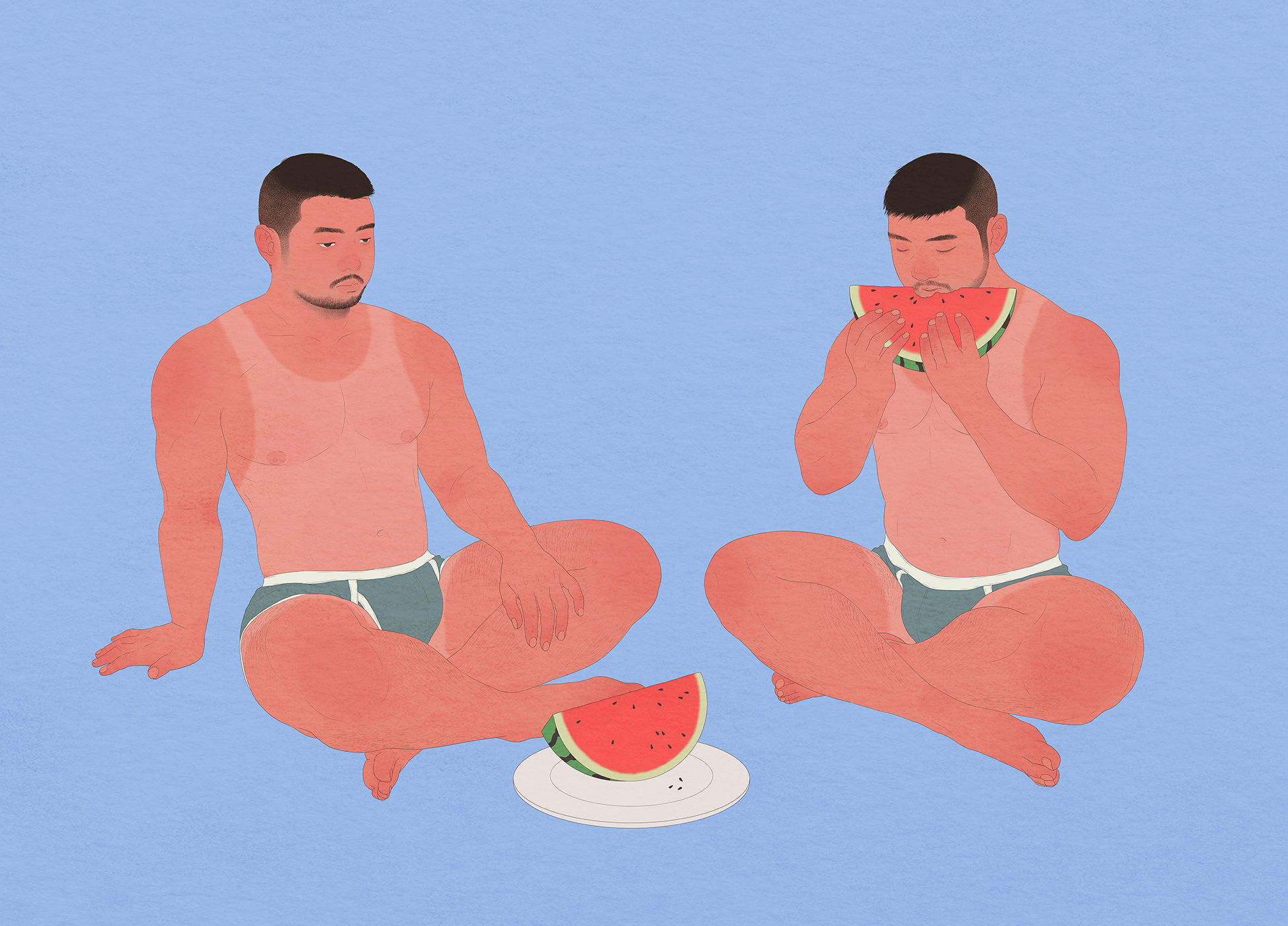 11. Now, tell us a little more about you as a person: what is your favourite food?
I love watermelon!
수박을 좋아합니다.
12. Favourite book?
Recently, I'm interested in an illustrated book on Botanics.
최근에는 식물도감에 관심이 있습니다.
13. Favourite genre of music?
I recently enjoy listening to old school ambient music.
요즘에는 고전적인 엠비언트 음악을 즐겨듣습니다.
14. What are your hobbies?
My hobbies are cleaning and walking around the neighbourhood.
청소를 하거나 동네 산책을 합니다.
15. If you weren't an artist, what would you be?
Maybe I would be a plant manager in a botanical garden.
아마도 저는 식물원에서 식물을 관리하는 일을 하고 있었을지도 모릅니다.