Instagram:
@schafferlena
Behance:
www.behance.net/LenaSchaffer
Website:
www.lenaschaffer.de
1. What's your story? Where are you from?
Hey there, I'm Lena Schaffer, a freelance illustrator from Germany! I was born in Santiago de Chile and grew up in Bremen, Germany. I moved to Hamburg to study design and I still live and work from here. At the moment my life revolves around my next book, which I'll hopefully finish next year.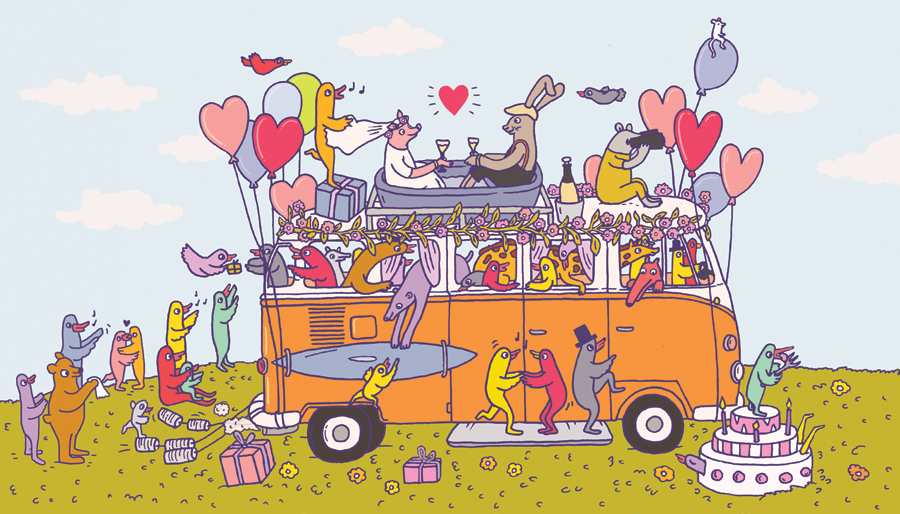 2. Tell us about your aesthetic.
I love colors and w, where a lot of small details are to be found. My own style often reflects that. I'd say that my illustrations are comic-like/cartoonish -Flat, colorful drawings, yet they come with many detail in the outlines.
3. What is your favourite medium and why?
Combining aspects of analogue and digital drawing works best for me! I often do my final-drawing in pencil or fineliner, scan everything and color it in digitally.
4. What is your artistic process like?
The start of every new project is profound research, I really get into the subject and make notes and small sketches on the way. I really enjoy listening to classical music when working likes this, it helps me to focus. Since I'm more proficient when it comes to analogue drawing I mostly start with a small, quick pencil sketch. I transfer that sketch into a bigger, more elaborate illustration, which I trace with fineliner. Later on I'm coloring everything digitally on the computer. When I have to work on commissions I sometimes skip the analogue sketching and start with a digital drawing right away.
5. Who and/or what inspires your work?
I'm inspired by the things that surround me! Nature hereby is the most important aspect, I think. I summon up ideas from colors, music, people, movies, foreign countries and other artists.
6. What role does art play in your life? How does it change the way you view the world?
Art is a very important part of my life. For me, art is a way of expressing elements, that cannot be described with words. It opens up new levels of communication, which can bring people from different points-of-view together and which are able to combine complex subjects and actions in just one scene. That gives me the opportunity to find pictures for my own thoughts and fictional worlds.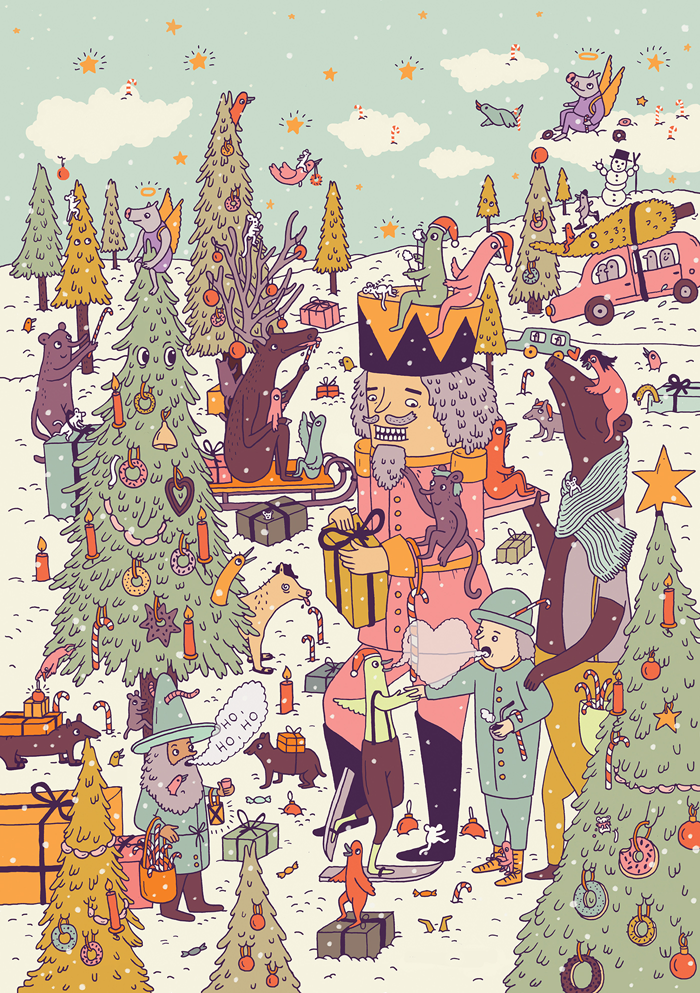 7. Where did you study?
I studied illustration at Hochschule für Angewandte Wissenschaften in Hamburg and communication design in Valencia at EASD Superior de Diseño.
8. Where do you see yourself in five years?
In five years I hope to still be an Illustrator, who designs books and publishes in magazines worldwide. I hope to have published my second, maybe my third book by then.
9. What about in ten?
That's a hard question. I normally don't spent that much time on thinking that far ahead! But I basically hope to be settled down in the field, maybe have a shared studio with befriended designers, maybe with a workshop to give seminars. And maybe I'll have a lovely small house, where I can follow-up with my free artistic works. To live in another country and work from there will always be an option for me as well.
10. What do you hope to achieve with your art?
I hope to connect and inspire people with my artwork. I'd like to spread hope and happiness, encourage dreaming and to instigate contemplation and a sense of wonder. My favorite subjects are nature related. I think it's important and thrilling to find a way of transferring information through illustration. In my non-fiction book for children "Beastly Symbiosis" I explain biological symbiosis with the example of friendship between animals.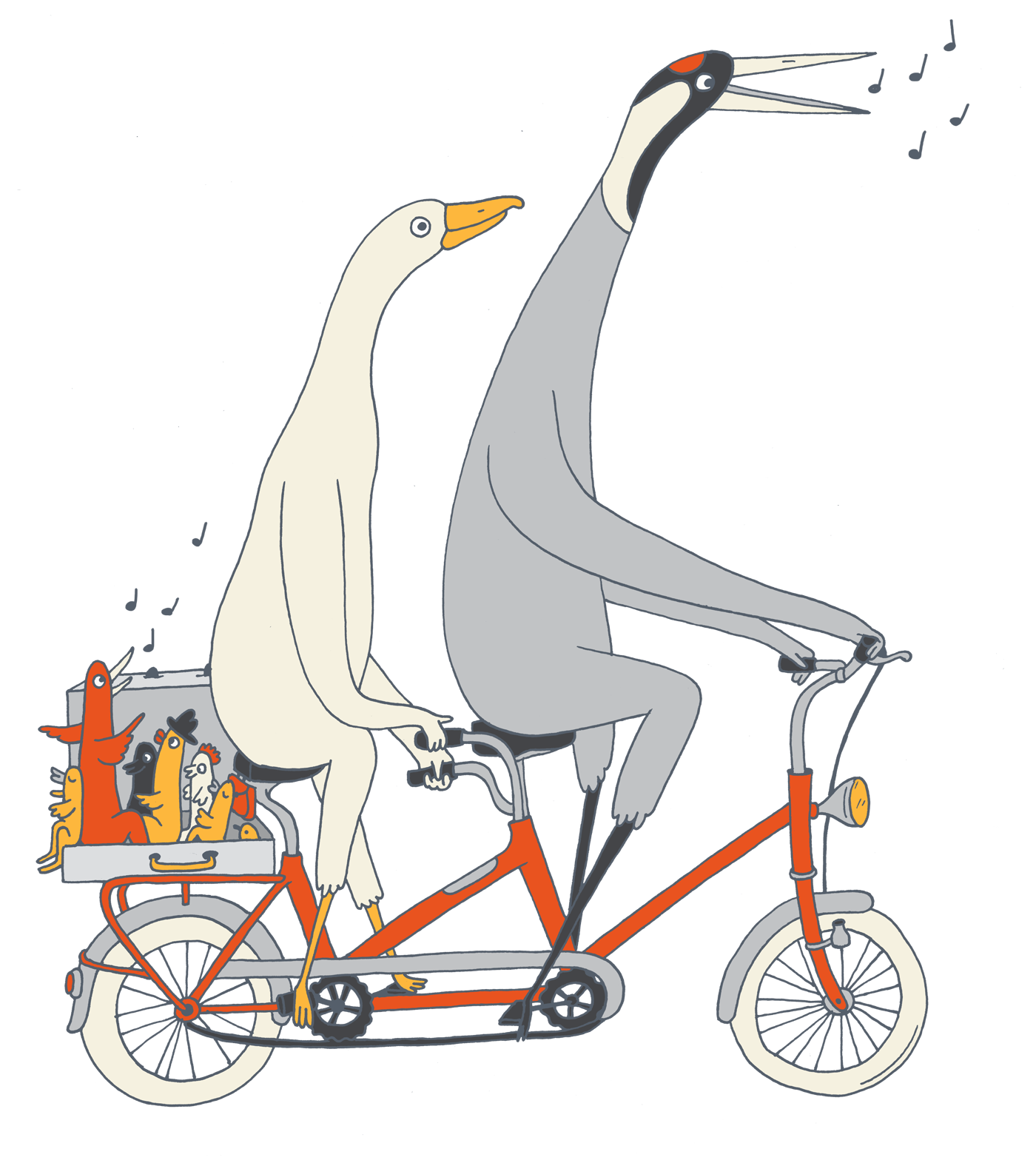 11. Now, tell us a little more about you as a person: what is your favourite food?
I love food! I cannot limit myself to a one-and-only food, but if you ask me to specify: You can always make me happy with a good lasagna or spätzle (a typical German dish similar to noodles).
12. Favourite book?
I really like the book by Hanna Zeckau and Carsten Aermes "Brehms verlorenes Tierleben".
13. Favourite genre of music?
For a good working-flow and to relax I prefer classical music or soundtracks, but I also enjoy South-American music and electronic or psychedelic tunes.
14. What are your hobbies?
I enjoy traveling, concerts, playing table tennis (on a regular basis) and hanging out with my friends.
15. If you weren't an artist, what would you be?
I'd probably be deep down in the ocean and do research on coral-reefs as a marine biologist!