Instagram:
@titibird1488
1. What's your story? Where are you from?
Hi! I am Won-won Shin. I majored in Western Painting and Visual Design and currently, I work as a designer in Korea. 안녕하세요! 저는 신윤원입니다. 서양화과와 시각디자인을 전공했고 현재 한국에서는 디자이너로 활동하고 있습니다.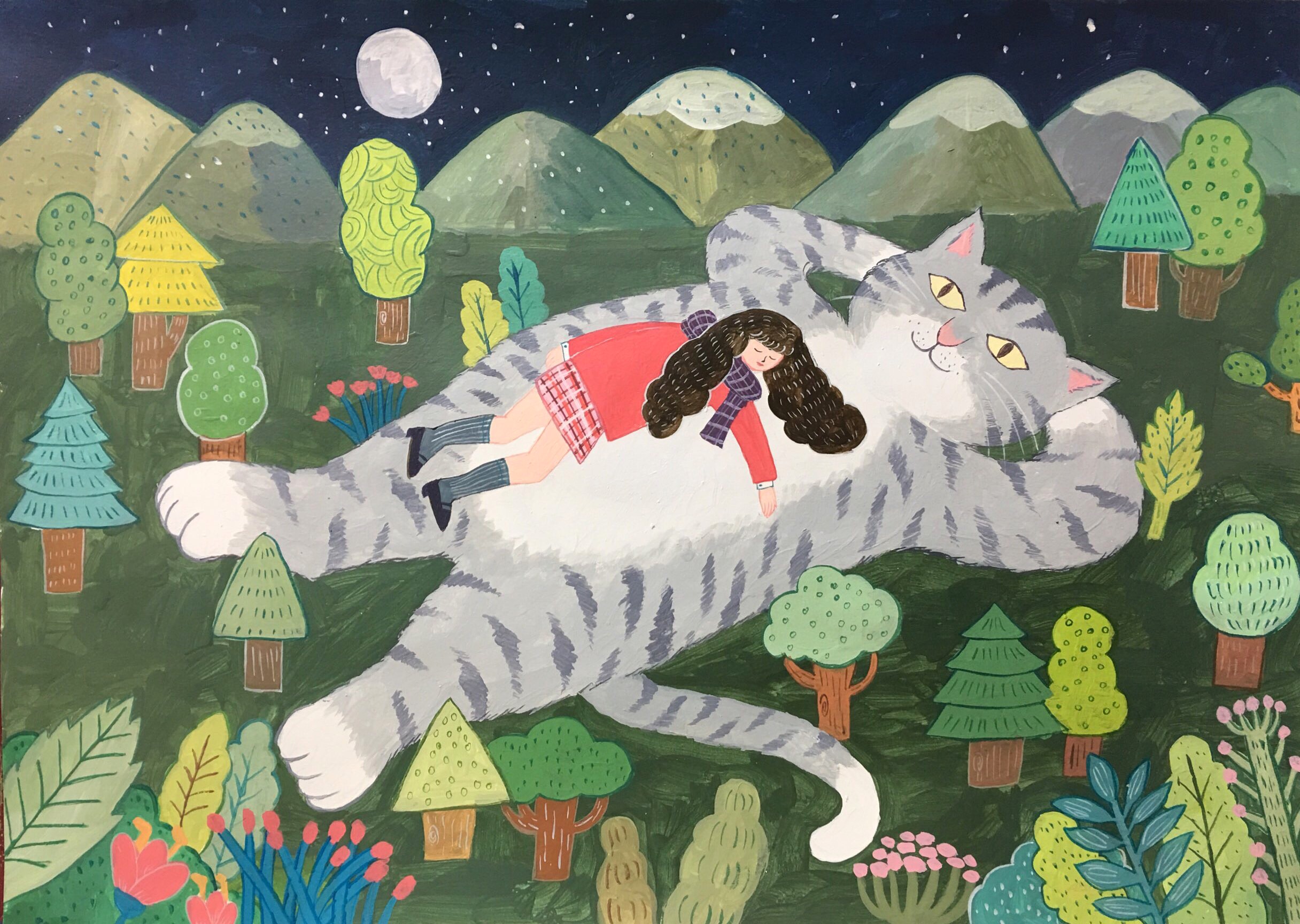 2. Tell us about your aesthetic.
There are some pictures in the world that I can feel more new and appealing. I also want to draw and resemble them 보면 볼수록 새롭고 매력적이다 느껴지는 그림들이 있습니다. 저또한 그런 그림들을 닮고 싶고 그리고 싶습니다.
3. What is your favourite medium and why?
When I draw on paper manually, I use acrylic and gouache. And for digital work, I use Photoshop a lot. I prefer to use hand drawing when painting, because of the texture and natural handstrokes that I can't get from digital work. 수작업은 보통 아크릴과 과슈를 많이 쓰고 디지털작업은 포토샵을 많이사용합니다. 그림을 그릴땐 수작업을 더 선호 하는 편인데 디지털작업에서 얻을수 없는 질감과 자연스러운 손맛이 좋기때문입니다.
4. What is your artistic process like?
I melt emotions that I experience in my daily life into a fantasy or an unrealistic image, and sometimes, I express them as they are. I take notes of them from time to time and sketch based on them. When I start coloring, I tend to concentrate on the harmony of colors and how to effectively express what I want the other person to feel. 제 경험이나 일상속에서 살아가며 느낀 감정들을 공상이나 비현실속에 녹이기도 하고 그대로 표현하기도 하며 떠오르는 이미지들을 틈틈히 메모해두고 그 아이디어 를 바탕으로 스케치를 합니다. 컬러링을 시작할때는 색감의 조화나 상대방이 느꼈으면 하는것들을 좀더 어떻게 효과적으로 표현할까에 대해 많이 몰두하는 편입니다.
5. Who and/or what inspires your work?
In my work, some images that come to mind based on the emotions and feelings that occur in everyday life often lead to the result. I am inspired by movies, walks, interior magazines, travel, books, etc. Also, John Burnham, David Hawkney, Janosh, Matisse, Henri Rousseau and many other artists are always inspiring and stimulating to me. 일상속에서 살아가며 겪는 감정과 느낌을 바탕으로 떠오르는 이미지들이 결과물로 이어지는 경우가 많습니다. 산책, 영화 , 인테리어 매거진, 여행, 책 등을 보고 충전을 하며 영감을 받기도 합니다. 또한 존 버닝햄과 데이비드 호크니, 야노쉬, 마티스, 앙리루소 등 존경하는 여러 아티스트들은 제게 늘 좋은 영감과 자극이 되고 있습니다.
6. What role does art play in your life? How does it change the way you view the world?
The reason I draw is that the process of drawing is fun, but it is a means of speaking to the world in the language I can speak the best. It's also a way of looking at the world. As I live, my view of the world changes little by little, but in my case, I focus on the greatness that small, trivial stories tell in the world we live in. 제가 그림을 그리는 이유는 그리는 과정자체가 즐겁기도 하지만 제가 가장 잘 할 수 있는 언어로 세상에 말을 건네는 수단입니다. 또한 세상을 바라보는 방법이기도 하지요. 살아가면서 세상을 바라보는 관점도 조금씩 바뀌는데 저 같은 경우는 우리가 살고 있는 이 세상에 이야기 작고 소소한 이야기가 전해주는 위대함에 집중하게 되고 그런 마음들이 그림에 표현되는거 같습니다.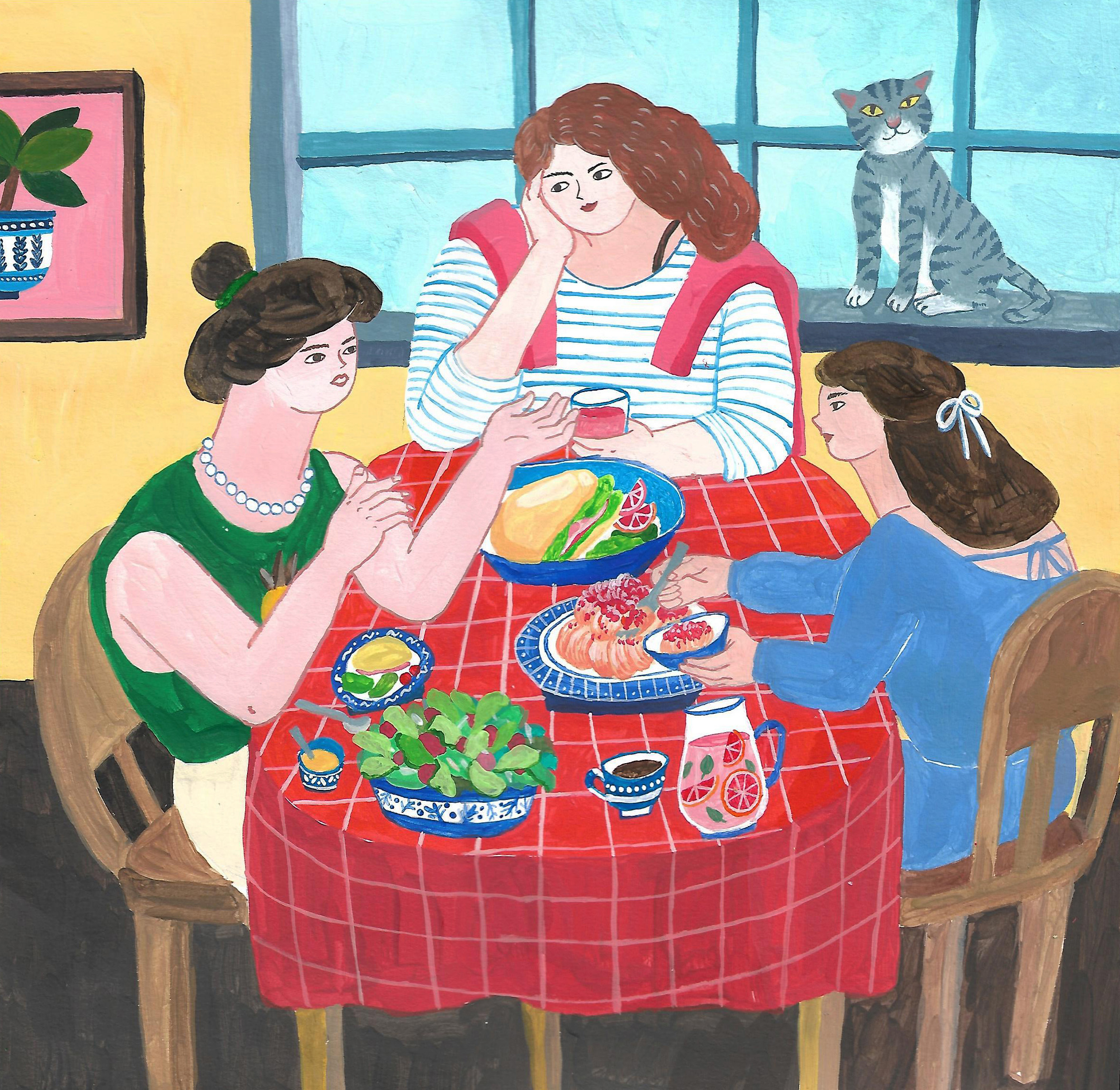 7. Where did you study?
I majored in Western painting and visual design at Seoul Women's University in Korea. 한국 서울여자대학교에서 서양화과와 시각디자인을 전공했습니다.
8. Where do you see yourself in five years?
Five years later, I want the paintings I draw now to be deeper and more solid in colors, to communicate with a wider variety of people and to collaborate on projects. Also, I want to think about my paintings in various ways and to make some goods. 5년후엔 제가 지금 그리는 그림들이 좀더 깊이 있고 제 색깔이 확고해졌으면 하고 , 더 다양한 사람들과 소통하며 콜라보나 프로젝트도 진행하고 싶습니다. 또한 제그림을 다양한 방법으로 고민해서 굿즈 제작도 해보고 싶습니다.
9. What about in ten?
I wish I could continue to be active while drawing, and I would like to draw a picture that would interest many people. 계속 그림을 그리면서 활발한 활동을 하고 있었으면 좋겠고 많은사람들이 관심을 가져줄 수 있는 그림을 그리고 있었으면 좋겠습니다.
10. What do you hope to achieve with your art?
I hope many people recognize my paintings, love me and I want to make my own world of painting. Moreover, it would be nice if my drawings and designs penetrate people's lives in various forms. I want to do various things such as stationery, clothes, patterns, picture books and interior signboard posters, etc. Also collaborating with many brands, too!! 많은 사람들이 제 그림을 알아봐주시고 좋아해주셨음 좋겠고 저만의 그림세계를 확고히 만들어나가고 싶습니다. 또한 저의 그림과 디자인들이 다양한 형태로 사람들의 삶에 스며들어 있으면 좋을거 같습니다. 사람들이 쓰는 문구류부터 옷, 패턴, 그림책, 인테리어 제품 간판 포스터등 다양한 작업을 해보고 싶고 여러 브랜드들과 콜라보도 하고 싶습니다.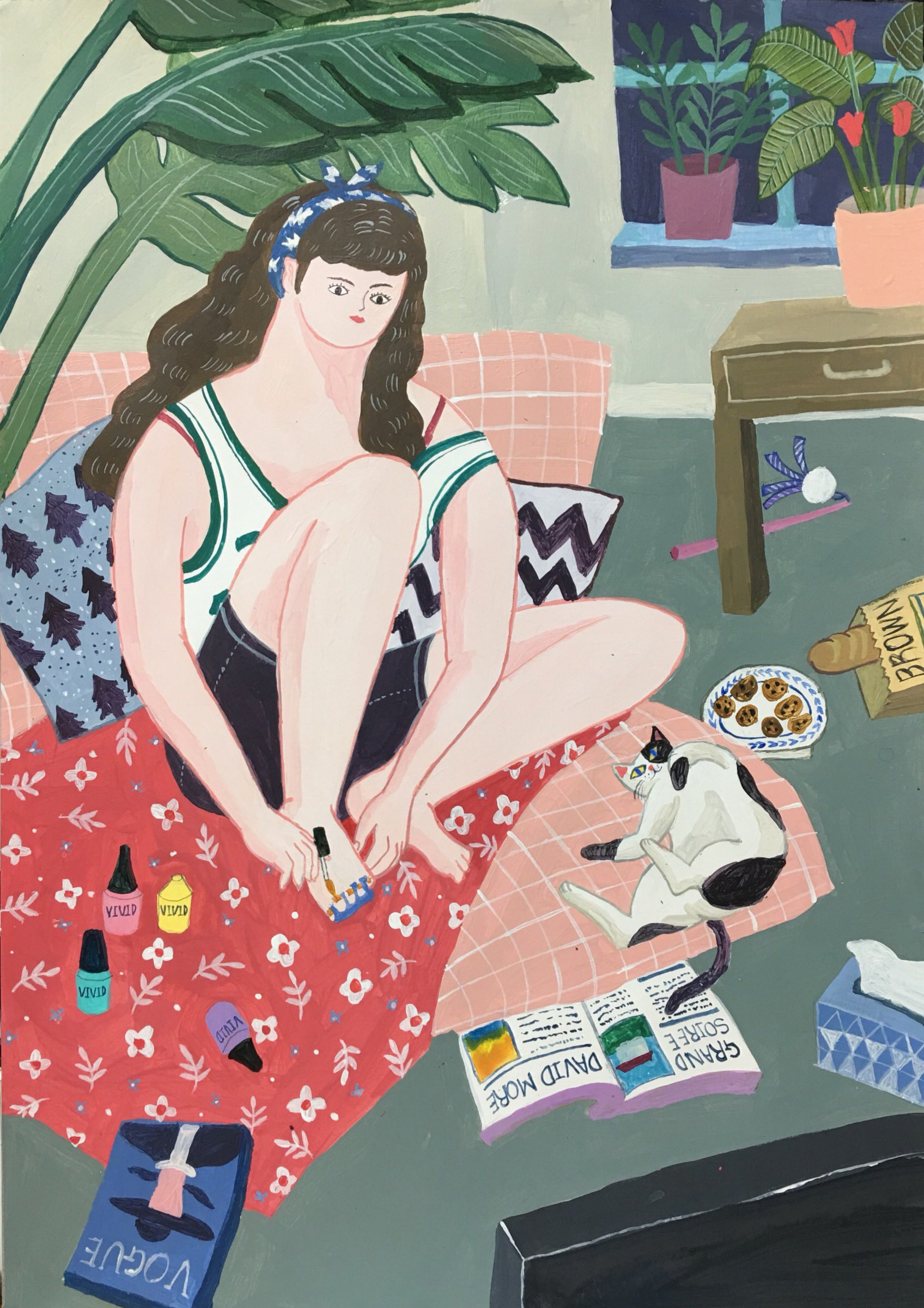 11. Now, tell us a little more about you as a person: what is your favourite food?
Tteokbokki(Korean rice cake with Korean chili sauce), dessert. 떡볶이, 디저트.
12. Favourite book?
I like Yoshimoto's banana writer's novels, so I take them every time I get a new one. 요시모토 바나나 작가님의 소설을 좋아해서 신작 나올때마다 챙겨보고 있습니다.​
13. Favourite genre of music?
I enjoy rock and pop genres, and I like Adel, Coldplay, and Bruno Mars. 락과 팝 장르를 좋아하고 아델, 콜드플레이, 브루노마스를 요즘 즐겨듣고 있습니다.
14. What are your hobbies?
Watching movie drama, walking, graffiti, Chatting with friends at the cafe. 영화 드라마 시청, 산책, 낙서, 까페에서 친구들과의 수다.
15. If you weren't an artist, what would you be?
I usually like to read interior magazines and books, it is interesting to not only decorate the space beautifully but also to create the lifestyle of the people living there. If I didn't paint, I would probably work as an interior designer. 평소에 인테리어잡지나 책보는걸 좋아하는데 단순히 공간을 아름답게 꾸미는것 뿐 아니라 그 안에 사는 사람들의 라이프 스타일을 만들어 낸다는 사실이 흥미롭습니다. 만약 그림을 그리지 않았다면 인테리어 디자이너 일을 하고 있을거 같습니다.