Instagram:
@tobyrampton
Twitter:
@T_Rampton
Website:
www.tobyrampton.com
1. What's your story? Where are you from?
I am from Norwich in England. I originally began my creative journey with an interest in graphic design as a teenager but I soon found a passion for printmaking and drawing which naturally turned into a passion for Illustration.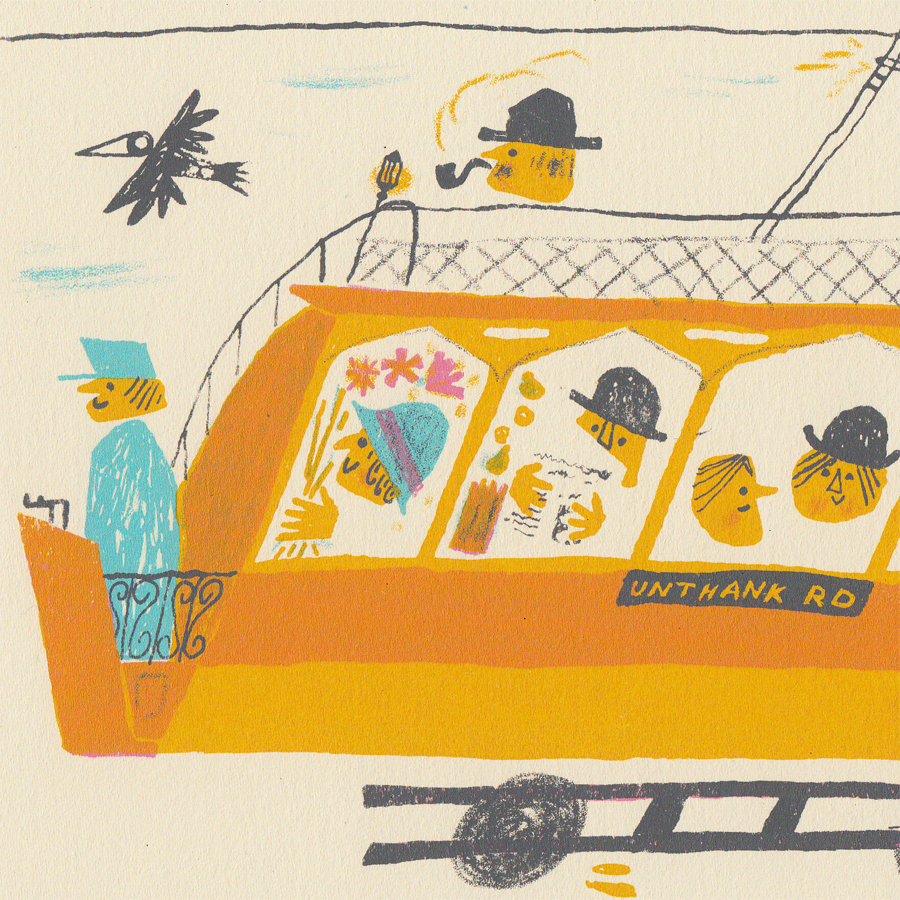 2. Tell us about your aesthetic.
My aesthetic is very graphic with a restricted colour palette. I alway am to finish a piece of work in its simplest form by working with restrictions of printmaking, I like keeping things simple, colourful and fun.
3. What is your favourite medium and why?
Collage. I have started working with found paper to quickly prepare large areas of colour in my sketchbooks. This helps me develop images from sketches much quicker than pencil drawings while keeping the drawings loose.
4. What is your artistic process like?
I work with screen printing at the moment, this let's me create really sharp final images from my hand drawn positives. I try to avoid digital editing as often as possible so that any mistakes or smudges are still visible, I love a happy accident! I also colour some work digitally if the work is for a commercial client. My process varies depending on deadlines and the job specifics, so I'm always on my toes
5. Who and/or what inspires your work?
People and music are a big inspiration for my work. Many of my images have characters scattered throughout them so working from observed actions is really important for my work. My working language is heavily inspired by early lithographic picture books by illustrators such as Dahlov Ipcar, Olle Eskell, Paul Rand, Helen Borten.
6. What role does art play in your life? How does it change the way you view the world?
It plays a very large role! It's difficult to switch off sometimes but I always try to keep an open mind when doing normal day to day tasks so I can reflect this in my work. I am always observing things like people, architecture and sounds to use within my work.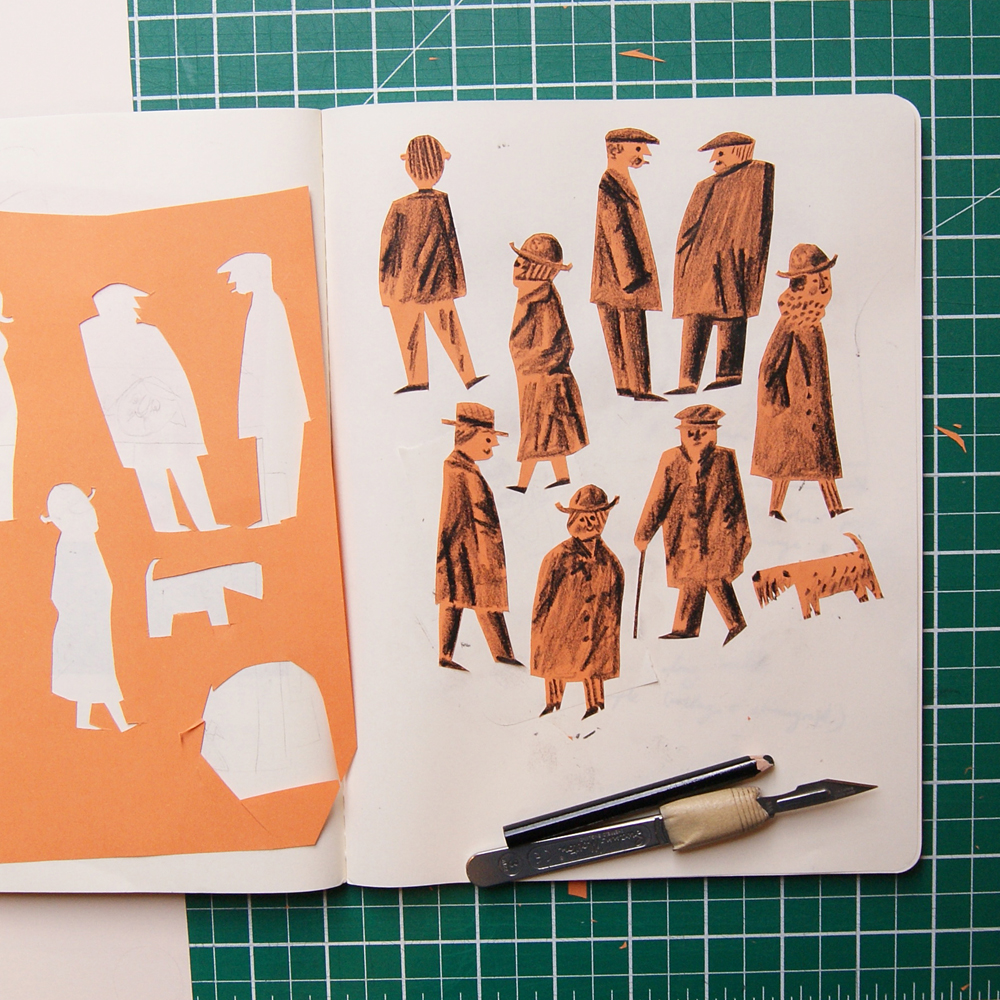 7. Where did you study?
I studied Illustration at Anglia Ruskin in Cambridge for 3 years. The course was really hands on and I learnt to appreciate visual language as a driving force for solving problems visually.
8. Where do you see yourself in five years? Working in an agency?
I would love to focus on publishing a bit more in 5 years, that would be great. I'm not in a rush to find an agent, I would like to have one by then but only if we have a friendly understanding of each others needs. I would also like to have a Whippet as well... that would make me very happy!
9. What about in ten?
Hopefully still drawing!
10. What do you hope to achieve with your art?
To make people smile. Whatever I work on usually has an up-beat energetic language that makes people happy. Even if the subject is slightly dark I always try and communicate in a light hearted way.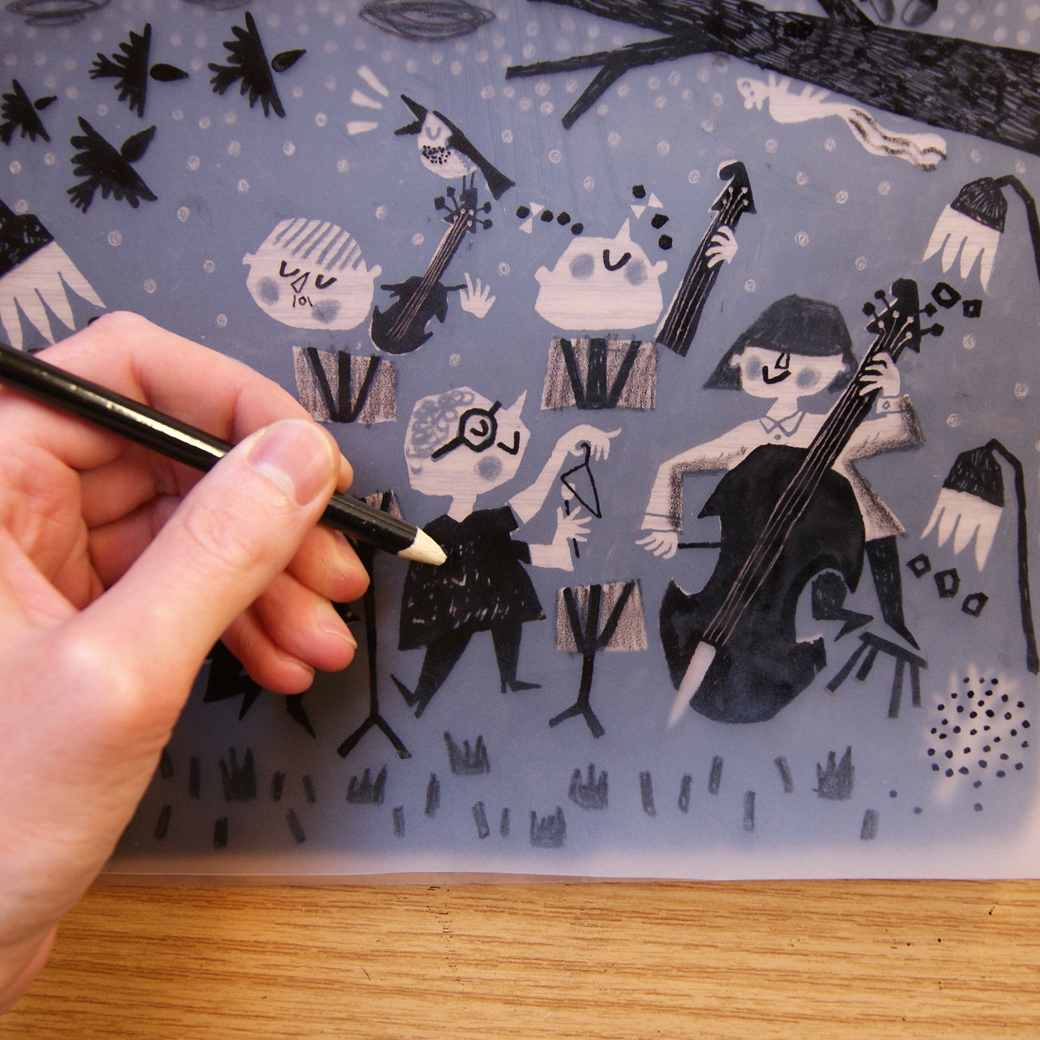 11. Now, tell us a little more about you as a person: what is your favourite food?
A spicy curry
12. Favourite book?
Where The Wild Things Are, Maurice Sendak. I know this is a childrens book but the text and image is just so playful I can't help but be inspired each time I read it.
13. Favourite genre of music?
Jazz!
14. What are your hobbies?
I like bookbinding and playing with paper when I'm not working on a drawing or print. I want to start cycling and exploring the country this year as a hobby. I get so caught up with tight deadlines and the stress of commuting that I often forget to take time off.
15. If you weren't an artist, what would you be?
Hmm... an ale brewer? This seems like a great crafting career!