Instagram:
@twinkle.days
Facebook:
www.facebook.com/twinkle.days
Website:
www.twinkle-days.com
1. What's your story? Where are you from?
I was born in Seoul, Korea and I am working there. Unlike others who have worries, I am pretty peaceful and enjoyable. (It is true, not ironic). I like to paint since I was very young but I never thought it would be a job. 나는 한국의 서울에서 태어나서, 그곳에서 활동 중입니다. 당신들의 걱정과는 다르게, 꽤 평화롭고 즐겁게 지내고 있어요. (반어법이 아니라 사실입니다) 아주 어릴 때부터 그림 그리는 것을 좋아했는데, 결국 이게 직업이 될 거라고는 생각도 안 해봤어요.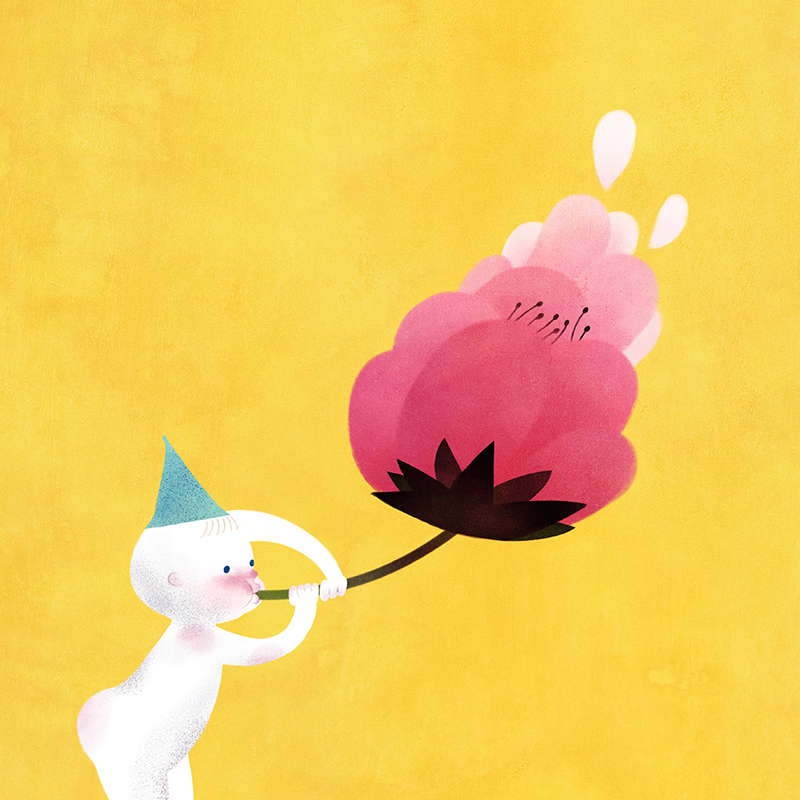 2. Tell us about your aesthetic.
I like to harmonize extreme things. To place rough textures neatly, or to blend achromatic and saturation colors. First of all, it is important that the content is honest and kindly communicated. For that purpose, it does not limit the various colors, styles and materials. 나는 극단적인 것들을 조화시키기를 좋아해요. 거친 텍스쳐를 깔끔하게 배치한다거나, 무채색과 채도 높은 색을 조화시킨다던가 하는 것들을요. 무엇보다 내용이 솔직하고 친절하게 전달되는 것을 중요하게 생각합니다. 그걸 위해서라면 다양한 색과 스타일, 재료를 제한하지 않습니다.
3. What is your favourite medium and why?
My favorite is more than just 94Ibs rough paper and thick pencil. It is good to get the most familiar and warm feeling. I use Photoshop mainly these days and I am so happy to experiment with many colors easily. 가장 좋아하는 것은 두툼하고 거친 종이와 진한 연필이에요. 가장 익숙하기도 하고, 따듯한 느낌이 들어서 좋아요. 요즘은 주로 포토샵을 사용하는데, 많은 색들을 쉽게 실험해 볼 수 있어서 너무 즐거워요.
4. What is your artistic process like?
If work is given outside, I try to follow the client's briefing. But I focus on adding my own interpretation rather than explaining what it is. And I try to draw pictures that the viewer can see comfortably and happily. When I personally draw a picture, I usually start with ideas from a little observation. I catch up with a story I may see while I walking down the street or somebody 's writing or painting. I quickly sketch the idea and I combine it with style and color. 외부에서 일이 주어지는 경우에는, 클라이언트의 브리핑에 따르려고 노력해요. 하지만 있는 그대로를 설명하기 보다는 나만의 해석을 보태는 것에 집중합니다. 그리고 보는 이가 편안하고 즐겁게 볼 수 있는 그림을 그리려고 노력하죠. 개인적으로 그림을 그릴 때는, 주로 사소한 관찰에서부터 아이디어가 시작해요. 길을 가다가 보게 된 어떤 것 혹은 누군가의 글 혹은 그림 등을 보고 즉흥적으로 떠오른 이야기를 붙잡습니다. 빠르게 아이디어를 스케치 해두고 어떤 스타일과 색감이 어울릴지 고민하면서 주물럭거려요.
5. Who and/or what inspires your work?
I especially like small things in everyday life that I do not know if I go over without being interested. And I like natural things. I live in a big city for the rest of my life. I like fairy tales, SF and fantasy fantasies. Also, literary texts such as poems and lyrics are good stimulants. 관심을 가지지 않고 스쳐 지나가면 모르게 되는 일상의 작은 것들을 특히 좋아해요. 그리고 자연적인 것들을 좋아해요. 거대한 도시에서 평생을 살면서도 말이죠. 동화스럽던지, SF 같던지, 판타지한 상상들도 정말 좋아해요. 또한, 시나 노래가사같은 문학적인 텍스트들도 좋은 자극제에요.
6. What role does art play in your life? How does it change the way you view the world?
Art makes me look for small and tiny beauty. Not just something pretty, but true beauty. And I believe that finding and introducing it is the joy of art. If others are wearing glasses, I am a person with a magnifying glass. 예술은 나에게 작고 작은 아름다움을 찾도록 합니다. 단지 예쁜 것이 아니라, 진정한 아름다움을요. 그리고 그것을 찾아서 소개하는 것이 예술의 기쁨이라는 것을 믿고 있어요. 다른 사람들이 안경을 쓴 사람들 이라면, 나는 돋보기를 가지고 있는 사람이라고 생각해요.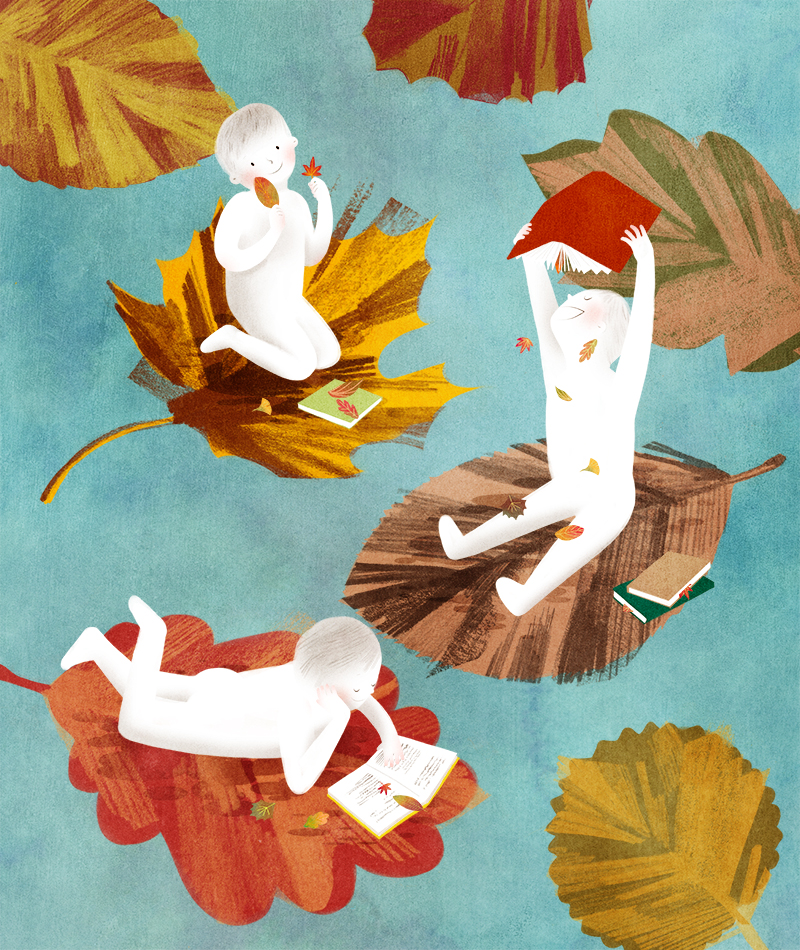 7. Where did you study?
I studied metal craft and fashion design at Kookmin University in Seoul. Surprising? haha. As I studied my major, I realized that what I really loved was painting. Of course, it's still fun to make something. 서울의 국민대학교에서 금속공예와 패션디자인을 공부했어요. 의외죠? 하하. 전공을 공부하면서 내가 정말 사랑하는 것은 그림이라는 것을 더욱 깨달았어요. 물론 여전히 무언가를 만드는 것도 너무나 즐겁습니다.
8. Where do you see yourself in five years?
I do not think it will be different from now. But I hope to happily draw more personal pictures for myself. (In recent years, there were alot of client work.) Maybe I will have a personal exhibition. 지금과 크게 다르지 않을 것 같아요. 하지만 더욱 즐겁게 나를 위한 그림들을 그리기를 기대합니다. (최근에는 외주들이 많았거든요) 개인 전시회를 할지도 모르겠네요.
9. What about in ten?
I wonder if I'm getting married and raising a child. Haha. If so, I want to make children's books with children. It would be great to lead a community with young artists and those interested in art. In fact, my last 5 years will be really a time for many things to change. So 10 years later, it's really hard to imagine. 결혼을 해서 아이를 키우고 있지 않을까요. 하하. 그렇다면 아이들과 함께 동화책을 만들고 싶어요. 젊은 예술가들이나 예술에 관심이 있는 사람들과의 커뮤니티를 이끌어 가는 것도 멋지겠네요. 사실, 지난 나의 5년은 정말 많은 것들이 바뀌는 시간 이였어요. 그래서 10년 뒤는 정말 상상하기가 어렵네요.
10. What do you hope to achieve with your art?
I want to kill three birds with a small stone. My happiness, the happiness of others, and the economic power for a stable life. I want to have a clue about the little beauty I found. And I expect people to be able to discover beauty through it. 나는 작은 돌 하나로 세 마리의 새를 잡고 싶어요. 나의 행복, 타인의 행복, 그리고 안정적인 삶을 위한 경제력. 내가 발견한 작은 아름다움에 대한 단서를 그리고 싶어요. 그리고 사람들이 그것을 통해서 아름다움을 발견할 수 있게 되기를 기대해요.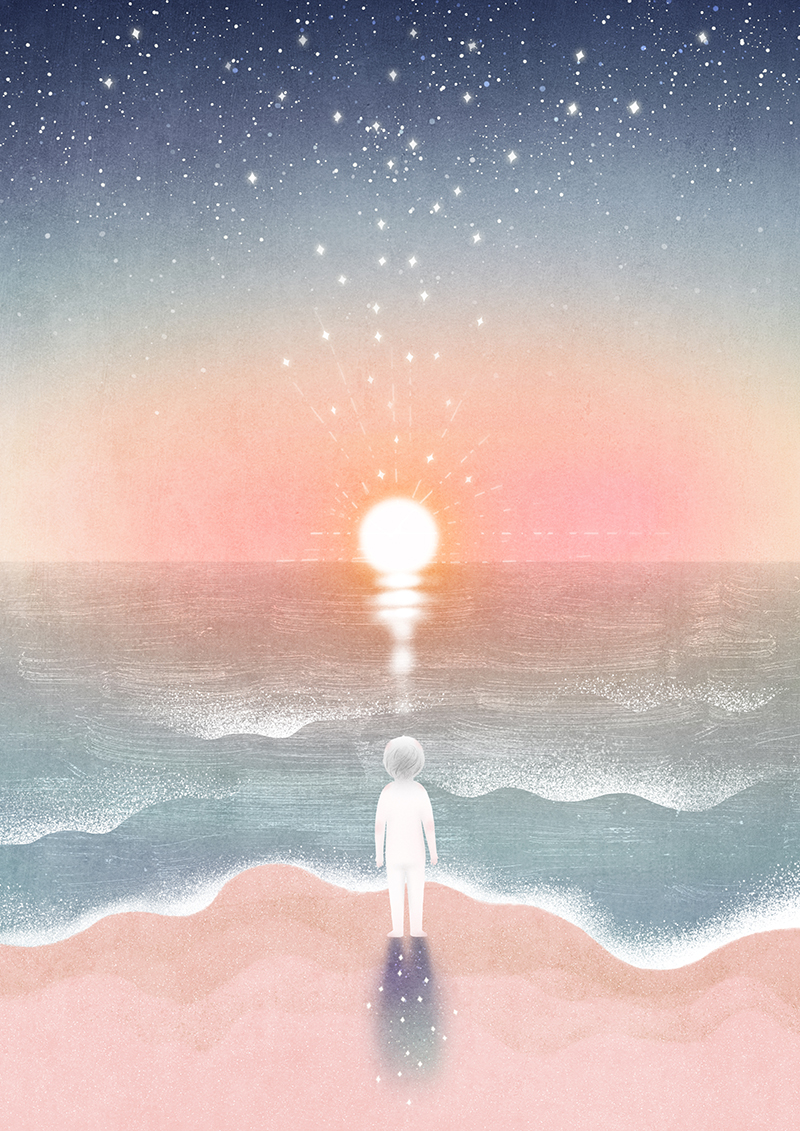 11. Now, tell us a little more about you as a person: what is your favourite food?
I always like Tteok-bokki from my childhood. Chewy and tender rice cake, salty and spicy hot pepper paste, sweet sugar. It's a perfect combination! 어릴 때부터 언제나 떡볶이를 좋아해요. 쫀득하고 말랑한 떡, 짭조름하고 매콤한 고추장, 달콤한 설탕. 완벽한 조화에요!
12. Favourite book?
The little prince. I read the book as much as he saw the sunset. 어린왕자. 어린왕자가 노을을 본 수 만큼 읽었을거에요.
13. Favourite genre of music?
I like comfortable and exciting acoustic music. Indie Pop, Folk Pop, Jazz and so on. 편안하고 흥겨운 어쿠스틱 음악을 좋아해요. 인디팝, 포크팝, 재즈 등등.
14. What are your hobbies?
I enjoy playing with many hobbies but recently I'm into drinking coffee and tea. 여러 취미를 돌아가며 즐기는데, 최근에는 커피와 차에 빠져있어요.
15. If you weren't an artist, what would you be?
I would be an artist no matter what job I have. At least it would have been fun to see and observe the artists! 어떤 직업을 가지던지 나는 예술가일거에요. 적어도 예술가들을 스크랩하고 관찰하는 응원자가 되었을거에요!