Instagram:
@___marie___gosselin___
Behance:
www.behance.net/mariegosselin
Tictail:
www.mariegosselin.tictail.com
Shop:
www.marie-gosselin.the-shop.co/fr
Website:
www.mariegosselin.com
1. What's your story? Where are you from?
Hi! I'm from Normandie, France. I grew up in a bakery in a small village, surrounded by nature and croissants. I've lived in Belgium for 5 years without liking beer and I totally survived. I went back to France for a few years and I am now in Melbourne, Australia. Bonjour! Je viens d'un petit village de Normandie, j'ai grandi dans une boulangerie et c'était plutôt pas mal. J'ai ensuite bougé en Belgique pour mes études. Après 5 ans au Plat Pays, je suis revenue en Normandie et j'ai étudié un an à Paris. Je suis actuellement à Melbourne en Australie.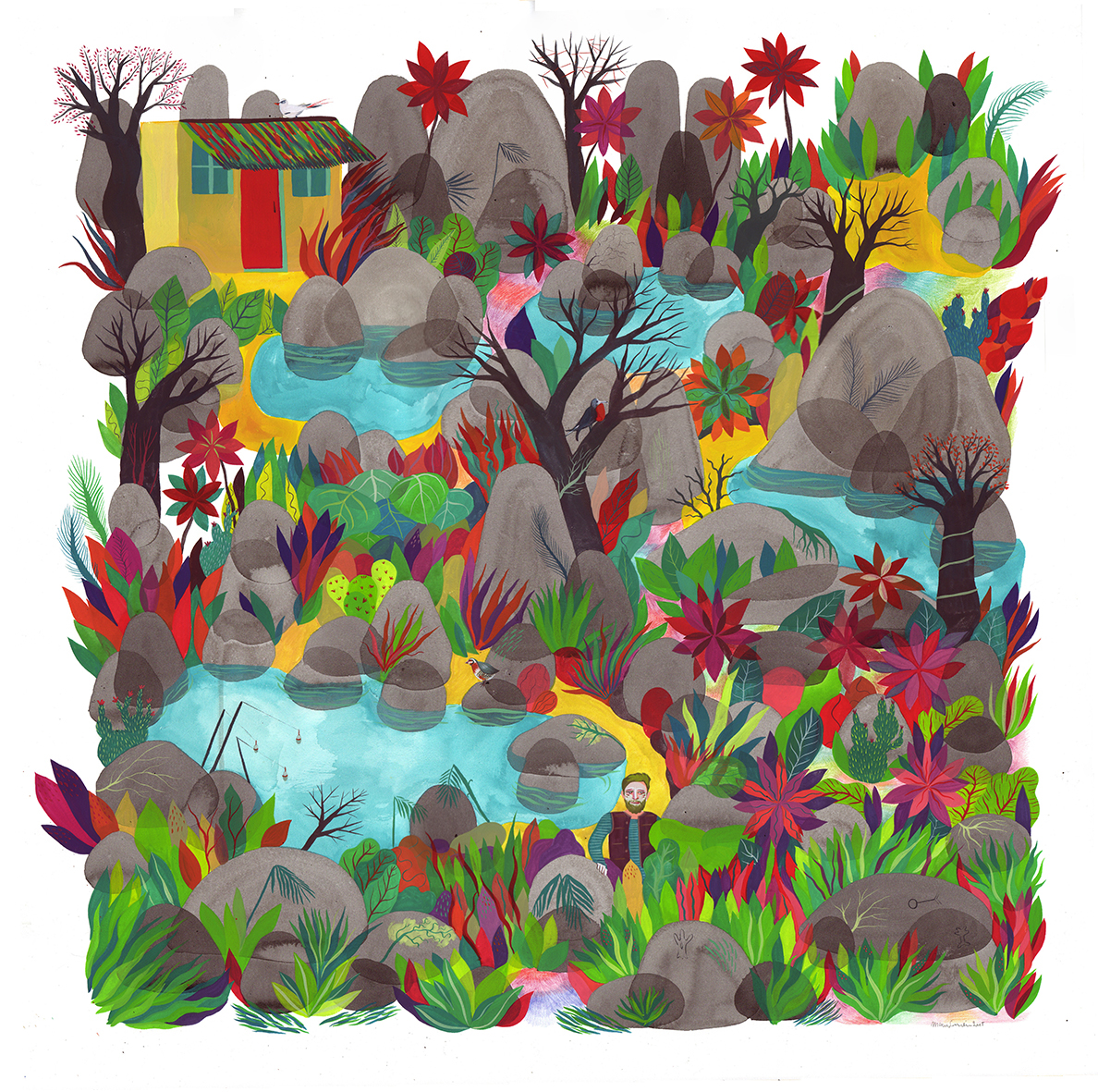 2. Tell us about your aesthetic.
Detailed, joyful, colourful... I like adventures and put them on paper. J'aime bien le mot « chatoyant » ! Sinon, coloré, détaillé...
3. What is your favourite medium and why?
I love gouache because it's versatile. Colours can be opaque or transparent, I enjoy going into details with it. The picture gets very close to what I have in mind. La gouache par sa polyvalence. Les couleurs peuvent tantôt être intenses, tantôt transparentes. Cela me permet autant de me lâcher et de partir dans les détails. Le rendu est vraiment proche de ce que j'ai en tête.
4. What is your artistic process like?
Most of the time I have an idea stuck in my mind. I take a lot of pictures when I'm outside, of details, landscapes, textures... Then I use them as references, trying to expend my pictural vocabulary. Putting it on paper can be a quick process, sometimes it takes me weeks to finish a painting because I like going into details and I don't like to repeat myself. I listen to some podcasts to allow my mind to get out of the process a bit. Of course, having my cat around is a big plus. (Puduc if you read this, I miss you). Je prends beaucoup de photos que j'utilise comme références, ça me donne une idée qui devient un peu comme une obsession que je dois poser sur le papier. Parfois je sors une illustration en 20min, parfois il me faut des semaines pour terminer une peinture car j'aime partir dans les détails sans me répéter d'un centimètre à l'autre. Tout ça avec du « bruit » en fond pour me déconcentrer un peu, style podcast ou documentaire. Puis bien sûr mon chat pas loin.
5. Who and/or what inspires your work?
The work of other illustrators and artists. Also, I grew up in the birthplace of Impressionism which was a big influence in the way I apprehend colours. But the most inspiring remains outside. Le travail d'autres illustrateurs et artistes. Également, j'ai grandi dans le berceau de l'impressionnisme ce qui a pris une grande place dans ma façon d'appréhender les couleurs. Cependant, le plus inspirant c'est juste dehors.
6. What role does art play in your life? How does it change the way you view the world?
It's essential to me, like breathing. I spend a lot of time observing, having pictures popping up in my head that I have to create. C'est un peu comme respirer, c'est essentiel. Je passe beaucoup de temps à observer, les idées me viennent et je dois les dessiner.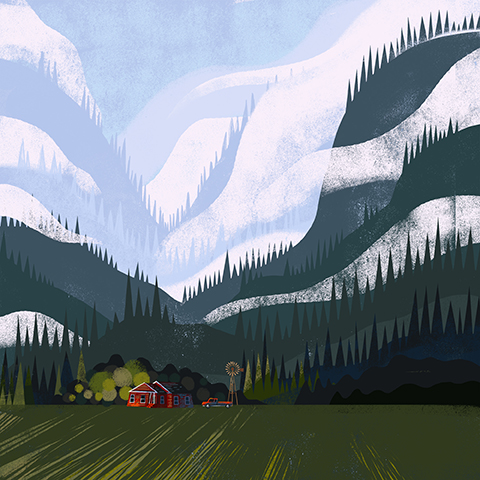 7. Where did you study?
Saint Luc in Tournai (Bel) then Gobelins in Paris. Saint Luc à Tournai (Belgique) puis Gobelins à Paris.
8. Where do you see yourself in five years?
Somewhere else, still doing what I do, on exciting projects. Sûrement loin quelquepart, j'ai un peu la bougeotte. Mais tout en faisant ce que je fais aujourd'hui.
9. What about in ten?
A bit further, on the right. Encore un poil plus loin.
10. What do you hope to achieve with your art?
I want people to create their own stories from my pictures. I like creating vivid emotions. Je veux continuer à raconter des histoires au travers de mes illus, qu'elles créent de vives émotions.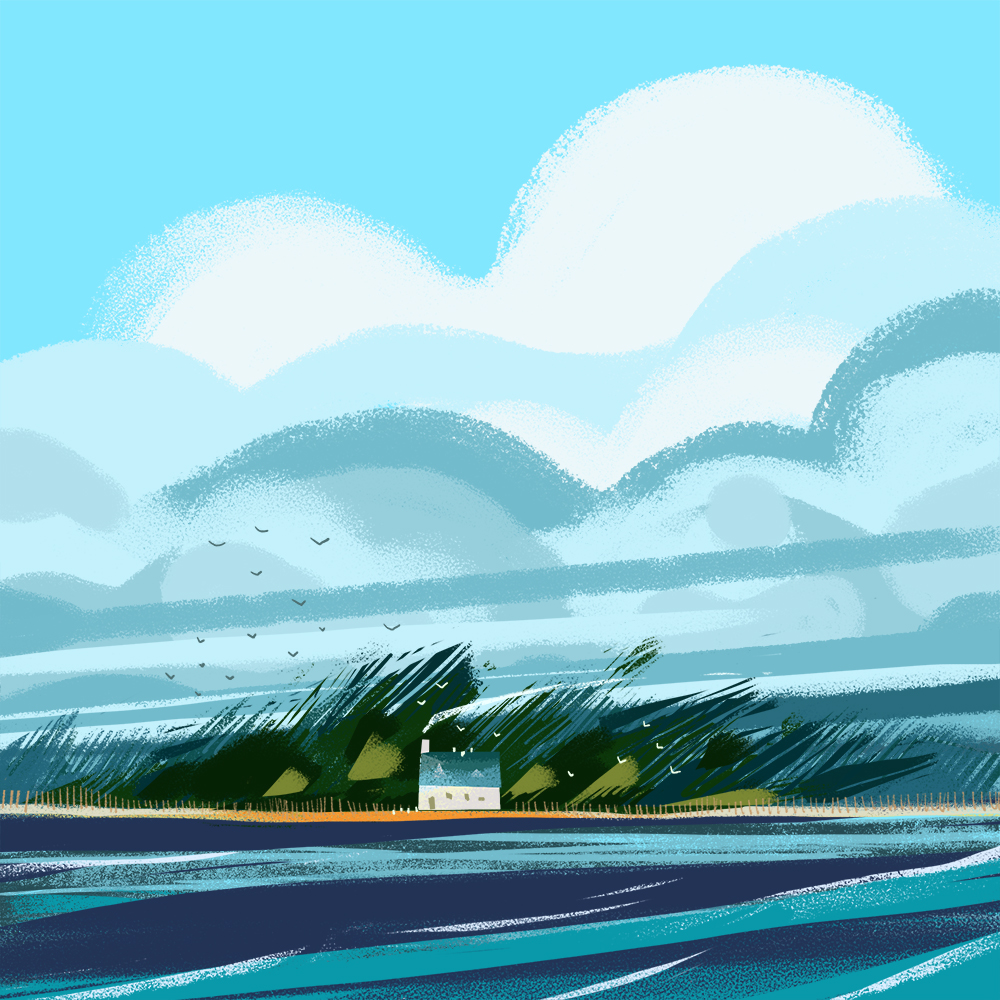 11. Now, tell us a little more about you as a person: what is your favourite food?
Dad's bread and Manette's Hachis Parmentier. Le pain de Papa et le hâchis parmentier de Manette.
12. Favourite book?
Judith Schalansky's « Atlas des îles abandonnées » « Atlas des îles abandonnées » de Judith Schalansky
13. Favourite genre of music?
Rock/Garage...
14. What are your hobbies?
Obviously painting and drawing. Also music gigs, biking, hiking, cooking and walking for hours... Inutile de dire la peinture et le dessin. Sinon j'aime le vélo, la rando, la musique, cuisiner et marcher sans but particulier.
15. If you weren't an artist, what would you be?
Sad. Triste.