Instagram:
@_.baobap._
Facebook:
www.facebook.com/baobaphandmade
Bigcartel:
baobap.bigcartel.com
1. What's your story? Where are you from?
I grew up in Turkey,Istanbul. When i was a kid i used to watch too many cartoons and used to read too many children books. Inspired by these i used to write my own tales and illustrate them and i used to draw them very tiny. I always wanted to be an animator, cartoonist. I told my family to sign me up to a fine arts school when i was a kid but i couldn't get any support by them because in Turkey, artists can't make enough money to make a living, it doesn't seem as a 'serious' job. That was discouraging for me and i lost my heart on being an artist but i never stop being creative that i kept drawing somethings or i had some attempts to handcrafts such as amigurumi, cross stitch, knitting and crochet before. Somehow i ended up with study Advertising on university and i hated it. I refused to go to school so that created a lots of free time in my life. One day while i was passing by a thread and yarn shop, i randomly decided to buy threads and needle to start to embroider. I started to stitch that day and never stopped since.
2. Tell us about your aesthetic.
I love making color explosions in my works. I have a raw vision and my works are rich by the texture, intricate, narrative, magical,vulnerable, cute but spooky. I also love to use classical embroidery technics in unusual ways and i sometimes work symetrical or inspired by symetrycal forms, makes me feel satisfied and comfortable with my art. It's kind of an obsession.
3. What is your favourite medium and why?
I love my threads! I love the endless texture possibilities they generate by every different technic. I always use colorful cotton fabrics, i started to dye them myself in my latest works and i believe the background color is playing the biggest part on color palette of the work. I'm also a fan of beads and sequins. I'm always amazed by their glittering nature especially sequins and i find myself looking at them for minutes. I believe they imitate the magical power of the sun which it stimulates our pineal glands by its beams and makes us happy.
4. What is your artistic process like?
Ideas pop up randomly in my mind as a result of the researches i made before and the images i've seen before. I sketch them very roughly at the beginning and i leave them as they are at that moment to let them flourish in my mind in time, to work on them again. Sometimes i made up stories to those drawings and sometimes the other way round i find the story first. I also use imagination as a self suggestion in my daily life for instance, i imagine that flowers are growing on my head in my anxious time which makes me calm and relax and i sometimes use those visions in my works.
5. Who and/or what inspires your work?
My works are inspired by my dreams,nature, feminine energy, myths, magical creatures, esoterism,any folk art, old fairy tales and illustrations; especially Edmund Dulac is my favourite about that. Hayao Miyazaki and J.K Rowling always have been great inspirations for me. I love how they created their own unique worlds and magic. Also Russian folk artist Yuri Vasnetsov's works are one of my biggest inspirations.
6. What role does art play in your life? How does it change the way you view the world?
I'm very happy that it becomes a lifestyle of mine. That was my childhood dream. I feel very fresh since my mind and my hands keep creating something everyday. I think every mind is creating its own unique way of communication through art and i love to observe and understand the human mind through art.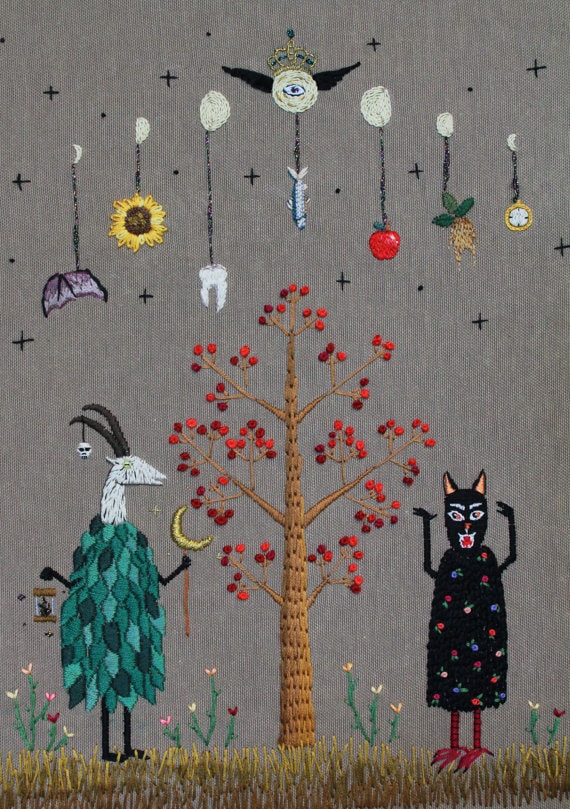 7. Where did you study?
I studied advertising at Anadolu University in Eskisehir, Turkey.
8. Where do you see yourself in five years? Working in an agency?
I would continue embroidering but hopefully in a different country.
9. What about in ten?
If i have the funds i will live in a small village in Japan and continue to embroider there.
10. What do you hope to achieve with your art?
My art is very young to achieve this for now but in the future i'd like to touch people's heart and soul and awaken something in them with my art.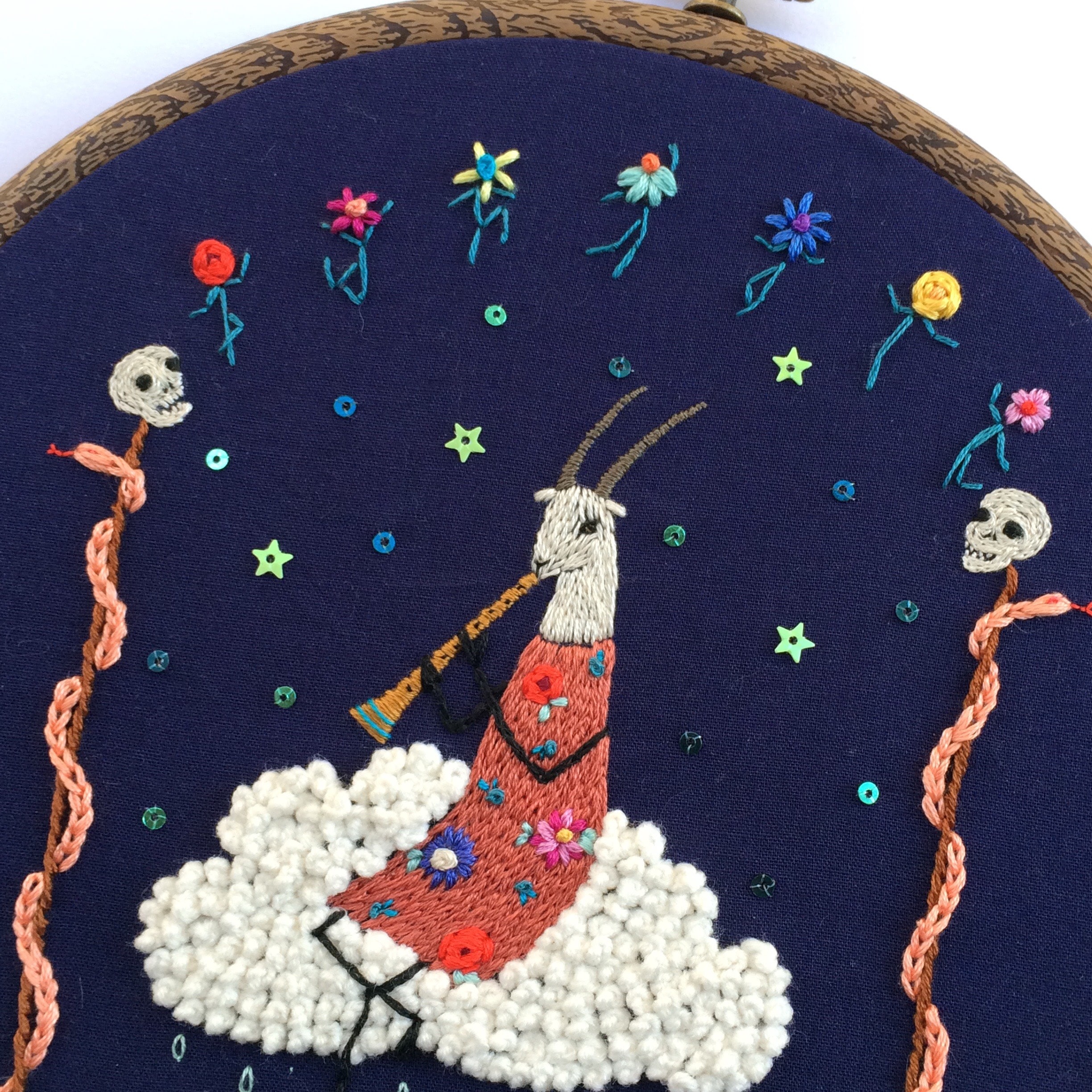 11. Now, tell us a little more about you as a person: what is your favourite food?
I love Indian foods and falafel.
12. Favourite book?
There is an old and a rare book called Mythology Legends written by Ugo Dettore. There are very beautiful illustrations in the book. I have that book since my childhood and it's very special to me.
13. Favourite genre of music?
I love to listen surf rock,post rock, jazz, instrumental, binureal beats, vaporwave and some anime and film soundtracks.
14. What are your hobbies?
I love riding bike and go the riverside and sit under a willow tree. I also love to play with my cats.
15. If you weren't an artist, what would you be?
Etymologist.