Instagram:
@_fernandoleon
Facebook:
www.facebook.com/fernandoleonillustration
Website:
www.fernandoleon.nl
1. What's your story? Where are you from?
I was born in Bogota, Colombia, but i lived my whole life in the Netherlands. My story started as a 13 year old graffiti spraying kid. Once i realized this creative thing could also be a way to survive and earn my living with, i decided to start illustrating. I first did a graphic design education which made me realize that i hate rules. So after this i started to study illustration at the art academy. In the summer of 2016 i graduated and right now i am enjoying the freedom of a fulltime freelance illustrator.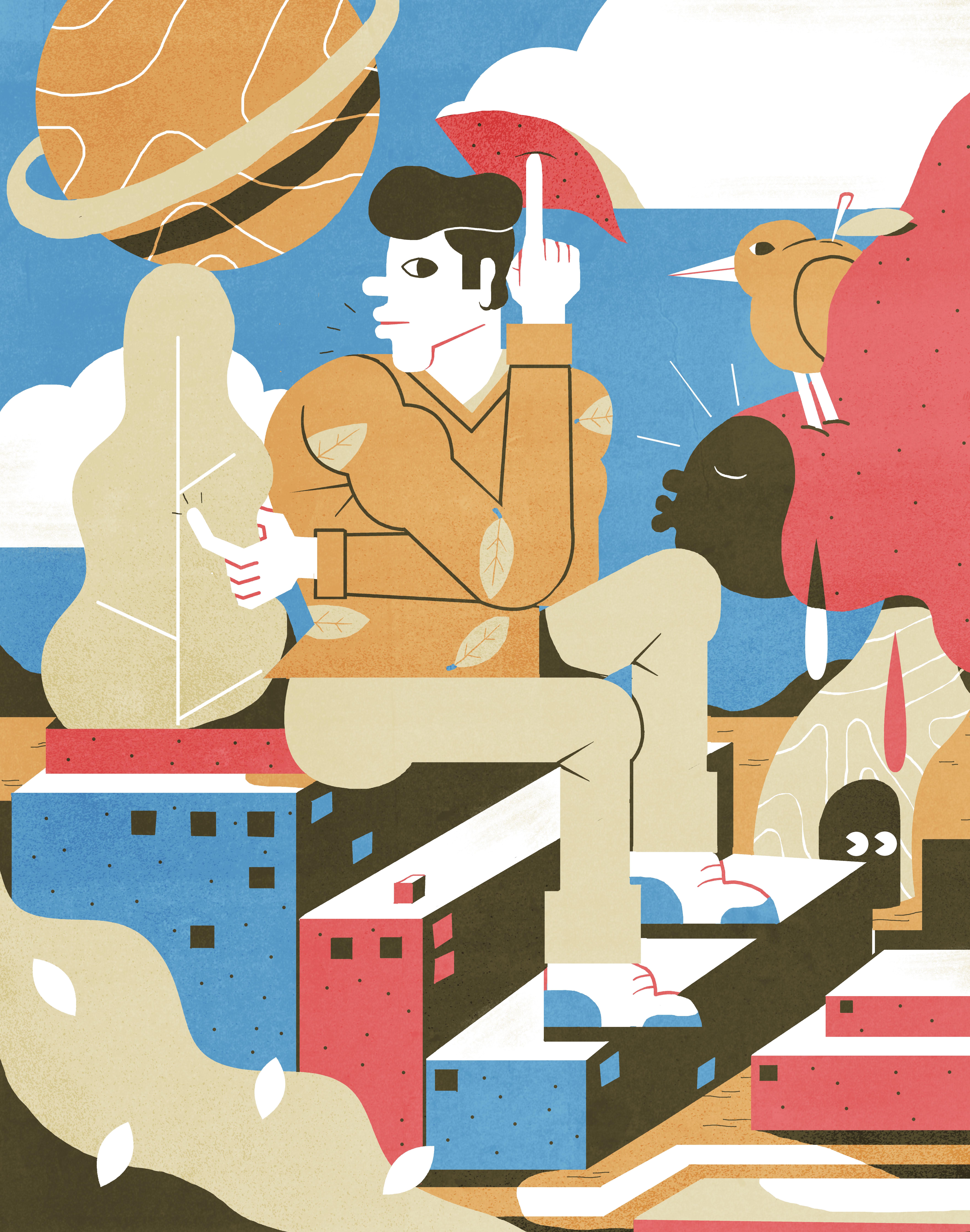 2. Tell us about your aesthetic.
I would describe my work as playful, simplistic and colourful. I like to put a narrative in my illustrations so the viewer can search for his own interpretation.
3. What is your favourite medium and why?
My favourite medium is hand drawn sketches illustrated in Photoshop. But what i love the most is doing murals. Listening to music and having 12 hour painting days is for sure the best there is.
4. What is your artistic process like?
I make a lot of random sketches in my sketchbook. From my sketchbook i move onto the paper and give it context. After i am satisfied with the sketch i make a picture (yes after years of illustrating i still don't have a scanner) and finish it in Photoshop with the tablet.
5. Who and/or what inspires your work?
This changes every week. But what really inspires me are illustrator/mural artists who achieve big things. This motivates me to work hard and someday achieve the same. What recently really inspired me was a visit to the Fernando Botero museum. A famous Colombian painter.
6. What role does art play in your life? How does it change the way you view the world?
There is not a day where i am not drawing, painting or searching for project opportunities. So it plays a pretty big role in my life.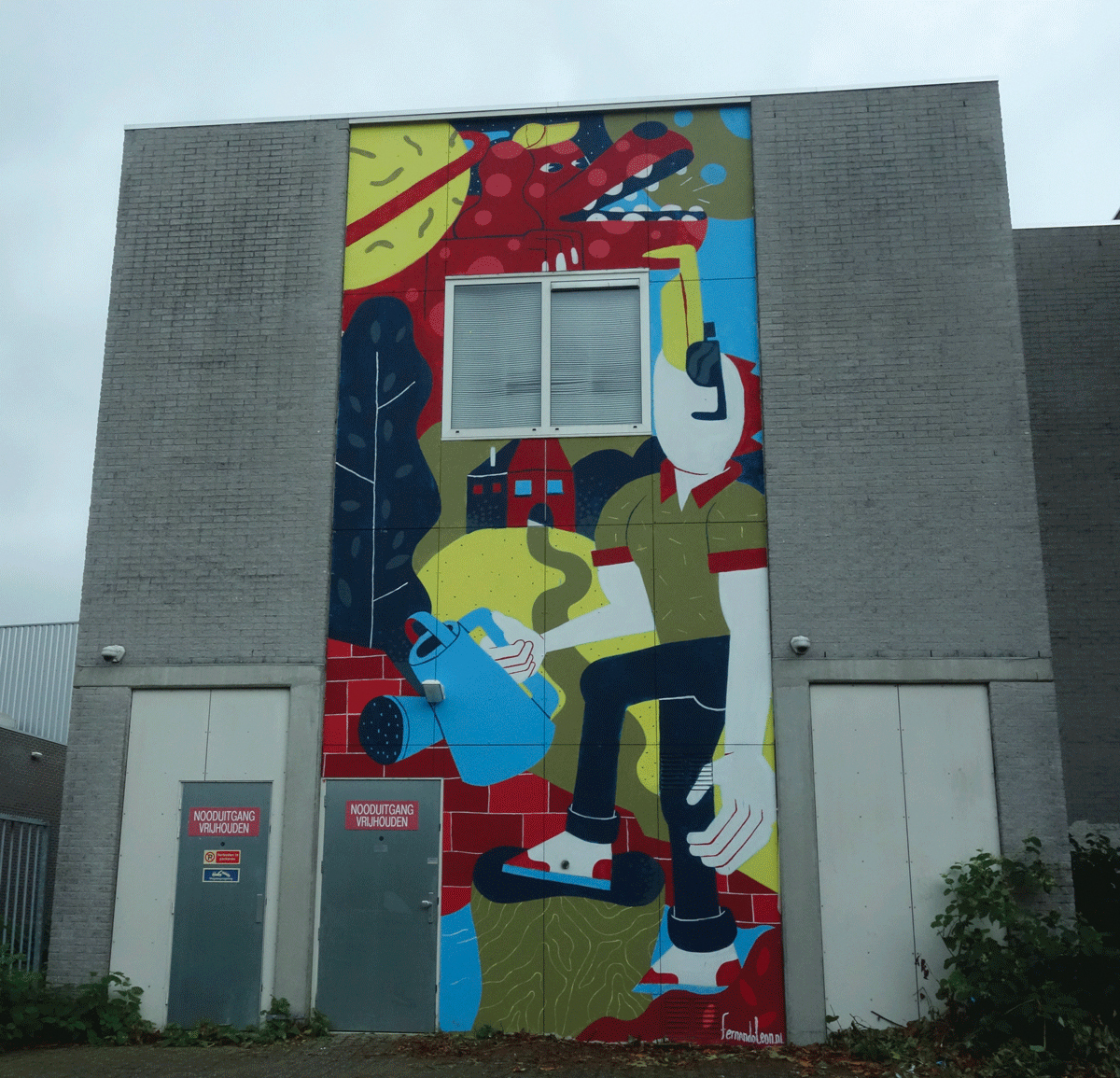 7. Where did you study?
I studied illustration at St. Joost academy in Den Bosch, the Netherlands.
8. Where do you see yourself in five years? Working in an agency?
Hopefully i will have a steady living of my illustration work in five years. Traveling alot to do big murals around the globe. And that i've filled my illustration bucketlist with some skateboard designs, big newspaper editorials and more cool stuff. Working with an agency would be nice so i can focus more on my work instead of spending my time searching clients.
9. What about in ten?
In ten years i think i have set up my office somewhere along the Caribbean Coast.
10. What do you hope to achieve with your art?
Surviving while doing the thing i love. 11. Now, tell us a little more about you as a person: what is your favourite food?
My favourite food is Thai curry. I can eat it everyday for breakfast, lunch and diner.
12. Favourite book?
I am not the biggest reader because i always find excuses why i don't have time for reading. Right now my excuse is needing to learn Spanish every free moment i have. But in general i really like Scandinavian thrillers!
13. Favourite genre of music?
Every moment has his own favourite genre. I like my sunday funk, sunny days reggae. Weekend hiphop. Too much good genres to choose one.
14. What are your hobbies?
Besides painting, doing graffiti and illustrating every now and then i go skateboarding and try all the tricks i could do when i was 16 but am too afraid for nowadays.
15. If you weren't an artist, what would you be?
A fulltime chiller doing a shitty job surrounded by palmtrees and beaches.