Instagram: @_genevagarcia
Website: www.genevagarcia.co
1. What's your story? Where are you from?
Hello! I am Geneva from the Philippines. I'm a Filipina visual artist, designer and interior design student based in the Philippines. Growing up I've always enjoyed drawing and doing activities that involve designing and art but I've also wanted to become a doctor. Fast forward to now, I have a degree in pharmacy but I'm doing freelance and independent work as a visual artist while studying interior design.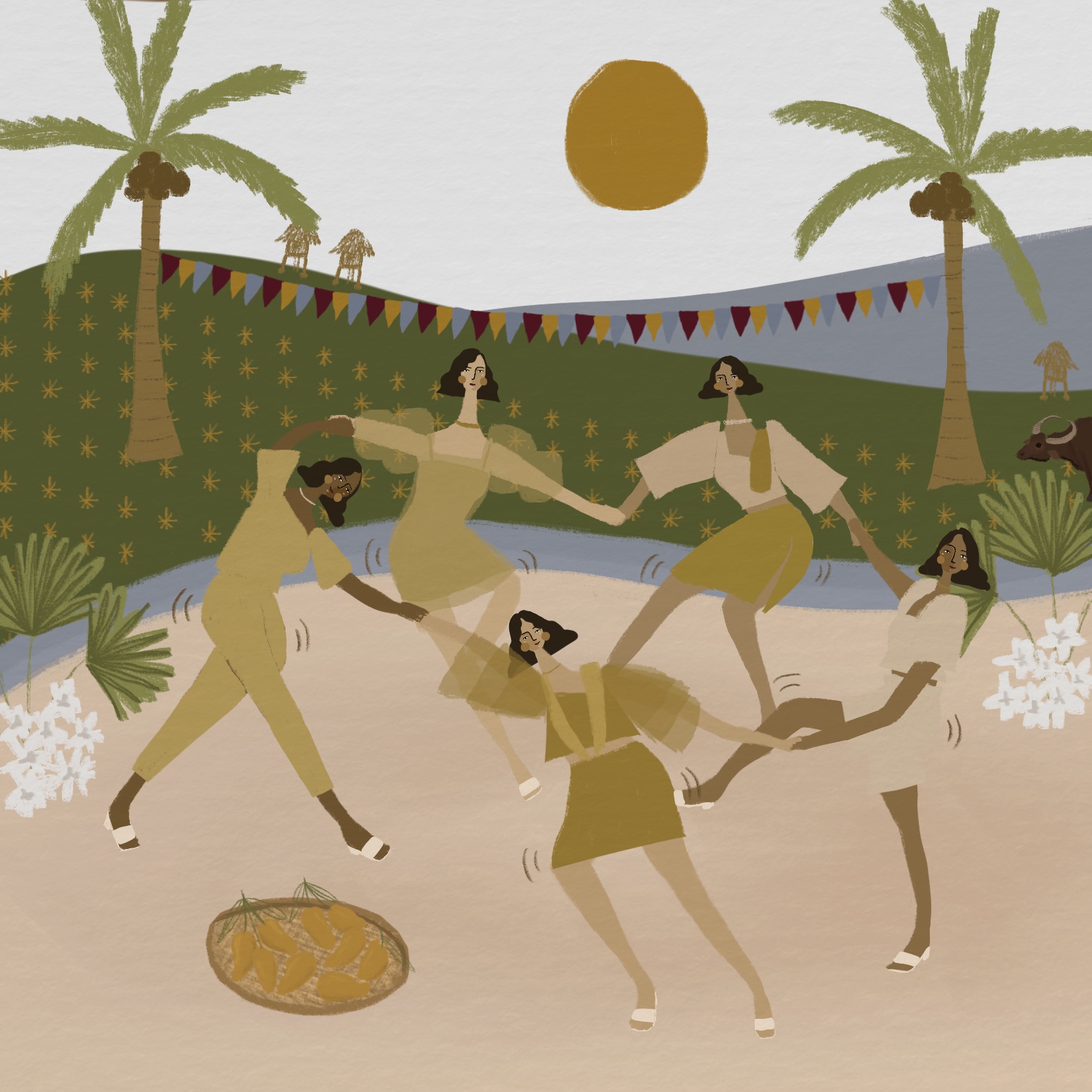 2. Tell us about your aesthetic.
My work usually revolves around women, clothes, accessories, home decor, tropical fruits — topped off with interior design and architectural elements. I also love to use muted colors. It adds a dreamy and warm feeling to my illustrations.
3. What is your favourite medium and why?
I mostly work with digital tools such as Procreate and Photoshop. I also like to try and explore different mediums. Right now, I'm learning how to work with clay.
4. What is your artistic process like?
I believe that my artistic process is forever changing and it differs depending on the illustration or work I am doing. Sometimes, I start with sketching on paper but most times I just wing it on my iPad. I also look for clothes, decor and accessories online to serve as inspirations for my illustrations. Aside from listening to music, I also like to watch (or listen) to series and movies while I work.
5. Who and/or what inspires your work?
I am mostly inspired by everyday life—from my daily thoughts and moods (aka daydreams and mood swings) to the food I eat—pretty much anything and everything around me. Fashion and interior design will forever be sources of inspiration for me as well.
6. What role does art play in your life? How does it change the way you view the world?
Art has always been an outlet for me to express myself and it really did change the way I see the world. It makes me interested even in the smallest things in the world. Truly, inspiration is everywhere.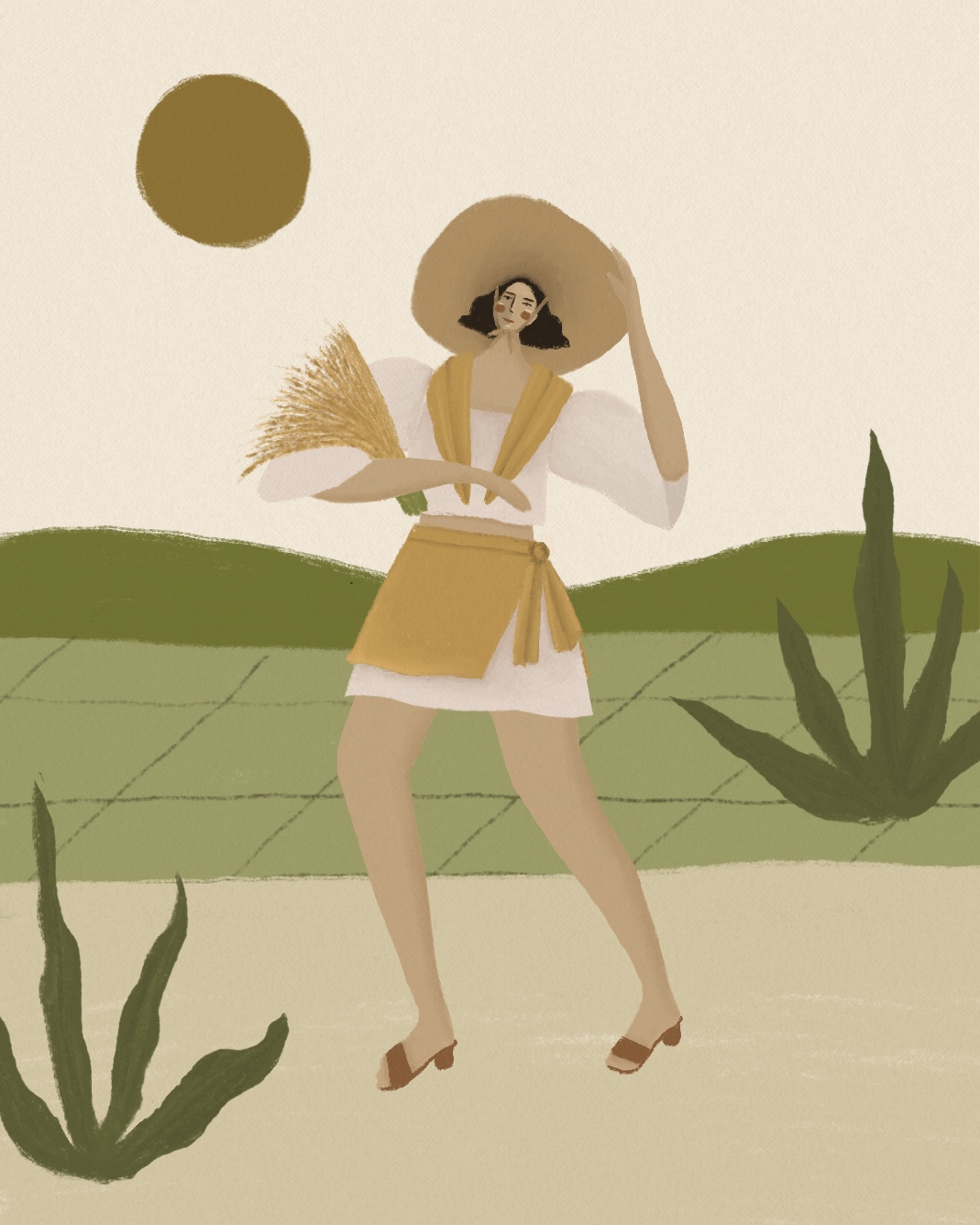 7. Where did you study?
I am currently studying interior design at the University of Santo Tomas in the Philippines where I also studied pharmacy years ago. I am hoping to graduate in 2-3 months!
8. Where do you see yourself in five years?
I hope to be an established illustrator and interior designer by then! I would love to see my work and style evolve as well.
9. What about in ten?
That's a tough question! Aside from being a successful interior designer and artist, it is my dream to have my own studio and brand. Hopefully I can achieve these goals someday.
10. What do you hope to achieve with your art?
I hope to make people, especially the women, feel good through my art. I like the figures of my illustrations to be different and playful to evoke body positivity and empowerment. It is subtle but I hope for the viewers of my art to see that.
11. Now, tell us a little more about you as a person: what is your favourite food?
It's very hard to pick a favourite food but I am forever craving for a bowl of sinigang sa miso na salmon belly. It's a Filipino dish composed of a sour and savoury soup with salmon belly and vegetables. Perfectly paired with rice and fish sauce!
12. Favourite book?
I don't have a favorite book but I am planning to start reading What Kind of Woman: Poems by Kate Baer soon.
13. Favourite genre of music?
The music I listen to depends on my mood. I really listen to almost everything so I don't have a favorite genre. Right now I am listening to The First Time by Miki Fiki.
14. What are your hobbies?
I like to watch series and movies while I work. I love to read and explore different genres of literature. I also play games in my downtime and I love to discover new things—from podcasts to brands to food to books to new potential hobbies!
15. If you weren't an artist, what would you be?
I'd probably be a healthcare professional since I am a pharmacist but I really think I'd still be an artist even if I pursue that career. :)