Instagram:
@_juliayellow
Facebook:
www.facebook.com/juliayellowillustration
Website:
www.juliayellow.com
1. What's your story? Where are you from?
I am Julia Yellow, originally from the tiny little island, Taiwan, which shapes like a vertical sweet potato and it only takes proximately 8 hours driving from the northernmost point to southernmost point. I was in the major of Japanese in college back home for a year, then finally decided it was time to face the true passion of my life, so I dropped out of school and came all the way to the States to study illustration. After graduating in 2012, I moved to NY and started freelancing as an illustrator.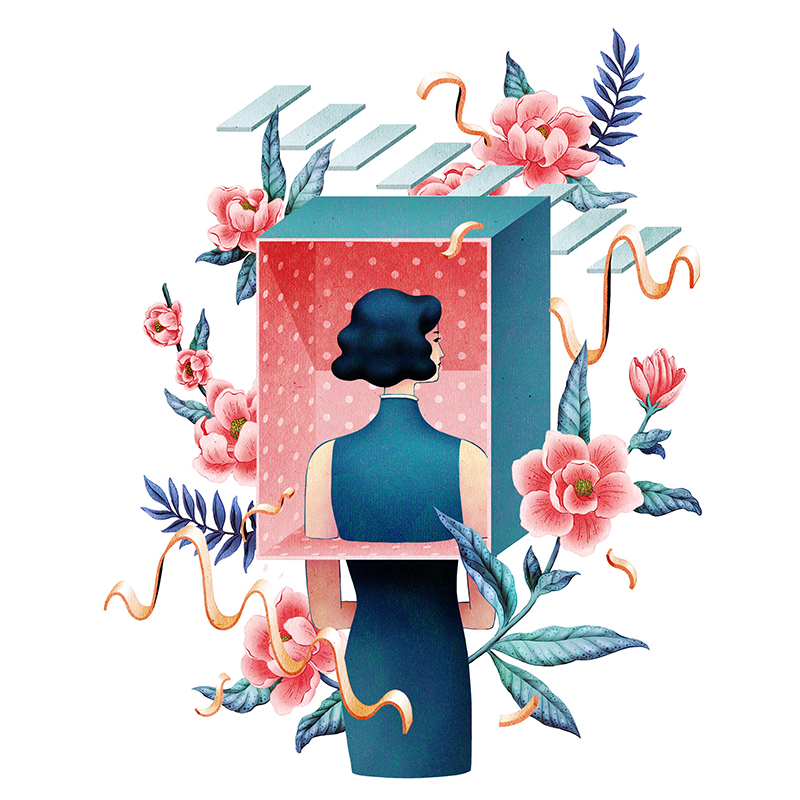 2. Tell us about your aesthetic.
I like to use metaphors to create a subtle message and hide little details in my illustrations for the viewers to discover and interpret. I also try to add in some elements of witty-ness and playfulness to make it visually interesting.
3. What is your favourite medium and why?
For work, I use Photoshop primarily and love how many options and doors it opens up. In personal time, I also love using pen and ink, color pencil, acrylic and paper collage. Because there is no Command+Z in real life, so I get to enjoy the surprises the traditional media brings to me.
4. What is your artistic process like?
For commission work, I work purely in Photoshop with my tablet from thumbnails to sketches to finals. I'd spend a long time and brain energy researching references and gathering ideas. Sometimes it's best to sleep through it because after the rest some very refreshing ideas will pop. After nailing the design comes the easier part—drawing. This is my favorite time, I am relaxed and enjoying what I love to do the most while watching or listening to something entertaining but not so distracting ( podcasts, stand up comedies, talk shows, crime shows, anime….) I use scanned paper texture to make the illustrations with a more traditional and nature touch so it's less "digital" and with more warmth.
5. Who and/or what inspires your work?
Inspirations can come from anything if one looks for it—events in life, the colors of the trees, the smell of coffee, the dry heat of an afternoon sunshine shins on your skin, the sweet moments when your cat gives you a cat-massage, and of course, thousands and thousands of beautiful illustrations/designs on the internet…
6. What role does art play in your life? How does it change the way you view the world?
It probably sounds like a cliche, but I do think drawing has been my way to communicate and "visual" is more like my native language. To think in "words/text" is a harder and more challenging task for me in childhood. Hmmm, actually, now too.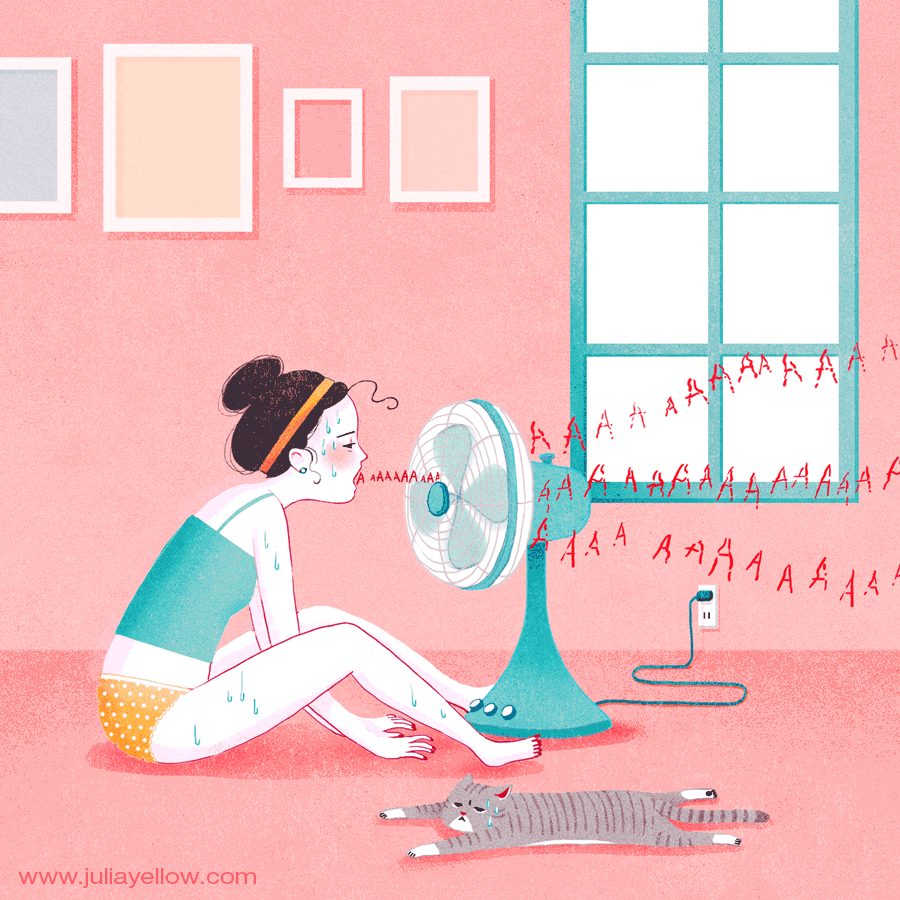 7. Where did you study?
I received my BFA in illustration at Savannah College of Art and Design. I really enjoyed the small-town life and the southern hospitality.
8. Where do you see yourself in five years? Working in an agency?
I see myself continuing the path I'm on right now and continuing to build my own road nicer and firmer and just the way I like. To make it less abstract, I'd love to continue freelancing as an illustrator—improving my work and myself, working with lovely clients, interesting projects, expending to all sorts of possibilities. Oh, and I really hope to adopt one more cat.
9. What about in ten?
I think I will say the same as above, but of course, I would love to see the improvement from "me in 5 years" to "me in 10 years".
10. What do you hope to achieve with your art?
I'd love to create or illustrate stories that touch people's hearts, memories and thoughts. Some people think drawings are just drawings but I believe it could be a visual communication which could be as strong as, or more powerful, than writings.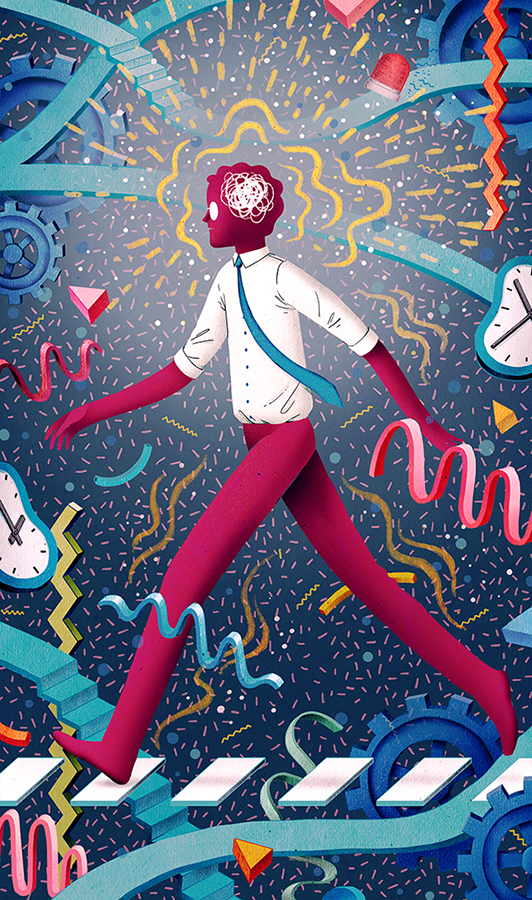 11. Now, tell us a little more about you as a person: what is your favourite food?
I love Chinese food, Thai food, sushi, nato, burrito, french fries, junk food, healthy food… I can't think of what food I don't like (haha). I particularly LOVE all kinds of street food. And I do love stinky tofu.
12. Favourite book?
Most of the books with text base I read are tool books that I wouldn't consider them as "favorite" (but will recommend them). I do read a lot, a lot, a lot of picture books and comics. One of my favorite picture book is "The Red Tree" by Shaun Tan. And another one (not really a picture book though) is "If the World Were a Village of 100 People", which I recommend it to everyone of any age.
13. Favourite genre of music?
Jazz and Bossa nova. Also, love classical guitars.
14. What are your hobbies?
I'm a big fan of playing ping pong.
15. If you weren't an artist, what would you be?
I've never really given myself another option besides illustrating (thankfully it worked out) so I'm not quite sure. Maybe a cat-sitter?