Instagram:
@_nico189
Behance:
www.behance.net/Nico189
Website:
www.nico189.com
1. What's your story? Where are you from?
I was born in Trani, a small town in Southern Italy. Since I was a child I have been always fascinated by American culture, so I preferred basketball to soccer, hamburger to Italian bread and mortadella, rap to Italian pop music. As I can remember, on Saturdays I was used to spend my afternoons in a small playground with my friends after watching an NBA match. When I was fifteen, I started to listen to Hip Hop music and dress oversized clothes, but my real obsession was graffiti. The school bored me and I focused all my energies in drawings and studying lettering. Ten years later, I was in Milan, and I started to work as a graphic designer.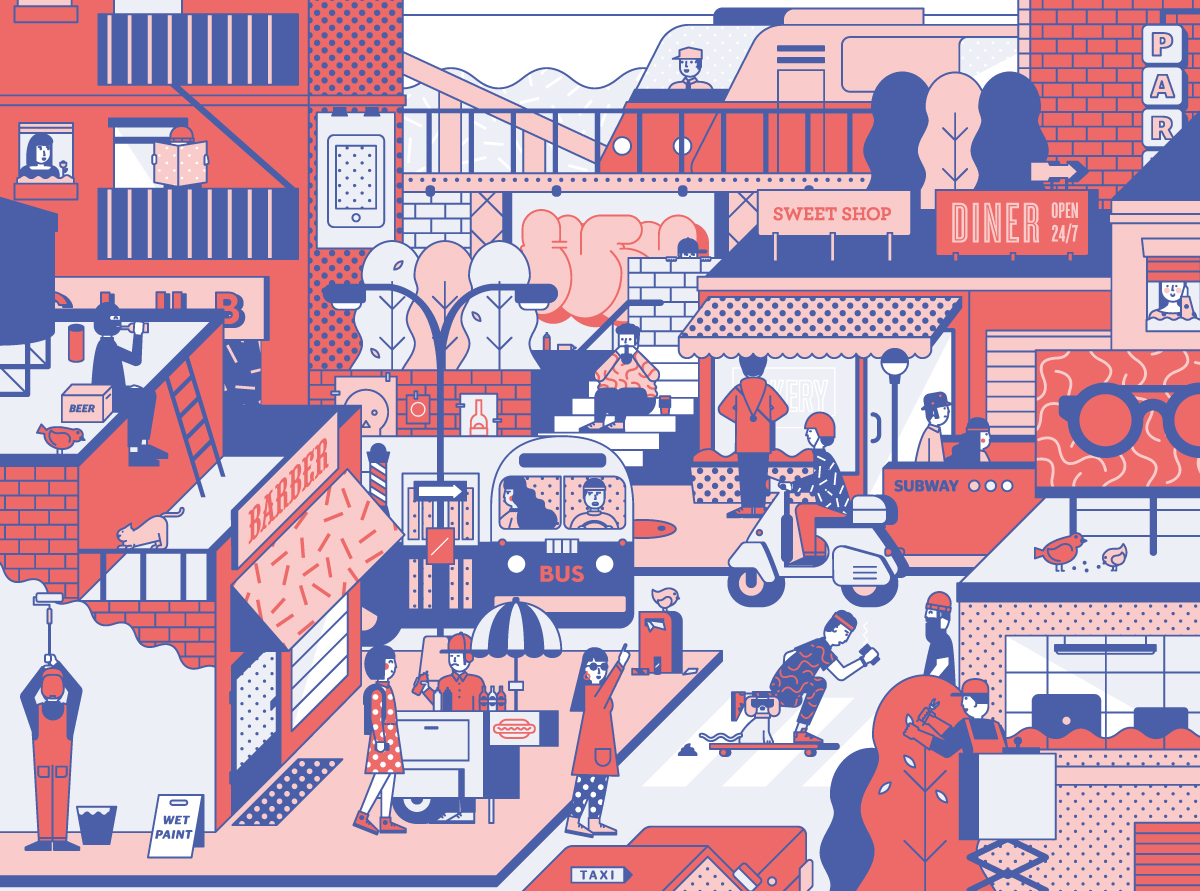 2. Tell us about your aesthetic.
My aesthetics is about the Modernism of graphic design and contaminated by graffiti writing. I approached the world of illustration gradually, starting from the infographics, so the icons were my first step. The turning point happened when I decided to become a free-lancer, the art directors were considering me as an illustrator, and I liked it. So I tried to focus on the essential aesthetic, characterized by the use of geometric shapes, which I still consider a starting point.
3. What is your favourite medium and why?
Silk-screen printing is my favorite medium. In 2011, I founded NOWAY with my partner, an independent brand of hand-printed tees. Through the years we played with minimalism, geometry and typography, sure that the strength of this project is that it is entirely made by both of us, from the idea to the graphic design and finally to the printing. After the birth of our daughter Emilia, we have a bit overlooked the project, but I hope to come back with some news soon.
4. What is your artistic process like?
My works always start from a very quick draft, later I draw with Illustrator using the graphic tablet and developing the idea during the execution. Recently, I often create drafts that are very similar to the final result, speeding up the work.
5. Who and/or what inspires your work?
Inspiration comes from what surrounds me and from my interests. I daily update me about what's happening in the world of design and illustration. If I'm looking for ideas, I absolutely have to get out of my Mac and take a nice walk open air.
6. What role does art play in your life? How does it change the way you view the world?
I always needed to express myself in something creative without big compromises, carrying out personal projects alongside my work and surely thanks to this I have become an illustrator. I love the editorial illustration because it gives me the opportunity to develop an article with my style, I find it very rewarding. My artistic side has changed my way of seeing the world, it has always kept me away from a narrow mindset of a small town, putting me in contact with underground realities.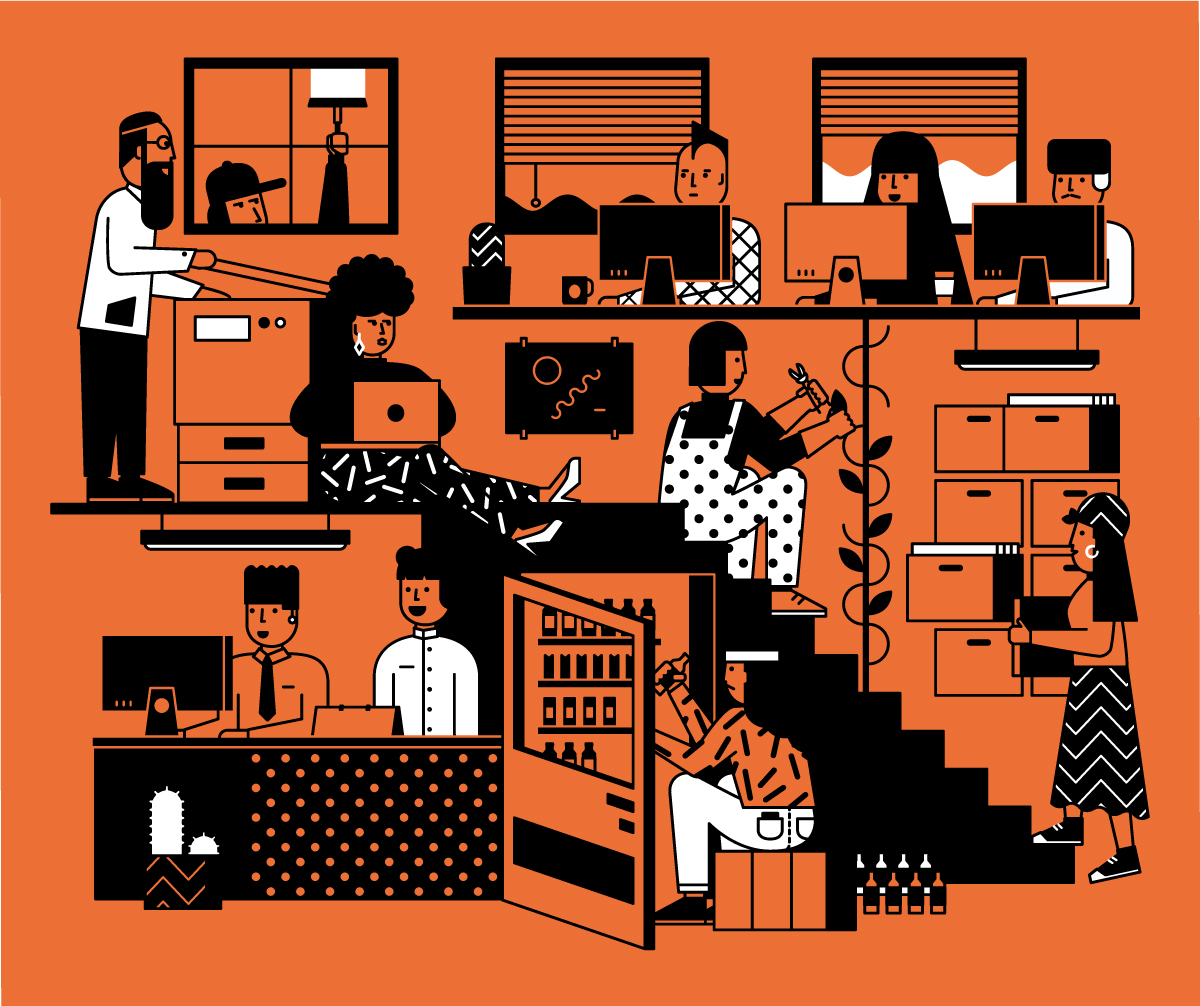 7. Where did you study?
After my graduation, I'd liked to study graphic advertising but in late 1990's in Southern Italy the designer's job was considered utopian. In the meantime, I started to be interested in web design, until one day while I was browsing a book with a collection of logos in a local bookstore, I realized that I wanted to become a graphic designer. After few years in Milan, I attended some courses. I studied Art Direction at IED and I attended a Type design course at Politecnico di Milano. In spite of everything, I feel self-taught, I learned a lot because of my curiosity and through the books that I avidly searched for, and some of them are very rare.
8. Where do you see yourself in five years? Working in an agency?
At the moment, I'm focused on the illustration. Since early 2016 I'm flanked by my agent, Valentina from Phileas Fogg Agency, and I feel like it's just the beginning of this trip. Working for an agency after my free-lance experience would be hard, but I do not preclude anything, life is unpredictable.
9. What about in ten?
I'd like to start a small studio that deals mainly with brand identity and illustration.
10. What do you hope to achieve with your art?
I try to create pleasant and fun feelings, sometimes I hope to tear a smile.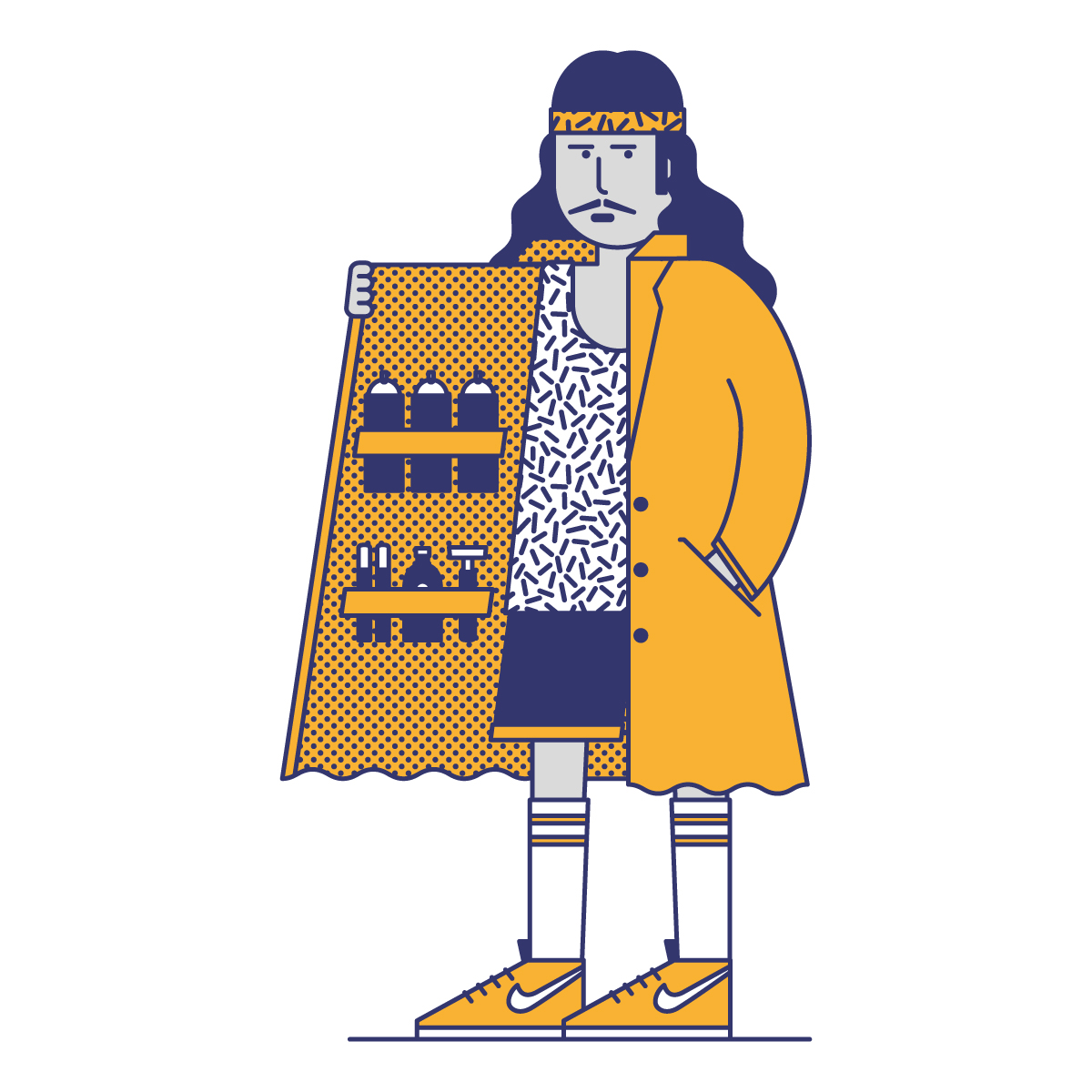 11. Now, tell us a little more about you as a person: what is your favourite food?
No doubt, pizza. I have to eat at least once a week, better if done at home by my lovely Ada.
12. Favourite book?
Very difficult question, I choose the three most significant of my path: Style Writing from the Underground, Design as Art by Bruno Munari and Herb Lubalin: Art director, graphic designer, and typographer.
13. Favourite genre of music?
Hip-Hop music is the first love, however while work I prefer something more relaxed than just background.
14. What are your hobbies?
Graffiti writing, music, book hunter, sneakers with which I do long walks.
15. If you weren't an artist, what would you be?
I would have liked to have a small business, probably a streetwear store with highly selected products.