Instagram:
@aartjanvenema
Website:
www.aartjanvenema.com
1. What's your story? Where are you from?
I'm from the netherlands. Living in the city of the Hague. My story isn't one of those where you dream about being an artist all of your life. I started out studying business administration, switched to geography, and after that imagined I should be drawing. Which turned out to be right. There where some signs though, I have this 30 page comic lying around from when I was 10 or something. Instead of playing with my Playmobil I wrote this story about the setting I created. In lower school I started a monthly comic magazine too, about soccer matches, inspired by Dutch soccer comics. I never managed to finish an issue though:)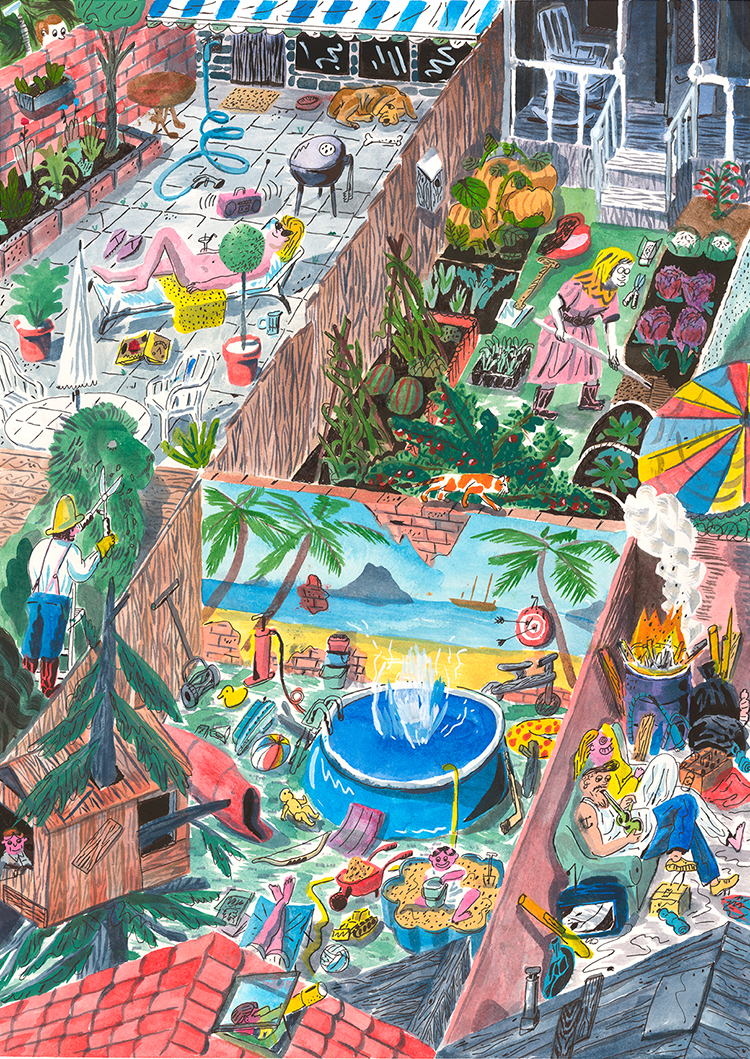 2. Tell us about your aesthetic.
I like it when there is a lot happening in an image. I try to load up the image with all kind of persons and items, but try to keep the image clear, and focused. Sometimes I start something and want it to be a bit more monumental, or serious, but I can't help adding jokes, and fun references. I really like outsider art and the more childish ways of drawing and painting. On the other hand it's not like I accept anything I draw, I have a strong feeling about what my objects and characters should look, and redo stuff all the time when not satisfied.
3. What is your favourite medium and why?
Acrylics. I kind of know what they do, and how it works. It just transforms itself easily into my signature style. The last year I've been more in a flow with working digital too. It's very convenient if working deadlines, but it will never be as much fun as painting. Which is no problem at all.
4. What is your artistic process like?
First I make loads of different sketches. Then I pick one and start refining the sketch, until I think it's perfect. After that I use a lightbox for the final image. That way I don't have to worry about composition, and am free to just make marks.
5. Who and/or what inspires your work?
I really love classic painters like Jeroen Bosch and Pieter Bruegel, for their level of detail, and little stories. I also like miniature art from Persia, or asia, with all the crazy perspective and scales. One of my favorite contemporary painters is Neo Rauch, surprisingly also someone who gives a lot of stories and situations to think about.
6. What role does art play in your life? How does it change the way you view the world?
I stand up with it, and take it to bed with me. It's there all the time, like some kind of semi-healthy addiction. I have always things in mind I want to do, or I hope that will happen. I don't know if it changes the way I view the world, but it defines the way I live in it.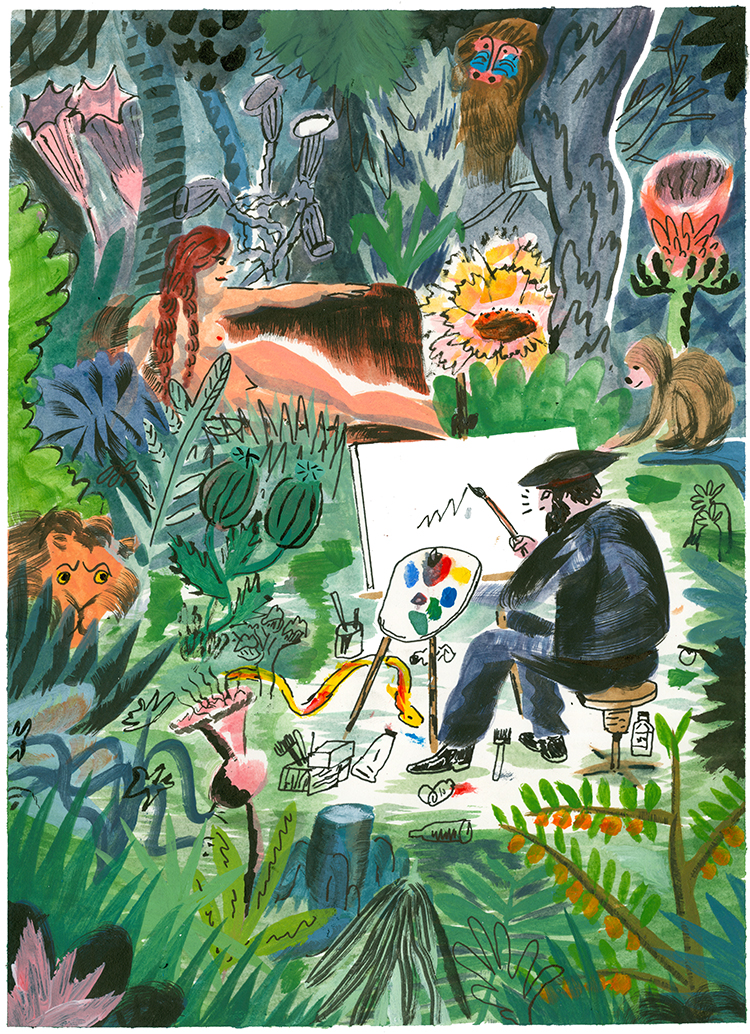 7. Where did you study?
In Utrecht in the Netherlands. Illustration course.
8. Where do you see yourself in five years? Working in an agency?
Doing jobs for, or with agencies maybe. Working for lots of different clients. Hopefully I'll have time for some personal work too. I always feel that when I take some time of to make work for my own, and experiment a little, I learn stuff that I can take into my commissioned work.
9. What about in ten?
Doing some commissioned work, besides making an epic exhibition with paintings, ceramics and textiles about the state of the world or something like that. My big dream is to have a porcelain city, with all kinds of characters, around 20 cm high taking up a few rooms.
10. What do you hope to achieve with your art?
I hope I can make people start reading useful articles. And I want them to discover things in my work, taking a little more time to find all jokes and stories I put in there. Probably make them lose themselves for a moment in my work. I hope they'll revisit my work to look at details.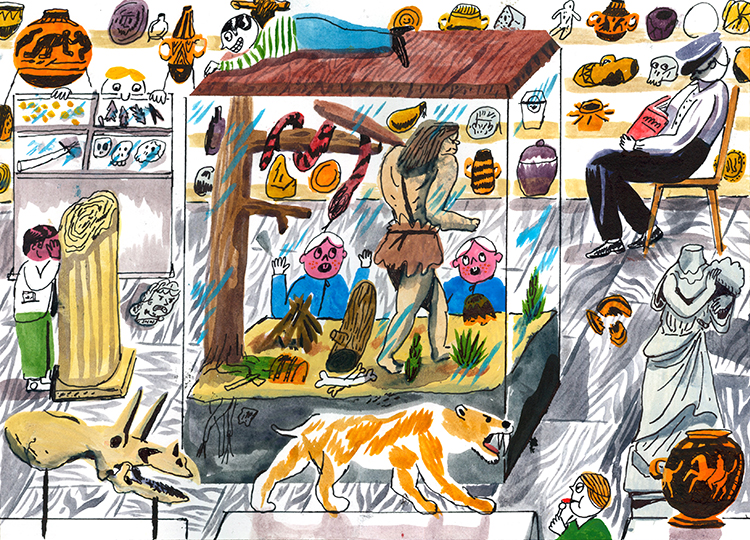 11. Now, tell us a little more about you as a person: what is your favourite food?
I really love beetroots:) And parsnips. And Haagen Dasz vanilla ice-cream as a desert:)
12. Favourite book?
I really like the books by John Williams that were re-released a while ago. I'm also quite fond of Murakami and Houellebecq. For a graphic novel I really love Sandman. All tough I think the setting and topic is a bit weird and nerdy, and I don't even like the drawing that much, it really gets me. I really like reading, in the end a good book is just more immersive than a TV series or movie.
13. Favourite genre of music?
I like a lot of genres. For working I usually listen to electronic sets, so you don't have to worry about the music for an hour or 2. They usually have a nice build-up as well, which makes it easy to get into my working vibe.
14. What are your hobbies?
Reading books, playing sports, games, painting too:)
15. If you weren't an artist, what would you be?
Probably not much:)