Instagram:
@abigailhalpin
Facebook:
www.facebook.com/abigailhalpin
Blog:
blog.theodesign.com
1. What's your story? Where are you from?
I'm a lifelong New Englander, living, drawing and dreaming by the sea in southern Maine.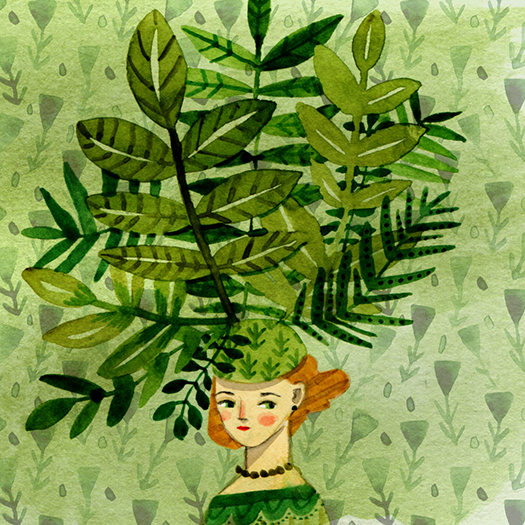 2. Tell us about your aesthetic.
My aesthetic is definitely vintage inspired, particularly by the 1930's through the early 1960's. I'm drawn to making work that's highly detailed, mysterious and slightly naive.
3. What is your favourite medium and why?
My favourite medium is watercolor -- I love its occasional unpredictability and organic feel.
4. What is your artistic process like?
I'm a huge proponent of sketchbooks and this is where my artistic process begins, roughing out ideas and exploring concepts. From here, I'll begin to create tighter sketches until I land on a final composition. Once I've firmly settled on a direction, I begin to lay down pencil lines, add watercolor on top and then additional textures (colored pencil, graphite, watercolor pencil, ink and sometimes collage).
5. Who and/or what inspires your work?
I'm inspired by so many things: the sea I grew up near, used bookshops, Eastern European folk art and mystery novels. Artistically, I've been greatly influenced by illustrators like Tasha Tudor, Carl Larsson and Eric Ravilious, especially the way in which they incorporate the daily and domestic into their work.
6. What role does art play in your life? How does it change the way you view the world?
While art provides me with a livelihood, it's for me more importantly a form of creative expression and a way of processing the world (especially when words fail). Art is the way I express my greatest joys and sorrows, often times discovering in an illustration a deeper understanding of situations that I hadn't previously been able to make sense of.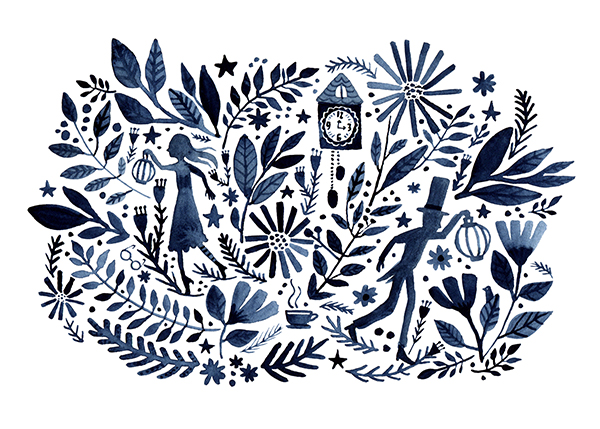 7. Where did you study?
I did a four year liberal arts degree and after that, a two year graphic design program at a (now sadly) closed technical school.
8. Where do you see yourself in five years? Working in an agency?
I'd like to be continuing to do much of what I'm doing now, but also possibly exploring other areas of illustration such as textile design and editorial work.
9. What about in ten?
I've learned over time that any long term goals I have for myself often shift and develop into something I'd never originally anticipated. I'm trying to learn to allow for spontaneity and wrong turns, because that's usually when I end up stumbling on what I'm really supposed to be doing. So in ten years, I'm not entirely sure, but I suspect it'll be worth the voyage.
10. What do you hope to achieve with your art?
I think the world can sometimes be an ugly and frightening place. I hope to make art that's at odds with this, so that even in a very small, imperfect way I can celebrate what's good and true.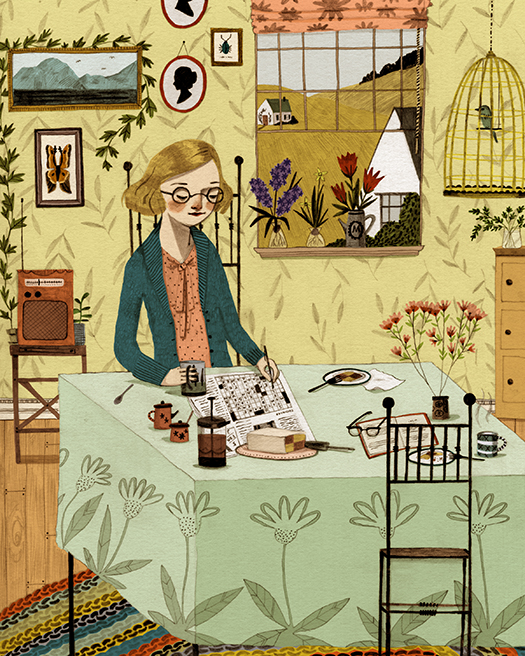 11. Now, tell us a little more about you as a person: what is your favourite food?
I'm powerless in the face of a good cruller.
12. Favourite book?
It's a tie between P.G. Wodehouse's "Code of the Woosters" and "Wise Blood" by Flannery O'Connor
13. Favourite genre of music?
Mostly indie (The Magnetic Fields, Wilco, Andrew Bird, etc.), but with a healthy dose of vintage tunes (Sydney Bechet and Billie Holliday for sure).
14. What are your hobbies?
Sewing, reading and baking (I'm a colossal fan of "The Great British Bake Off").
15. If you weren't an artist, what would you be?
An art conservator or an intelligence analyst (I like mysteries and pulling the threads between disparate bits of information).