Instagram:
@adam_corns
Twitter:
@adam_corns
Tictail:
adamcorns.tictail.com
Website:
www.adamcorns.com
1. What's your story? Where are you from?
Hi, I'm Adam Corns, a freelance Illustrator, Designer and maker based in the Black Country (an area within the West Midlands, England).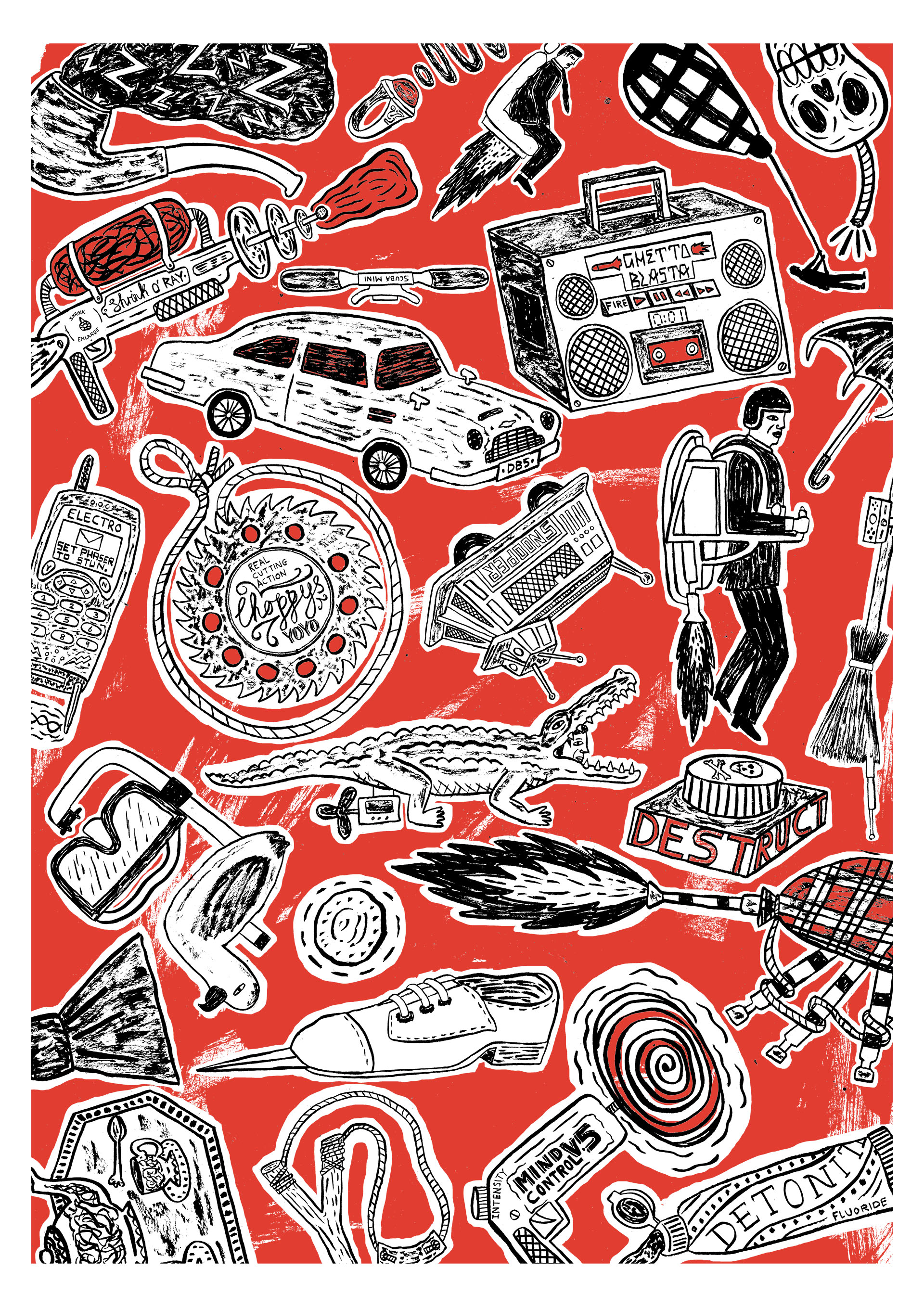 2. Tell us about your aesthetic.
My aesthetic is something that has developed naturally and which I would say has been influenced by my interest in naive art and printmaking methods. This has lead me to create pieces utilising a limited palette, with graphic shapes and jam packed full of information, whether it be iconic imagery, textures or typography or a combination of all of these. I feel like it becomes a conversation between simple and busy all at once.
3. What is your favourite medium and why?
For Illustration based projects I usually use Indian Ink and Photoshop This is mainly for speeding up work rate and also the ease of editing. However, more recently I've been using enamel paints to paint onto real world objects and this is something I find extremely pleasing. It's been great to get away from the computer, which can sometimes feel cold, and create pieces this way, reacting to the object or idea as it grows into the final design.
4. What is your artistic process like?
This is entirely dependant upon the piece I'm creating. For illustrations, this will start off with jotting down some words I feel are important or noting some ideas that are sparked off by the subject. To accompany these ideas I usually get a few thumbnail sketches down, which just help me figure out the basic layout or what I'll be including within the image. At this point I'll draw all the individual elements using Indian Ink and creating any textures I feel may be needed, all of which is then scanned in. I then use Photoshop to combine all the pieces and add some colour, it just makes the process easier and quicker if any changes need to be made. With other projects I'll usually just follow the route the piece leads me on. I'll get an idea of what I want to do or what the piece will involve and then it becomes a conversation with the canvas (whatever that may be) to figure out what goes where and how it looks, it is a lot more instinctive.
5. Who and/or what inspires your work?
I take inspiration from a lot of different places, it seems to be all around. I like to explore different subjects and cultures, it all adds up to create a wider understanding and I feel like it this then feeds into everything else within my life, both creatively and day to day living. I'm also influenced by folk art, naive art, secret societies and religious art, such as Voodoo, Canal art, Indian Truck art and things created by people who just have a need to make. It's all really visually exciting
6. What role does art play in your life? How does it change the way you view the world?
Art plays an absolutely massive part in my life and not just professionally. It's just really important, not just to myself but to society as a whole. We see art everywhere now, whether we want to or not, whether we consider it art or not, we live in a very visual society. Art can be emotive or informative or a range of many other things. It can completely change the way that we look at things, you'll even buy things based on the artwork on them or for the design of the piece. I think it has a crucial role to play within our lives. It might sound dramatic but it's everything and everywhere. As it plays this role in my life, it completely changes the way I view the world and leads me to continually inspect and question what I see and what is around me.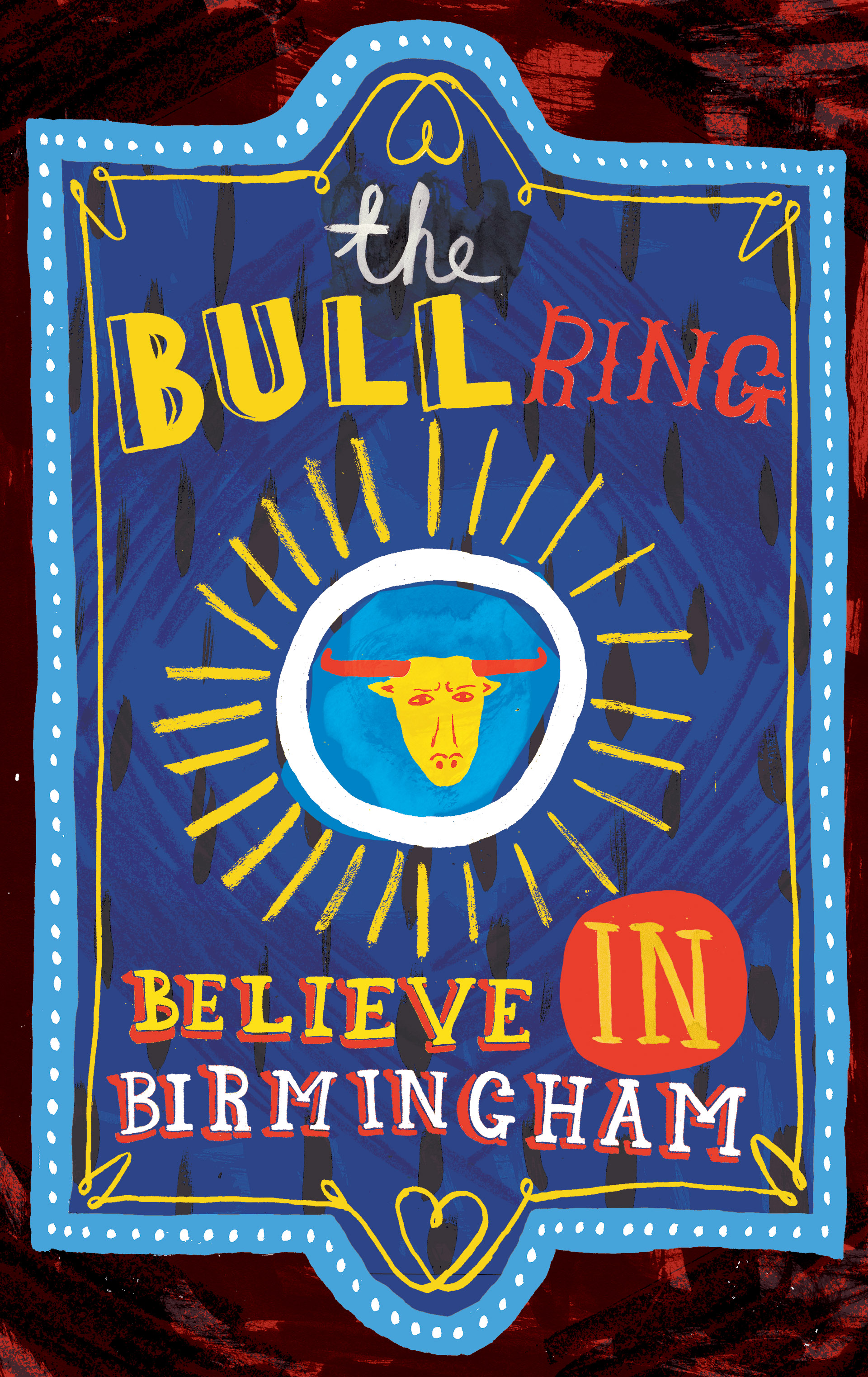 7. Where did you study?
I studied Visual Communication at Birmingham City University, where I met a bunch of great people.
8. Where do you see yourself in five years? Working in an agency?
I'm not too sure where the next five years will take me, I'm quite open to opportunities and where the road might take me at the moment. I'd be interested in being represented by an agent or starting a design studio or working as part of a design team which appreciates and cares about its members. I think that's a fundamental thing, both freelance or in an employed role, working with good people who care about one another. The only thing I can guarantee is that I'm going to continue creating and making. I'd love to learn some new skills and explore other avenues with my illustration and design.
9. What about in ten?
In ten years, who knows, the train will still be on the track, chugging along but who knows what the destination will be.
10. What do you hope to achieve with your art?
I hope to create work that brings some pleasure to lives of those who view or own it. What more can you ask for?
11. Now, tell us a little more about you as a person: what is your favourite food?
I know it isn't actually a food itself but I love Tapas, it's a great way of eating, getting to pick the separate dishes and basically making up your own meal piece by piece, superb. I love food far too much to pick just one.
12. Favourite book?
I can narrow this down to two, just about, so I'd either have to go for 1984 - George Orwell or Blood Meridan - Cormac McCarthy. I love reading but I don't do it as much as I should.
13. Favourite genre of music?
I listen to all sorts of music, depending on what takes my fancy at that time but as I need to pick, I'm going to have to narrow it down to two again. So for favourite music genres I'd go for Country and Punk. The fact it has a message or a narrative really appeals to me.
14. What are your hobbies?
On top of freelancing, I also work part time so my free time can be quite limited at times but I love travelling and experiencing new things with my life partner, seeing friends and more making. All of which I'd like to do more of.
15. If you weren't an artist, what would you be?
If I weren't an artist, I'd probably learn a trade, carpentry or something. I'd have to be making something or using my hands.