Instagram:
@agathesinger
Bigcartel:
agathesinger.bigcartel.com
Website:
www.agathesinger.com
1. What's your story? Where are you from?
I was born in Normandie but I grew up in Bretagne on the west coast of France. I've always loved drawing and painting or spending time in the nature with my brother and sister - making wooden huts, observing the birds, making herbariums, inventing stories of knights fights and imaginary horses, or riding or real pony on the beach. It was a wonderful childhood in nature and I think it's still very alive in my work now. I moved to Paris when I was 17, to study art and graphic design. I graduated five years later on a typographic project without any images and very few colors - I was very away from illustration at this time. I started to work as a graphic designer in communication agencies, but I was very unsatisfied with my work. I started to do illustration on the side and it was like rediscovering something on me that I had forgotten. I had so much fun, and joy to paint again! Then I met an amazing client who made me took the chance to be a full-time freelance illustrator. Since then, five years ago, I'm working on my home studio on various projects, from perfumery to illustration for fashion or art for kids.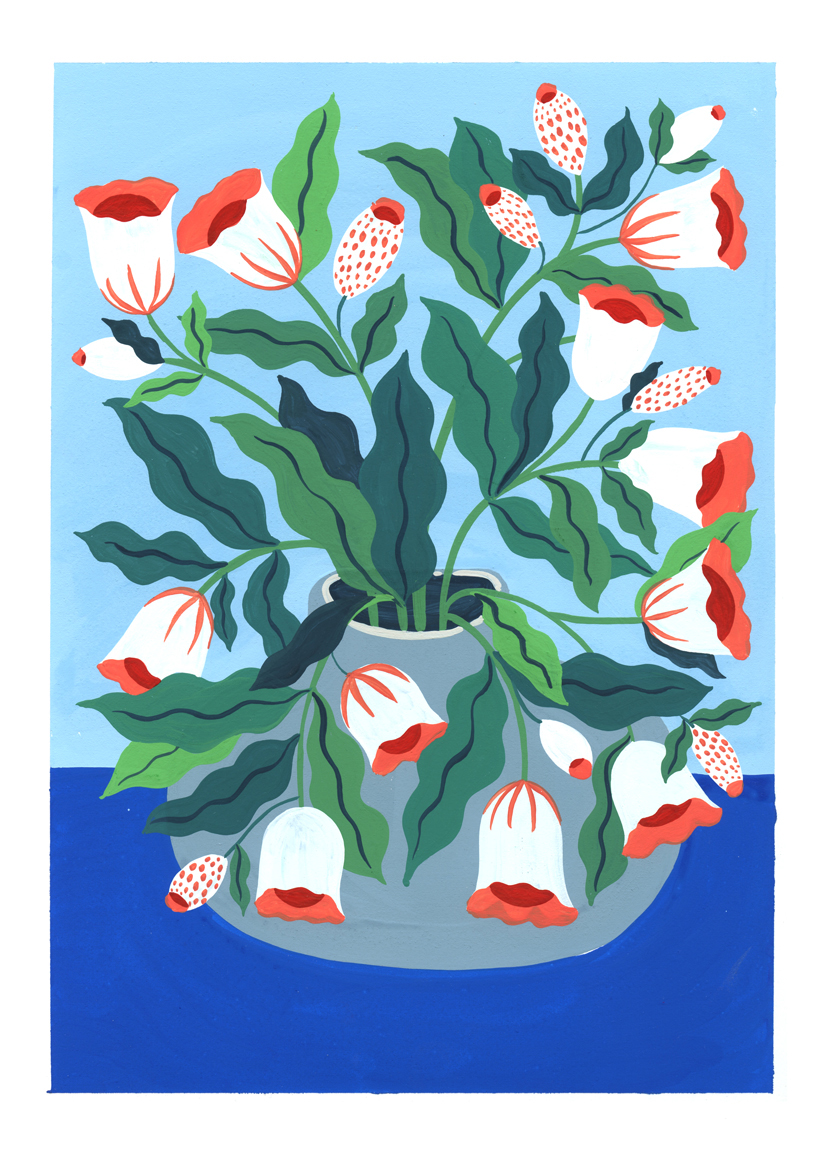 2. Tell us about your aesthetic.
My aesthetic is an universe of colorful and naive fauna and flora, with a special attention to birds, flowers and felines. I love simple and precise shapes, that I embellished with contrasted details. It's a non-naturalist and non botanical approach to nature representation.
3. What is your favourite medium and why?
My favorite medium is gouache paint, though I also work a lot with watercolor. Gouache brings a stronger tone to my naive work, the colors are so bright and vivid! I love that you can work white details over a darker tone, which watercolor doesn't allow.
4. What is your artistic process like?
I like to think a lot about a project before I start. It can take me days or weeks, just imagining how I would like it to be - at the end I can have a pretty precise picture in my head. I like to paint fast and at once. If I have to go over a painting again and again or correct it too much, I quickly get bored of it. Sometime I like to transpose paintings to prints, right now with risograph printer. Though it is a mechanical reproduction technic, it is full of charm as every print can be slightly different from the other.
5. Who and/or what inspires your work?
Nature is my main inspiration, I love to look at trees and flowers when I walk in the city. I also spend a lot of time in Austria, where my husband is from. His parents live in a beautiful region with hills, lakes and the Danube… I always come back from there with new series of painting and new ideas. When I'm in Paris I love to go to the Jardin des Plantes or to parks around our flat. I don't sketch much but I work a lot from pictures, ones that I took, found on the internet or on books - botanical or birds guides. I'm not really looking at imitating, more looking for an idea of shape or colors. As for artists I've always been inspired by the work of Le Douanier Rousseau or Frida Kahlo. Both have explored a powerful representation of nature, its magic and strangeness.
6. What role does art play in your life? How does it change the way you view the world?
It plays a big role in my life, as it is both my job and my passion, also one that I share with my husband. We're talking way too much about our projects at home, but I love it! We also like to collect works from friends and other artists, photographs and illustrations, and many books. I don't know if it made me change the way I view the world but it connects me to many amazing people around the world (thank you Instagram!).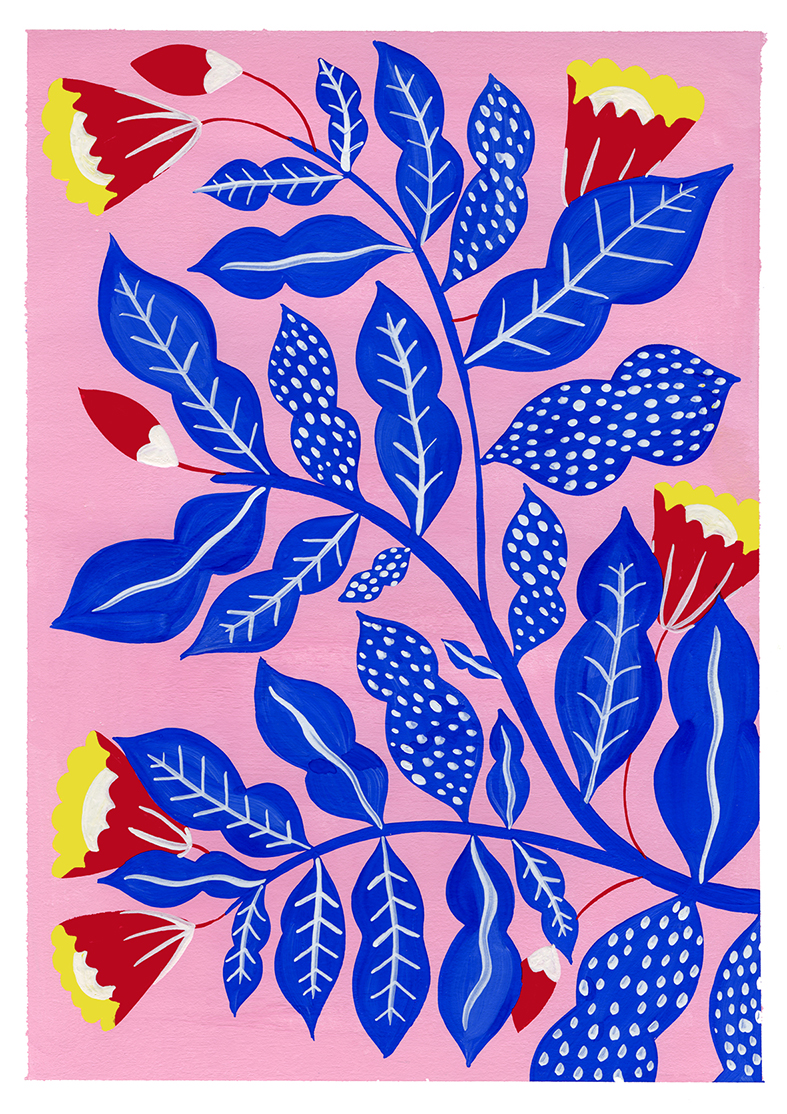 7. Where did you study?
I graduated from high school with option in literature and art. I studied 5 years art and graphic design at two different colleges in Paris, École Supérieure de Arts Appliqués Duperré, then École Supérieure d'Arts Graphiques Penninghen.
8. Where do you see yourself in five years?
The day I left the communication agency I was working in, I new it would be the last office job for me! It was five year ago, and I'm sure that five year away from now I'll still be working in my home studio. I love painting in my pyjamas too much. I see myself working with new interesting people. I would love to work again for fashion or for interior design.
9. What about in ten?
I guess it would still be too early to go live in a cottage and paint a naive botanic book (my retirement plan). But I would love in ten years to be working my own brand of products with stationery, decorative objets and textile design.
10. What do you hope to achieve with your art?
I like to create artworks that people like to live with, like a friendly presence on a wall or on the plate they eat in.
11. Now, tell us a little more about you as a person: what is your favourite food?
Soup! I could turn anything into soup. My father-in-law calls me Ms. Soup.
12. Favourite book?
Le Comte de Monte-Christo d'Alexandre Dumas, the most beautiful story of adventures and revenge.
13. Favourite genre of music?
Those days, all that makes my toddler move her butt cheeks - we are huge fans of Bilderbuch, an austrian band.
14. What are your hobbies?
Reading was one of my favorite hobby before I had a baby to take away all my free time. But my work is my biggest hobby, it maybe sounds cheesy but it's true.
15. If you weren't an artist, what would you be?
I would have my own bookstore full of novels, art books and illustrations for kids an adults. And stuff to eat, too.