Instagram:
@aitana_basquiat
1. What's your story? Where are you from?
My name is Aitana, I'm 28 years old. I was born and raised in Vigo, a city in the northwest of Spain. When i was 17 I came to Madrid to study Art History at the university and after graduating I entered a stalemate and an existential doubt, and now WHAT? That's when I studied Graphic design, simultaneously I started to experiment with video and a year ago with 3D in a self-taught way. Since then I have not stopped learning, I'm in love with this. Mi nombre es Aitana, tengo 28 años. Nací y me crié en Vigo, una ciudad al noroeste de España. A los 17 años vine a Madrid para estudiar Historia del Arte en la universidad y después de licenciarme entré en un punto muerto y de duda existencial, ¿y ahora QUÉ? Fue entonces cuando estudié Diseño gráfico, paralelamente empecé a experimentar con el vídeo y hace un año con el 3D de manera autodidacta. Desde entonces no he parado de aprender, me apasiona.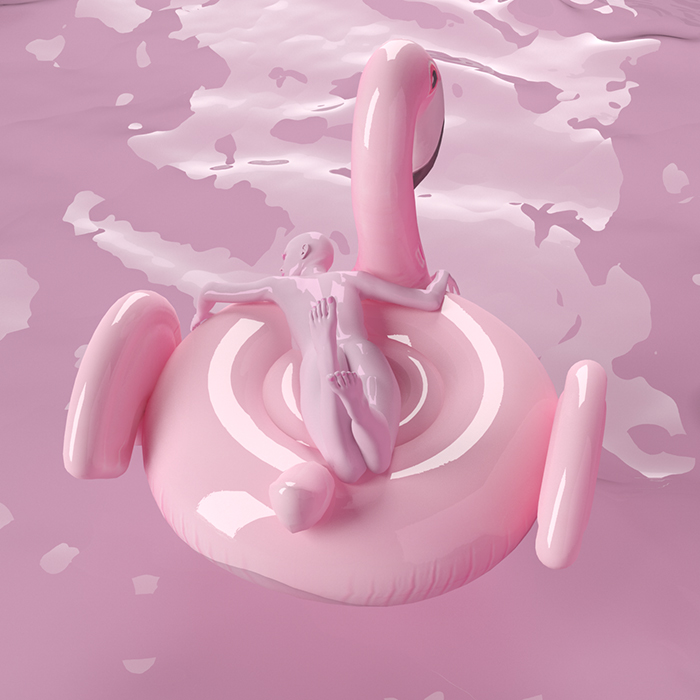 2. Tell us about your aesthetic.
It's hard for me to answer that. My illustrations usually have a surreal atmosphere, sometimes with abundant use of color, others completely neat and others in which I look for high contrast with black, white and gold. The female anatomy is a recurring element in my illustrations. Es difícil contestar a eso. Mis ilustraciones suelen tener una atmósfera surrealista, a veces con un uso abundante del color, otras completamente pulcras y otras en las que busco grandes contrastes con negro, blanco y dorado. La anatomía femenina es una elemento recurrente en mis ilustraciones.
3. What is your favourite medium and why?
Of course 3D, it's amazing because you can mix many arts within one and the possibilities are endless, I also use Adobe programs. Por supuesto el 3D, es increíble porque puedes mezclar muchas artes dentro de una sola y las posibilidades son infinitas, además también uso diferentes programas de Adobe.
4. What is your artistic process like?
When I have an idea I start to elaborate it directly, I don't usually make sketches on paper. I spend most of time working on to the composition because sometimes the first idea that I have doesn't work and I try to get the balance in the arrangement of the elements, the light, the colors, materials, textures and the type of framing until the result convinces me. It's a trial-error, trial-error process, that's how I'm learning. Cuando tengo una idea comienzo a elaborarla directamente, no suelo hacer bocetos en papel. A la parte de la composición le dedico mucho tiempo porque a veces la primera idea que tengo no funciona y trato de conseguir el equilibrio en la disposición de los elementos, la luz, los colores, materiales, texturas y el tipo de encuadre hasta que me convence el resultado. Es un proceso de prueba-error, prueba-error, así es como voy aprendiendo.
5. Who and/or what inspires your work?
Inspiration is everywhere! With IG we can see people from all over the world with incredible talent in different fields. I'm inspired by painting, photography, audio-visual directors, music, and all the arts in general. Caravaggio, Rembrandt, Bernini, Matisse, Michel Gondry, Jonathan Glazer, Sorrentino, Paco Peregrín, Romain Gavras, Mark Ryden, Constructivism, Surrealism, Bauhaus, Deconstructivism ... I also write down phrases or words that inspire me and then I try to shape them. ¡La inspiración está en todas partes! Con IG podemos ver a personas de todo el mundo con un talento increíble en distintos campos. Me inspira la pintura, la fotografía, directores audiovisuales y la música pero todas las artes en general. Caravaggio, Rembrandt, Bernini, Matisse, Michel Gondry, Jonathan Glazer, Sorrentino, Paco Peregrín, Romain Gavras, Mark Ryden, el Constructivismo, el Surrealismo, la Bauhaus, Deconstructivismo… También suelo anotar frases o palabras que me inspiran y luego trato de darles forma.
6. What role does art play in your life? How does it change the way you view the world?
I can't imagine the world without art. It's a source of permanent optimism, at first from an academic point of view, as a spectator, and now I can contribute my own vision. To have found the way in which to express myself has been completely liberating. No soy capaz de imaginar el mundo sin arte. Es una fuente de optimismo permanente, al principio desde un punto de vista académico, como espectadora, y ahora en el puedo aportar mi propia visión. Haber encontrado la manera en la que poder expresarme ha sido completamente liberador.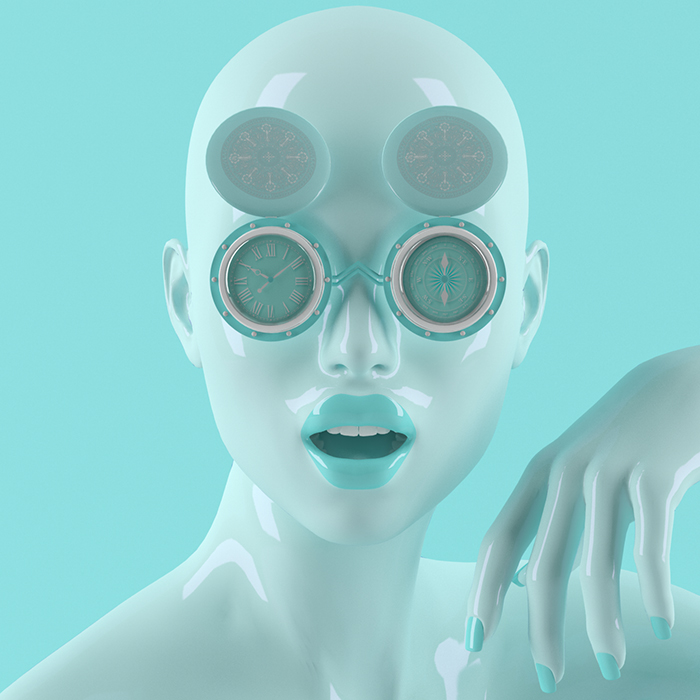 7. Where did you study?
I studied Art History at the Complutense University of Madrid. Estudié Historia del Arte en la Universidad Complutense de Madrid.
8. Where do you see yourself in five years? Working in an agency?
I have no idea. I hope to continue learning and doing what I like in 3D and in video. I would prefer to work on my own as a freelance but if I work in an agency I would see it as an opportunity to learn how to work in a different way, the important thing is to be able to do what I like, I don't care where. No tengo ni idea. Espero seguir aprendiendo y haciendo lo que me gusta tanto en el 3D como en el vídeo. Preferiría poder trabajar por mi cuenta como freelance pero si trabajara en una agencia lo vería como una oportunidad para aprender a trabajar de una manera diferente, lo importante es poder hacer lo que me gusta, me da igual dónde.
9. What about in ten?
If in five years it's difficult to know even more in ten! But I'm a dreamer ... I tell you that I would like to live somewhere near the sea, outside Spain and doing what I like. ¡Si en cinco es difícil en diez más! Pero soy una soñadora… Te diré que me gustaría vivir en algún sitio cerca del mar, fuera de España y haciendo lo que me gusta.
10. What do you hope to achieve with your art?
This began without any pretension and has become my passion. If people who see my work feel attracted or identify with it for me is a great reward. I would like to be able to relate what I do with music, it's the perfect combo and, but above all, to improve my work. Esto empezó sin ninguna pretensión y se ha convertido en mi pasión. Que la gente que ve mi trabajo se sienta atraía o se identifique con él para mí es una gran recompensa. Lo que me gustaría es poder seguir relacionando lo que hago con la música, es el combo perfecto, pero sobre todo, ir mejorando mi trabajo.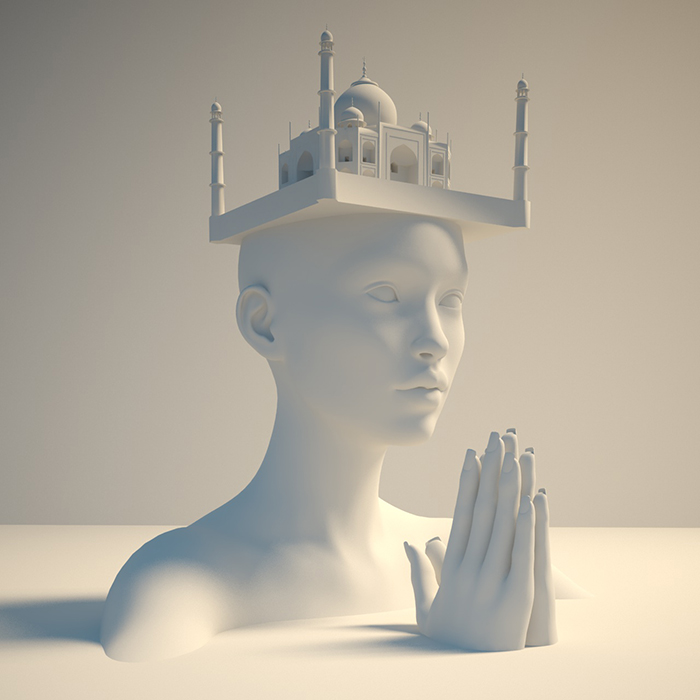 11. Now, tell us a little more about you as a person: what is your favourite food?
I love indian food. If i had to choose one I would say lamb . Me encanta la comida de La India. Si tuviera que escoger un plato me quedo con el cordero Vindaloo.
12. Favourite book?
I watch films almost every day so I don't have much time to read. I like the Angelica saga by Anne Golon, set in seventeenth-century France. It is a mixture of history, intrigue and adventures in the Old and New World. Veo películas casi todos los días y no tengo mucho tiempo para leer. Me gusta la Saga de Angélica de Anne Golon, ambientada en la Francia del siglo XVII. Es una mezcla de historia, intriga y aventuras por el Viejo y Nuevo Mundo.
13. Favourite genre of music?
I love music, from Rock n Roll to Classical music, it depends on the moment, but Michael Jackson is above all. Me encanta la música, desde Rock n Roll hasta la música clásica, depende del momento, pero Michael Jackson está por encima de todo.
14. What are your hobbies?
Films, series and video games. Películas, series y videojuegos.
15. If you weren't an artist, what would you be?
Nowadays I don't know what I am, a kind of mixture of different things. I was thinking about what I wanted to be when a was a little girl: astronaut, plane pilot, archaeologist and adventurer like Lara Croft and when I had MTV and VH1 at home I wanted to make music videos. The first three are nonsense and the last one has been fulfilled, so I have no idea, maybe teacher or dog walker. A día de hoy no sé lo que soy, un popurrí de varias cosas. Estaba pensando en lo que quería ser de pequeña: astronauta, piloto de aviones, arqueóloga y aventurera como Lara Croft y cuando tuve MTV y VH1 en casa lo que quería era hacer videoclips. Las tres primeras son un despropósito y la última se ha cumplido, así que no tengo ni idea, quizá profesora o paseadora de perros.