Instagram:
@akvilemagicdust
Facebook:
www.facebook.com/AkvileMiseviciute
1. What's your story? Where are you from?
I am a dreamer, illustrator and comics maker. Most of the time I am living in my hometown Vilnius, Lithuania.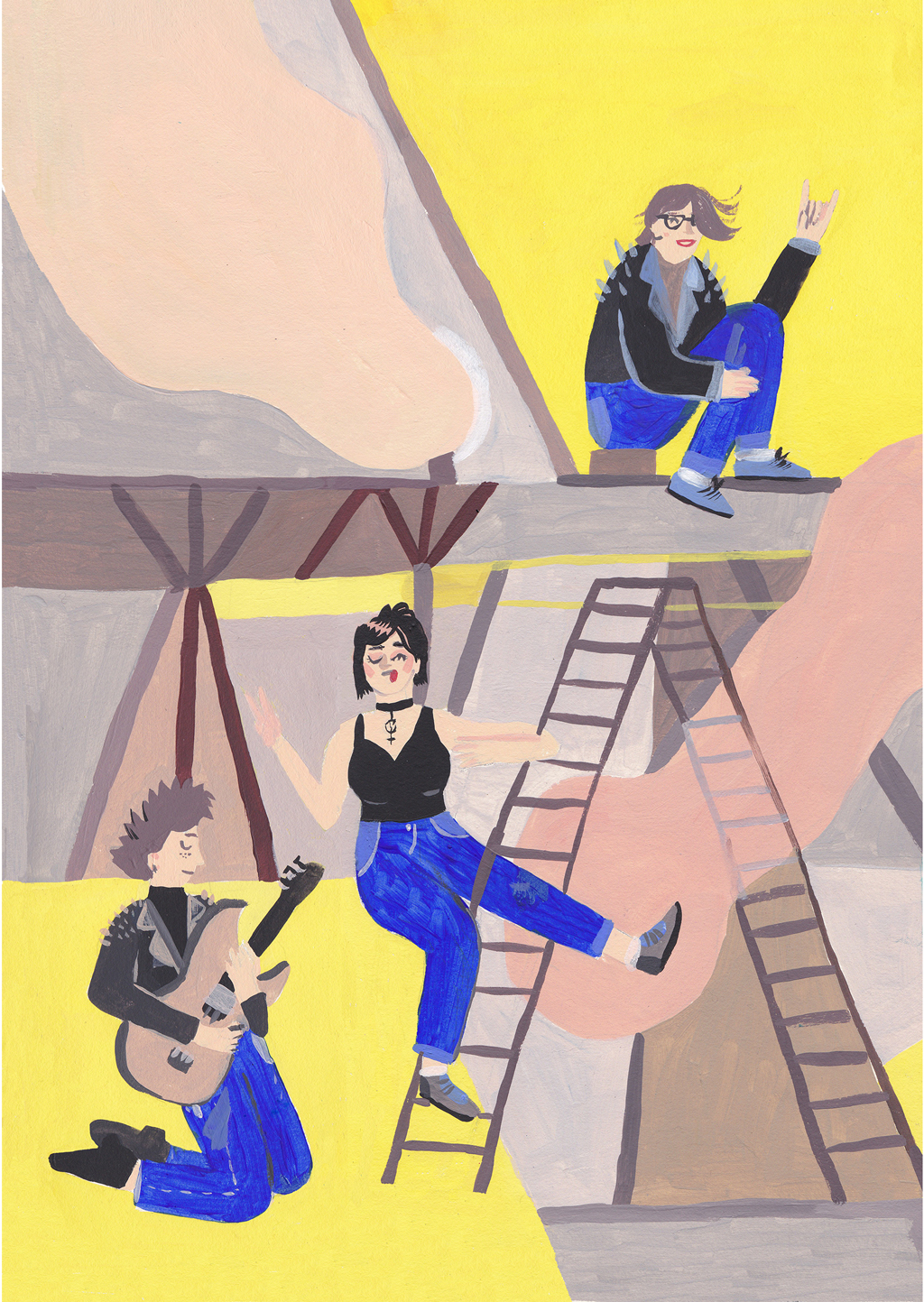 2. Tell us about your aesthetic.
I use pastel and bright tropical colours creating surreal stories in my comics and illustrations. I would also describe it as naive.
3. What is your favourite medium and why?
When I create paintings or illustrations I use acrylic paint. I like it because then the work becomes really meditative and I don't get tired so much as looking to computer screen. When I do comics, I use wacom tablet to draw them digitally, comics need to be edited more, the dialogs and the story changes during the process.
4. What is your artistic process like?
I am sharing a studio with other creative people where we work everyday listening to music or podcasts. The ideas come to my mind really unpredictably. Like traveling or sleeping... sometimes talking to my friends, sometimes from the time spent alone. I write them to my phone or sketchbook. Then at the studio I look to the gathered material, make lists and drafts of future projects. Some of them never reach daylight. The creation of the final illustration or comic means also many failed tries, many drawings go directly to the fireplace.
5. Who and/or what inspires your work?
People, streets, cities. Daydreams and nightdreams. Music lyrics. Illustrators living on the other side of the planet like Cuantas Constanzas or Gabriel Alcala. My studio mates Antanas Dubra or Abran whom I see drawing everyday. Reading comics of Michael DeForge or Jim Pluk. Watching animated series like Bojack Horsman or Adventure Time. All the contemporary pop culture, almost nothing of old classical painters.
6. What role does art play in your life? How does it change the way you view the world?
I have totally lost the connection with high art, gallery art. I look at it as a strange animal, I don't really understand it's behavior but it's interesting. Sometimes in some contemporary art fairs I feel like an alien, I see some stuff there as a cold business and I don't feel anything when I look at the artworks. But sometimes graffiti on the wall or friend telling a story through the sleep can touch me more than an exhibition. I guess a good artwork makes you think of other perspective, be more sensitive, more open. Sometimes it works like pills that help to overcome boredom or difficult life periods.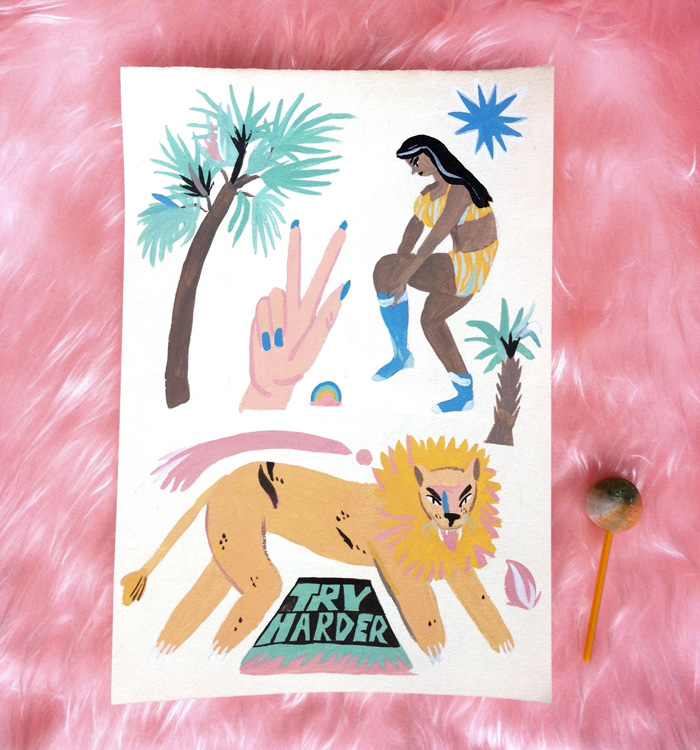 7. Where did you study?
I did BA in Vilnius Academy of Fine Arts, department of printmaking and illustration and MA in Sint-Lukas School in Bruxelles, comics.
8. Where do you see yourself in five years?
I will be wiser and more free.
9. What about in ten?
I don't know where I'm going because I've never been there.
10. What do you hope to achieve with your art?
I would like to motivate people, make them feel less alone, be more daring. I am based in Lithuania, which is really beautiful place but it's raining a lot and lack of the light makes everyone a bit depressed and reserved 7 months of the year. I would like to cheer people up with my drawings (myself included).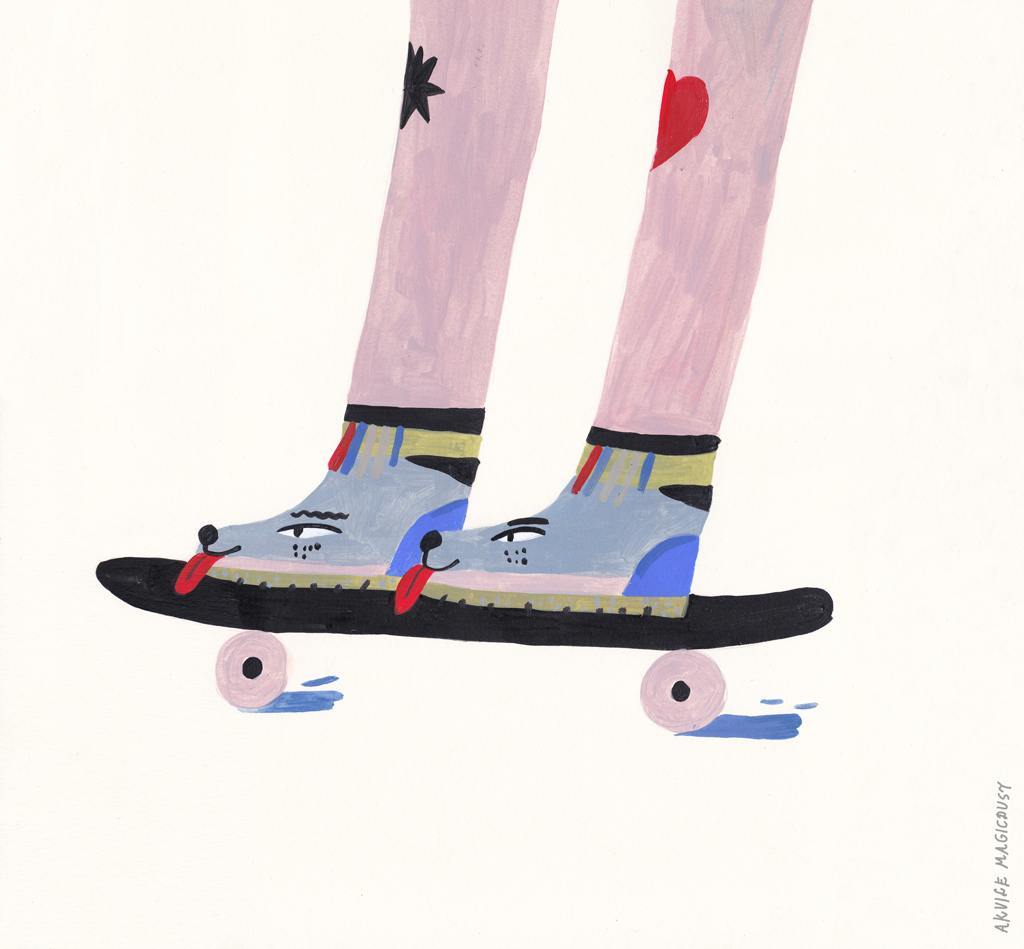 11. Now, tell us a little more about you as a person: what is your favourite food?
The best meal is shared with friends. And vegetarian.
12. Favourite book?
One of the last that I really liked was "The House on Mango Street" by Mexican-American writer Sandra Cisneros. I almost cried of the joy reading it. I also really love strange stories of Miranda July ("No one belongs here more than you").
13. Favourite genre of music?
I listen to all kind of stuff: rap, rock, garage punk, pop, R&B... I think it just would be difficult to have fun in a techno party.
14. What are your hobbies?
Skateboarding - if I could call it a hobby because it's more like a lifestyle. Sometimes it takes even more my mind space than drawing.
15. If you weren't an artist, what would you be?
Peanut butter cat, a bat stealing ice cream from the children, a tree growing in California. I could be whatever. I am just quite sure that I wouldn't be a lady working in a bank in high heels, or if I did that I'd have quite crazy second secret life after work.