Instagram:
@alexandracaprice
Facebook:
www.facebook.com/alexandracapriceart
Website:
www.alexandracaprice.com
1. What's your story? Where are you from?
I was born in Anaheim, California, but I grew up in a teeny, tiny, town in eastern Idaho called Salmon (like the fish!). Growing up, most of our "vacations" were to visit all of our family we left behind in Cali, so my heart really never left the state. My love for art was first sparked by my artist grans! She taught me how to draw people, so I have a lot of memories driving through California drawing a lot of made-up female rollerbladers (random, I know). I was also homeschooled (3rd -12th grade). My mom and dad made sure to mould my education around my artistic interests, which was pretty rad of them.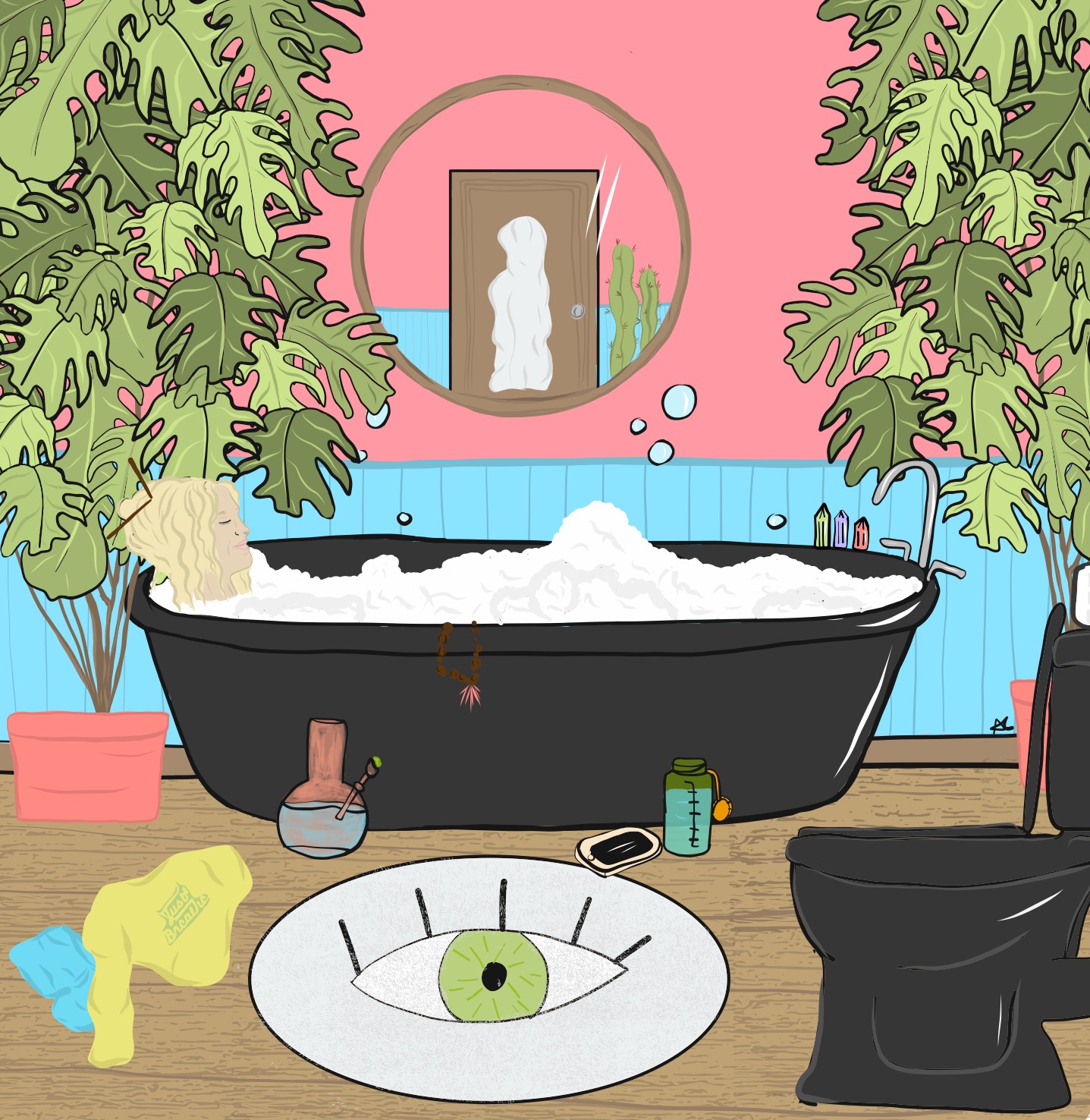 2. Tell us about your aesthetic.
My aesthetic is colorful, feminine, holistic, and a bit cartoony.
3. What is your favourite medium and why?
I'm torn between two! Printmaking and digital. I love printmaking because it's such a neat hand process; unpredictable, messy, imperfect. Yet most of my current work is very digital, and that's because it's not messy and I can take my iPad everywhere with me!
4. What is your artistic process like?
My digital process is kind of crazy. I hoard images of people, places, and things that inspire me. Then I sit down and start drawing. Sometimes I'll just start off with an item, or a person, that I want to draw. Usually, at that point, I don't have the whole scene or even idea developed yet and that's where it gets fun! I tend to just start adding more and more elements to the illustration, until I either run out of ideas, or decide that it looks finished. Design is key, and working digitally makes it so much easier for me to add, eliminate, and/or resize things that don't flow well with the piece. When I'm working, I'm in the ZONE, so I can work pretty fast. I'm also not a perfectionist... like at all... so that helps too.
5. Who and/or what inspires your work?
Wow, so many things inspire me! Mainly people, places, and things. I'm kind of obsessed with the mundane, daily life we all experience as humans and the objects we surround ourselves with. I'm also really obsessed with food, succulents, Palm Desert, anything tropical, and anything colorful!
6. What role does art play in your life? How does it change the way you view the world?
I think at this point art plays almost all roles within my life! It's been such an important aspect to my recovery from a back injury I sustained in the early summer of 2016. It's been my therapy, my time passer, and the only thing I could really pour my heart and soul into while I recovered! Art has helped me become more content with the daily grind we all experience. What I mean is that, art has helped me to find inspiration right in front of me, and has reduced this pressure I used to feel that I had to go and experience great, grand adventures in order to create things. I'm a huge believer in finding inspiration from your current surroundings!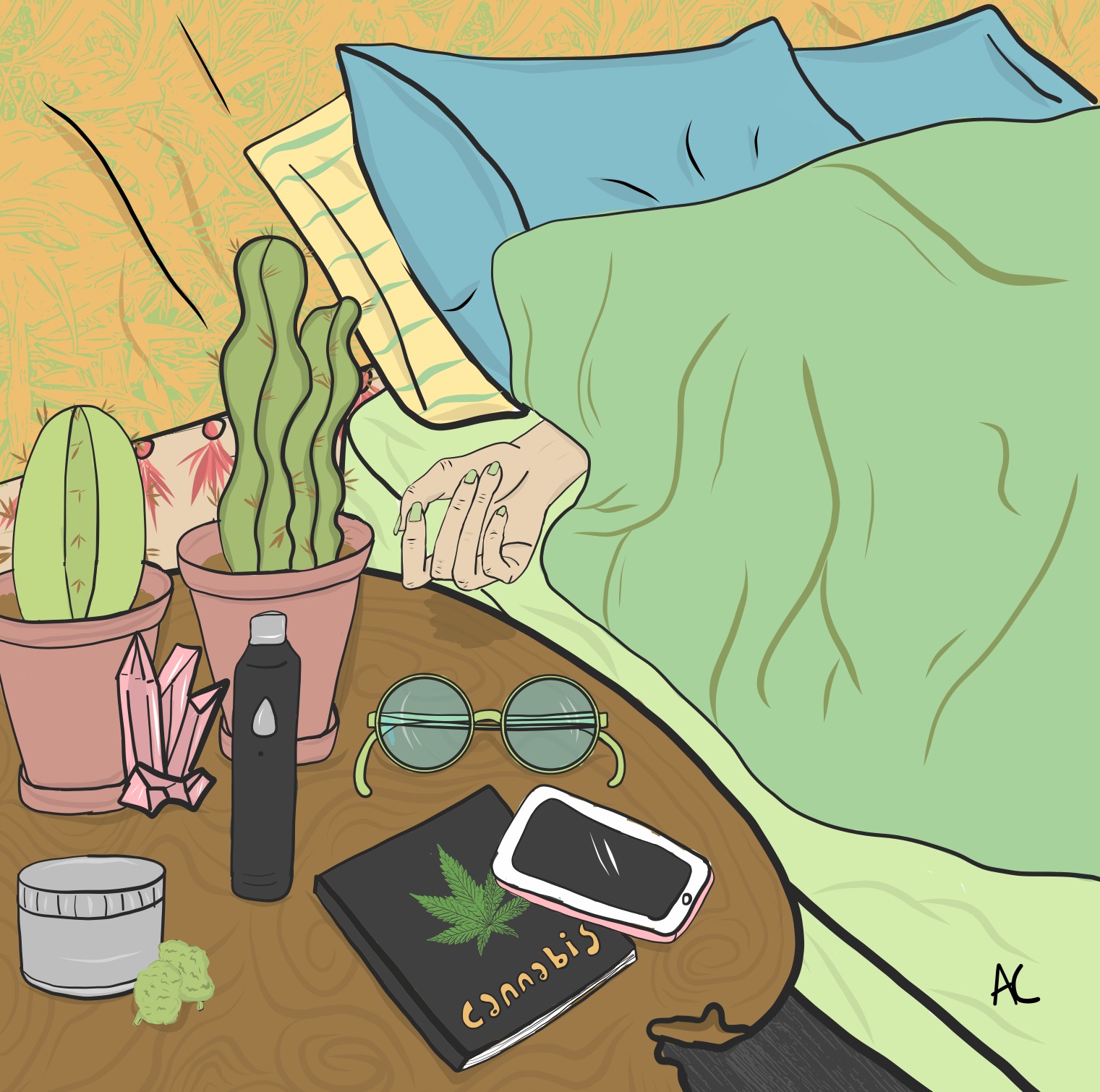 7. Where did you study?
I'm currently still studying illustration/ undeclared printmaking at Boise State University.
8. Where do you see yourself in five years? Working in an agency?
Oh boy, in five years I see myself continuing to run my online shop, selling prints, stickers, pins, and other screenprinted goodies! While also doing freelance stuff & commissions. It would be super awesome to team up with a company and do some really neat illustrations. I have this crazy, secret wish to see my work on those snazzy gift cards you can buy. You know, the ones you put money on that are decked out in really cool illustrations!
9. What about in ten?
Wow, in ten years, I hope to be reunited with the Pacific Ocean, living it up in a coastal town in California, or maybe even an Island?! We'll see, just as long as it's sunny and warm I'm happy! Obviously I'll still be doing lots of art, hopefully with a solid work schedule of freelancing and selling goods from my shop! And maybe I'll even go shopping with one of my own illustrated gift cards! ;D
10. What do you hope to achieve with your art?
For real, I mainly create to make myself happy! Though I do hope to create awareness and normalization of cannabis as medicine and help end the stigma of "reefer madness", it's something I feel very strongly about. I also want to inspire people to live a healthy, active lifestyle, and to find their inner strength to go out and do the things they feel passionate about! Also, I just want to brighten someone's day, and if I can make even one person stoked, I'm stoked!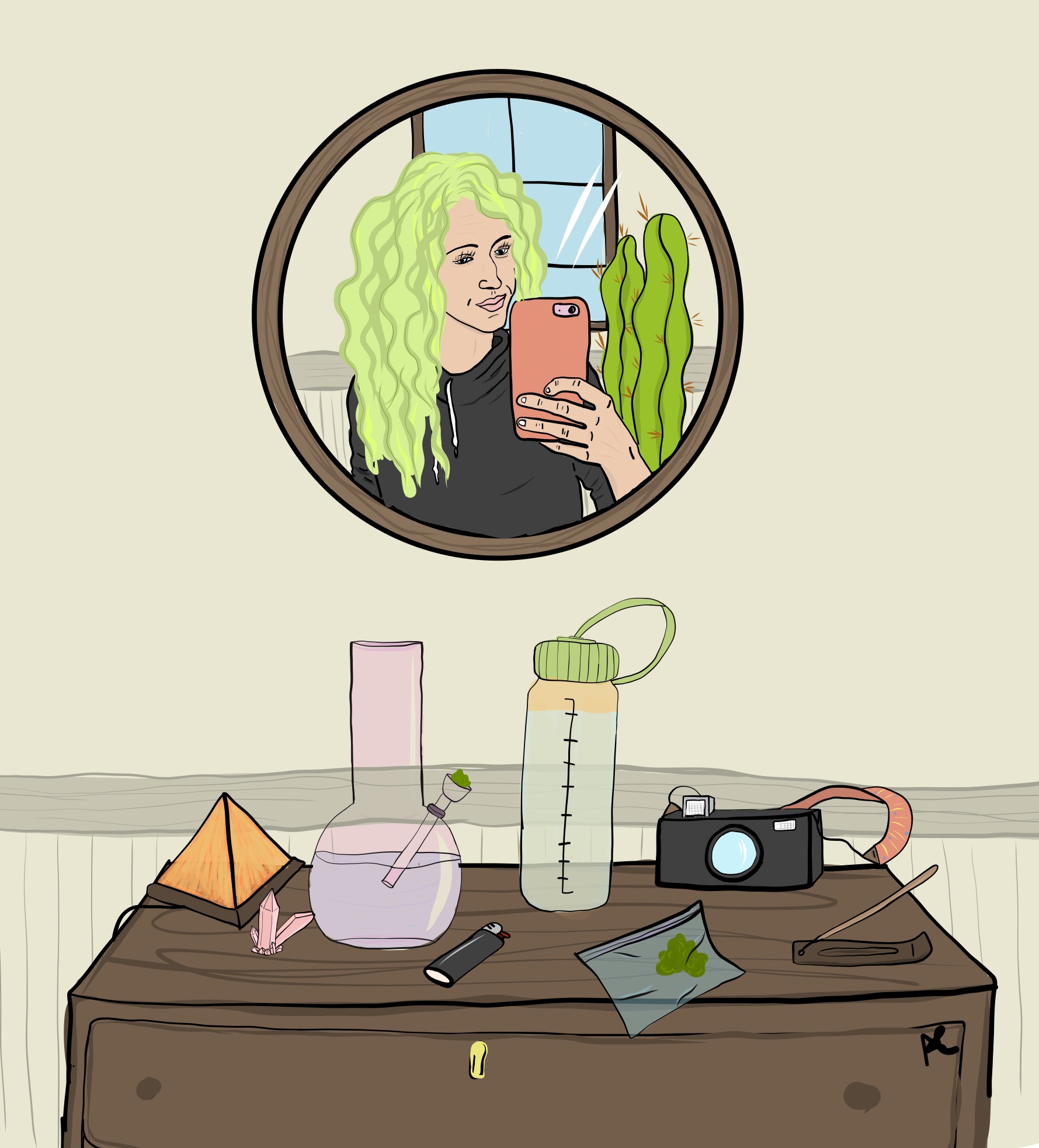 11. Now, tell us a little more about you as a person: what is your favourite food?
Okay, this will sound crazy, but my favorite food is actually raw broccoli. When I quit smoking, years ago, I started getting this insane craving for broccoli and I've been obsessed ever since! My other favorite food would have to be any dish that has plantains in it. Mmmmm, those puppies are so good!
12. Favourite book?
I'm going to have to say my favorite books are The Lord of The Rings, and anything written by Jack Kerouac and Hunter S. Thompson.
13. Favourite genre of music?
I listen to a lot of indie-tronica, chillwave, psychedelia. Oh, and a delicious blend of rap.
14. What are your hobbies?
My hobbies include, yoga, biking, long boarding, hoop dancing, talking to my cats, lounging in the sun, reading horror novels, playing Sims, doing Mad Libs, coffee sipping, outdoor adventures with my fiancé, building blanket forts, and pulling killer pranks on my dad.
15. If you weren't an artist, what would you be?
If I weren't an artist I think I would probably be a yoga teacher and maybe even a long haul truck driver. I've always really wanted my own sleeper cab! And CB radios are kinda the coolest things ever. But I'm also really interested in civil engineering for dams and sewers! Maybe, in bizarro world I would be all of them!