Instagram:
@alexandra.uro
1. What's your story? Where are you from?
I am a Mexican creative introvert, born and raised in Mexicali, Baja California. Mexicali is a border town sharing its limits with California in the USA. English is almost my first language because I studied in the USA since small, though I concluded my University studies here in Mexico. I've got two children and work part-time as an Advanced English teacher to bilingual high school students.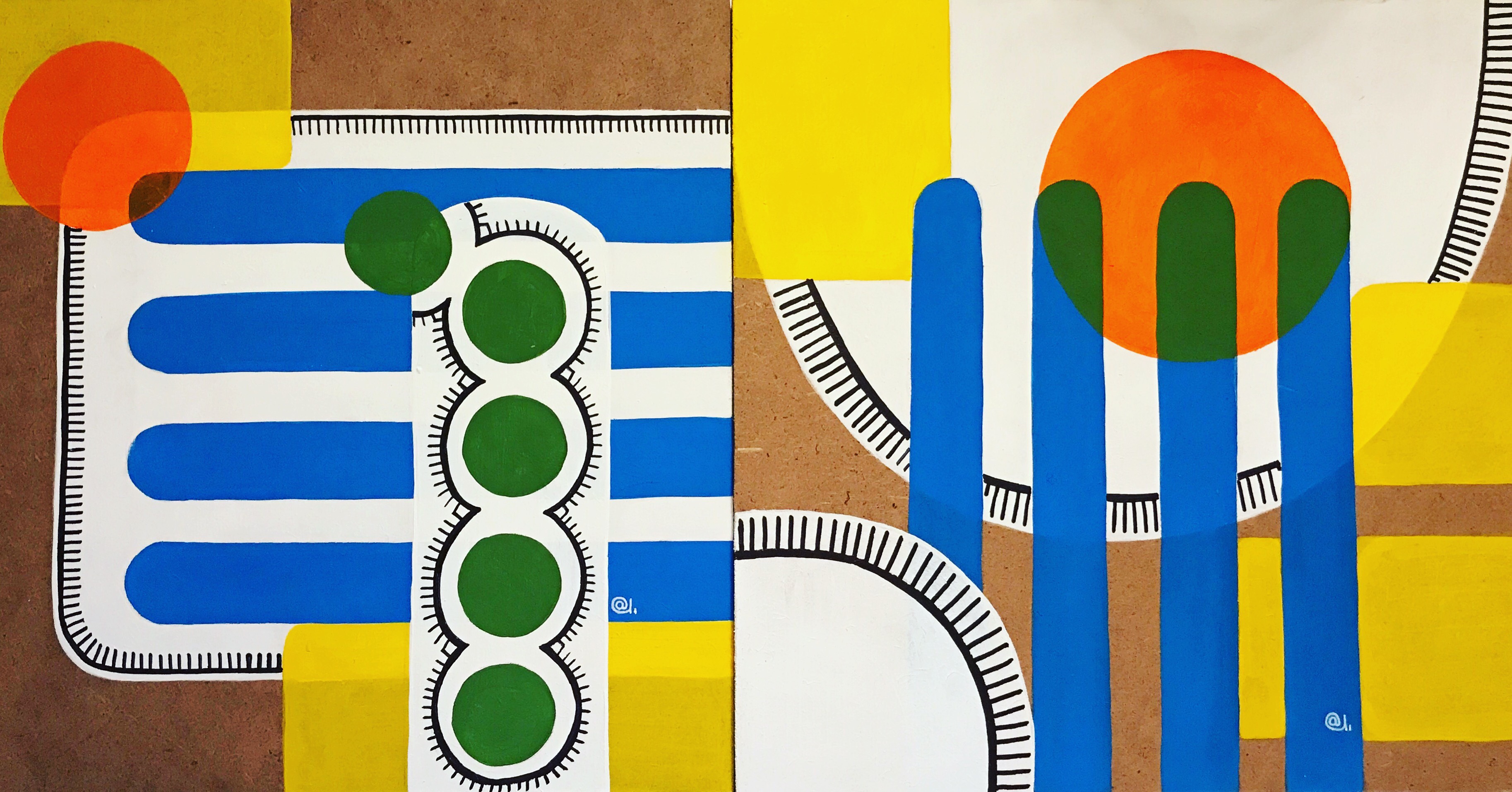 2. Tell us about your aesthetic.
Goodness, well…the style that I have been developing for a year now is all intuitive, charged fully with a love and devotion to color and abstraction. There's this contradiction going on in my pieces, between crisp, very defined outlines and lopsided, organic shapes. I have trouble identifying when a piece is done, so often times add a bit of penwork to give it that little extra, then I know it's done. My eyes have always looked beyond the border, and until recently that I came back to painting and started participating in Art Fairs, I realized how my art has no trace of my mexican heritage. I have never painted the iconic Frida Kahlo portrait or tried to capture a bit of our amazing landscapes... the closest I've gotten to painting something uniquely mexican is when I copied a few of the patterns from my talavera pottery collection, that's it.
3. What is your favourite medium and why?
I've tried most since I started painting quite young… Oils really gave me this sense of artistry, maybe because of the complexity of the materials themselves, with all the different spirits and making your own palette and, probably most of all, because the teacher was very jealous of her art form and made it seem like the most difficult task to undertake. Needless to say, I wasn't very good at it when I was trying to paint alone which took me to acrylics. Now that was freeing! I love acrylics, the bright colors, the quick pace, the level of control you can achieve, specially for my type of art. I've got my eye on gouache and watercolors, though I know I'd have to give up on the controlling part and let them be.
4. What is your artistic process like?
It's quite simple once I'm over the hurdle of finding 3 uninterrupted hours where I can sit at my desk. I generally have three jars with some water to clean my brushes. Why three? because it's the number of colors my palette falls into: the blues & green, the reds and oranges, and the light colors- white and yellows... and all my brushes in different sizes, my favorite are Filberts. As I said, my time is limited while my need to paint is huge so I've devised a strategy, nothing fancy, but it has worked fabulously for me. I precut paper into 5"x8" or 6"x6" and that is my surface. This began due to a lack of space from so many canvases i had in my living room, just leaning on any free wall space. So limited time and limited space took me to my minis, today I have a wonderful Mini Organic Abstract collection. My other favorite surface to paint on is mixed media board, I love its natural brown color which makes acrylics pop! I don't normally sketch my shapes, I visualize the composition and go for it. I am not afraid of mistakes, I honor and embrace mistakes, they are my art teachers. When I can't decide on a palette I go to my favorite surface pattern designers and browse through their work to get my creative juices flowing. And put paint to paper. My minis have also served as a catalogue of my work which I have enlarged on canvas several times.
5. Who and/or what inspires your work?
Silence inspires me, it lets me listen and connect with the emotions within. I look at me paint jars and they speak to me. The blank page, sheet, canvas is a very inspiring challenge. The possibility of innovating is an exciting inspiration. The opportunity to experiment is also a welcome inspiration. Of course I admire many artists. From the classics I admire their transcendance, their ability to endure time, to keep being a reference. I made several copies of some cubist paintings by Picasso, that was a powerful excercise in appreciation of the human figure and space. Today, I follow and study the works of many contemporary artists who generously show their art on Instagram. Their presence helped me validate my organic, colorful style; their work infused my artistic intuition with confidence.
6. What role does art play in your life? How does it change the way you view the world?
Art has always been a part of me, people who have known me since I was a child don't hesitate in labeling me artistic or creative. Both of which I love! So I have always explored the artistic in life, however, my Instagram account will show that I became active and public a year ago. I took out my paints looking for a way to create some personal space and time. From that moment on, my like for making art and being creative turned into a need to express a coded emotional message. Of course there are moments when emotions aren't the only inspiration, so having my daily art practice has required that I be constantly collecting mental images of my surroundings, you know, the best palettes are already present in nature.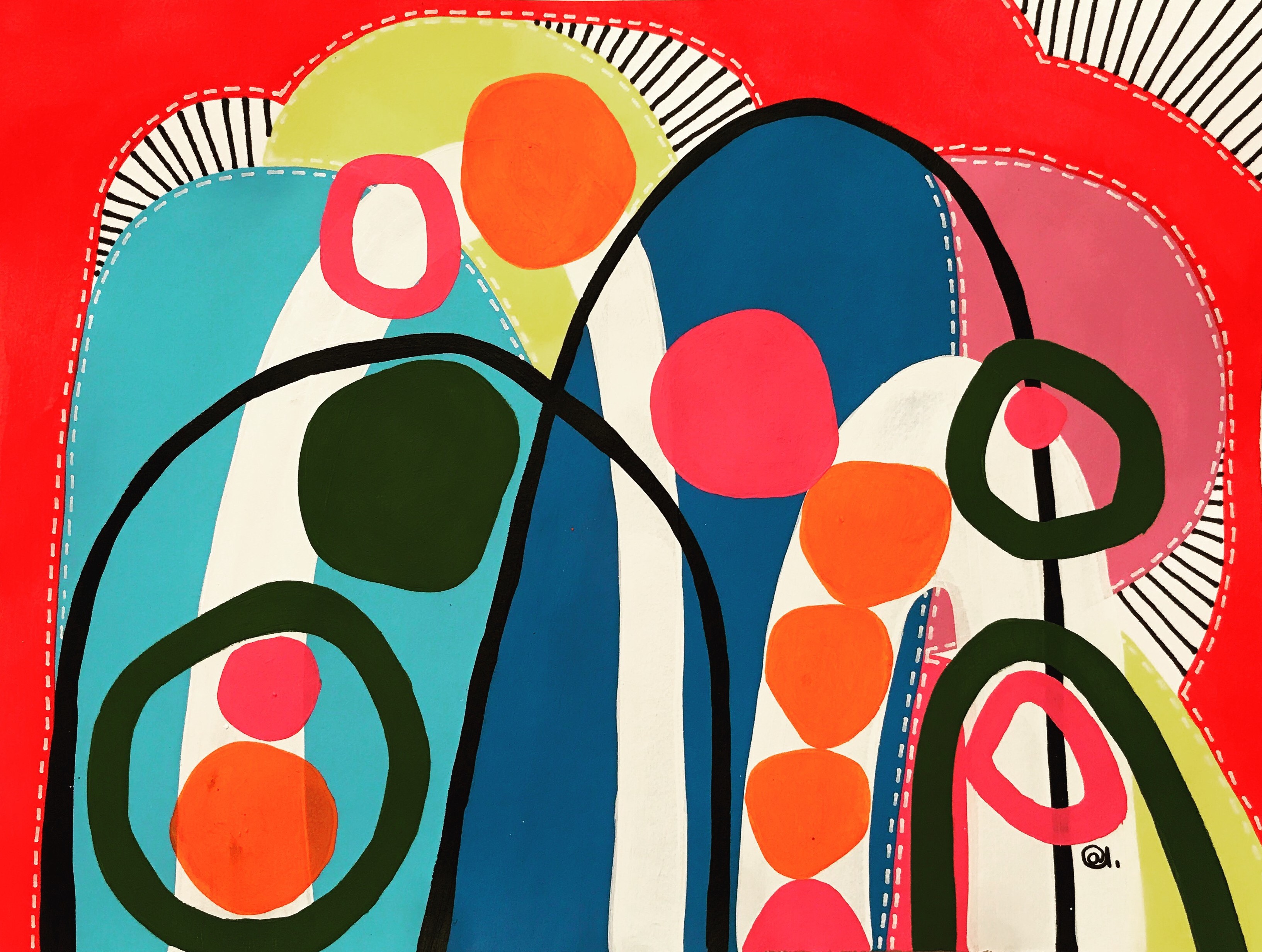 7. Where did you study?
I studied Architecture at my state university, specializing in theory and design.
8. Where do you see yourself in five years?
So interesting, I do have certain expectations of myself which have their deadline in 5 years. I'd love to have a collection worthy of a gallery exhibition. I dream of painting a mural with my designs, the pediatrics ward in a hospital is where I'd love for it to be, or any other place would be cool! I'm currently working on taking my art beyond the canvas. In 5 years I hope to be working on my second or third fabric collection. Only God knows where exactly my art will take me, I can only do my best with all my heart. At this moment, I'm waiting for my first design on fabric to arrive, it'll be made into a super colorful neckerchief to brighten up those monochrome outfits we love to wear.
9. What about in ten?
In ten years, oh my! It would be amazing to have a group of creatives working with me while I continue designing in a quiet studio.
10. What do you hope to achieve with your art?
This will sound egocentric but I do hope to get to that place where people see a piece of my art and know it was done by me. Until then, I want my art in people's homes, offices (or around their necks!) bringing smiles to their faces, being that respite in a dreary day.

11. Now, tell us a little more about you as a person: what is your favourite food?
Ooohh! Can we start with dessert? Tarte Tatin!!
12. Favourite book?
I've read so many, Irving Stone's biographical novels are my favorite. Helen of Troy by Margaret George. Anything on Creativity and the creative life, I'm there!!
13. Favourite genre of music?
Bossa Nova, I could listen to anytime, anywhere.
14. What are your hobbies?
Painting, ha! Someday painting will be my occupation (I don't dare call it work, that has a negative connotation in my book) and doing dishes will be my hobby.
15. If you weren't an artist, what would you be?
Good question, I'd be a researcher, I'm a nerd.