Instagram:
@alexandria.can
Website:
www.alexandriacanchola.com
1. What's your story? Where are you from?
I was born in Chicago, Illinois and moved to South Texas with my family at the age of eight. It was an interesting transition for all of us moving from the snowy windy city to the hot hot heat palm-tree-filled land that I now call home. I am a Texas-based designer and illustrator whose work is often inspired by a fondness for storytelling, color, letterforms, paper, printed ephemera, and filmmaking. My career in the arts was not quite a straight-line path, instead included detours in the disciplines of journalism and filmmaking. After earning a bachelor's degree in Government and Journalism from the University of Texas at Austin in 2008, I went to work at an alternative weekly newspaper in Ithaca, New York. While I enjoyed working in journalism, I found I was more passionate about the art of creating visual content. I had found my love for design and the power is manifested in giving form to content. Since then, I've worked as a designer, illustrator, and artist; whatever the role or medium, my goal is to solve problems creatively so ideas can come to life. I received an MFA in 2D Design at the University of Texas Rio Grande Valley in 2018. When I'm is not elbows-deep in a design/illustration project, I'm probably drinking Topo Chico, poring over print magazines, brainstorming my next letterpress project, or adding to my collection of Wes Anderson ephemera.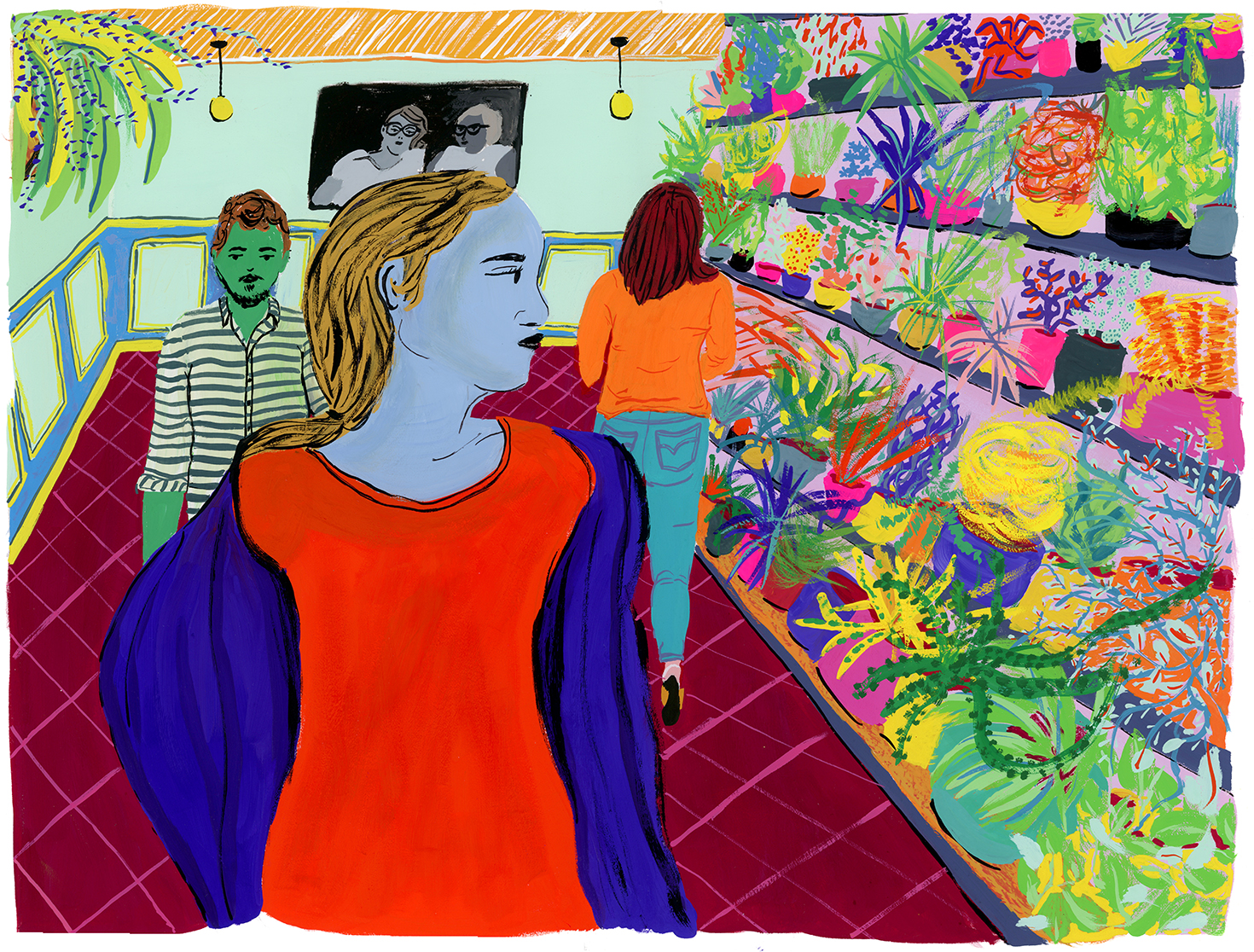 2. Tell us about your aesthetic.
I love color. I love type. I love stories. The aesthetic choices found in the illustration work: flat areas of color, simplification of forms and figures, a bold and vibrant color palette, and a playfulness with perspective. Through narrative storytelling, the work explores universal and often unresolved themes that have preoccupied mankind since the beginning of time. Color is used to document the human experience by connecting narrative and emotion.
3. What is your favourite medium and why?
I create illustrations with gouache paint on paper. It is a medium that I love for its velvety matte finish and opaque highly pigmented color.
4. What is your artistic process like?
I'm not precious with my tools and have never chosen to invest in quality brushes because I don't trust myself to take care of them. Instead, I have about a hundred brushes, because I can never bear to throw anything away once I'm done using it. Generally speaking, I prefer to use angled brushes because they allow for the application of flat color. For detail work, which there is a lot of, I use the smallest spot brushes I can find. I prefer working small, there is an intimacy between myself and the illustration. I hunch over the page, a closeness I'm not sure is healthy, but a position I constantly find myself in. Gouache is an unforgiving medium, and close attention is necessary, plans are necessary. I start with reference photos, I make a quick light sketch and move forward. Painting is an additive ongoing process, at least for me, I start with the background, laying down the colors I'm most interested in exploring. I approach color in regard to their relationships with each other, one and then the next, and so on. This process was learned through pursuing a 100 Day Project in the Spring of 2016. I would illustrate a historical painting created prior to 1900 every day as a creative exercise. Through this project, I was allowed the freedom to experiment further with color, shape, composition and details and able to eliminate the anxiety I often felt when starting a new project. The pressure had lifted because I knew I would be making a new illustration the next day. This project gave me the confidence to continue working as an illustrator and deeply informed my stylistic choices in art. The process is very intuitive. As far as my studio space goes: The studio is cramped and messy with works collecting piles and piles on tables. There are scribbled notes in countless journals, lists of ideas, lists of things to do, endless lists of color combinations to try. There are shelves full of supplies, nothing is thrown away because there will be a day when that egg tempura kit is used when that box of ribbons is necessary when four staplers aren't quite enough. It's difficult to find a place to sit and make and yet that is precisely what this space is for. It is a place that brings joy, a place to exercise one's voice, a place to think, a place to make.
5. Who and/or what inspires your work?
Several sources of stylistic influence are visible in my work from Japanese woodblock prints to the poster designs of the Art Nouveau to the paintings of Henri Matisse to the films of Wes Anderson and Sofia Coppola.
6. What role does art play in your life? How does it change the way you view the world?
A big one. Art is both my escape and my profession which some might consider a conflict of interest.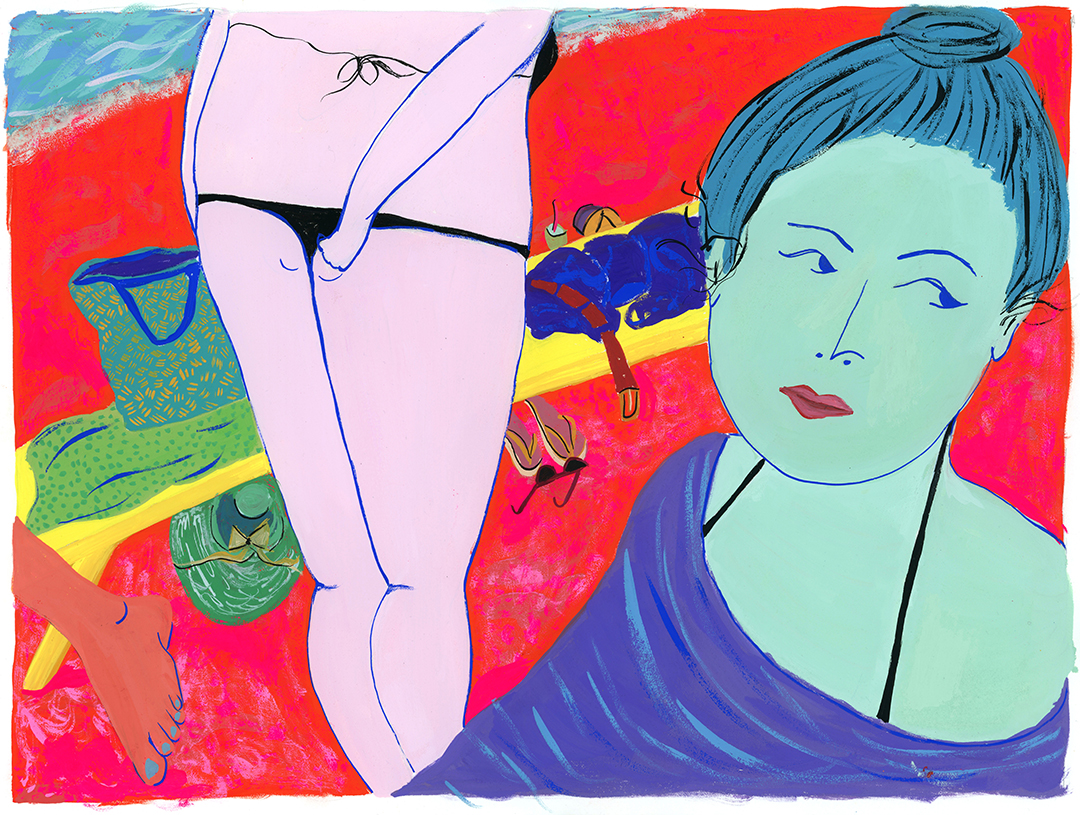 7. Where did you study?
BA from University of Texas at Austin, MFA from University of Texas Rio Grande Valley.
8. Where do you see yourself in five years?
This question makes me nervous.
9. What about in ten?
This one makes me even more nervous. I don't think that far ahead.
10. What do you hope to achieve with your art?
There's something about each one of us that lends ourselves to a story. My work is inspired by and draws from the narrative; a personal form of storytelling that helps us to make sense of the everyday, of the societal patterns we see and the relationships we experience. My intent is to blur the distinctions between our perceptions of reality and our creations within it. The color palettes used to subvert the viewer's idea of emotion; centering on themes such as loneliness, solitude, and voyeurism and showcasing these emotions in the bright powerful hues in which we feel them.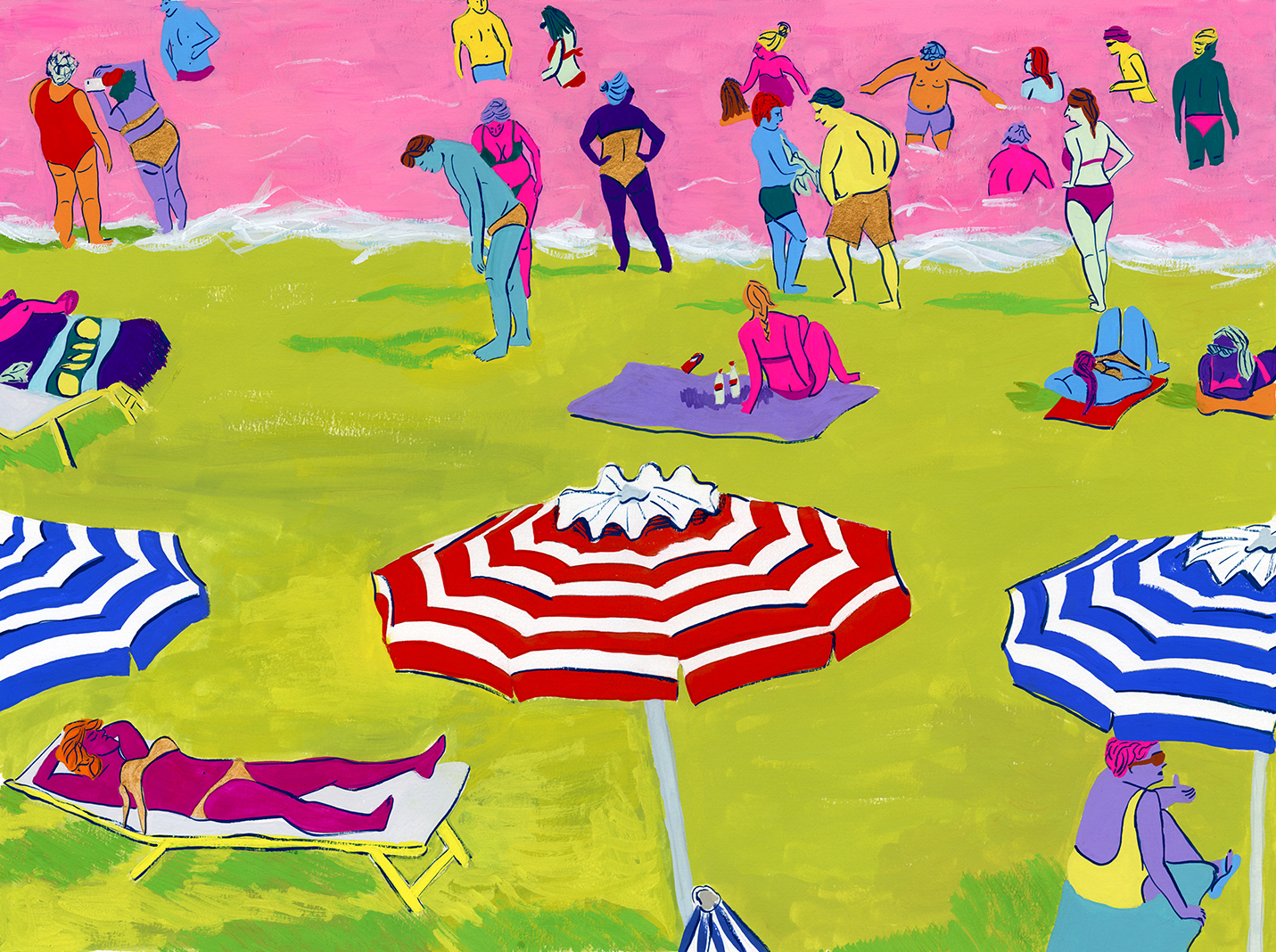 11. Now, tell us a little more about you as a person: what is your favourite food?
I love sushi. So much so that I named my dog Sushi.
12. Favourite book?
Franny and Zooey by J.D. Salinger but I collect copies of the Little Women. (my favorite as a child)
13. Favourite genre of music?
Disco. Okay…really I'm more of a fan of indie music like Belle and Sebastian.
14. What are your hobbies?
Playing with my pugs, Sushi and Kimchi. Cooking meals with my love, Michael. Shopping at thrift stores.
15. If you weren't an artist, what would you be?
I'm also a designer. So I'd be that. I'm also a Professor of Design. So that.