Instagram:
@alexmellon
Twitter:
@alexmellon
Vimeo:
www.vimeo.com/user70328514
Website:
www.alexmellon.co.uk
1. What's your story? Where are you from?
Hi, I'm Alex, and I am a Newcastle born illustrator living in London. I moved down for uni, then had so much fun that I just never left. I've been here since 2009, and just think it's the best place to live and work as an illustrator. I work in-house as the Senior Illustrator at Culture Trip, and also freelance when I can in my own time.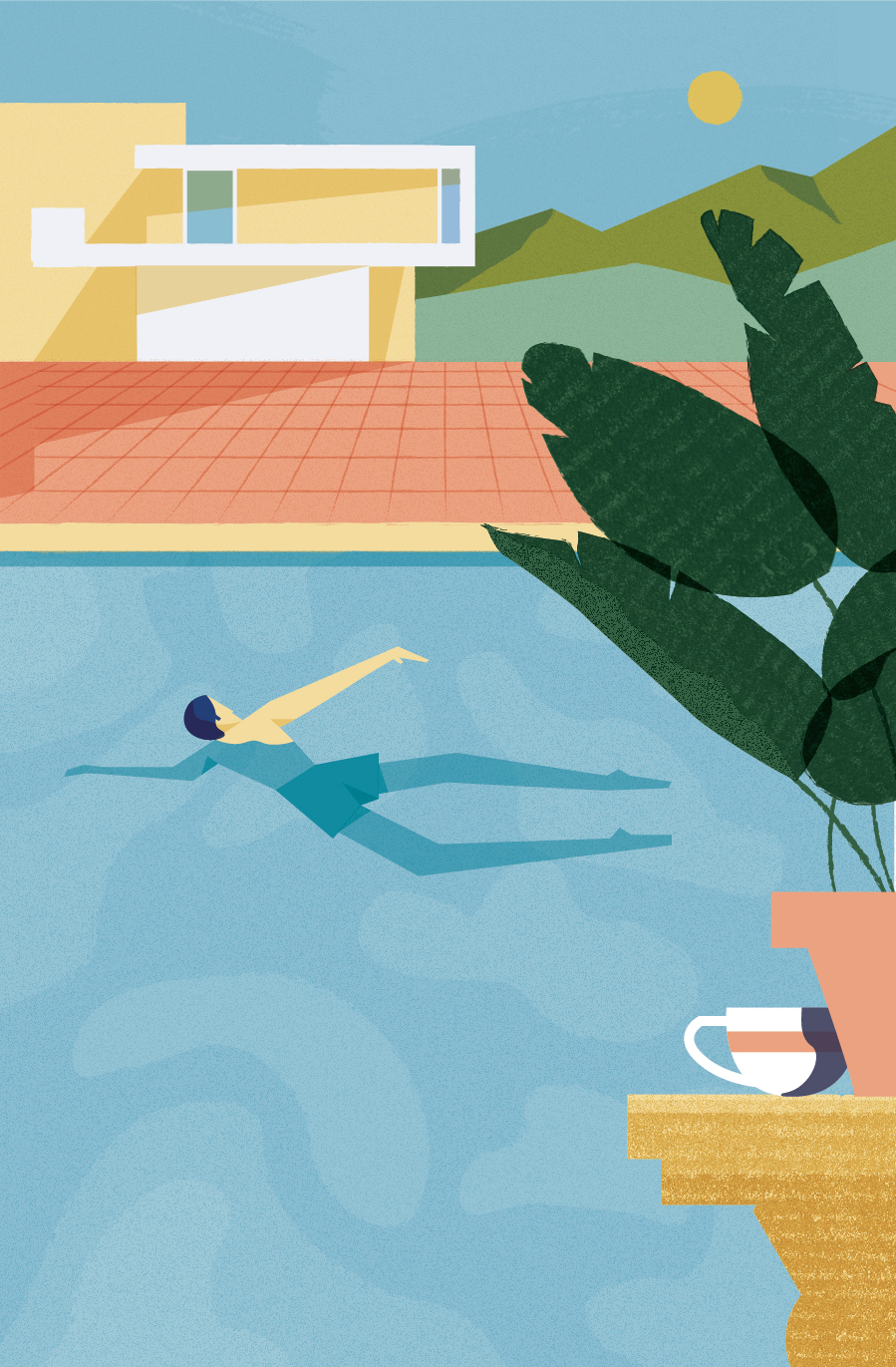 2. Tell us about your aesthetic.
I would say my aesthetic is character driven illustrations with a healthy dose of vintage national park posters. I predominately work digitally, but I use a lot of textures and custom brushes to give it a hand finished effect. I like using bold colours, and playing with the shadows within a piece. I spent the last 6 years living with people who work in film, so I try to get some sort of a cinematic feel to my work.
3. What is your favourite medium and why?
My favourite medium is just pencil in sketchbook, as I find you can really get a lot more emotion into a character from the mark making process, but sadly it's not the work I get commissioned for, although I try to bring in some handmade element to all of my work whether that be through textures or custom brushes in the piece.
4. What is your artistic process like?
I always start in my sketchbook and generally fill a few pages with ideas. Once I'm happy with some of the sketches, I'll work them into a rough composition which I'll scan and take into Illustrator. After that, it's a case of rebuilding it in illustrator and developing the colour palette. I have a regular colour palette I start with, then move away from as the piece develops. I'll work out line work and shadow in illustrator, then print the shapes and trace them with brush and ink. I scan that back in then bring those into the illustration so the piece has a hand finished feel to it. After that, I'll start adding final textures in until the file is way too big, and a nightmare to take into After Effects.
5. Who and/or what inspires your work?
My work is often inspired by the mundane and the day to day. I like taking photos and doodling things I see day to day. In terms of people, I'm very lucky to know and work with some very talented people. Claudine O'Sullivan is talented beyond belief, and also always there for advice on clients, taxes or just life. Joe Brooks is an amazing animator and illustrator who I've collaborated a lot with recently. Sam Peet consistently puts out beautiful work at a speed that scares me. Michaela Pointon makes work that feels like you're looking at rad tourism adverts from the 70s. Claudine O'Sullivan consistently astounds me with the quality of her work, and how much of it she makes. Andrew Khosravani is another superb animator and illustrator who should check out. Outside of my mates, I've been really digging Allen Laseter, Tommy Parker, Kirstin Smith, and Marianna Tomaselli.
6. What role does art play in your life? How does it change the way you view the world?
I think it's a really defining part of my personality. I got into illustration through skateboarding, which gave me access to this culture and community with an extensive history of illustration and just generally creativity. I come from a fairly normal family and have a very academically successful brother who I was never going to keep up with. Art and skateboarding felt like my own thing I could involve myself in, and succeed in some way without having to compete with anyone. My family is stoked on it, which is nice, and were very supportive in the early years after graduating of living in squalor and doing work for free in the hope of getting paid eventually. For me, a lot of my personal work is little vignettes from larger narratives I have in my head and sketchbook, so I'm constantly looking out for visual queues to bring back to them. I like storytelling, and illustration has always pushed me to read and watch as much interesting media as possible. You never know where an idea might come from. The big thing for me, which kept me going when I was just starting out, was the sense of community. You graduate university with all these people who are in the same boat as you. I have a really tight group of friends who illustrate who I continue to see all the time and meet up in the pub to discuss problems we're having successes we've had, and dream clients. Surrounding yourself with these other people and just being supportive of one another is so important, as it gives you opportunities you'd never have got by yourself. Some of my best clients have come from friends recommending me or showing the right person my work.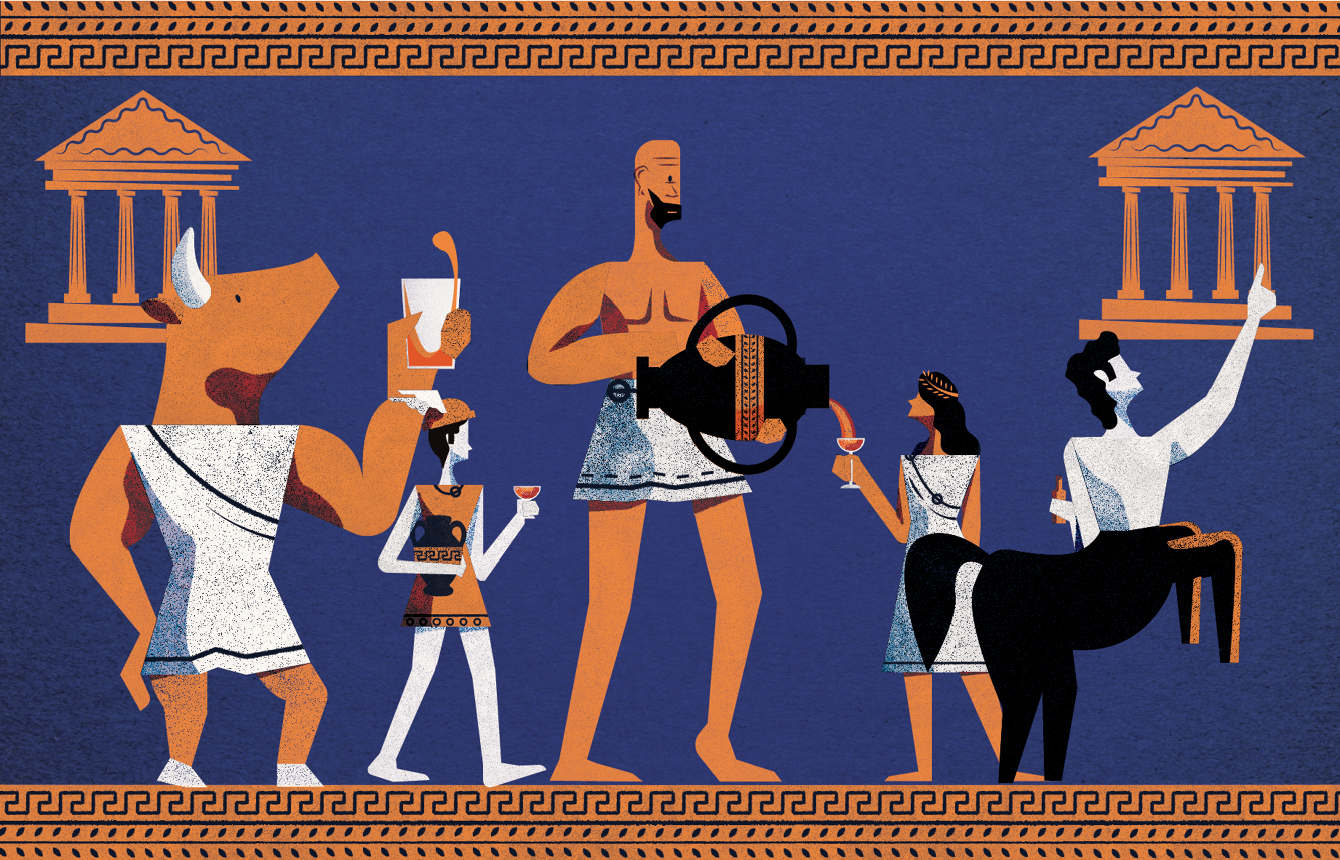 7. Where did you study?
I studied at London College of Communication in Graphic and Media Design for Communication. I was unfortunately pretty determined to just keep doing my work in my own style and ignore most feedback I got, so I think most of my education came after I left and realised I probably wasn't developing my work enough.
8. Where do you see yourself in five years?
I hope in five years, I'll be doing what I'm doing now. Illustrating full time, and working on some exciting stories. I've been collaborating a lot with Joe Brooks recently on some animations, and I've started teaching myself, so I hope in five years I'll be able to produce full animations with my work without having to send him a panicked screenshot when something goes wrong.
9. What about in ten?
In ten years, I don't even know where I'll be. I want to keep working on editorial work, but I'd like to expand into longer form projects with a bigger narrative. I have a script to a comic I wrote a few years ago that I would love to work on, but I always finish the first page then scrap it, so hopefully, in ten years I'll be happy with my work enough to finish it. I'd also like to own numerous dogs, and possibly a ferret.
10. What do you hope to achieve with your art?
I want to people able to tell stories in a visual way, which keeps my own voice in the narrative. I want to work on things that are more meaningful and hopefully, have the opportunity to do some good outside of just being a nice illustration.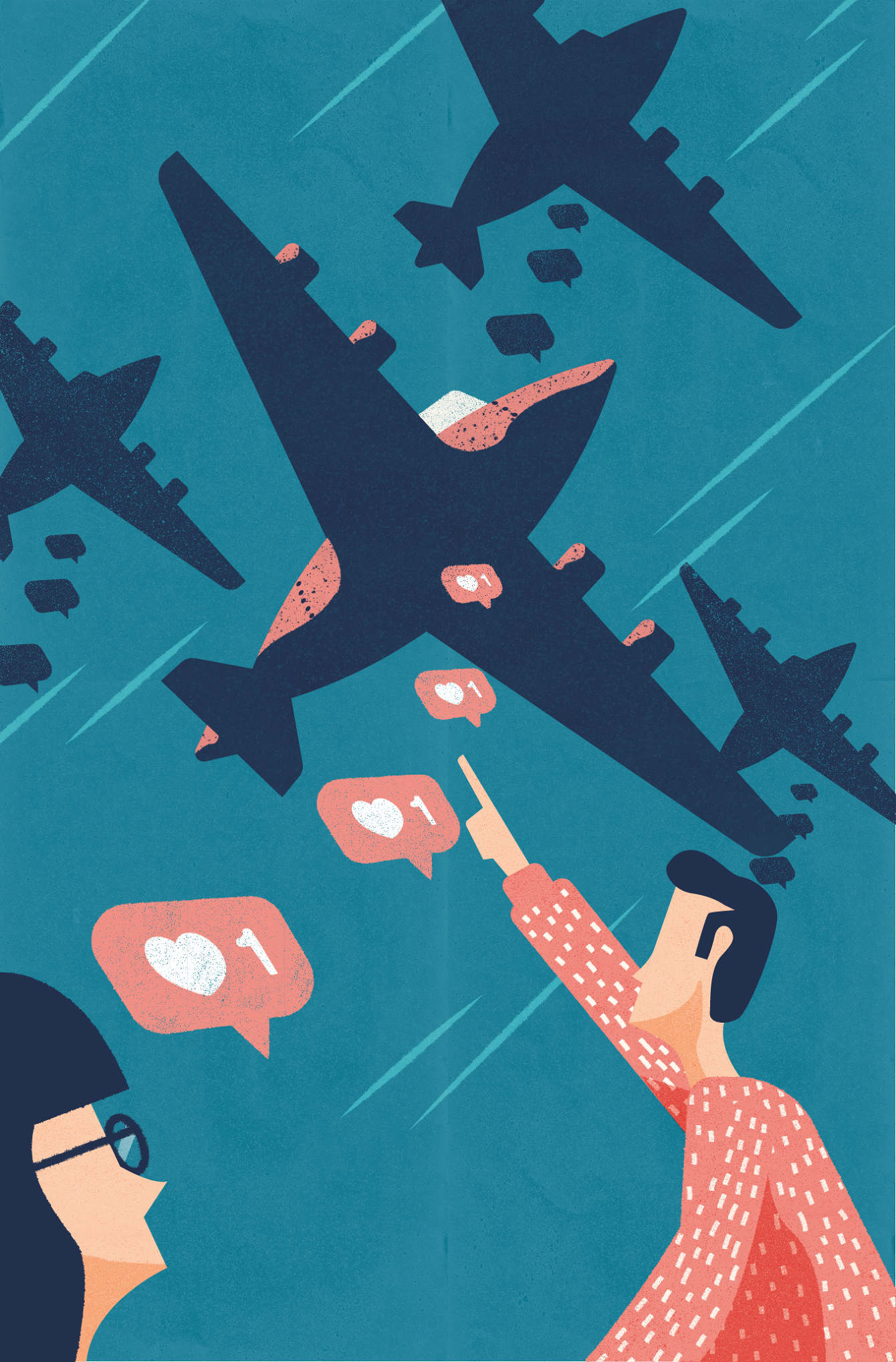 11. Now, tell us a little more about you as a person: what is your favourite food?
I've eaten risotto for the last 9 days, so I think just by sheer numbers, it's my favourite.
12. Favourite book?
The Outsiders by S. E. Hinton
13. Favourite genre of music?
It really varies week to week. I'm currently listening to a lot of music with banjo in it, as I'm trying to learn to play to the dismay of everyone I live with. The one album I can't let go of is Alex Cameron - Forced Witness. It's just a really rad 80s sounding pop album, which is really funny when you listen to the lyrics. Also, Father John Misty is amazing for making great music that's also hilarious. 'The Night Josh Tillman Came To Our Apt' is wonderfully morose.
14. What are your hobbies?
Rock climbing takes up a massive amount of my time when I'm not working. It's one of the few activities that allows me to completely shut off from my work. You can't worry about deadlines and colour palettes when you're on a cliff. Skateboarding is another hobby, although a lot less than I used to do it. Partly through laziness, and a terror that I'll break my wrist and not be able to work.
15. If you weren't an artist, what would you be?
I was a chef for the first few years of my career to make money to pay the bills. I guess if I wasn't an artist, I'd still be slogging away in a small kitchen covered in grease, burns and cuts because my knife skills left a lot to be desired.