Instagram:
@alicewietzel
1. What's your story? Where are you from?
I'm from Paris, France, I grew up there and still live in this big city. I graduated this summer and I'm now a freelance illustrator. Before studying illustration I got a literature Bachelor, but I always knew I wanted to draw for a living.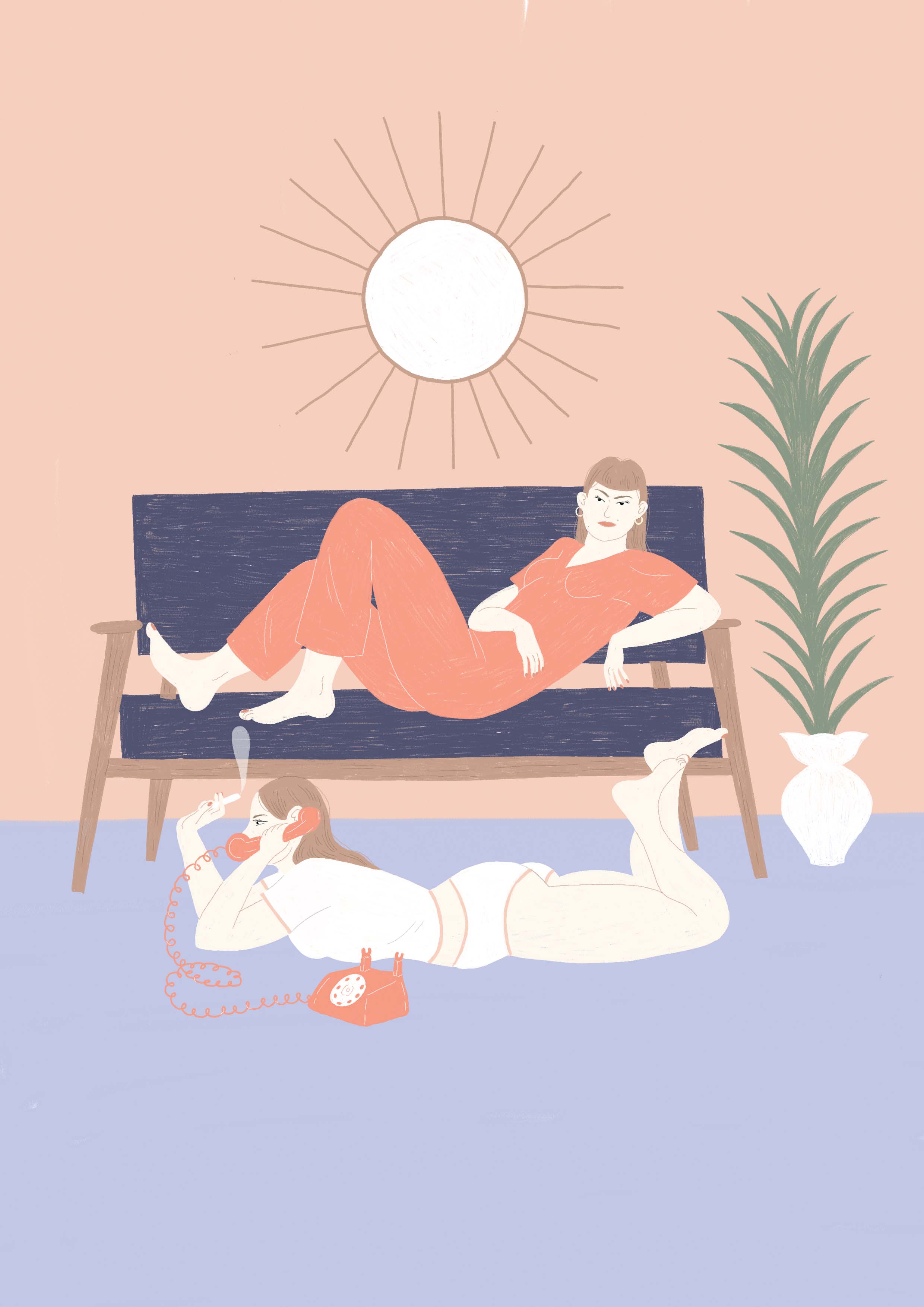 2. Tell us about your aesthetic.
There's always a tenderness for my subjects that permeates through my illustrations, but also in the color choices. My work is kind of dreamy, maybe because I have a fascination for idleness, but also because of the mysticism that floats in the back of my mind. Moons are omnipresent, snakes, flowers, there's a whole witchcraft inventory at work in my pastel pictures.
3. What is your favourite medium and why?
My favorite medium is the Riso. I'm an illustrator but I never neglect printing matters. I love working with the constraints of existing inks, the grain the Riso will add to the picture depending on her age and settings. You create a bond with this machine, it transforms your pictures according to its personality and you have to play with her to make your print look its best. There's also a moment of expectation, just like the time you develop a camera film, you wonder, "how's it going to look like?". I'm going to be happy holding the pictures in my hand. It is somehow magic because you have to let go of the image you made, and allow the intervention of a machine working in mysterious ways. It becomes a sensory experience, with the smell of the ink, the noise of the machine, the feel of paper, etc..
4. What is your artistic process like?
I usually draw my characters on a notebook with a criterium, sometimes they look like basic roughs, and sometimes they even have settings around them. Then I take pictures of it, not because I'm too lazy to scan but mostly because I can play with scale and perspective. Once it's digitalized, I work on Photoshop, using color layers to have a realistic preview of my print. Luckily, I work on a Cintiq so it feels really natural to draw on the computer. Whenever I have to use my old Wacom, I am traumatized! I add all the surrounding details, play with the opacities, add some textures with special brushes, and then export each layer individually. Then it's time for cutting the paper, printing, changing the ink drums, measuring, adjusting and on and on! But whenever someone asks me to do an illustration for a magazine, I go all digital and try to simulate the grain, I can't afford to print every picture I make, and time is another constraint you have to keep in mind.
5. Who and/or what inspires your work?
I'm inspired by movies like Juliet Of the Spirits, Drowning by Numbers, Sofia Coppola's movies, etc. But also by artists like Luis Falero, David Hockney, Kiki Smith. I don't neglect photographs and I love the universe of Synchrodogs, Petra Collins, Carlota Guerrero.. I'm also inspired by the music I listen to, the girls I see on the streets, things I observe in nature.
6. What role does art play in your life? How does it change the way you view the world?
It depends on what you call art, if you consider illustration as such, then it plays a big role in my life. But the art you find in galleries is not what I see the most..I know I should maybe be more aware of the official art world, but sometimes I feel disgusted by its social hierarchy. I think Internet has provided us with a great quantity of images, therefore allowing equality in front of art. Anyone can have access to many pictures of Hockney for instance, even though seeing them in their full real-life size provides much more feelings, it is still educating. I think when you're a creative it isn't art that influences the way you see the world, but what's around you that influences you to react through art. Sorry if it sounds a bit cheesy, but seeing an exhibition might give me some ideas for techniques I could use, or formats I could paint, whereas going to a new city or reading a book will put me in a different atmosphere, creating new thoughts and subjects.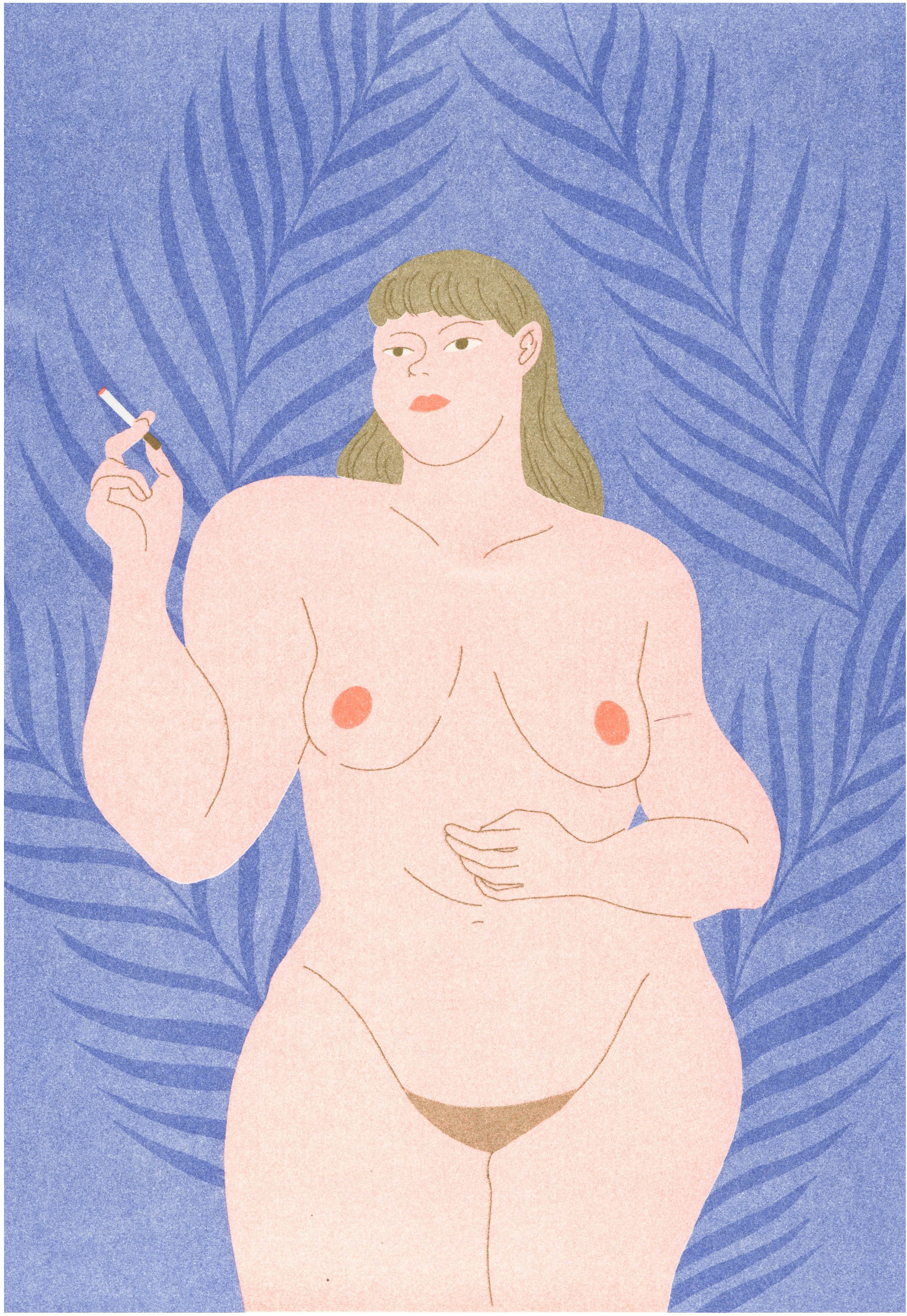 7. Where did you study?
I studied at the Sorbonne for my bachelor, and then in L'École Nationale Supérieure des Arts Décoratifs de Paris, in the illustration and printing technique section.
8. Where do you see yourself in five years?
In my dream life, I see myself working with an agent in Paris, and some others across the world, but also with the small publishers I already know. I want to have a studio with my friends, where I can print and draw, and bring my future Shiba already named Ken.
9. What about in ten?
In ten? Haha, I see myself still working a lot, but in a house of the south of France, still with my friends and my dog, but with a baby riding on its back. That's my wish for future, managing to make money and be living outside of Paris. I want to create in a place that inspires me softer thoughts and treats me more gently!
10. What do you hope to achieve with your art?
I hope to make our visual environment more stimulating and educating. I hope to make guys and girls aware of feminist issues through my pictures and to give a visibility to the minorities we never represent. I realized there's a standardized representation of people, a standard person is white and male, a standard woman is white and sexy, etc.. I don't want people to fall into the trap of thinking they don't belong to the norm because they don't fit these standards. I want to show them something different that'll make them feel accepted.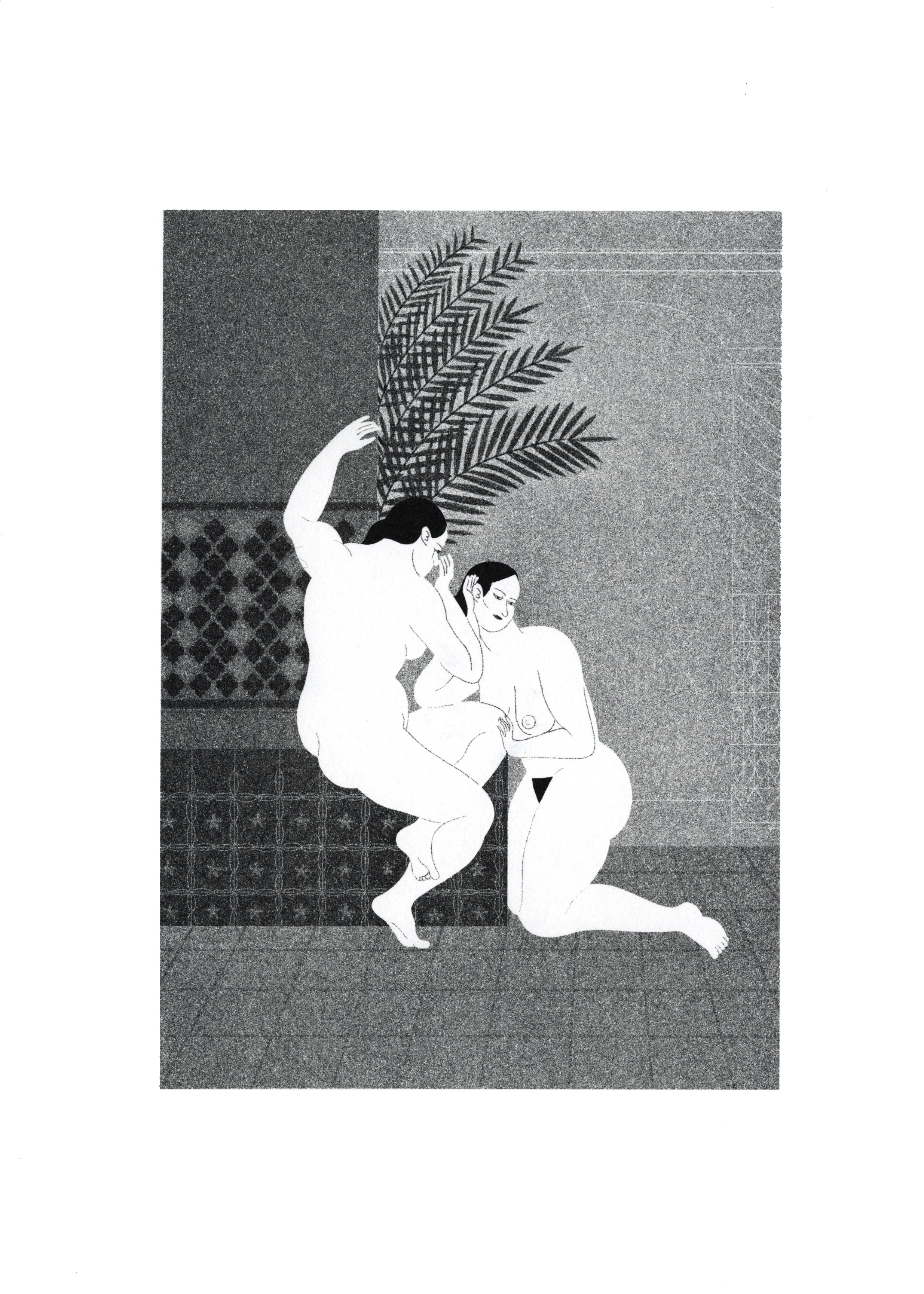 11. Now, tell us a little more about you as a person: what is your favourite food?
That's the hardest question, you can't expect me to choose between sushi and Pho! We have great Japanese restaurants in Paris, and I have memories of great happiness tasting a grilled fish topped by Yuzu over some white rice. But I could never live without eating my favorite Vietnamese soup made of rice noodles, raw beef, Thai basil, lemongrass, soy and this delicious broth!!
12. Favourite book?
All the books Mark Haskell Smith has written. this guy is my personal genius! I've read Salty, Moist, Delicious, Baked, Naked at Lunch, and loved them all. His writing is rich and he has humor, I'm fond of his description of food and most of his stories are settled in exotic places described with honesty. I love honesty.
13. Favourite genre of music?
I have many favorite genres! I listen to rap music a lot (Roméo Elvis, IAMDDB), but also to Spanish feminine trap (Chanel, Badgyal), I love french pop (Polo&Pan, Paradis) and afro electro (Umoja, Mawimbi) and my favorite band ever, Kings of Convenience played only soft instrumental songs.
14. What are your hobbies?
Weaving! I've discovered some months ago thanks to my sister and I can't stop weaving. It makes my mind empty, and it keeps me crafty! I also love analog photography, and I gather all my pictures in an album like a 20th-century regular person haha!
15. If you weren't an artist, what would you be?
I count printers as artists, so I'd definitely be a literature teacher, scolding young adults and writing essays and papers for magazines. I'd think all day and get paid for it! My mom kinda does the same, it has made her super clever.