Instagram:
@alishadestudio
Website:
www.alishadesouza.com
1. What's your story? Where are you from?
Hi! My name is Alisha de Souza and I'm a textile designer and illustrator from San Francisco. I was born in Mumbai, India - which is a New York City version of India. Shortly afterwards, my family and I moved to the real New York haha. Then New Jersey, and finally California, where I've spent most of my life. I love the fast-paced city life; I get stir-crazy very quickly. I've been working as a freelance textile designer and illustrator for brands like Coyuchi, Pottery Barn Kids and Teens, Kohl's, Williams-Sonoma, etc... while always looking to expand my own brand.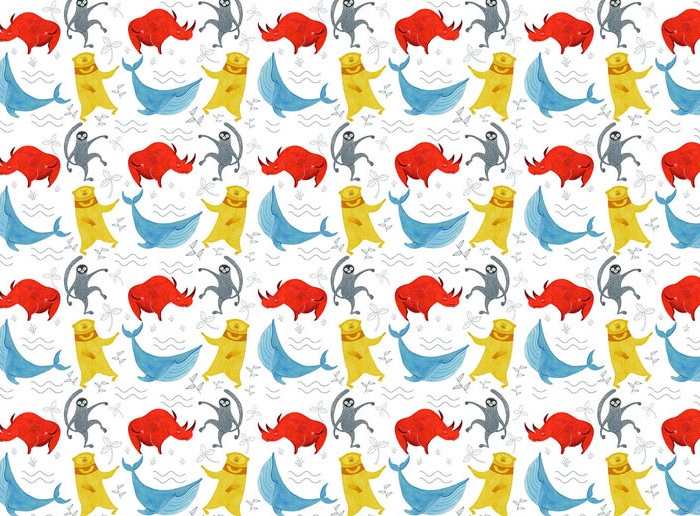 2. Tell us about your aesthetic.
Hmm, my "style" is still pretty fresh; it keeps evolving. My Indian culture has definitely (subconsciously, perhaps) deepened my love for bold colors found in the tropics, dynamic folkloric shapes, patterns, textures. I know that I really found my voice after I got my degree in Illustration. I really figured out what my go-to subjects were when I painted for myself, without a panel telling me what to do. I figured out what I liked and continued to do all I could to strengthen it. I think my work always ends up being whimsical and playful, preferably telling a story.
3. What is your favourite medium and why?
Funnily enough, my current favorite medium used to be my least favorite until about 2 years ago: watercolor. I used to hate it until I realized I was trying to control too many aspects of the process. It has a mind of its own and it's reliably unpredictable. I love that. It can really test your patience when you try to control too much, but when you let go, the process is tantalizingly relaxing.
4. What is your artistic process like?
Depends on the assignment. Whether it's a personal piece or assigned, I always try to focus on making it about subjects I love and elements I have fun with, because that always results in the most successful finish. I'll look for examples within the assigned area that inspire me. I figure out the message and mood I want to convey, and then turn to color rough thumbnails. If I'm making a pattern, then I'll create individual characters and elements on scattered pieces of paper to be arranged later. If it's a flat illustration I'll churn out sketches out on loose pieces of tracing paper so I can play around with composition. Add paint and ta-da! (After tossing out sketches that didn't make the cut, of course).
5. Who and/or what inspires your work?
I find a lot of inspiration from my favorite surroundings - in colors, movement, and textures. I love incorporating motion into my characters through shape and minimal lines. A lot of what I love most about India makes its way into the finished product. I can live comfortably only in cities, so it's funny that I love tropical foliage and animals so much. But it makes sense since Mumbai is semi-tropical! My big booming family always makes fun of me taking pictures of every new and exciting leaf shape and color.
6. What role does art play in your life? How does it change the way you view the world?
Art is my work and my play. It's how I make a living, and it's how I express myself. It's an itch I have to scratch at. It's not just a career, it's how I identify myself.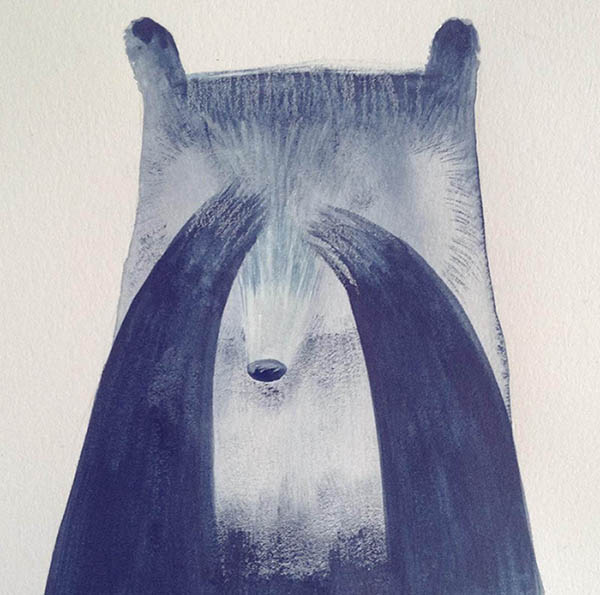 7. Where did you study?
I studied at California College of the Arts in San Francisco.
8. Where do you see yourself in five years?
I hope to be starting my move to Europe to work wholly in textile/surface design, while working on becoming a more established freelance illustrator on the side.
9. What about in ten?
I hope to be in Europe by then - doing the same thing as previously stated!
10. What do you hope to achieve with your art?
Most of the time, I want people to feel happier when they see my work. But I also enjoy making work that might address a darker situation in a way that is ironically upbeat. I love the idea of drawing someone in visually, and then having them really think twice about the situation at hand when they take a closer look. I think that dynamic is extremely interesting. I love bringing attention to the environment, making people aware of the beautiful species that could go missing within our lifetime if we don't pay enough attention.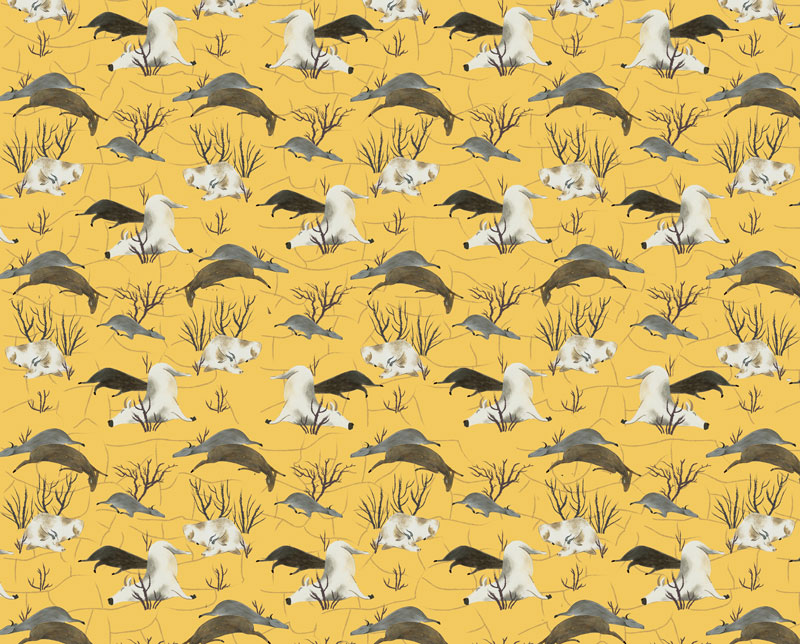 11. Now, tell us a little more about you as a person: what is your favourite food?
I'm a firm believer in breakfast food at any time of the day. And, seafood! Give me mussels, crab, lobster, oysters, scallops, octopus, or prawns and I'm as happy as a clam. I also like clams!
12. Favourite book?
'The Little Prince' by Antoine de Saint-Exupery. Been my favorite since I was 13.
13. Favourite genre of music?
The South African rap group Die Antwoord is a favorite. Oldies, Broadway musical soundtracks, pop, classical, rock, pretty much everything but country.
14. What are your hobbies?
Drawing of course, hanging out with loved ones, people-watching (creep alert!), traveling, reading, and geeking out on Broadway soundtracks, and what might hopefully pass as dancing. I used to be an avid swimmer, and hope to get back to that soon.
15. If you weren't an artist, what would you be?
My last answer transitions well into this one haha! If I had to be anything else, I'd want to be a marine biologist.