Instagram: @alleymcglynn
Website: www.alleymcglynn.com
1. What's your story? Where are you from?
Hello, I'm Alley! I grew up on the Southern coast of Massachusetts in a little beach town called Mattapoisett. It's a small nautical escape amongst the old industrial mill towns of New Bedford and Fall River.
My journey to becoming an illustrator has been a little bit unconventional and long-winded. Like many artists, I've been drawing and painting for as long as I can remember. As I got older, I was determined to go to art school and, stubbornly, did not consider any other career path. I began my college career at Massachusetts College of Art and Design in Boston. During my freshmen foundation year, I rediscovered my love of working with my hands while taking 3D courses. I felt a strong desire to learn more about working in 3D, so I spontaneously decided to major in Sculpture. I was given exposure to so many amazing skill sets, such as metalsmithing, welding, casting and woodworking.
After finishing my art degree, I was definitely struggling with life after art school. I was looking earnestly for jobs, but to be honest, I wasn't even sure what I was qualified to do, (apart from becoming a welder). My parents suggested that I go back to school for engineering, a field I knew absolutely nothing about. The more I researched the field, the more it seemed that mechanical engineering could be a natural fit for me, based on my interest in working with diverse materials, creative problem-solving and 3D design.
So how did I end up becoming an illustrator? While obtaining my second degree, my brain was craving an escape from the highly technical coursework. It was during this time that I rediscovered my love for illustration, particularly, the whimsical illustrations from my favorite children's books, and the magical escape from reality that they provided. I began discovering contemporary children's illustrators, such as, Rebecca Green and Fran Meneses. It quickly become clear to me that there was a whole world of other people like me who loved finding an escape through illustrative escapism. I then began practicing illustration every moment that I wasn't in school or doing homework. I completed my engineering degree and I now work as a full-time Product Engineer and a part-time as a freelance Illustrator. Art and engineering go hand-in-hand for me - the heart of engineering is creative problem-solving and my art background has helped me in more ways than I can count.
I currently maintain a balance of both my love of illustration and my job as an engineer. I create digital and traditional media illustrations, as well as, 3D paper-cut illustrations. As of late, I've been working on illustrations for my first children's book, as well as, working to create illustrated backgrounds for product stylists.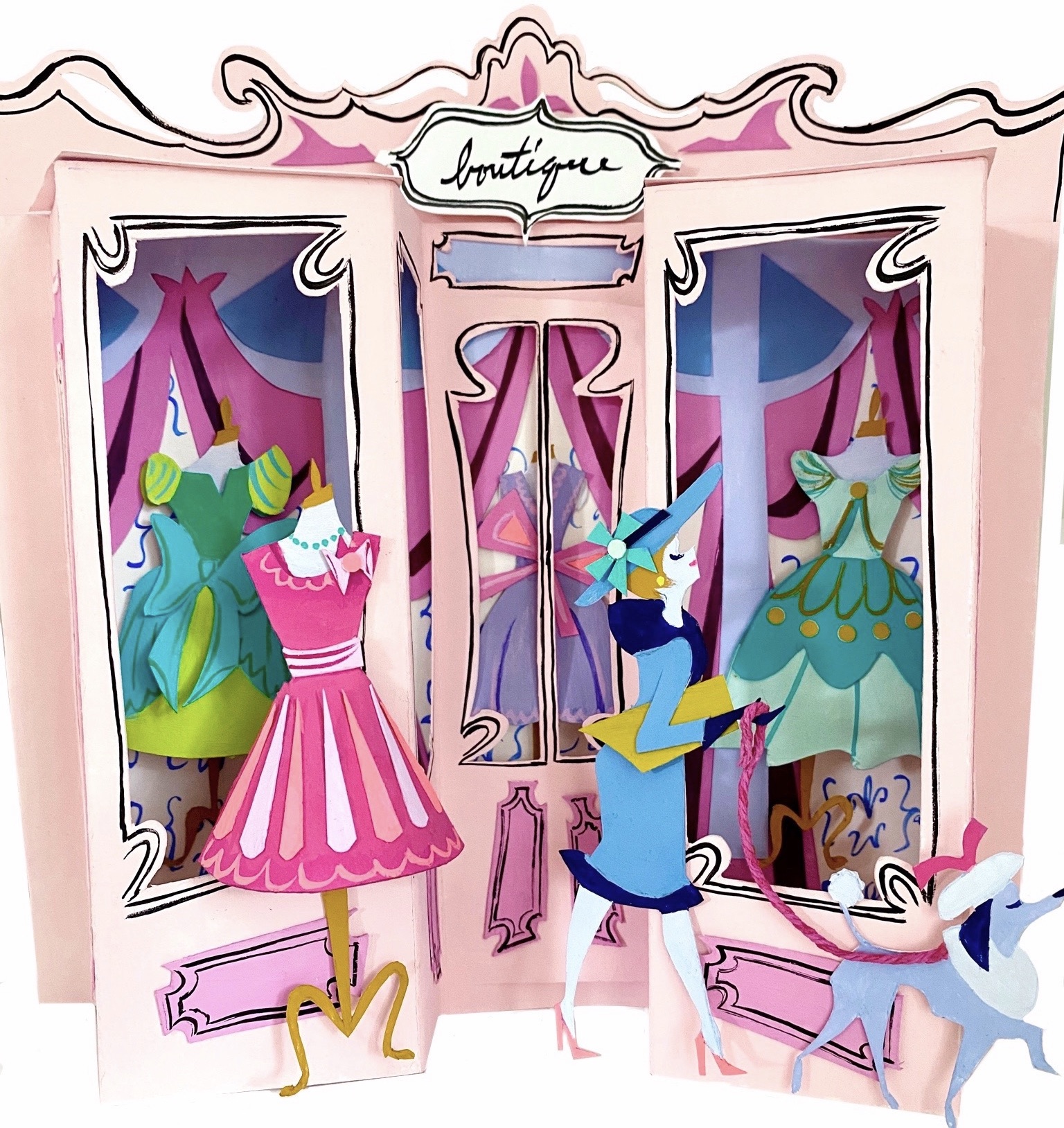 2. Tell us about your aesthetic.
I'm very inspired by mid-century art and I feel that is reflected in my work. I love bold, abstract shapes overlaid with black lines. My aesthetic is very feminine and fun - pink is my favorite color and it definitely shows through in my work.
3. What is your favourite medium and why?
My favorite medium as of the last year has been illustrating in 3D using cut paper. I found that I was struggling with both traditional and digital mediums because I couldn't achieve the freedom that I wanted. I tend to get too technical and knit-picky. With cut paper, you can't be too precise and I love that. I also love how a piece gains depth when you layer paper, as opposed to a flat 2D image. I can also put a bit of my engineering/sculpture hat on and build immersive machetes and three-dimensional buildings.

As for paint, I only use gouache because of its vibrancy and flat, velvety finish.
4. What is your artistic process like?
I usually start by looking at Pinterest for inspiration. I then take to creating some pencil sketches in my sketchbook. This is the most critical part of my process, in terms of letting my ideas flow naturally. From there, I transfer the sketches onto Bristol paper, and cut these out with an exacto knife. I paint each piece individually with gouache and layer or construct the 3D piece using glue.
5. Who and/or what inspires your work?
Parisian architecture, Disney animation concept art from the 1950s and '60s, Mary Blair (a major Disney artist during the mid-century), Rene Gruau (an Italian fashion illustrator during the 1940's) and French pastries.
6. What role does art play in your life? How does it change the way you view the world?
Art is a form of escapism for me. I'm constantly daydreaming throughout the day and my work allows me to put a bit of that magic to paper.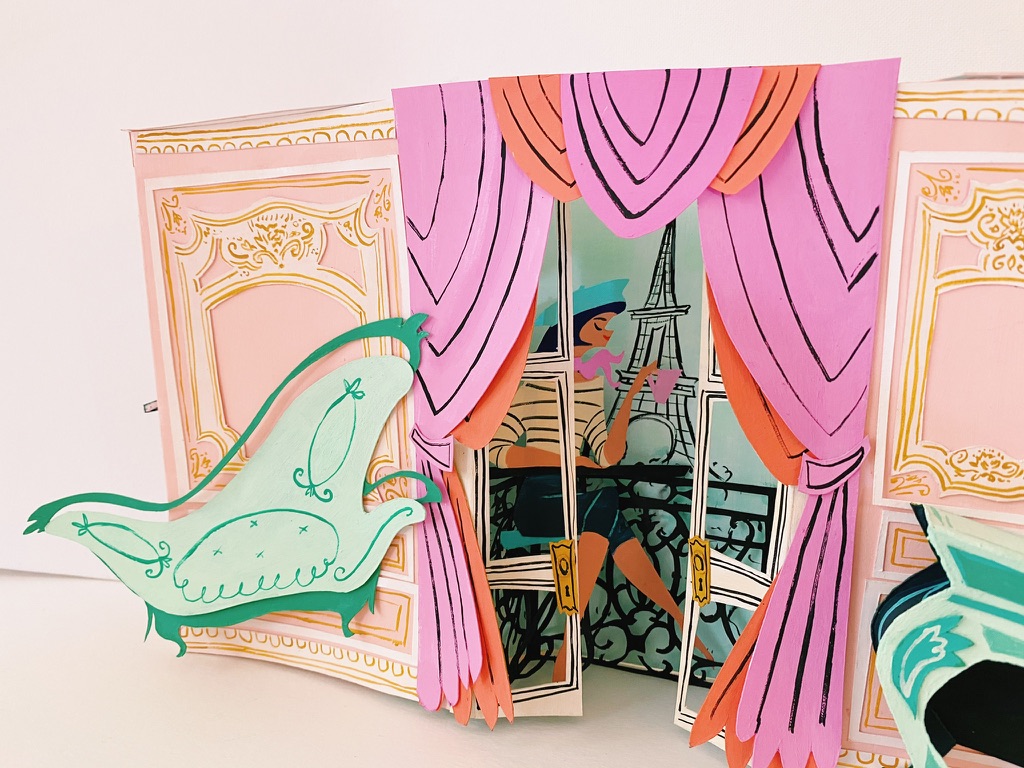 7. Where did you study?
I began my art study at Massachusetts College of Art in Boston. I transferred my senior year to the University of Massachusetts so that I could pick up a business minor with my art degree. I then obtained my second degree in mechanical engineering from the University of Massachusetts Dartmouth.
8. Where do you see yourself in five years?
I would love to find a great balance between working as a freelance illustrator, working as an engineer and starting a family. I doubt that all of those things will happen at the same time, but I would like to invest some time into each one during the next five years.
9. What about in ten?
If I don't have the chance to address one of the dreams listed in the 5-year period above, I would love to work on those during the next 5 years. I also wouldn't mind renovating a historic home or chateau in Europe.
10. What do you hope to achieve with your art?
I hope to reciprocate the inspiration that I get from seeing work that fills my heart with joy. If I can inspire others with my work and bring a touch of magic into their lives, that is more than I could ask for.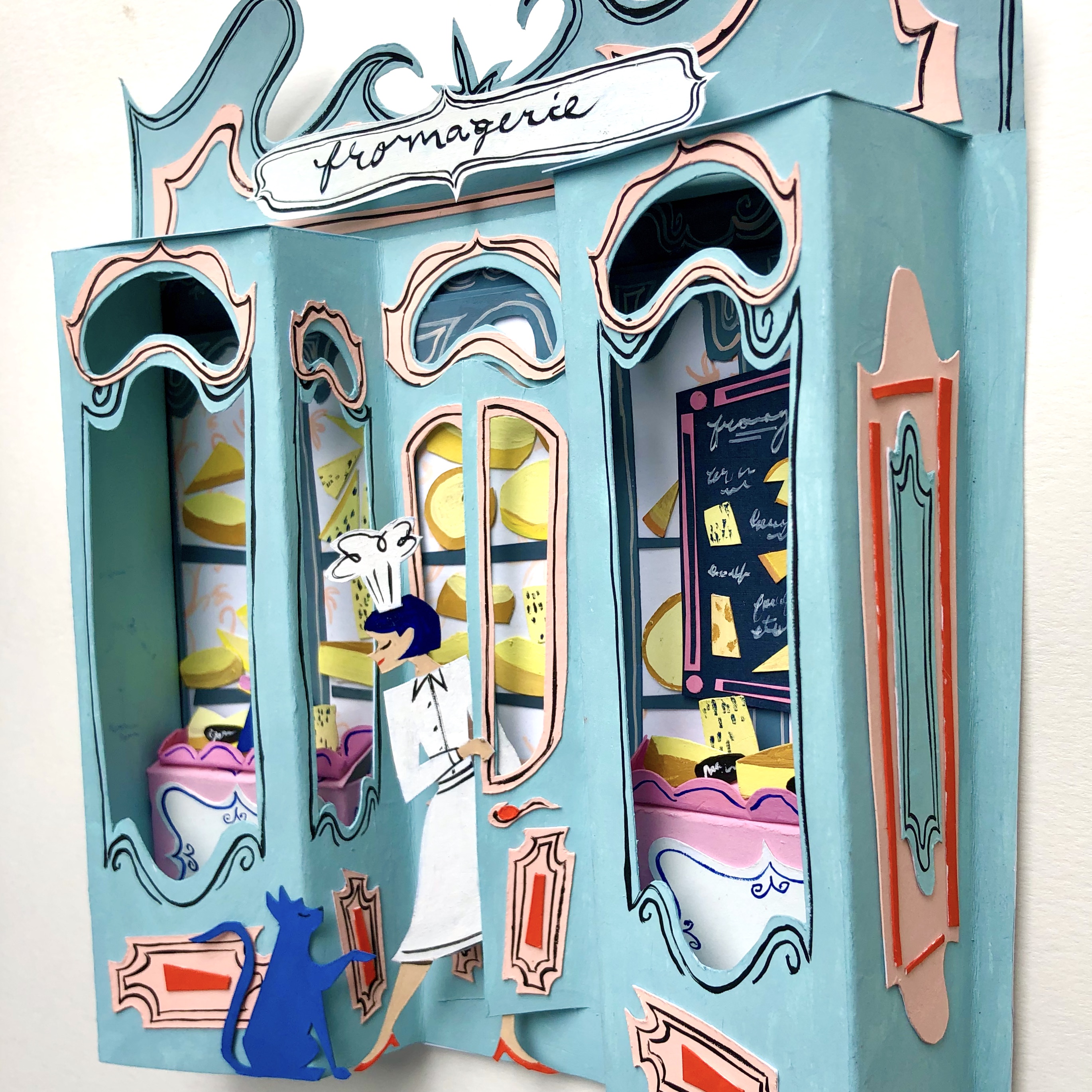 11. Now, tell us a little more about you as a person: what is your favourite food?
I love a good cheeseburger with fries and a chocolate shake, (preferably from Five Guys). I'm a pretty cheap date.
12. Favourite book?
Rebecca by Daphne Du Maurier - such an elegant classic with a fantastic twist.
13. Favourite genre of music?
Lately - dream pop and 60's French pop. Always - classic rock and 90's alternative.
14. What are your hobbies?
I'm an avid reader and I love visiting historic homes around New England. Pre-Covid, I loved finding new restaurants to try, thrift stores to visit and bookstores to explore. Also visiting local breweries and wineries with friends is always a favorite weekend activity of mine.
15. If you weren't an artist, what would you be?
Definitely a landscape designer or gardener (preferably at a French Chateau). I adore gardening and working with plants. I worked as a landscaper one summer during college and it was my favorite job that I've ever had.