Instagram: @allo.melo
1. What's your story? Where are you from?
My name is Mélodie Bouchard. I'm a graphic/web designer & illustrator from Québec city, Canada. I grew up in a small town close to Montréal. I wasn't very interested in art when I was younger. I've always been a rather reserved person by nature, and in my teens, i discovered art could allow me to express myself more openly. I started to draw all over my schoolbooks and create fake magazines with my favorite celebrities. I then started studying a program in which I first learned about web and graphic design. From the moment it was introduced to me, I knew this is what I wanted to do for the rest of my life. One year later, I was already in college (Cégep) starting my formation in this field. That's how I became familiar with techniques such as collages and digital illustrations with Photoshop. Slowly, I also became more confident in my drawing abilities and, today, I'm proud to say I'm a part time freelance illustrator while I finish my studies.
Mon nom est Mélodie Bouchard. Je suis designer graphique/web et illustratrice basée à Québec au Canada. Comparativement à plusieurs autres artistes, je n'ai pas grandi dans une famille très créative. Je n'ai jamais vraiment été intéressé par l'art non plus et ce jusqu'à la fin de mon adolescence. J'ai découvert le métier de designer graphique dans un cours de web design lorsque j'étudiais en informatique et c'est là que j'ai su que c'était ce que je voulais faire comme métier. J'ai donc commencé à étudier dans ce domaine. Dans ma formation, nous avions des cours obligatoires en illustration et étant novice dans ce domaine, j'ai d'abord commencé à illustrer en faisant des collages et en les reproduisant digitalement sur photoshop. Peu à peu, j'ai été forcé de développer mes compétences en dessin et aujourd'hui, même si ma formation n'est pas encore terminée, je fais maintenant des contrats d'illustration à temps partiel!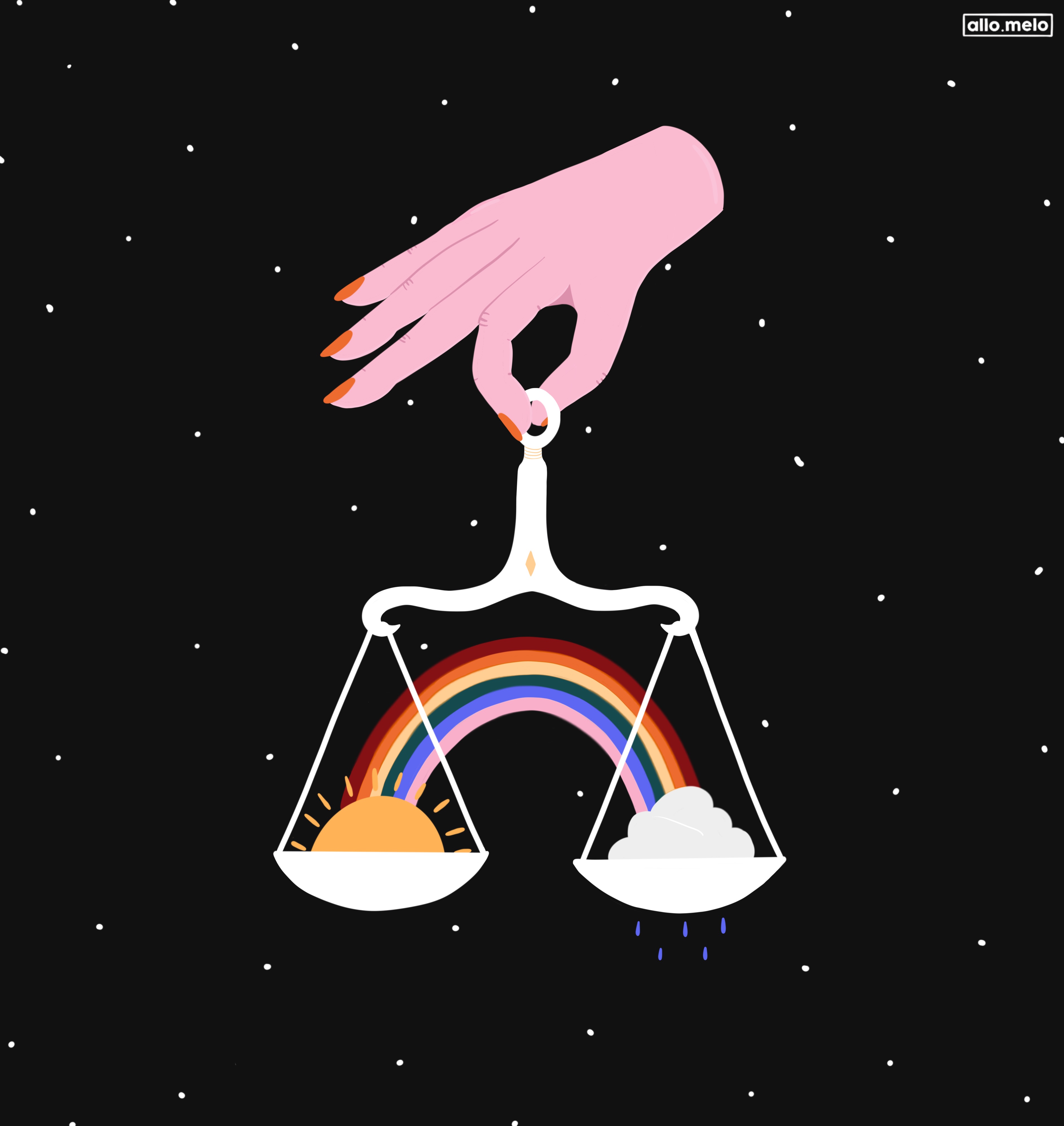 2. Tell us about your aesthetic.
I would describe my aesthetics as bright colors, small details and simple shapes. When I'm not drawing patterns, I like to draw women and nature. I also like to create art about different issues that are important to me, like feminism and climate change.
Je décrirais mon esthétique comme étant coloré, avec de petits détails et des formes simples. Quand je ne dessine pas des motifs, j'aime illustrer des femmes et la nature. J'aime aussi créer des illustrations à propos d'enjeux qui sont importants pour moi, comme le féminisme et l'environnement.
3. What is your favourite medium and why?
My favorite medium… I would say Procreate. I also love Adobe Illustrator and Photoshop. Digital media are really convenient if you're spending a lot of time in public transportation. And I'm also a Libra, which means I'm a really indecisive person and I always change my mind. I love that I can easily change the colors and textures in my illustrations.
Mon médium préféré… je dirais Procreate. J'aime aussi beaucoup les programmes de la suite Adobe. Les médiums digitales sont vraiment pratiques quand on passe beaucoup de temps dans les transports en commun. Et je suis aussi une balance, ce qui veut dire que je suis une personne très indécise. J'apprécie vraiment le fait de pouvoir facilement changer les couleurs et les textures dans mes illustrations.
4. What is your artistic process like?
I don't really have a pattern I follow each time when working. Sometimes it starts with random ideas that pop in my head. Other times I just want to draw things that I find cute with a color palette that inspires me. I always do a lot of research though but I rarely draft. I don't really like it. I prefer to work on the final product right away, even if I have to change it a lot afterwards.
Il n'y a pas un seul processus défini auquel je m'arrête. Parfois je commence par des idées aléatoires que j'ai en tête. D'autre fois j'ai juste envie de dessiner quelques choses que je trouve mignonnes avec une palette de couleurs qui m'inspire. Je fais toujours beaucoup de recherches par compte, mais je fais rarement des esquisses. Je préfère m'attarder sur le produit final, quitte à le changer plusieurs fois.
5. Who and/or what inspires your work?
It's easy to say that I find loads of inspiration through visual blogs and social media websites like Pinterest or Behance (which I do), but the truth is that I'm most inspired by looking around me. Inspiration is truly everywhere. In nature, in people, in different color palettes. You just need to open your eyes to see it all around you.
Comme tout le monde, je regarde sur les blogs et les réseaux sociaux comme Pinterest ou Behance. Mais pour être honnête, je suis surtout inspirée par ce qui m'entoure. Par la nature, les gens dans la rue ou de belles palettes de couleurs. Il suffit d'ouvrir les yeux pour trouver de l'inspiration partout autour de soi.
6. What role does art play in your life? How does it change the way you view the world?
I'm a highly sensitive person and I'm easily overwhelmed by high stimulation environments. When I create art, I don't think about anything else and I need all of my concentration. It's my refuge, my bubble where I can be alone in my head. It's therapeutic and it helps me to view the world as a less hectic place.
Je suis une personne hypersensible et je suis facilement distraite par l'environnement qui m'entoure. Créer des illustrations prend toute ma concentration et je ne pense à rien d'autre. C'est comme un refuge pour moi. Une bulle où je peux me retrouver seule dans ma tête. C'est vraiment thérapeutique et ça me permet de voir le monde dans lequel on vit comme un endroit plus paisible.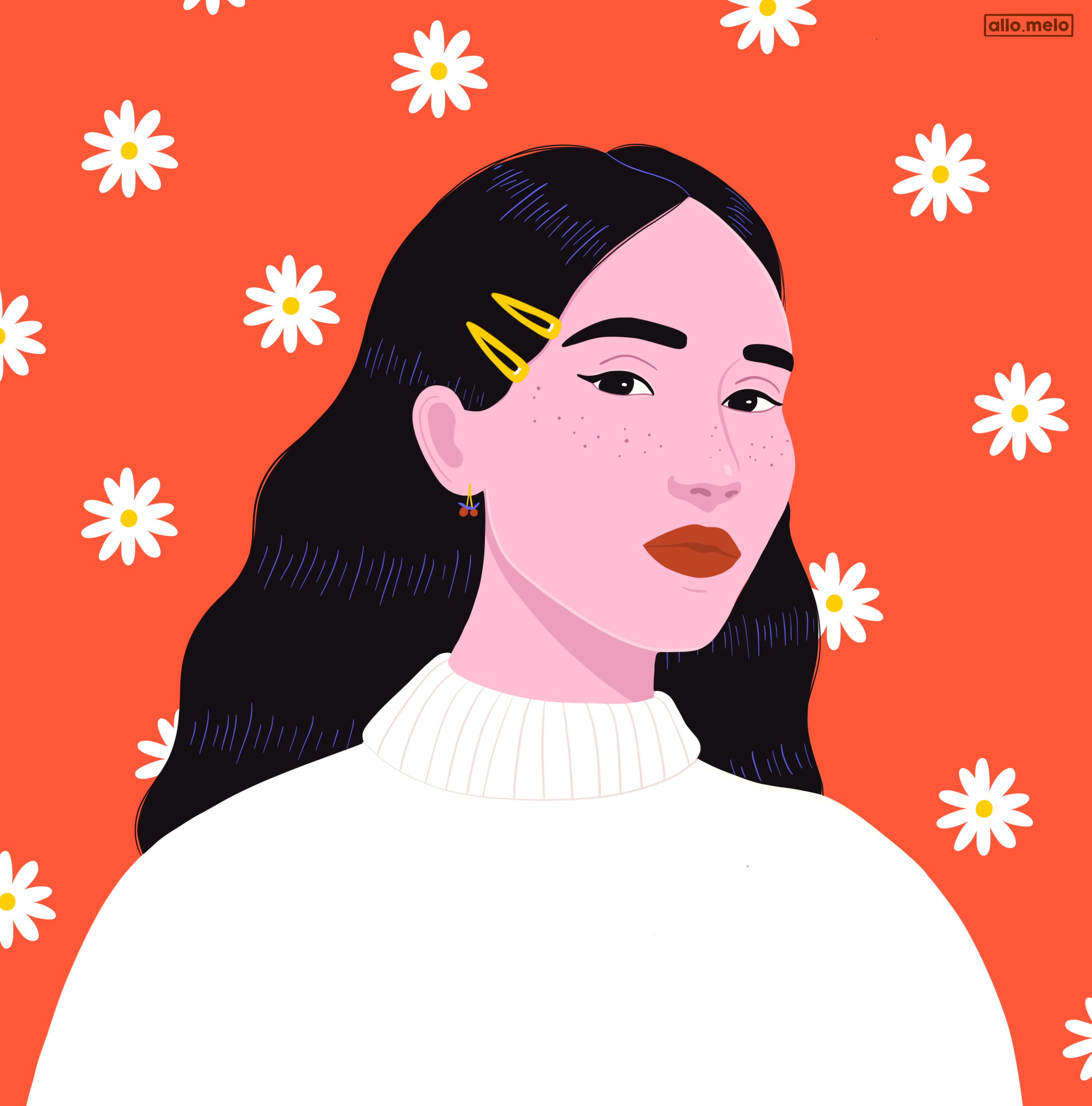 7. Where did you study?
I studied graphic design at the University of Quebec in Montreal and I'm currently doing my master degree in interaction design at Université Laval.
J'ai étudié en design graphique à l'Université du Québec à Montréal et je fais présentement ma maîtrise en design d'interaction à l'Université Laval.
8. Where do you see yourself in five years?
After graduating, I would like to slowly build my career, working part time as a graphic/web designer for an agency and part time as a freelance illustrator. I also hope I'll be traveling more.
Après avoir gradué, j'aimerais lentement bâtir ma carrière, travailler à temps partiel comme designer graphique/web dans une agence et aussi à mon compte comme illustratrice. J'espère aussi voyager beaucoup plus!
9. What about in ten?
Maybe I'll settle in one place and buy a house with my partner. I hope I will still work as an illustrator and graphic/web designer or at least work in something that makes me happy!
Sans doute que dans 15 ans j'aurais trouvé la ville où je veux vivre et que j'aurais une maison avec copain. J'espère que je vais continuer à travailler dans le domaine de l'illustration et du design ou au moins dans quelque chose qui me rendra heureuse!
10. What do you hope to achieve with your art?
Nothing in particular. I mostly want to create things for me, things that I support and believe in, like feminism and climate activism. Things that inspire me and make me happy! I don't necessarily expect to change the world with my art, but it's always gratifying when it touches other people in a certain way, even when it causes a lot of controversy sometimes.
Rien en particulier. Je veux surtout créer des illustrations pour moi, avec des thèmes qui me tiennent à coeur comme les enjeux féministes et les changements climatiques. Des thèmes qui m'inspirent et me rendent heureuse! Je ne veux pas nécessairement changer le monde avec mes créations, mais c'est toujours gratifiant quand ça touchent les autres d'une certaine façon et ce même si elles créent parfois de la controverse.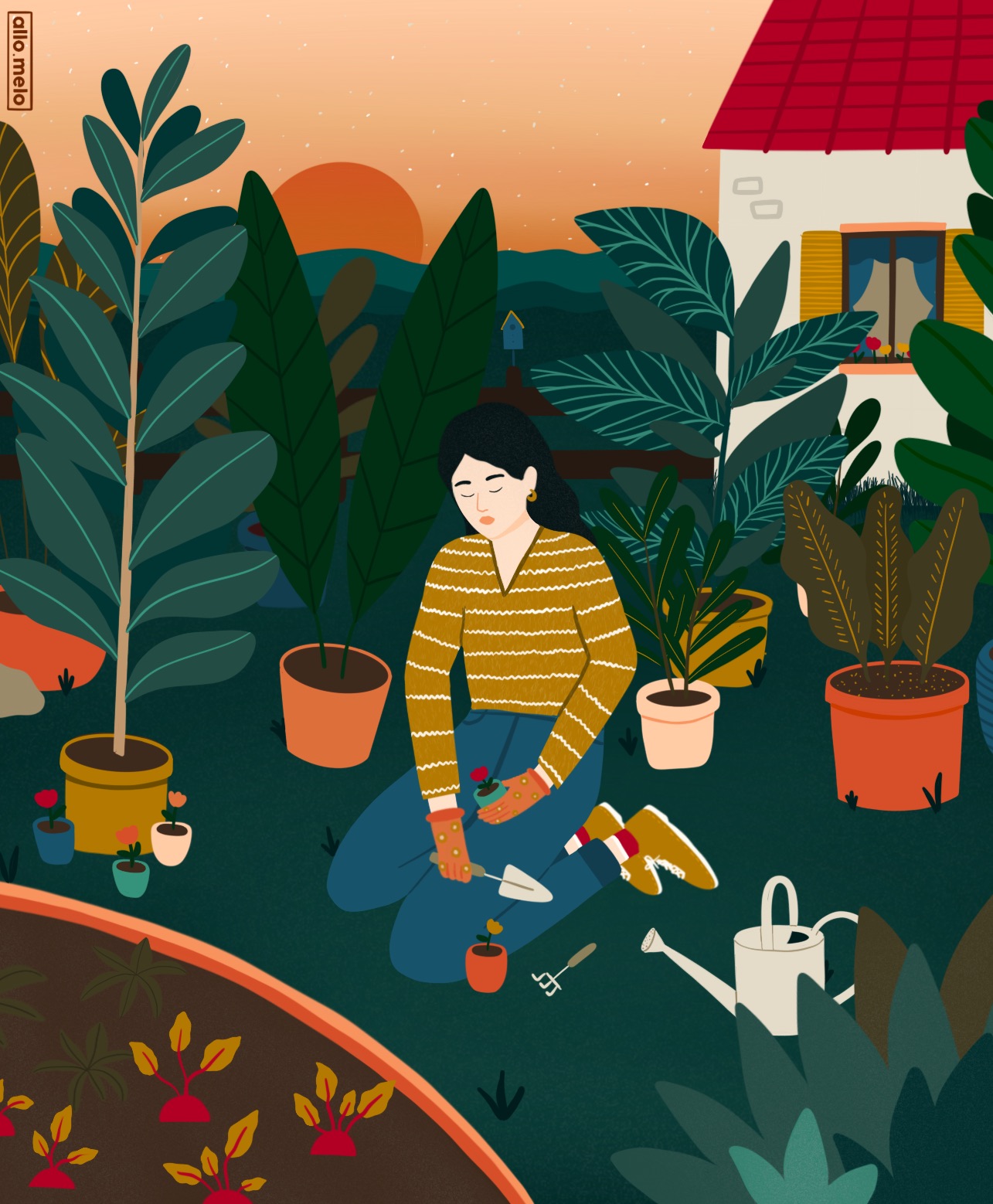 11. Now, tell us a little more about you as a person: what is your favourite food?
I'm a picky eater, but one thing I really love is sushi! I could it it everyday and never get sick of it. I also love thai food and mexican food.
Je suis plutôt difficile pour ce qui est de la nourriture, mais ce que j'adore par-dessus tout c'est les sushis! Je pourrais en manger à tous les jours et ne jamais me tanner. J'aime aussi beaucoup la nourriture thaïlandaise et mexicaine.
12. Favourite book?
I'm more of a movie person. I've seen hundreds and hundreds of them. It's shorter then a book as an experience, but short doesn't necessarily prevents it from being better… In terms of books though, I'm a beginner. I mostly like to read about topics that I find interesting like minimalism or psychology. But if I had to choose something literary, I would say And Then There Were None by Agatha Christie. I also recently read Rupi Kaur's second poetry book The Sun and Her Flowers which I thought was very good.
Je suis plutôt une fan de films. J'en ai vu des centaines et des centaines. C'est plus court en termes d'expérience, mais plus court ne veut pas nécessairement dire que c'est moins bon! Pour ce qui est des livres, je suis une débutante. Je lis surtout sur des sujets que je trouve intéressant comme le minimalise et la psychologie. Si je dois choisir un oeuvre littérature, je dirais Ils Étaient Dix d'Agatha Christie. J'ai aussi récemment lu le second livre de poésie de Rupi Kaur, Le Soleil et ses fleurs que j'ai beaucoup aimé!
13. Favourite genre of music?
This question is so hard! There are so many genres of music that I love to choose only one. Most of the time, the music I listen to depends on my mood or the mood I want to get into. I would say my favorite artists are The Rolling Stones, Simon & Garfunkel, Haim, Rhye, and Lana Del Rey. So my genre would be a mixture of Blues Rock, Folk Rock, Pop Rock and Alternative. To be honest, I like all genres of music... except country.
Cette question est difficile! J'aime vraiment beaucoup de style de musique différent. J'écoute surtout de la musique selon comment je me sens ou comment je veux me sentir. Par contre, mes artistes favoris sont The Rolling Stones, Simon & Garfunkel, Haim, Rhye et Lana del Rey. Alors, je dirais que mon genre de musique préférée est un mélange de Blues Rock, Folk Rock, Pop Rock and Alternatif? Pour être honnête, j'aime tous les gens… sauf le country.
14. What are your hobbies?
Besides drawing, I like to play video games, create my bullet journal and watch movies at home. As a proud introvert, I obviously prefer indoors activities. It's really important for me to have some cozy time alone by myself. But once in a while, I also like to go to the restaurant, the cinema and the museum or on a road trip with my loved ones.
Mis à part dessiner, j'aime jouer aux jeux vidéo, créer mon bullet journal et regarder des films chez moi. Je suis quelqu'un de plutôt introvertie et je préfère resté à l'intérieur! C'est vraiment important pour moi de passer du temps seule avec moi-même. Mais de temps en temps, j'aime aussi aller au restaurant, au cinema et au musée ou encore voyager en voiture avec ceux que j'aime.
15. If you weren't an artist, what would you be?
When I was a kid I always wanted to be an astronaut, but I've never really liked science so I don't know how I would have fared. I've also always been interested in architecture and psychology, but I'm not really sure it would suit me professionally. In the end, I feel like I would end up being an artist in another field since I'm always looking for a way to express my creativity.
Quand j'étais plus jeune, je voulais devenir astronaute, mais je n'ai jamais vraiment aimé les sciences alors je ne sais pas comment je m'y serais pris. J'ai aussi toujours été intéressée par l'architecture et la psychologie, mais je ne sais pas si j'aurais vraiment aimé travailler dans ces domaines. Je pense que j'aurais besoin de travailler dans un autre domaine artistique pour combler mon besoin de créativité!