Instagram:
@allyouneediswall
Tumblr:
allyouneediswall.tumblr.com
1. What's your story? Where are you from?
My name is Alexandra Dvornikova and I'm from Saint-Petersburg, Russia. I'm 25 years old. I study art-therapy, draw all day long, make linocuts, work with people with mental disorders (mostly Autism spectrum disorder). I'm happily married and I have a red cat and two jackdaws.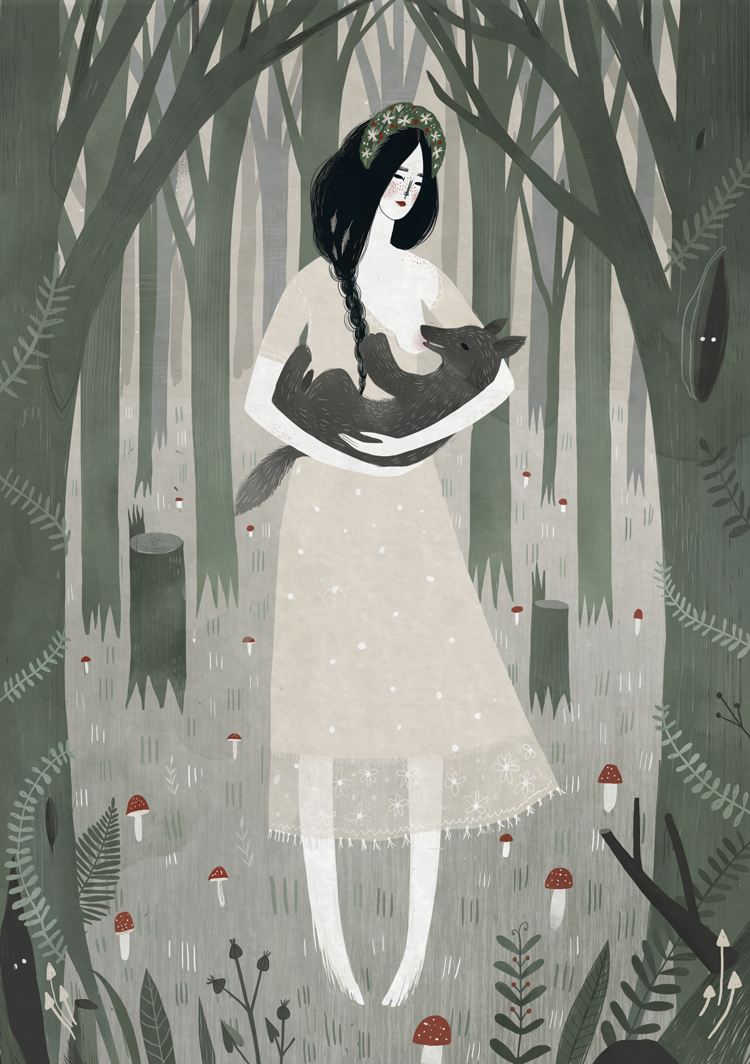 2. Tell us about your aesthetic.
Haunted and dark, but cosy and cute as well. As a forest is. I prefer simple static composition, clear silhouettes, soft and delicate textures, dark earth tones, rhythmic repetition.
3. What is your favourite medium and why?
I love digital drawing, with a use of scanned details and textures.
4. What is your artistic process like?
A full cycle looks like this: awakening of special thrill that causes random activity, searchings, doubts, exploring of everything that attracts me. After that I find the "missing piece of the puzzle" and start to feel the certain imagery. This "piece of the puzzle" is never something specified and concrete, maybe it's just the mood. Then I start to draw without sketches. Music helps me a lot to come into a state of trance. The state of the trance is undoubtedly one of the main parts of creating process. Time is stopped and you're totally inside another world without any thoughts. I start to draw with large color spots and rhythm. I find the approximate silhouette and details and refine it again and again and again... Sometimes I spend a whole day redrawing one mushroom or a branch without any success. I work with a lot of layers (up to 78: clipping masks, textures, group of layers) at this stage. It reminds the balancing between hundreds of variables. Every right step makes me closer and closer to the final image, which is usually 100% not even close to the thing I planned, but still looks interesting and familiar to me. I never know what exactly I will draw, until I finish. Also, I'm rarely absolutely happy with the result, but I think it's okay: The visions in my mind and the nature around us are so incredibly beautiful and I have no chance to express it. If I lose the imagery I just start another cycle. So I always have a lot of unfinished drawings. Sometimes I feel like something is still missing in my mind and that's the reason why I can't finish drawing. So I just relax and wait until I find it in a world around. I prefer to go with the flow. I never force myself to draw if I feel that something is missing. Forced works are always insincere and express nothing
5. Who and/or what inspires your work?
I think the most inspiring things for me are these: Forest, music, animals, wilderness, moss and lichens, mushrooms, Russian fairy tales that I've heard when I was a child, masks, rituals, night dreams, childhood experience, folklore, medieval art, archetypes, psychiatry, human's brain, carnivorous plants, venomous or dangerous things, loneliness, mori girls, vintage dresses. Also, I am inspired by Simona Kossak's story, the woman who lived more than 30 years in a wooden hut in the Bialowieza Forest, without electricity or access to running water. A lynx slept in her bed, and a tamed boar lived under the same roof with her. She was able to talk to wild animals
6. What role does art play in your life? How does it change the way you view the world?
As for me, art is one of the systems of perception and cognition reality. This system relates more to intuition, but of course, we have another system as well. This makes the world around us more extensive and multidimensional. Art is like augmented reality that can produce meanings and symbols which can be used subconsciously or can change the cultural environment, roughly speaking, art changes the mind. Making art is the way to express the person's perception of the world around. We can find the visions that are close to our own, or we can find something repulsive. Anyway, it helps people to understand themselves better. We can identify ourselves through the art. I think we don't have any direct access to the deepest part of our mind except art. Art leads us to our nature. Without the ability to express my vision I would be really depressed and isolated person.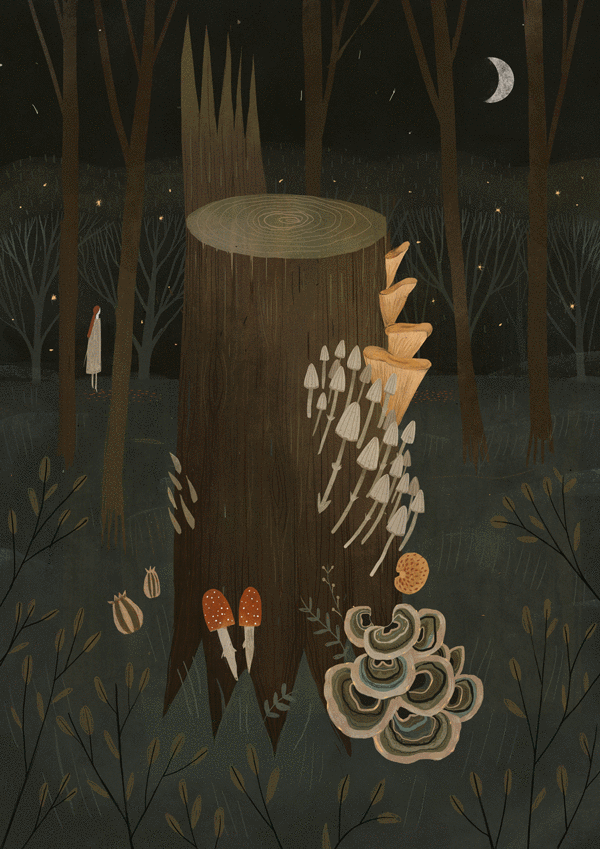 7. Where did you study?
I studied in Saint Petersburg Stieglitz State Academy of Art and Design, printmaking technology and graphics department. I finished Academy in 2015 after 6 years of education. Now I study art-therapy with famous Russian art-therapist A. Kopytin as the supervisor.
8. Where do you see yourself in five years? Working in an agency?
I do not have any plans. I wish I would live in peace and do the thing that is calling me further.
9. What about in ten?
I don't know. Haha, maybe I will live the wild, in a forest? Who knows
10. What do you hope to achieve with your art?
I just try to find harmony. It seems like I'm telling fairy-tales for myself to feel better, to overcome fear or enjoy the coziness and feel the protection. I hope to achieve better skills to be able to express the beauty of the world around.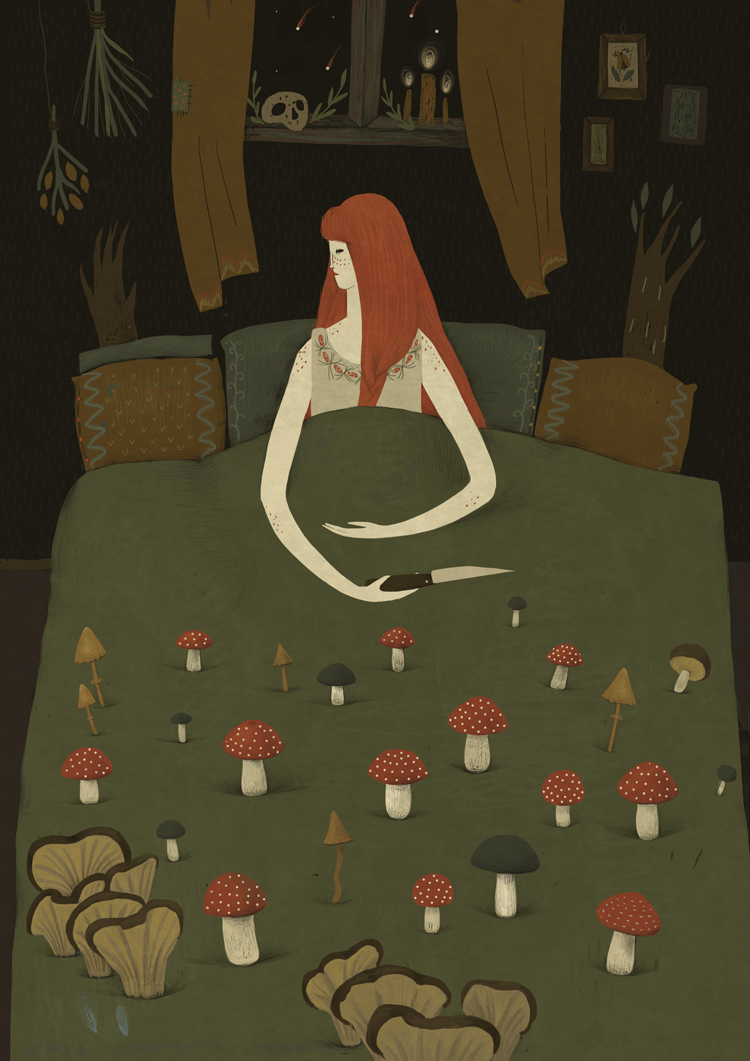 11. Now, tell us a little more about you as a person: what is your favourite food?
Pasta and Ramen
12. Favourite book?
I can't choose between Moomintrolls by Tove Jansson and books by Carl Gustav Jung.
13. Favourite genre of music?
I enjoy modern psychedelic music, freak folk, garage, Cambodian rock, outsiders music, dream pop, throat singing, experimental electronics, ethereal wave My favorite music bands are Animal collective, the Books, Sin Fang Bous, Tanya Tagaq, Joanna Newsom, Gang Gang Dance, Paavoharju, Lucky Dragons, Black Dice, Asa-chang and Junray.
14. What are your hobbies?
I love hiking, traveling and mushroom hunting (but I prefer to search rare mushrooms and make photos of them.) Also, I love to cook, read books and learn. I try to learn Mandarin Chinese, but I don't have enough discipline for it :(
15. If you weren't an artist, what would you be?
Psychiatrist maybe or social worker.