Instagram:
@amberwonderland
Behance:
www.behance.net/amber0120
Website:
www.amberma.com
1. What's your story? Where are you from?
My name is Amber Ma. I originally from Tianjin, China. When I was a child, my playground normally was in the hospital because my mother and my grandmother worked there. They gave me a box of chalk to draw and play on the blackboard. But after they found out I often drew everywhere, they decided to give me enough paper to create. But I think because of this experience, my mother found out my ability or talent(maybe) at that time. When I was growing up, she really respected my weird imagination and storytelling. She also encouraged me to research different things and gave me lots of chance to know art.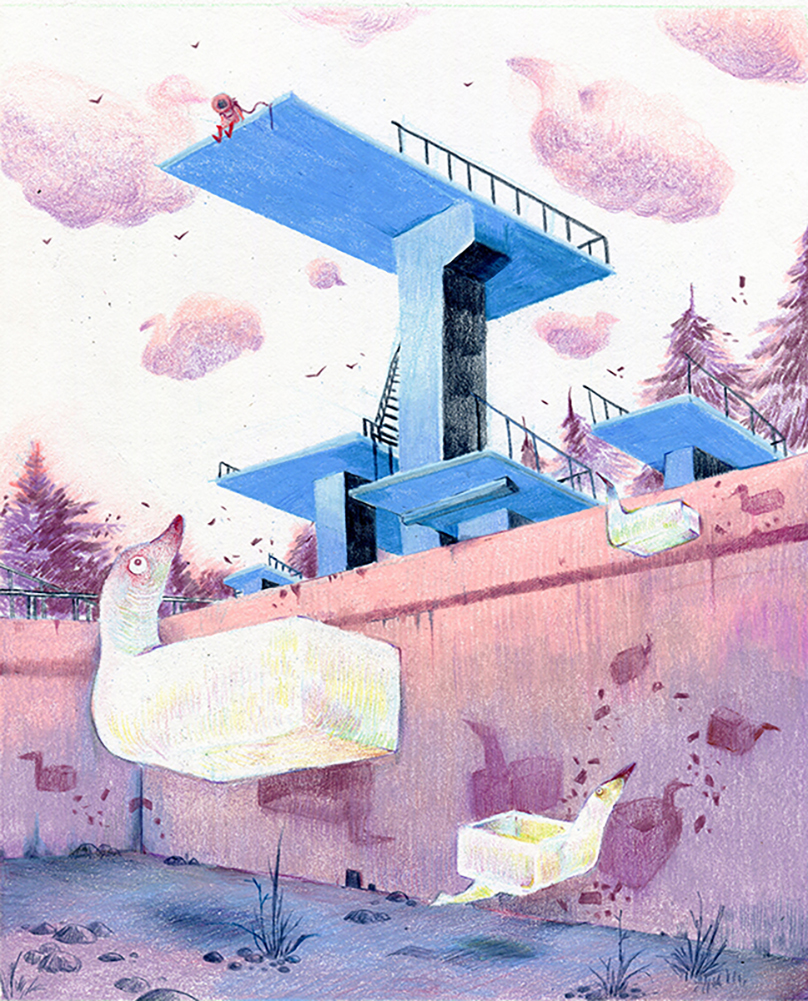 2. Tell us about your aesthetic.
I'm not sure what my aesthetic look like, but I guess they are a little bit whimsical and quirky.
3. What is your favorite medium and why?
Watercolor and pen. I have been using pens to draw for really long time, it looks like my old friend. But for watercolor, I think I just find out how amazing they are in a recent year. I think for watercolor, the most important thing it teaches me is how to control and how to keep balance.
4. What is your artistic process like?
I normally do some pencil sketches on sketchbook or paper, like fun ideas, develop a creature or experimental. After that, I will do some testing work, such as color study or medium test/ paper test. The last thing is to transfer sketch works on the good paper. For watercolor painting, normally I will make a rough sketch on paper. And then using water to fill the shape and let pigment to go with water. I really respect the texture they make.
5. Who and/or what inspires your work?
Hieronymus Bosch, Yoshitaka Amano, Shaun Tan, and Brecht Evens. Africa art, Maya art, and the Dunhuang frescoes also inspire me a lot of. I really enjoy seeing the art from Primitive culture.
6. What role does art play in your life? How does it change the way you view the world?
I think it's my best friend in my life. It grew up with me and helped me to pass the tough time when I was in the High school. I can't imagine if I couldn't draw or understand art. I think it gives me different views to see this world, I mean a different layer of the world, people, and things. It teaches me to listen to the voice from my heart carefully and to catch it.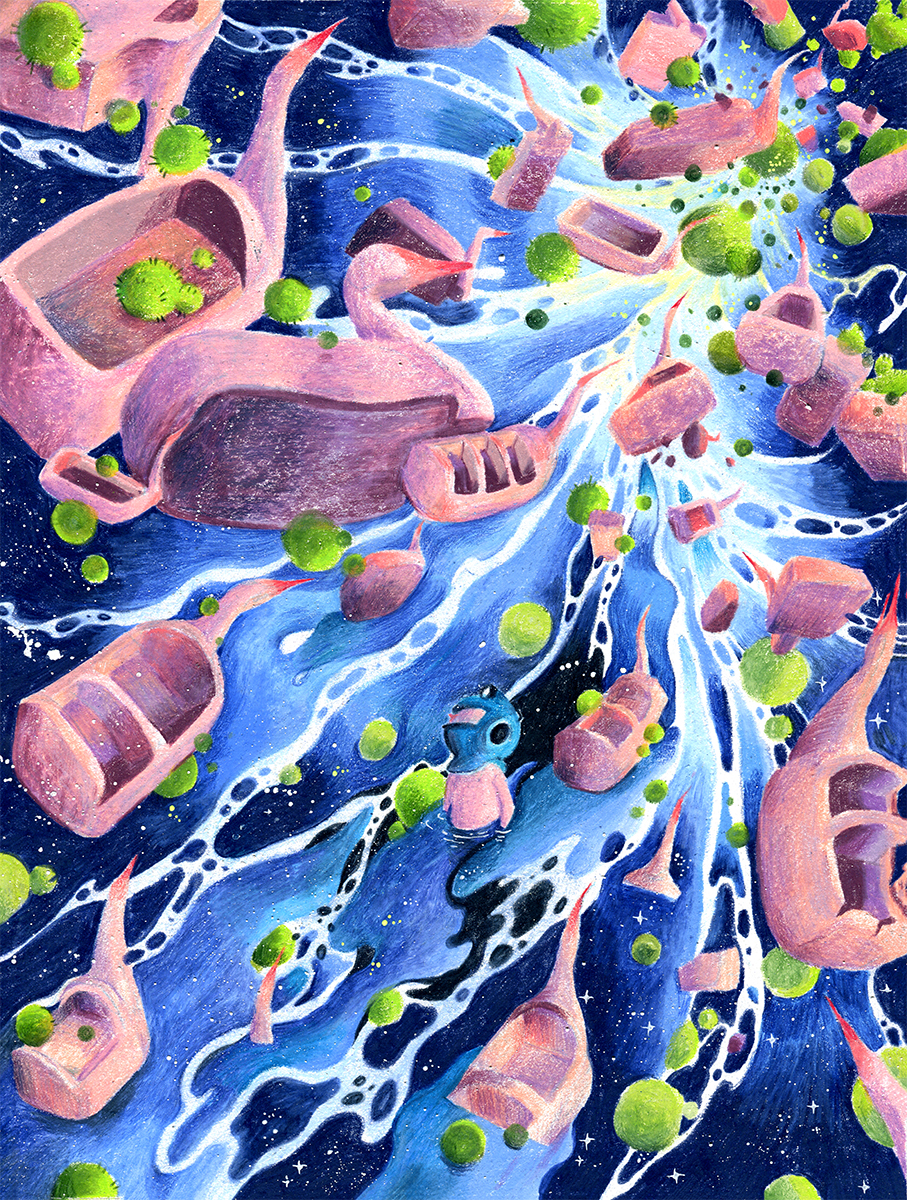 7. Where did you study?
I studied in School of visual art, for Bfa illustration and MFA illustration.
8. Where do you see yourself in five years?
Probably still in New York. Living in a lovely studio, still doing picture books and graphic novel, large-scale drawing or painting.
9. What about in ten?
Maybe I will move to different city or country to live, but I think I still will draw books and creating things in the long future.
10. What do you hope to achieve with your art?
Bring the whimsical and interesting world into people's lives.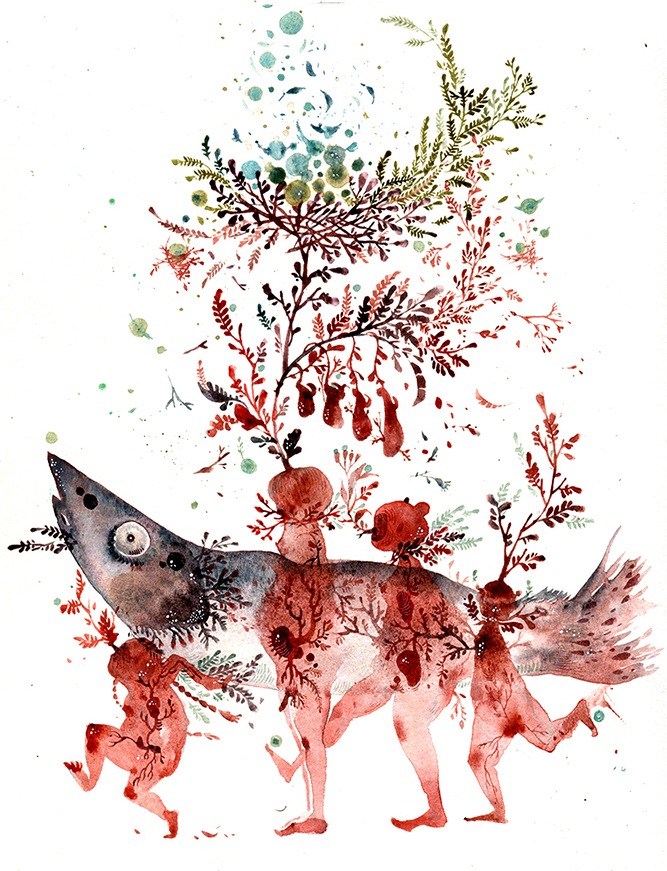 11. Now, tell us a little more about you as a person: what is your favorite food?
Hotpot and Japanese food. Coffee and tea are the best things in my life.
12. Favorite book?
Little prince and Alice in wonderland.
13. Favorite genre of music?
David Popper Concert Polonaise Op. 14 - Yo-Yo Ma
14. What are your hobbies?
Cooking.
15. If you weren't an artist, what would you be?
Veterinarian or zoologist or a florist. I also thought about to be an actress when I was little, but I was not confident and felt uncomfortable in front of the camera.