Instagram:
@amyjpeg
Website:
www.amyblackwell.co.uk
1. What's your story? Where are you from?
Hello! My name's Amy and I live, work and play in (and around) Nottingham, England. I work part time in a cinema as a projectionist to pay the bills - that's the "day" job, so to speak and the rest of the time is spent making pictures and all sorts in my studio space I share with my friend and fellow artist Camille Fleur.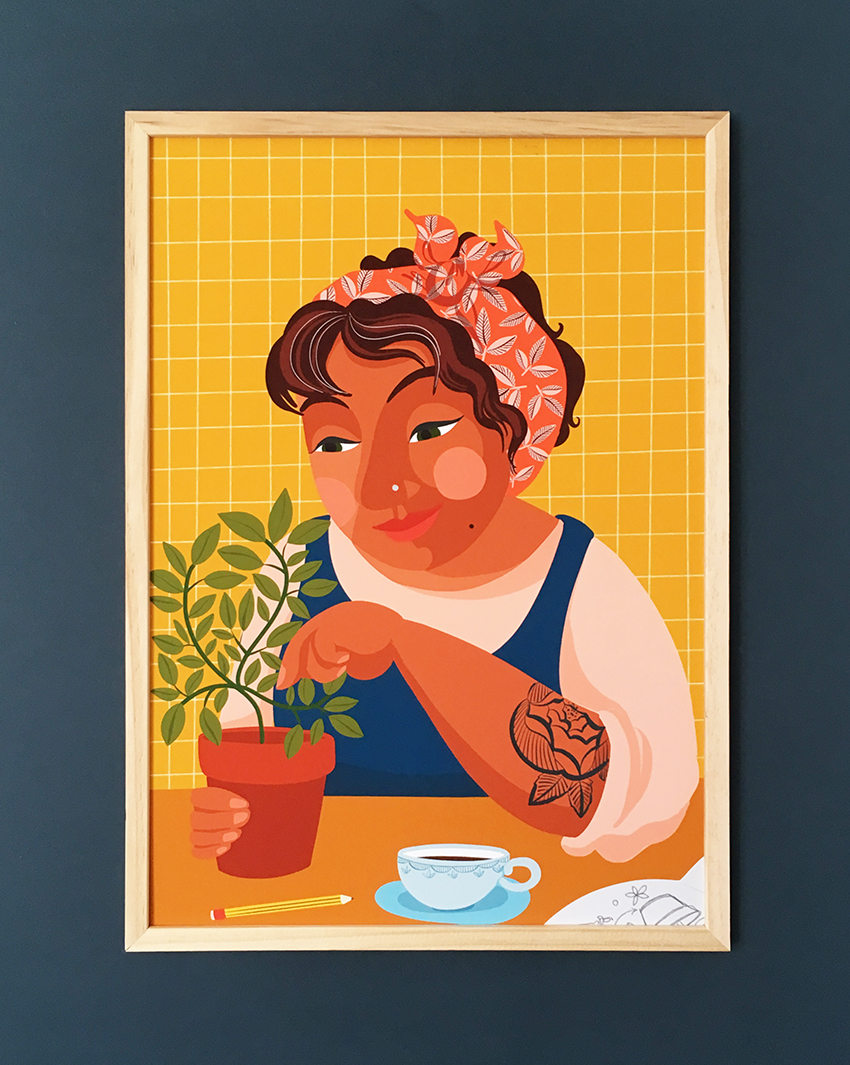 2. Tell us about your aesthetic.
I'm a BIG fan of bright colours and patterns. I sometimes try and put as many different visual components together so the end product becomes a bit of an assault on the senses - I don't mean to cause discomfort, it's probably more accurate to say I just don't know when to stop, ha! I've very recently turned my style on its head and started working on some brand new bits of work - the portraits and sketchbook work mainly. I've tried to strip things back to a more blocky, simplified look. Of course, inevitably the patterns begin to creep back in but it's been interesting watching this new style and the old style merge.
3. What is your favourite medium and why?
I mainly use a mixture of acrylic paint and paint pens at the moment. It's a good way to draw things on the go but also play around with ideas quite quickly. Very satisfying!
4. What is your artistic process like?
If I'm painting then I usually start by block painting the page with a solid colour, sketch out a very rough idea and then gradually layer up details as I go. I like doing very repetitive things - like knitting and drawing leaves. So a lot of the patterns are quite detailed and in some ways quite similar. I've gradually begun to save up sketchbooks full of patterns and colour inspiration so when I'm working on something more precious I have access to visual references and inspiration that way.
5. Who and/or what inspires your work?
Whatever's going on around me is probably the main source of inspiration. I soak up the colours and fashions and the look of things outside and put them in my work. I tend to draw straight from my imagination so nothings really rooted in reality, I've only very recently had a go at trying to draw portraits based on real people but right now I definitely still prefer delving into my brain instead. I am very fond of old medieval works of art and all their crazy perspectives. They look very childlike and amateur-y (if that's a word) and I can relate to that for sure, hehe.
6. What role does art play in your life? How does it change the way you view the world?
Art's very important to me, I always have to be doing, drawing or making something. I can't tell if it changes the way I view anything because it's always been something I've done. I grew up in a very creative family and was encouraged to draw or making things practically from day one. I love it! Can't imagine doing anything else, it's always been factored into my life.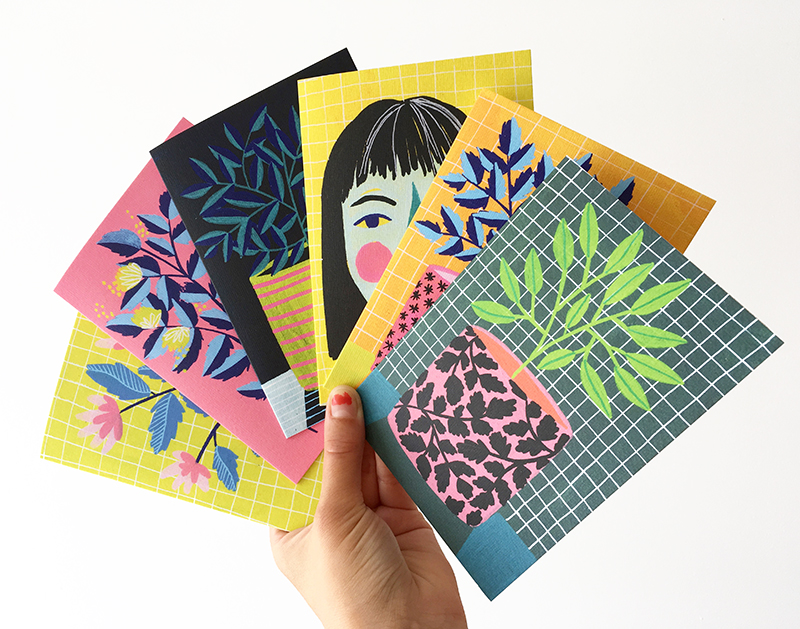 7. Where did you study?
I studied here in Nottingham and graduated in 2007. I did Fine Art and absolutely hated it! Which is weird because that totally wasn't what I'd expected, haha! It taught me a lot about what I do and why I do it though so I can't fault it there. It just wasn't the course for me, I'm too stubborn.
8. Where do you see yourself in five years?
Aw man, on a sunny beach?? I need a holiday, ha! Hopefully, I won't have to wait 5 years! Seriously though, I'd really like to have my illustration business firmly rooted in the 'self-sufficient' stage. I want this to be the main source of income and fingers crossed that'll make me more organised, that's how it works, right??
9. What about in ten?
The same as above. Happy, healthy and creating stuff all the time.
10. What do you hope to achieve with your art?
I just want to make it, I enjoy the process of drawing what I draw so much and if people enjoy it and want it in their lives than that's an added bonus.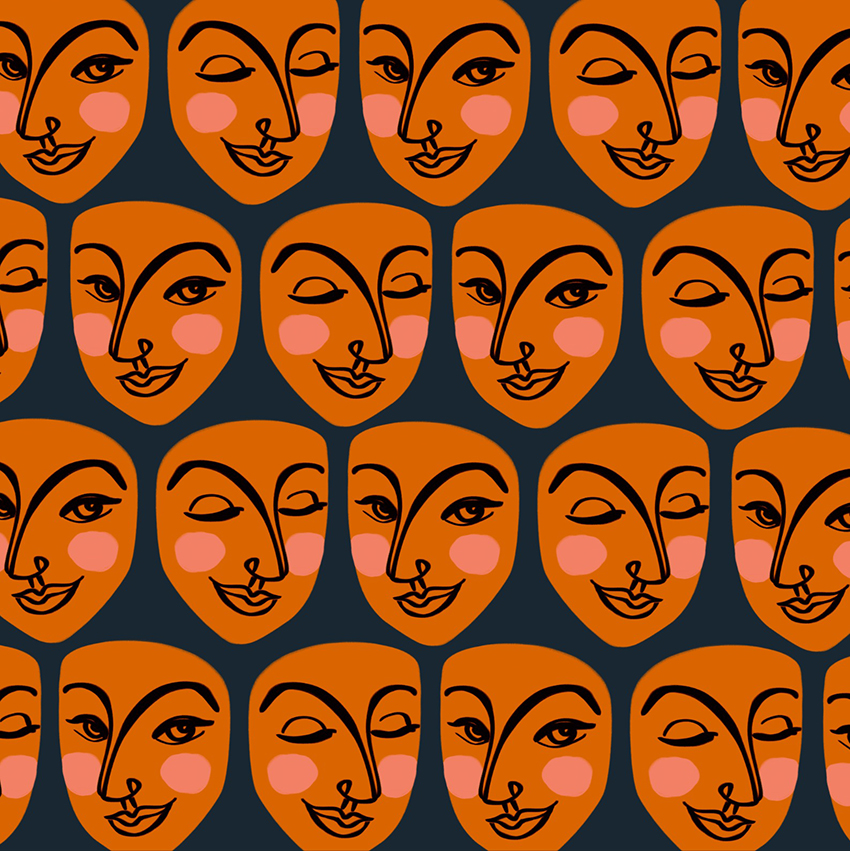 11. Now, tell us a little more about you as a person: what is your favourite food?
Pancakes and pizza. No contest. Probably not at the same time but if either's available, I'm there.
12. Favourite book?
I don't have a favourite book as such but I do go through book worm phases and enjoy chomping my way through plenty of crime and thriller fiction. I'm a sucker for Agatha Christie books too. I think my favourite of hers is "And then there were none". So creepy...
13. Favourite genre of music?
Oh boy, that's hard... If you'd asked me when I was 16 I would've shouted something like "riot girl" or "grunge" or some kind of "shoegazer". I've always had a soft spot for a bit of weird electronica stuff and that's probably what I listen to most of all nowadays. I have a thing for film scores too, especially if they're heart string tuggers. The more miserable the better! Although saying all of that I'm quite happy to bust some seriously bad dance moves to Whitney Houston on the dance floor. I mainly listen to podcasts and spoken word on the radio.
14. What are your hobbies?
Oh, the usual - Knitting, spending time with friends, going out and eating nice food, reading. I still think of drawing as a hobby, it doesn't always feel like a job. I'm very lucky to be doing what I love.
15. If you weren't an artist, what would you be?
Maybe a writer or a poet. Something like that. I'd have to find a way to sneakily do something creative or I'd lose my marbles.