Instagram: @anaclarafl
1. What's your story? Where are you from?
Hi, my name is Ana Clara Lacerda, I am from south Brazil, from a city called Porto Alegre and here I graduated in Visual Arts. When I was very young my mother was a weaver and I lived among the threads and yarn. She used to sell at a well-known local fair, I always accompanied her. I think that's where my desire to be a craftswoman was born too. I've always liked everything that's made with our hands.
Oi, meu nome é Ana Clara Lacerda, eu sou do sul do Brasil de uma cidade chamada Porto Alegre e aqui me formei em Artes Visuais. Quando eu era muito pequena minha mãe era tecelã e eu vivia no meio dos fios e novelos. Ela vendia em uma conhecida feira local, eu a acompanhava sempre. Eu acho que foi aí que nasceu meu desejo de ser artesã também. Sempre gostei de tudo que se faz com as mãos.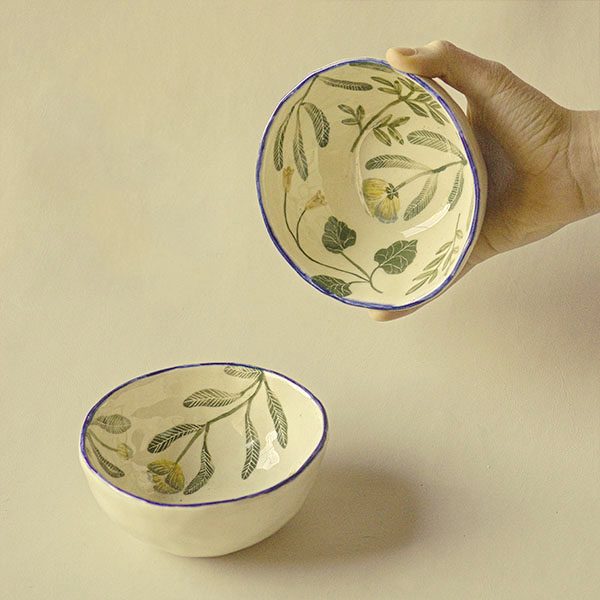 2. Tell us about your aesthetic.
My aesthetic has some relation with antiques, I really like antique shops, and grandma stuff. But at the same time I try to mix this with simple forms and a connection with nature, making it evident that it is something made and painted by hand. I am completely in love with botanical illustration and I try to bring that to my pieces too.
A minha estética tem relação com coisas antigas, gosto muito de antiquários, e coisas de vó. Mas ao mesmo tempo busco misturar isso com formas mais simples e uma conexão com a natureza, deixando evidente que se trata de algo feito e pintado à mão. Sou completamente apaixonada por ilustração botânica e busco trazer isso na minhas peças também.
3. What is your favourite medium and why?
Certainly ceramics, I use clay in many ways, I like to make sculpted dolls and miniatures, but lately my focus has been on utilitarians, which I make on the wheel thrown. Also, I love working with fabrics and creating patterns, which is something that I took up recently, I'm trying to bring some other techniques and products which will relate to my work with clay.
Com certeza a cerâmica, eu uso a argila de muitas formas, gosto de fazer bonecas esculpidas e miniaturas, mas ultimamente meu foco tem sido os utilitários, que faço no torno elétrico. Além disso gosto muito de trabalhar com tecidos e estamparia, que é algo que eu recentemente retomei, estou procurando trazer outras técnicas e produtos que vão se relacionar com meu trabalho com a argila.
4. What is your artistic process like?
Very slow. I really like details, so I think that's why my process is slow. I like to think that things have a natural pace that is time consuming. I understand that plants take a long time to develop and mostly I try to respect that rhythm in relation to myself in the processes. Lately I felt the need to see myself more as a businesswoman and less as an artist and this has been challenging, but I think it can be both and they can complement each other, so I am looking for more organized processes that I have never had before, until then my process was very chaotic.
Bem lento. Eu gosto muito de detalhes, acho que por isso meu processo é lento. Eu gosto de pensar que as coisas tem um ritmo natural que é demorado. Percebo que as plantas levam muito tempo para se desenvolverem e geralmente busco respeitar esse ritmo em relação a mim mesma nos meus processos. Ultimamente senti a necessidade de me ver mais como uma empresária e menos como artista e isso está sendo um desafio pra mim, mas acho que posso ser as duas coisas e elas podem se complementar, por isso estou buscando processos mais organizados que nunca tive antes, até então meu processo era muito caótico.
5. Who and/or what inspires your work?
Definitely nature and the things that surround me, when I look around I see my house, my plants, my cats. I think it ends up being a continuous construction where I surround myself with things that inspire me and inspire me with the things that surround me at the same time.
Definitivamente a natureza e as coisas que me cercam, quando olho em volta vejo minha casa, minhas plantas, meus gatos. Acho que acaba sendo uma construção contínua onde eu me cerco de coisas que me inspiram e me inspiro nas coisas que me cercam ao mesmo tempo.
6. What role does art play in your life? How does it change the way you view the world?
I do art stuff since I was very young so I can't even imagine living without creating. But I believe that it does change the way i view the world, I think that when we work with images and objects we become more attentive to the things that are already in the world, whether we want to or not, and that makes our experience richer. For me, handmade ceramics have this, as they are objects that are inserted in our daily lives, especially when it comes to drinking or eating something, I think there is a ritualistic scope in these things of our routine that we end up not realizing, and when we insert something handmade in these moments is like an invitation to stop and perceive yourself, to be more present in that moment. For me, beautiful and unique things are always an invitation to stop, watch, breathe.
Eu faço coisas de arte desde muito pequena então nem consigo imaginar viver sem criar. Mas acredito que muda a forma de ver o mundo sim, acho que quando a gente trabalha com imagens e objetos estamos sempre mais atentos às coisas que já estão no mundo, querendo ou não, e isso torna nossa experiência mais rica. Pra mim cerâmica artesanal tem isso, como são objetos que estão inseridos na nosso dia a dia, especialmente na hora de beber ou comer algo, acho que existe um âmbito ritualístico nessas coisas da nossa rotina que acabamos não percebendo, e quando inserimos algo artesanal nesses momentos é como um convite para parar e se perceber, para estar mais presente naquele momento. Acho que as coisas bonitas e únicas são sempre um convite para parar, observar, respirar.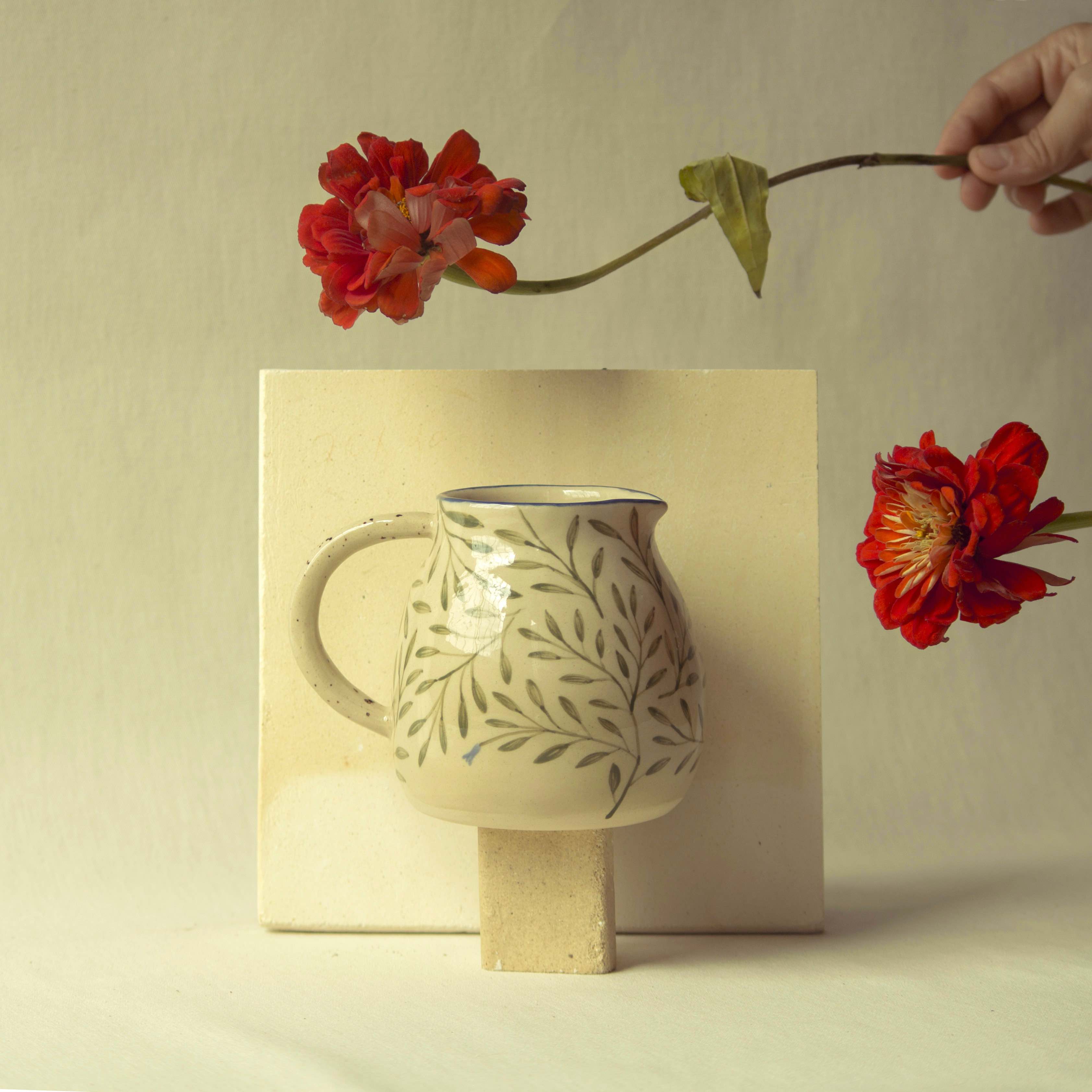 7. Where did you study?
I studied Visual Arts at my state's federal university, where I worked with various media and participated in a research project about utilitarian ceramics. But in fact I don't see myself entirely as an artist. I think my work is always swinging between these fine lines between art, crafts and design (and maybe some more).
Eu estudei artes visuais na universidade federal do meu estado, lá eu trabalhei com várias mídias e participei de um projeto de pesquisa sobre cerâmica utilitária. Mas na verdade eu não me vejo inteiramente como artista. Eu acho que meu trabalho está sempre oscilando entre essas linhas tênues entre arte, artesanato e design (e talvez outras).
8. Where do you see yourself in five years?
I'm gonna allow myself to dream on these questions. I see myself with my own business, a place to be both a store and a studio, also attached to a vegan coffee (my mom and sister will work on this part because they cook very well).
Vou me permitir sonhar nessas perguntas. Eu me vejo com um negócio próprio, um lugar que seja loja e atelier, onde também teria um café vegano (minha mãe e minha irmã vão trabalhar nessa parte pois elas cozinham muito bem).
9. What about in ten?
In ten years I want to have a farmhouse, discover the possibilities of clay for larger buildings and make my house there out of clay. In this place I want to build a large ceramic studio and be able to work with other people who also have these interests. In addition to planting a lot, having a huge vegetable garden and an orchard. Here at home I planted fruit trees in pots and I always think that one day I will transfer them to a dirt floor so that they can grow and develop freely. Or at least that's what I think I want now, I also want to allow myself to flow with life and accept the path changes that happen in the process.
Em dez anos eu quero ter um sítio, quero descobrir as possibilidades da argila para construções maiores e fazer minha casa lá de barro, e lá quero construir um atelier de cerâmica grande, e poder trabalhar lá com outras pessoas que também tenham esses interesses. Além de plantar muito, ter uma horta enorme e um pomar. Aqui em casa eu plantei árvores frutíferas em vasos e sempre penso que um dia vou transferir elas para um chão de terra para que elas possam crescer e de desenvolver livremente. Ou pelo menos é isso que eu acho que quero agora, quero também me permitir fluir com a vida e aceitar as mudanças de trajeto que acontecem no processo.
10. What do you hope to achieve with your art?
My big goal in doing these things is not really something that I hope for, but that is inserted every day that I work with clay, which is to create a life that has meaning for me, where I can express myself and be consistent with the things that I believe, this is my goal and it is mostly accomplished every day.
But what I hope is that these pieces go to people's homes, and make their daily simple moments more special. I think that when we have a handmade object in our routine, which we know was made by someone to reach us, it is an invitation to seek to know how everything around us is made, and thus to create a life more connected to the source of things, I think this is the basis of conscious consumption, questioning. And for me, the meaning is on earth, it is there that everything comes up, that's why it is so valuable to work with it in so many ways. That is why working with utilities has been my preference, or rather than working with sculpture objects that I also like to do, but today my desire is to do things that are in our daily routine, and not in galleries.
Meu grande objetivo em fazer essas coisas não é bem algo que eu espero, mas que está inserido todos os dias que trabalho com cerâmica, que é criar uma vida que tenha sentido pra mim, onde eu consiga me expressar e ser coerente com as coisas que acredito, esse é meu objetivo e ele se cumpre todos os dias. Mas o que eu espero é que essas peças vão para as casas das pessoas, e tornem seus momentos simples diários mais especiais. Acho que quando a gente tem um objeto artesanal na nossa rotina, que sabemos que foi feito por alguém para chegar até nós, é um convite para buscarmos saber como é feito tudo que está na nossa volta, e para assim criarmos uma vida que se conecta mais com a origem das coisas, acho que essa é a base do consumo consciente, questionamento. E pra mim, o sentido está na terra, é nela que tudo surge, por isso é tão valioso pra mim trabalhar com ela de tantas formas. É por isso que o trabalho com utilitários tem sido minhapreferência, ou invés de trabalhar com objetos de escultura que eu também gosto de fazer, mas hoje minhavontade está em fazer coisas que estão na nossa rotina todos os dias, e não em galerias.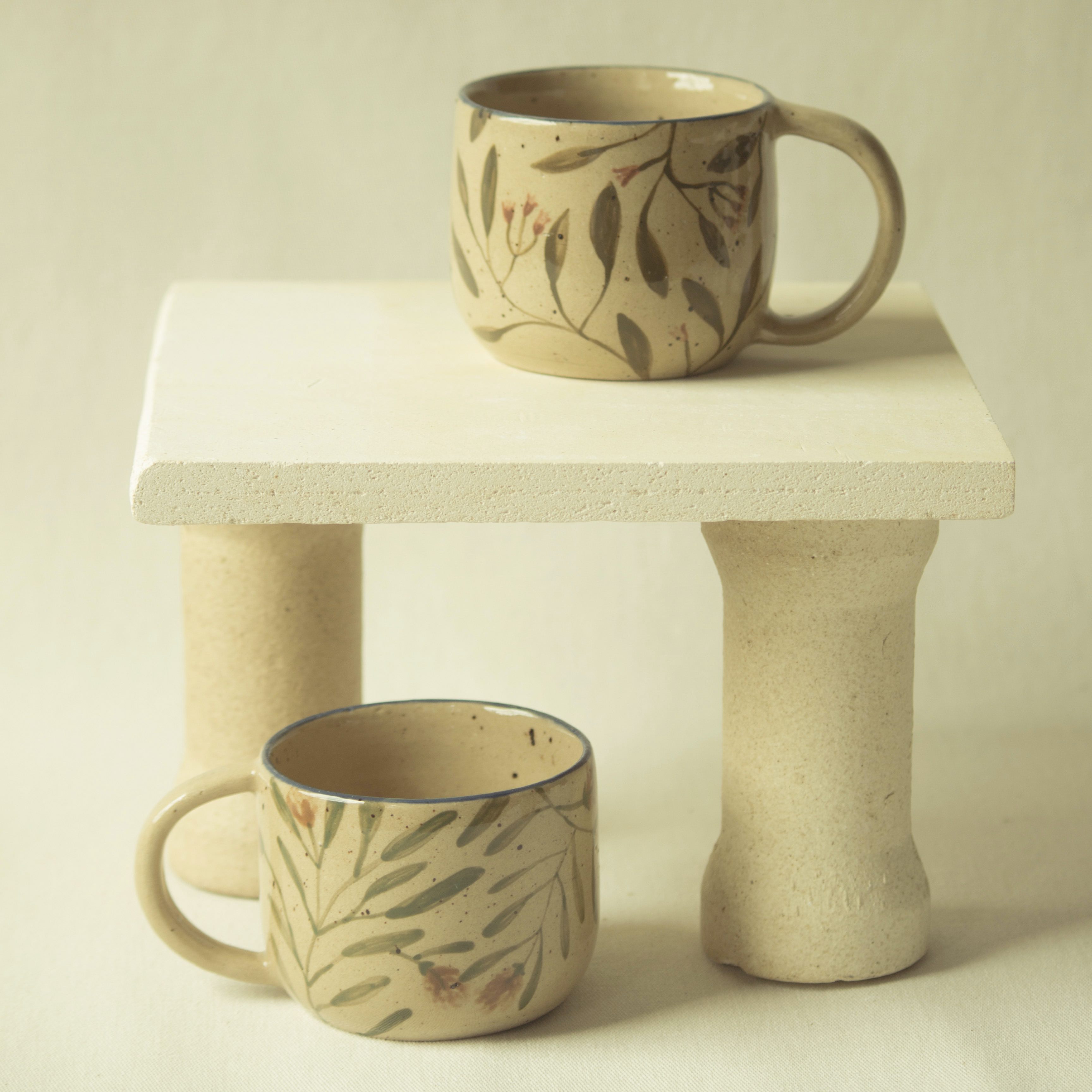 11. Now, tell us a little more about you as a person: what is your favourite food?
I think my favorite food is also super simple, lentils. I am a vegetarian since I was 10 years old and I started to be vegan a few months ago, I am really enjoying testing new things and discovering many incredible flavors in veganism. Eating for me is sacred, I like and try to eat things that are good for me and for the whole.
Eu acho que minha comida favorita é também super simples, lentilha. Sou vegetariana desde os 10 anos e passei a ser vegana há alguns meses, estou gostando muito de testar coisas novas e descobrindo muitos sabores incríveis no veganismo. Comer pra mim é sagrado, eu gosto e tento comer coisas que fazem bem pra mim e para o todo.
12. Favourite book?
Lately I have been enjoying reading about plants, now I am reading Goethe "The Metamorphosis of Plants". I have a hard time deciding my favorite things. One of the books that touched me the most recently, is Sylvia Plath's "The Bell Jar".
Ultimamente eu tenho gostado muito de ler sobre plantas, agora estou lendo Goethe "A Metamorfose das Plantas". Eu tenho bastante dificuldade de decidir minhas coisas favoritas. Um dos livros que mais me tocou recentemente, é da Sylvia Plath "A Redoma de Vidro".
13. Favourite genre of music?
I mostly listen to brazilian popular music, usually calm songs, like Caetano Veloso but when I need more energy I listen to funk (brazilian funk) or something like maracatu.
Eu escuto mais música popular brasileira, geralmente músicas calmas, como Caetano Veloso, mas quando preciso de mais energia escuto funk ou algo tipo maracatu.
14. What are your hobbies?
I love working with fabrics and threads, I like to sew, embroider, make macramé and even know how to make lace, but there is not much time left for these crafts. I do yoga and also like to dance and meditate. And I do love to plant and take care of my plants.
Adoro trabalhar com tecidos e linhas, gosto de costurar, bordar, fazer macramé, e até sei fazer renda. mas não sobra muito tempo para essas artesanias. Eu faço yoga e gosto de dançar e meditar. E também amo plantar e cuidar das minhas plantas.
15. If you weren't an artist, what would you be?
Biologist, certainly, maybe one day I still will. Biology was my favorite subject at school and it was my second option when I entered to the university. When I was a teenager, I imagined myself illustrating biology books. But today I don't see ceramics leaving my life for anything.
Bióloga, certamente, quem sabe um dia eu ainda seja. Biologia era minha matéria favorita na escola e era minha segunda opção de curso quando entrei para a faculdade. Quando era adolescente eu me imaginava ilustrando livros de biologia. Mas hoje não vejo a cerâmica saindo da minha vida por nada.