Instagram:
@anajarenillustration
Website:
www.anajaren.com
1. What's your story? Where are you from?
I'm from the south of Spain, from Sevilla but in the latest years, I've had the chance to live in other great cities such as Madrid, Southampton (UK), Vitoria (Spain) and Antwerp (Belgium).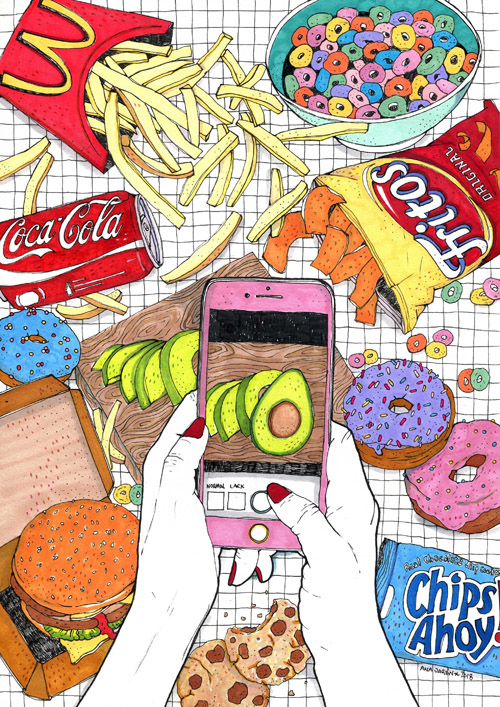 2. Tell us about your aesthetic.
I'd describe it as colorful and very detailed. I pay a lot of attention to details and try to represent as much as I can the environment in which I set the characters.
3. What is your favourite medium and why?
Without any question, the markers. I enjoy myself a lot when I use them and I think that they've become a very important part of my style.
4. What is your artistic process like?
I start by looking for some references that inspires me. I do a very basic pencil draft and I do the original piece on top of that draft. I normally don't think about the colours beforehand. That's something that comes during the process, depending on what the illustration is asking for.
5. Who and/or what inspires your work?
I feel enormously inspired by the cordiality. I mean, I see the beauty in things that happen on a daily basis. For instance: girlfriends meeting in a café, a girl walking in the street, or simply a barista making coffee. I love spending time just having a look at people walking around. I pay attention to their outfits, hairstyles... and I find all of that very inspiring.
6. What role does art play in your life? How does it change the way you view the world?
I think it has a relevant role in my life. I enjoy and cherish the way it makes me feel. I think that this passion has made me be a person who looks for the extraordinary side of the regular things. I'd describe myself as a person who loves to find an aesthetic in everything I can.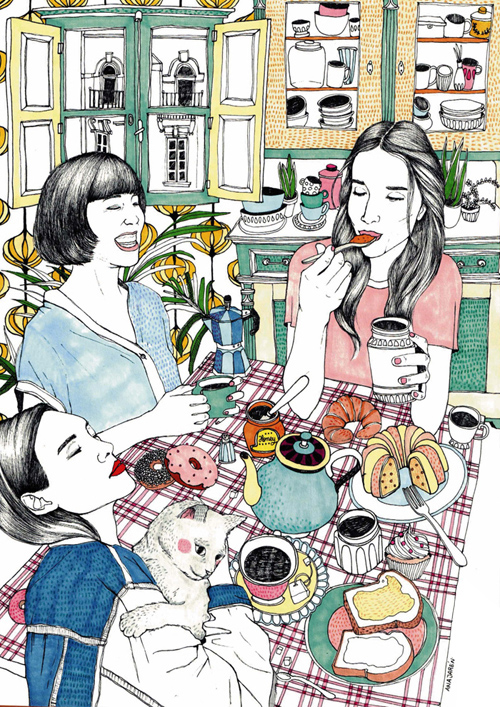 7. Where did you study?
I studied a master's degree in advertising and PR at the University of Sevilla. Apart from this, I had the chance to develop different painting/drawing techniques in small ateliers that I found in the cities I lived in.
8. Where do you see yourself in five years?
I hope to be doing what I'm doing right now, working like crazy but enjoying myself a lot surrounded by my husband and my little girl.
9. What about in ten?
The same as in question 8 but going bigger! Having made my husband quit engineering and making him be part of my business.
10. What do you hope to achieve with your art?
I'd like the achieve more popularity in order to reach as many people as possible. I think my illustrations can connect with many receptors from around the world and for me, it would be a dream to reach them. I not only do what I do for myself but to be shown and produce some emotions in people.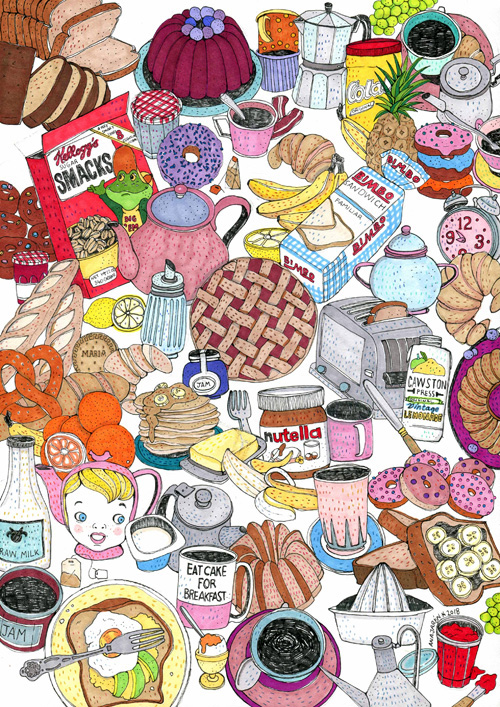 11. Now, tell us a little more about you as a person: what is your favourite food?
So hard to pick just one. I love pizza, donuts, pancakes with maple syrup, blueberry muffins, cheese sandwich... Did you see any of them in my illustration? Maybe all of them constantly...? Hahaha. As you can see not much veggies although I eat them on a daily basis and try to eat healthily, just making exceptions during the weekends.
12. Favourite book?
Jane Eyre and Sense and sensibility.
13. Favourite genre of music?
Pop-rock I guess although my music taste is very eclectic.
14. What are your hobbies?
I love reading although I have a daughter who is two years old, so now my full-time hobby is playing with her.
15. If you weren't an artist, what would you be?
I think a pastry chef.