Instagram:
@anasebastian_illustration
Behance:
www.behance.net/AnaSebastian
Website:
anasebastian.es
1. What's your story? Where are you from?
My name is Ana Sebastian, but you can call me Pebbles too. I'm from Zaragoza (Spain) but I'm living in Madrid right now. I'm constantly travelling between these two places and I love both of them. Right now, I'm working as a freelance illustrator from home, but when I'm not drawing I'm probably watching movies, reading, or baking something sweet.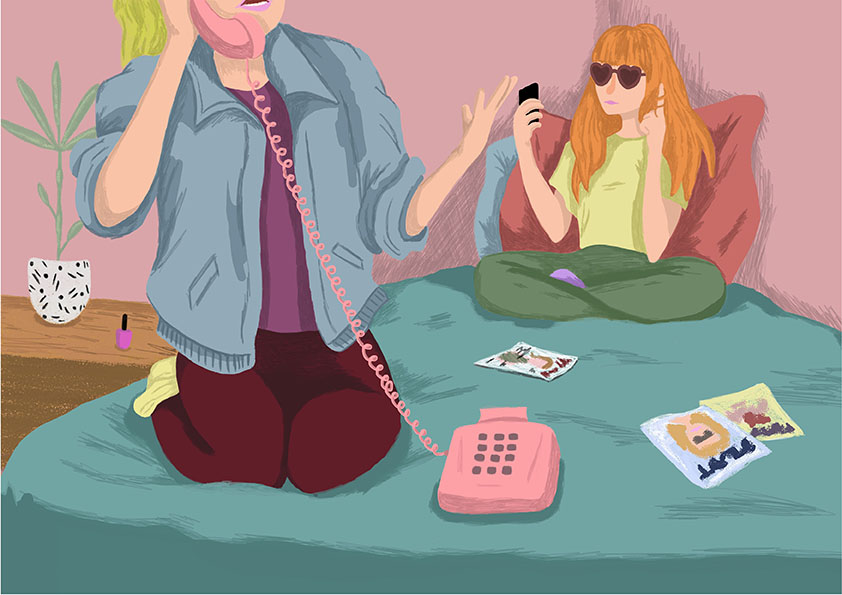 2. Tell us about your aesthetic.
My aesthetic has been changing a little bit over the years. But right now I'm feeling really confident with my results. It's always really funny and cute. I work almost always for kids' books or stuff, so I can let play the little girl inside me. And that's what I love most. Moreover, Spain is a sunny and happy country so, I think this directly affects your relationships and personality. And for me, in my work.
3. What is your favourite medium and why?
I feel really confident with my computer right now. I think that's because is easier for me. But lately, I'm trying to get out of my comfort zone and come back to the days when I was at college and I used to play with watercolors, color pencils, pens... I'll try to make a combination of both (computer and handmade) in my future projects.
4. What is your artistic process like?
Typically I work upright at my desk in my home studio with my favourite joggers and my bun in my hair. I always listen to music or my favourite podcasts. Before I start I have to give me some time: I research the theme, think about solutions. Next is time for sketches, thinking about composition, etc. I always have a few ideas, draw them, and leave for a few hours to come back with a fresh point of view. Then, it's time for photoshop. I like to draw with tons and tons of layers because It gives me the opportunity to make sure that my idea works or change it easily If I need to. Sometimes I have to draw one element a lot or my ideas start looking so awful, and I seriously look into opening a bookshop or a bakery. Time to come back to the project after a few hours... You have to remember that the creative process is unpredictable.
5. Who and/or what inspires your work?
Oh, that's a tough one. And it's hard because I don't want to sound cliché. I keep a sketchbook full of book or movie quotes, and my own sketches it's so useful to start by looking through that. Madrid is very important here too, it makes me feel very stimulating creatively. Going for a walk, go to a museum, a cafe, everything is wonderful. Because this city is so big, full of really good stuff. When I'm locked or need an extra dose of inspiration, I like going to bookshops. They are also good for inspiration, especially sections of comics and graphic novels or even the children's section which has some wonderful books. If none of this works, the internet.
6. What role does art play in your life? How does it change the way you view the world?
Art transformed my life. Since my first day of art school, I had a feeling that I had a place. I started learning about color, composition, concepts, art history... And since that moment I started viewing my world differently, the colors, the feelings... and thanks to art you can see everything from the point of view of another person, underlining our common human bonds as well as the ways in which our experiences differ. The art also makes you more sensitive, nourishes you and fuel your imagination, which allows us to grow and expand beyond our limits.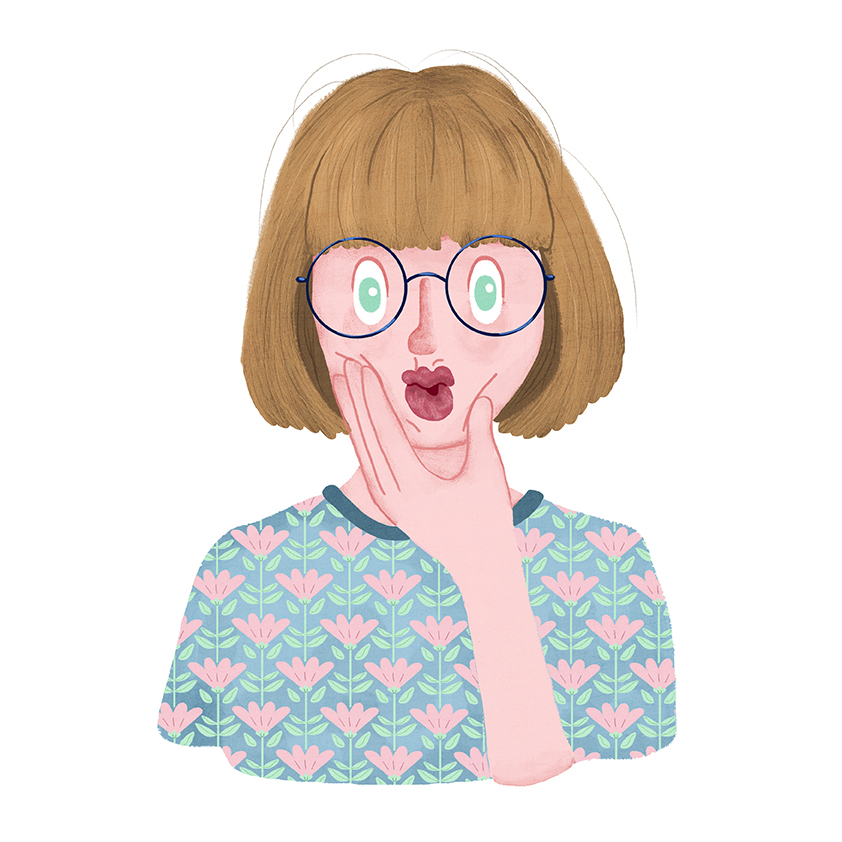 7. Where did you study?
I studied Fine Arts at the University of Zaragoza and Université Michel de Montaigne, Bordeaux. I specialized in Illustration and complete my formation with a master's degree in digital illustration for concept art and visual development (TRAZOS, Madrid).
8. Where do you see yourself in five years? Working in an agency?
I really hope to be doing the same. But full of new projects, books, experience... And maybe to have my own studio, and not to be working from home. Just to go out and take some fresh air. But no, no agencies for me. I enjoy my life so much. And I don't want a boss, a timetable, or to wake up at 7:00 AM cause my job starts... And also the beauty of this work is that you never know what you're going to do next month!
9. What about in ten?
Again, the same, but more knowledge and cool new projects (higher level). Maybe teaching at the same time. Oh, and a house in the mountains.
10. What do you hope to achieve with your art?
Make everyone to have fun, and no taking life so serious. And of course, make the little kids learn.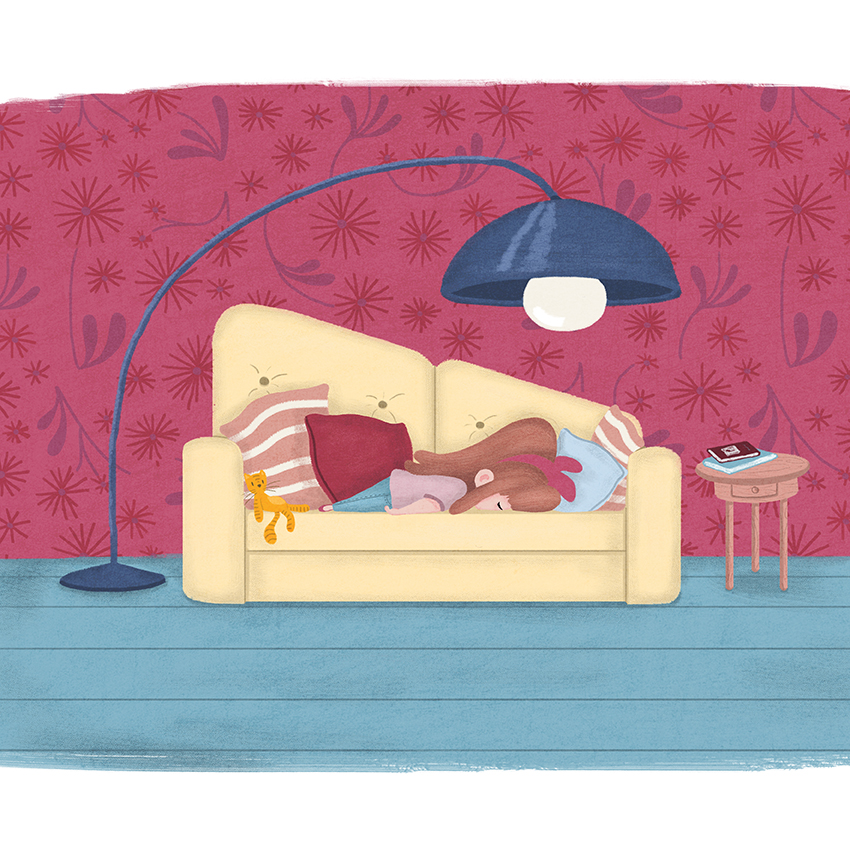 11. Now, tell us a little more about you as a person: what is your favourite food?
Mmmm, It's hard because my all-time favourite is pizza, but lately, the Mexican food it's winning the race... So I say tacos and any kind of sweet.
12. Favourite book?
Way too many to mention, but here is one that I found absolutely fascinating: Demian (Herman Hesse). Oh! and Franny & Zooey (J.D. Salinger) Sorry, I have to say two...
13. Favourite genre of music?
Folk.
14. What are your hobbies?
Drawing (obsess haha), baking sweets, reading all kinds of books and going to nature as soon as I can.
15. If you weren't an artist, what would you be?
I studied nursing before the arts, so I would be working as a nurse.