Instagram:
@ange_elin
Website:
www.angelagstalter.de
1. What's your story? Where are you from?
I'm an illustrator from Germany, living near Heidelberg.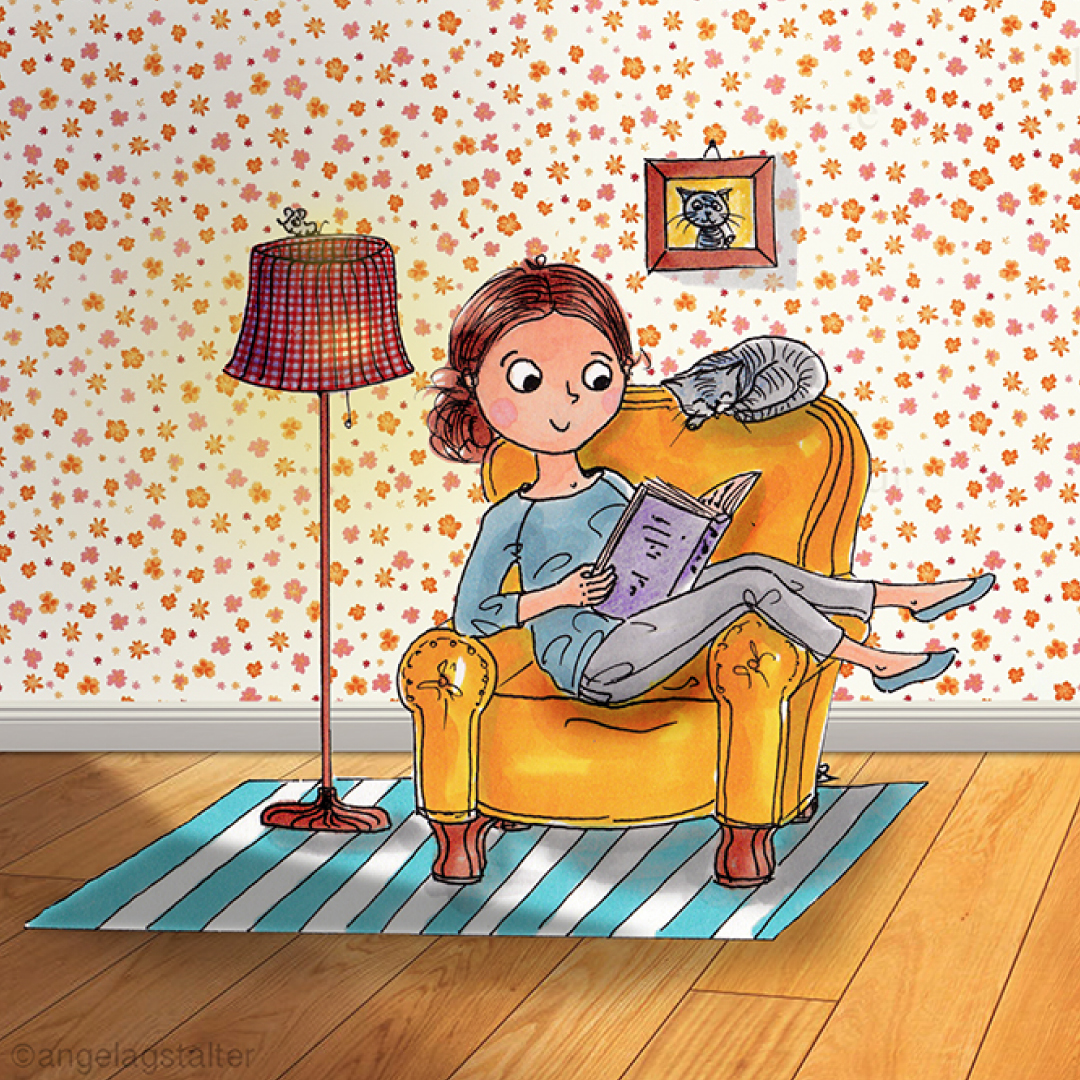 2. Tell us about your aesthetic.
I try to create cute, happy and colourful illustrations for children with my own touch and my own kind of characters, but also classical fashion illustrations. I came from fashion, so it's always important and fun for me to dress my characters. You can see my classic fashion design education in my drawings. I like to draw fashion illustrations, but with my own two children I discovered my big love for children's book illustrations.
3. What is your favourite medium and why?
Watercolours on the one hand and ink pen sketches, coloured with copics on the other hand. Sometimes mixed with coloured pencils to give the drawings more depths. The second point was the way I learned to draw while my fashion education in Berlin and it's the way I'm trained, my comfort zone, perhaps. I know exactly how the pencils react and use it for my way to draw and the effect I want. I always draw four to five layers to create light and shadow in my drawings and the lightness and depths I want. Watercolours are my second love. It is quite more complicated, not so fast and not such an intuitive way for me to draw. More thinking about the effect and the process, always knowing, that one fault will ruin the whole picture. And I sketch my drawings first, so I will be sure, that they will get the look I want them to. I always try to exercise drawings without sketches first, with ink or coal, to become more free and safe in my lines, but this is for my own practice.
4. What is your artistic process like?
First I think about the picture, the characters, what they have to do, the context. In the beginning, I draw for my own children and developed the first little kid's illustrations. For the birthday of good friends, for example. Then I began to draw them more lively, doing a lot of things, till they lived in many cute drawings with funny details, often little animals to discover. Now I have a whole story in my mind, even if it is only one drawing. My fashion illustrations are very classical and to trace the design. Even if I draw my way, you will ever see the handwriting of the designer and recognize the dress.
5. Who and/or what inspires your work?
I must confess, that my children are my greatest inspiration! I know, it sounds a little bit emotional, but that's it. Of course, I loved art, drawing and painting my whole life. But to draw for children and create my own children's illustrations, arose because of my own two children and to see them grow up. And with that, to relive my own childhood. But if I had to notice somebody, Mats Gustafson is my favourite fashion and Ilon Wikland my favourite children's book illustrator.
6. What role does art play in your life? How does it change the way you view the world?
I grow up with an architect as a father and a very talented seamstress (even if it wasn't her real job) with a great passion for fashion as a grandmother. So perhaps it was totally normal for me to draw a lot and began to create fashion for my dolls when I was little. They always supported me to go my way and never criticized my preferred career. It was very clear early, that I wanted to do something with drawing and/or fashion. I loved photography and interior design, too. But to create something new and to draw, was my favourite.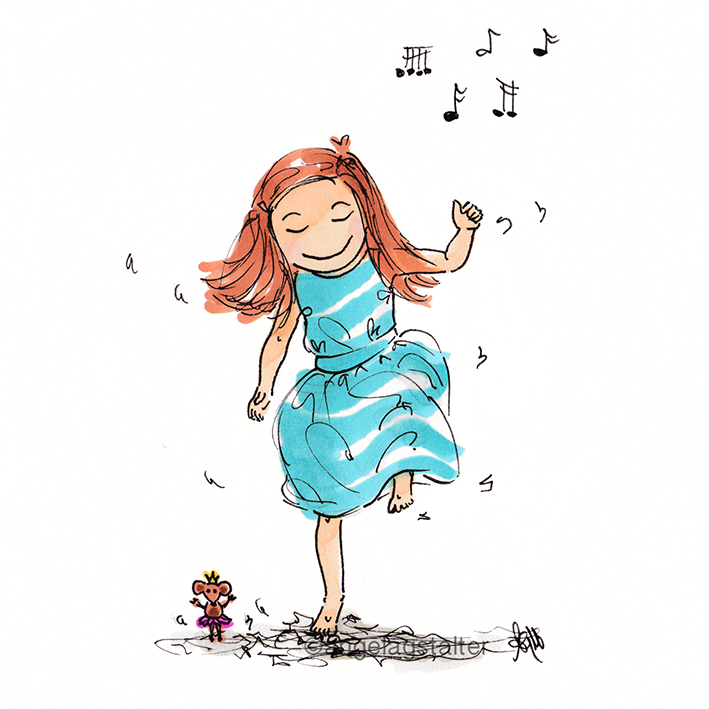 7. Where did you study?
I started with fashion design at the Lette-Verein in Berlin and after a little bit of practice in fashion, I decided to learn additionally how to create graphics and prepare them for printing. Then I worked for five years as a graphic designer in an advertising agency, until I got my own two children and began to draw more and more for them and the children's book market.
8. Where do you see yourself in five years? Working in an agency?
I hope, I will illustrate children's books! And editorial and fashion illustrations for children clothes brands or magazines.
9. What about in ten?
The same!
10. What do you hope to achieve with your art?
To create recognizable children's book characters, dearly beloved by the children to accompany them through their childhood and give them pleasure and fun.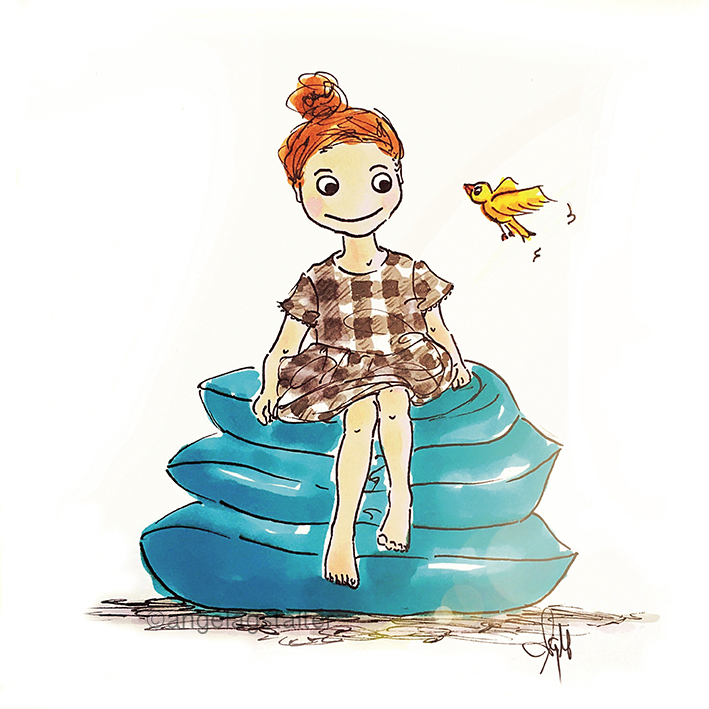 11. Now, tell us a little more about you as a person: what is your favourite food?
A lot of, I must confess! Thai Curry and a good, fresh salad and strawberry tiramisu, perhaps.
12. Favourite book?
The same! I love reading and my bookshelf is really huge. I love the British classics, but also Murakami, Frantzen and all kind of good literature.
13. Favourite genre of music?
Earlier it was more Alternative, but today I find a lot of good music also in the Pop genre, but always with a twist, very rarely the charts.
14. What are your hobbies?
Reading, to be outside (cycling, hiking or just stroll through the woods with my family), meeting my friends and visit new places.
15. If you weren't an artist, what would you be?
Interior or fashion designer :)