Instagram:
@anibushry
Twitter:
@anibushry
Tumblr:
anibushry.tumblr.com
Cargocollective:
www.cargocollective.com/anibushry
1. What's your story? Where are you from?
I'm a freelance illustrator/ graphic designer from the Maldives, originally from the southern most atoll. Although I was brought up and continue to live in the very hectic and densely populated capital, Male' City. Ever since i could remember, I always liked a good story. I used to be a persistent kid, constantly asking my mom to tell me a story, which she rarely read out from a book, but always told it from memory. She sometimes ran out of tales, and made up funny little stories as she went along. Sometimes about her day, that somehow (fictitiously i hope) coincided with some fantastic event. Those were the best ones. Just as enjoyable as the Arabian Night tales, or the local fables with well rounded morals that she used to tell me. I figured that a story can be as grand as a trip to the moon, or it could be a trip from your couch to your fridge. It all depends on how you tell it. I like to think that I have a lot of tales to tell, and it's a constant process of figuring it all out.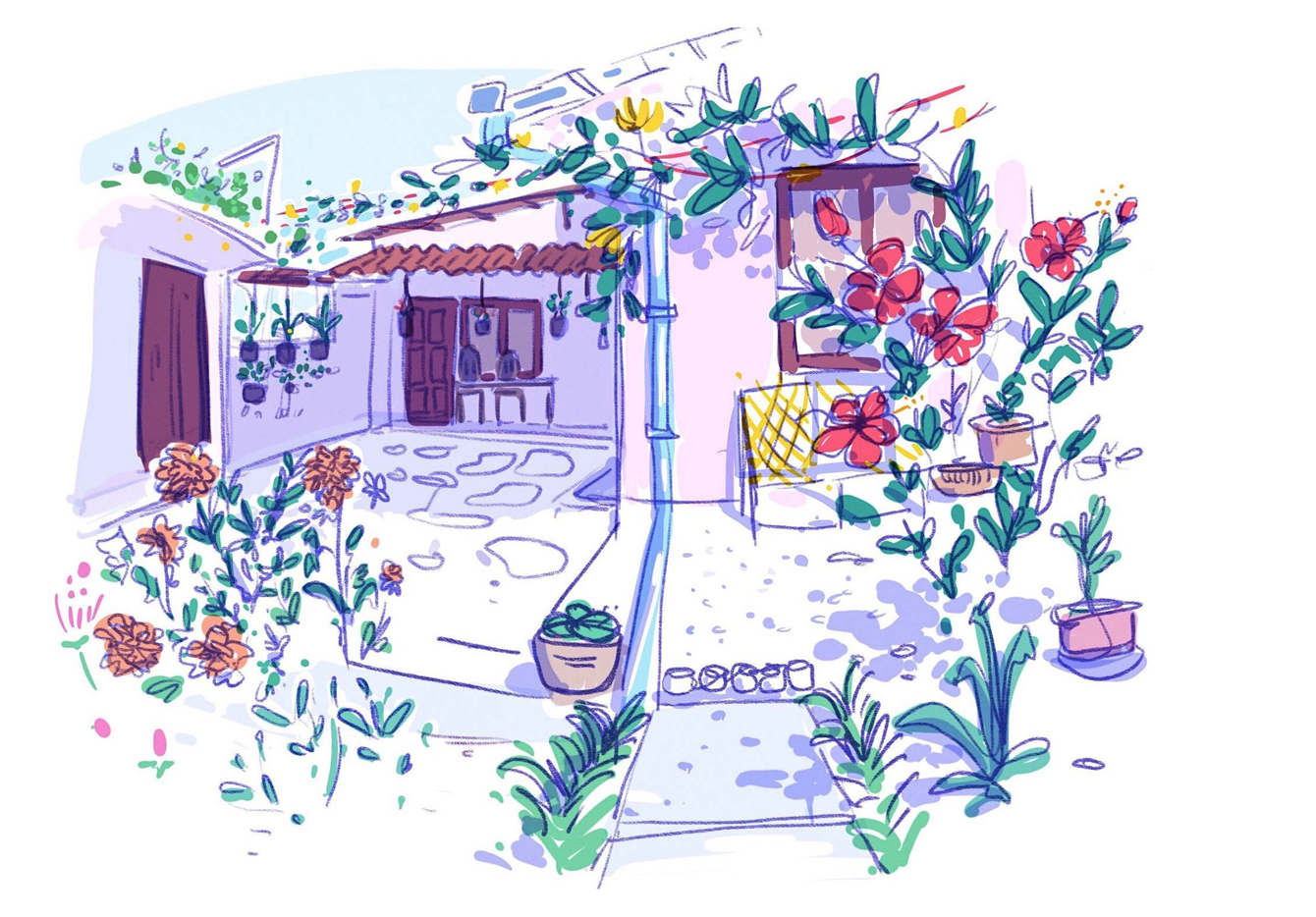 2. Tell us about your aesthetic.
Unless a client has a very specific requirement, I let the narrative decide how the finished work looks like. That way over time you develop your style more intuitively. Most of my work is minimal and simple which i find easy to translate to comics, animation and editorial illustrations. Colour drives a lot of my work, and I like taking my time finding a good palette. I also love to experiment with Dhivehi typography in my work. (It's unique to the Maldives, and not very commonly known around the world).
3. What is your favourite medium and why?
One of my most favourite mediums is something I haven't practiced in a long time, but always have had a soft spot for. Which is making collages (both digital and analogue). Collaging taught me to think about composition, balance, texture and colour-play. Although I haven't done this in a long while, you can still see some of my old work online. I do try to test out new or rarely practiced mediums and techniques both digitally and traditionally to stretch out my legs from time to time.
4. What is your artistic process like?
When it comes to my personal work, I keep a note of things that makes me think, sometimes on my phone or sketch book. It could be part of a conversation, an observation, a shower thought or something. This makes for the basis for some of my short comics which are often inner monologues and reflections. Primarily I work digitally, although my process usually starts from pencil on paper to layout initial sketches and ideas. Moving on to digital, I would either scan the sketches, or do a refined one digitally, and go through couple of stages of cleaning up, lines, and moving on to colour. Although I'm not sure if I have a particular audience that I'm creating things for, its interesting to see how something that you created survives or holds up among viewers. I love it when it hits a chord with someone and they reach out and the joy of creating something comes full circle.
5. Who and/or what inspires your work?
Inspiration for me is part understanding, interpretation and emulation of something that makes you think, maybe its someone's work, or what you read, a conversation, films or just general observations. There is so much to learn from any artist. Everyone has a different approach to their work, and its interesting to look at it from a self reflective perspective. My environment affects my process and the type of work that I do. I like to work instinctively, which has its pros and cons. It enables me to work more naturally, but also this sometimes means long bouts of not being able to work, while you wait for things to align a little bit. I love, love Emily Carroll, Jillian Tamaki, Craig Thompson, Neil Gaiman, Dave McKean - all of them amazing story tellers!
6. What role does art play in your life? How does it change the way you view the world?
It takes up a big chunk from all aspects of my life. Its how I make a living, its also how I unwind and express. Creating needs constant observation, so much so that it has become second nature. I'm constantly gathering tidbits in my head - conversations, colour palettes, gestures, expressions.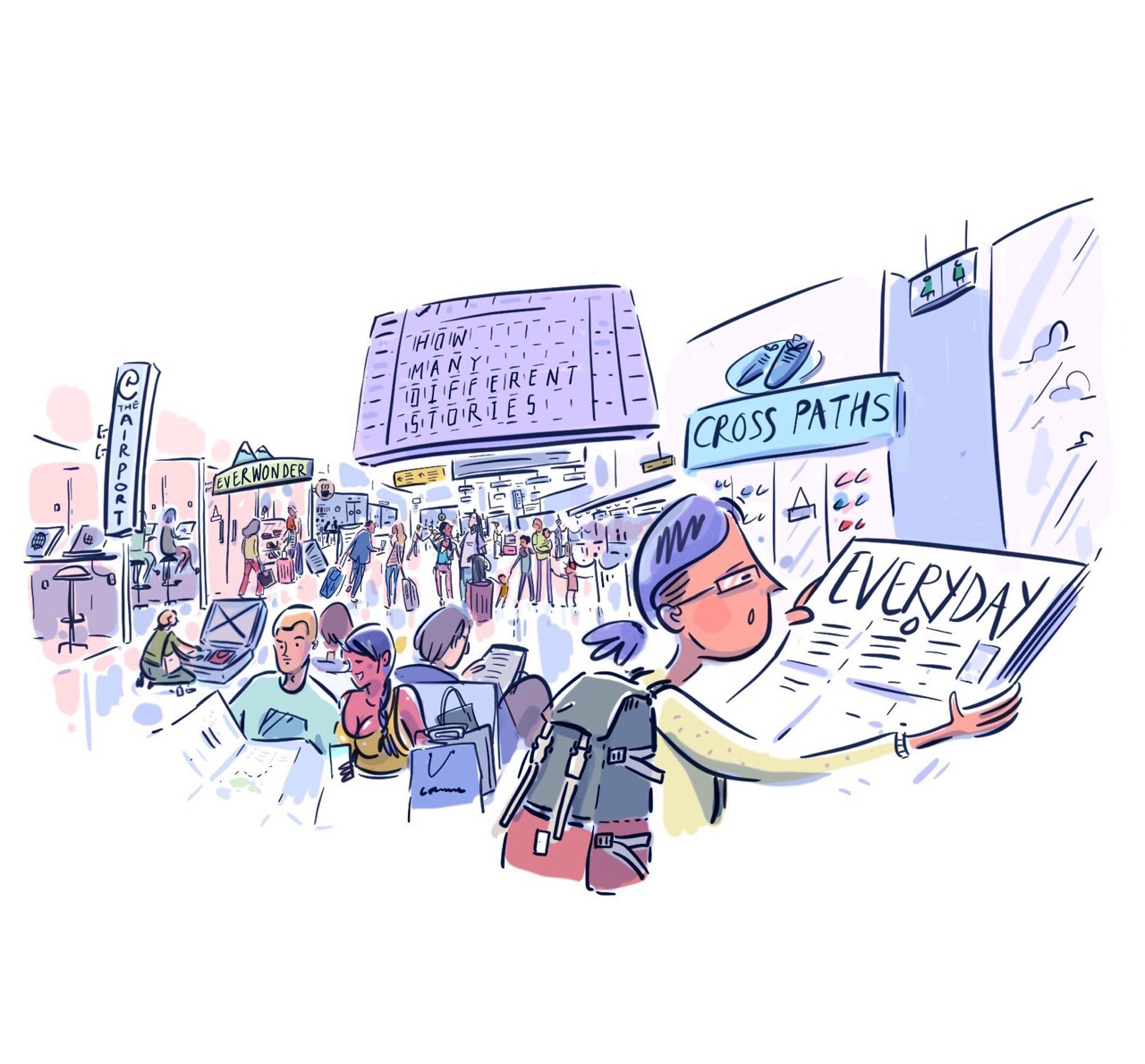 7. Where did you study?
I'm a graduate of University of West of England, Bristol.
8. Where do you see yourself in five years?
Making more personal work, mainly comics. Frequent online publishing, and (fingers crossed) get published in print hopefully.
9. What about in ten?
Have a lot of travelling under my belt, and compiling all that inspiration into a thick book. Maybe by then have done a few New York Times gigs. One can dream!
10. What do you hope to achieve with your art?
Stir up an emotion, poke at a memory, or at the least make people reflect. I also want to create a lot more relatable content in the local context here.
11. Now, tell us a little more about you as a person: what is your favourite food?
All sorts of sandwiches. The more decked out the better.
12. Favourite book?
This thick compilation of Brothers Grimm tales that I used to have, which was leather bound, old as heck, my favourite re-read of all time, which I unfortunately lost while moving homes. I hope I'll come across the same edition in an old bookstore someday.
13. Favourite genre of music?
Not sure if it counts as a favourite, but I think Jazz would be the go to genre given any mood.
14. What are your hobbies?
I love cooking - for myself, friends and family. I also like to stay active to balance all the hours i work sitting down. A little bit of physical exhaustion is good to offset the mental exhaustion that comes from working, so I love going running when I can and occasionally go for swims.
15. If you weren't an artist, what would you be?
Possibly might have gone into writing. Maybe even writing for TV, or along those lines.