Instagram:
@annestalinski
Facebook:
www.facebook.com/AnneStalinskiIllustratie
Tumblr:
dailystalinski.tumblr.com
Behance:
www.behance.net/annestalin65f0
Website:
www.annestalinski.com
1. What's your story? Where are you from?
I grew up in a very creative family, in a town in the north of holland. My father is a graphic designer and my mother had her own bookmaking-business. I have a younger sister who is also an illustrator now (Eva Stalinski, check her out!). Me and my sister work together sometimes. Looking back I definitely was that weird kid that was always drawing. When I was 12, my mother gave me a comic book to keep me occupied, and I liked it so much that I decided to become a comicmaker myself. A few years later I was really into history and, I wanted to become a very sharp infamous cartoonist. And then when I went to art school, I went with illustration. Nowadays I try to combine the three. The name 'Stalinski' was inspired by my grandmother who is from eastern europe. I really liked eastern european things like soviet flats, constructivism and matrushka dolls when I was 18, and so me and my sister decided to give a twist to our real name, and be 'The Stalinski's' from then on. As right now I am a 27 year old illustrator. I do editorial illustrations, comics, cartoons and some personal project. I also like to draw semi-autobiographical comics about myself and my (hopefully) indentifiable struggles and adventures.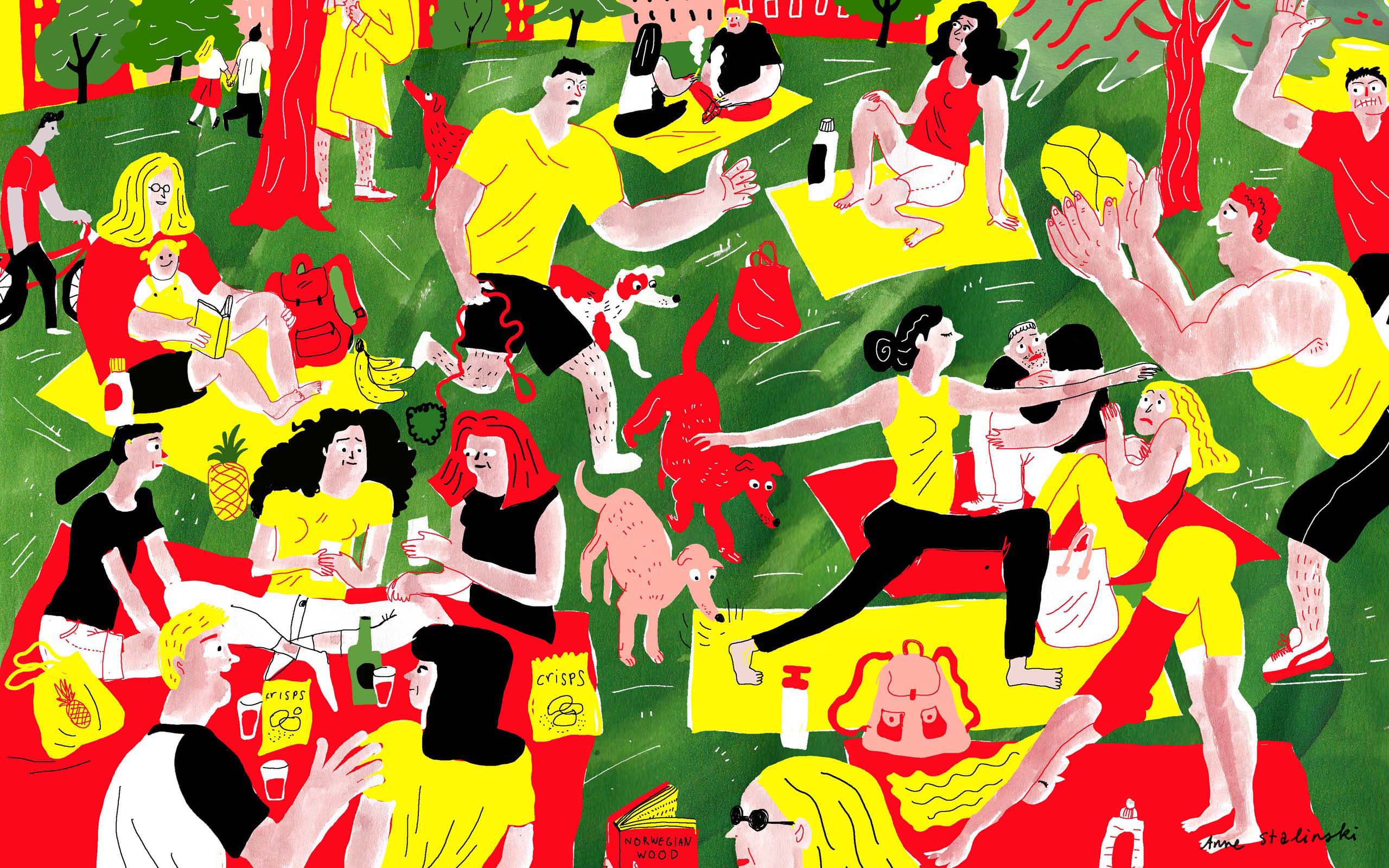 2. Tell us about your aesthetic.
I think my work is colourful, a little quirky and happy, but with a twist, you know? Lots of my illustrations contain text, I really love text! I also really like it when people laugh about my comics or cartoons. I try to find a balance between looseness and control (in work and life, ha!) which you hopefully see in my work. I used to make everything analogue, but recently I've been working digital aswel, and I really like the bold colours and shapes I can put into my work with it.
3. What is your favourite medium and why?
It has to be ink and watercolour. When doing comics, I also heavily rely on my sharpies and fineliners. I have been using ink and watercolours ever since I started drawing, I like that it is very easy to use, and you can make decisions (and mistakes) about colour and transparancy on the go. And then later try and fix it digitally.
4. What is your artistic process like?
This is where it gets messy. I don't have a structured procedure. When I am doing an illustration, most of the time I start by sketching in one of my sketchbooks. I try some different compositions and ideas. Then I do some experiments with colour and different mediums. Then I freak out for not knowing what looks best. Then I go drink tea of fold the laundry. Then I do a more polished drawing of the sketch, put some colour on it, scan it, print it, look at it. I like to put stuff up on my wall where I can see it. Really, the process is very unorganized, but I somehow like the feeling of having to come up with a solution from the mess I'm making. I also like working with tight deadlines, it pressures me to be more decisive. When doing comics, it all feels a little more natural, eventhough it can be quite a puzzle to put all the images and the text together. With comics or other narrative work, I focus on the story first, then the visuals.
5. Who and/or what inspires your work?
Most of my personal project are inspired by everyday trivialities. Currently I am working on a graphic novel about the supermarket, that's pretty 'everyday' right? I really like environments where I can spy on peoples behaviour, like the supermarket. But datingapps are also a nice inspiration. Furthermore I like pictures of groups of people, everything Hokusai and Monty Phyton. Also colour, in general, people on the street. Recently I am into pictures of nighty city-scenes. Images that are somewhat sad and poetic.
6. What role does art play in your life? How does it change the way you view the world?
I can't really imagine living without it, maybe because I grew up in a very creative environment. I always try to surround myself with nice pictures and prints I bought or got from my artistic friends. If I could not draw I think I would feel very disconnected from the world around me. As cheezy as it may sound, drawing and comics sometimes feel like a way of communicating with the rest of the world. I also like how my mind is always looking for new inspiration and ideas, it makes the everyday life more adventurous!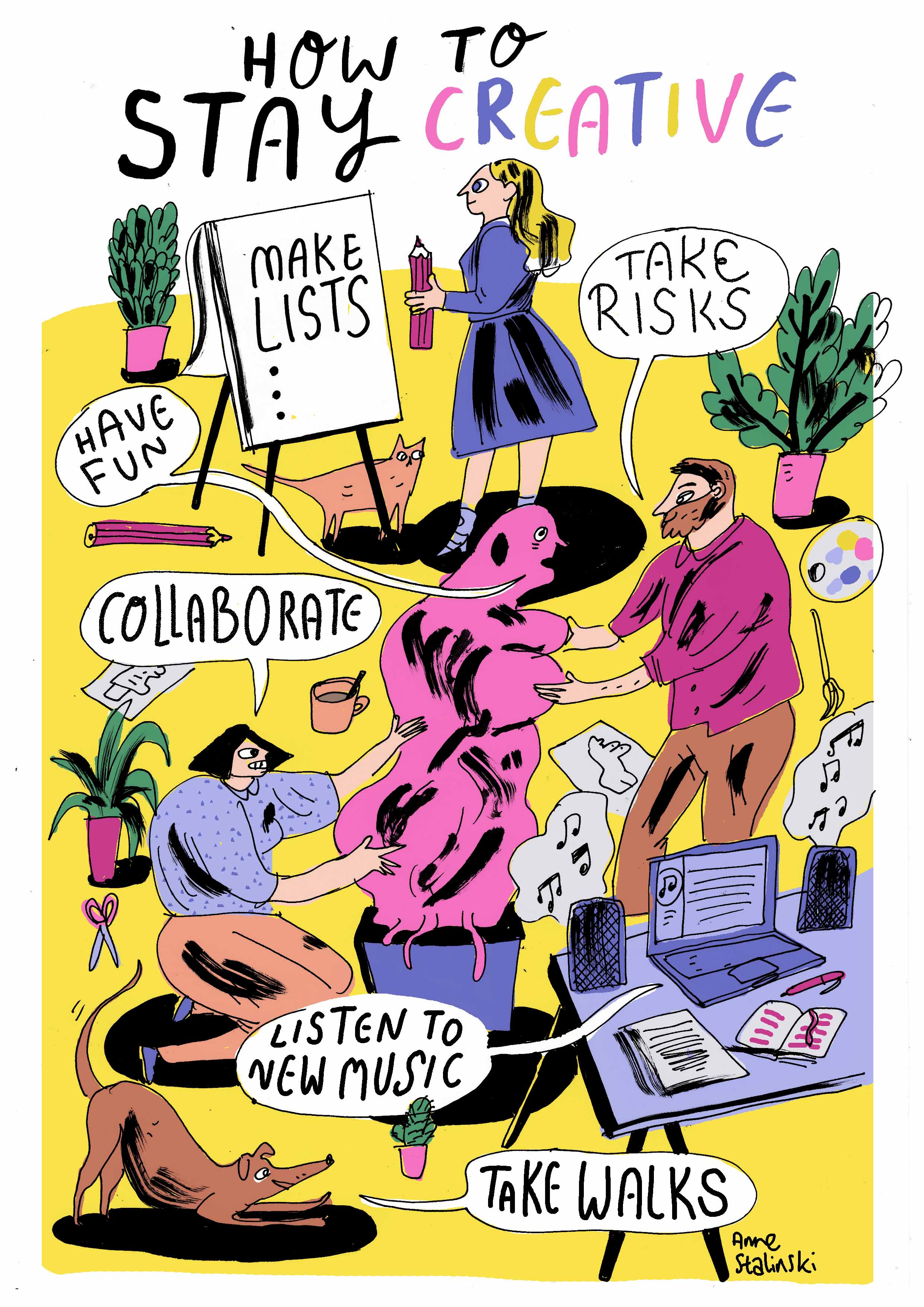 7. Where did you study?
I went to Acacemie Minerva in Groningen, the Netherlands.
8. Where do you see yourself in five years? Working in an agency?
I would love to work with an agency at some point in my career, but not ìn an agency because I really enjoy being self employed. In five years I hope to have made and published at least one or two books (Comics/Graphic novels). I want to do more non-fiction comics, a weekly cartoon in a magazine or newspaper would be great (maybe that's more of 10-year goal..). I hope in 5 year I'll be doing illustrations for a variety of clients and fields. Also I hope to be still doing my own zines and projects.
9. What about in ten?
In ten years I hope to be doing what I am doing now, but better, bigger, making more money and being more infamous. I would also like to start a platform or a blog to collect stories and collaborate with other creatives. And that weekly cartoon. Or a daily one, even better!.
10. What do you hope to achieve with your art?
My work is often about easily overlooked everyday-things. I hope to make other people see all the fun and beauty there is in the world. And if that doesn't work, I'll also be satisfied with "haha, that's funny. I want to buy her book/print/painting".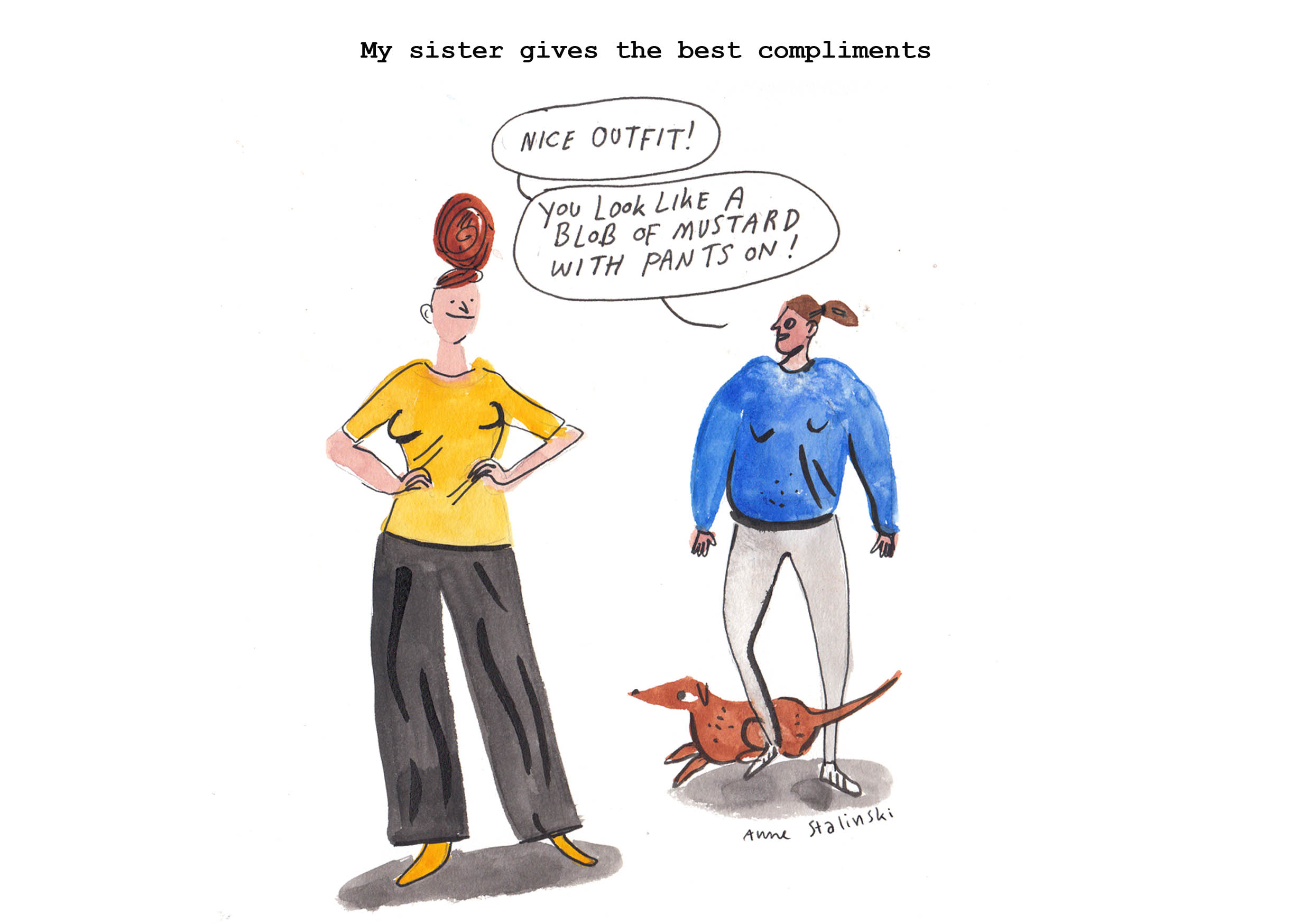 11. Now, tell us a little more about you as a person: what is your favourite food?
Pizza I think. My boyfriend makes really good pizza's. I also like pasta and soup and vegetables.
12. Favourite book?
I just read 'Ant Farm' by Simon Rich and it was hilarious. Some of my recent favorite comicbooks are; 'shit is real' by Aisha Franz and and 'Upside down' by David Heatley.
13. Favourite genre of music?
It changes a lot. I like some occasional punkrock, but also classical music (Beethoven and Stravinsky are always a good idea). When I need to concentrate for long periods of time, I always listen to Canto Ostinato by Simeon Ten Holt.
14. What are your hobbies?
I don't really have hobbies, ever since the 'let's turn my hobby into my career'-thing. But I do like to dance, and to stroll through big warehouses like IKEA. I also like writing and riding my bike. Also; sorting my clothes by colour and hanging out with friends.
15. If you weren't an artist, what would you be?
A spy or private investigator. But probably a very bad one, because I am not good at lying and very bad at going unnoticed.