Instagram:
@annukilpelainen
Website:
www.annukil.com
1. What's your story? Where are you from?
I grew up in east Finland, in the area known as Lakeland. 25% of it is water but there are hardly any people there. Past 10 years I have spent in London (except the very last one in Australia).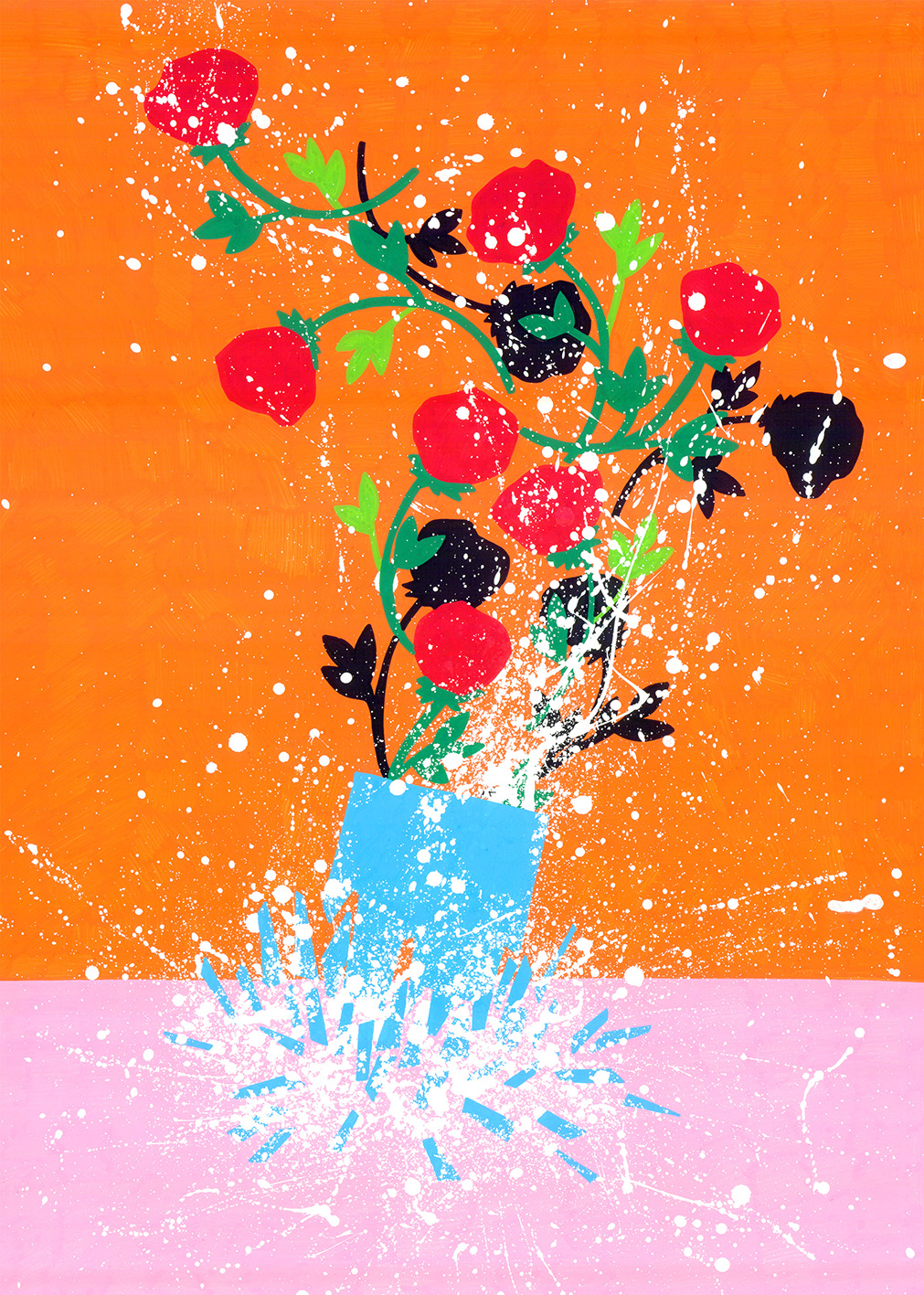 2. Tell us about your aesthetic.
Anything people devote huge amounts of free time to is really interesting and becomes aesthetically interesting too. Like people doing up their cars or grander projects like Pearl Fryars Topiary Garden or Leonard Knights Salvation Mountain.
3. What is your favourite medium and why?
Acrylic markers have been my main medium for a while, they have bright pigments and they dry fast. I have been messing up with other paints every now and then too and hopefully do more of that in the future.
4. What is your artistic process like?
Working on commissions includes a lot more stylised sketching to get the message out of my head to the other side. Working on personal artwork I splash colours on the paper to make some kind of sense what colour combination would work for the idea I have in my mind and all the sketches are very loose. After this both are quite similar, I pencil outlines and colour in while watching a documentary, as music makes me dance and that's not good while drawing.
5. Who and/or what inspires your work?
People on the street, other artists and friends. Films are a big source of inspiration too, I like the cinematic storytelling of quick close-ups and long-spanning shots where not much happens.
6. What role does art play in your life? How does it change the way you view the world?
Freelancing has changed my life into a blurry mixture of life and work and that's great. I take a lot more photos of stupid things and make up imaginary stories of people on the streets. There was a lot of different exercises while I was studying on noticing things, like walking around and only looking at red things. But I am quite normal I guess, I don't go out only staring at red stuff but I do pay attention to what is happening around me.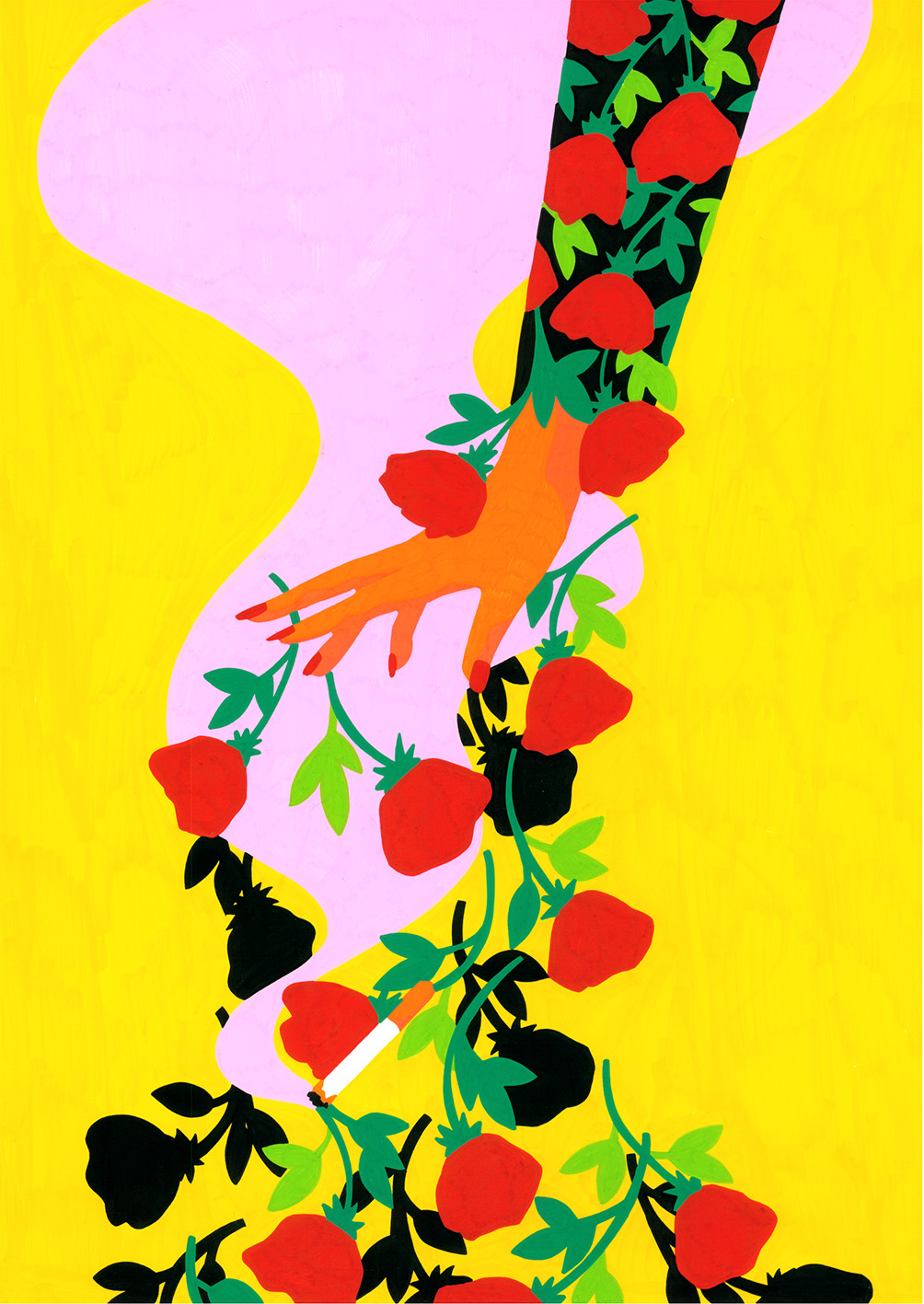 7. Where did you study?
University of the Arts London, London College Of Communication
8. Where do you see yourself in five years? Working in an agency?
Doing bigger variety of things and exploring new ways of keeping things interesting
9. What about in ten?
The same, but definitely in the sunshine.
10. What do you hope to achieve with your art?
As long as it is interesting to me and I get by doing it then I am happy. It is amazing if people can relate to the images and link them to particular moments in their lives or just look at something and say I like that. That is important, just to look and feel good.
11. Now, tell us a little more about you as a person: what is your favourite food?
Sushi in all forms. Thought now that its getting cold I wind up thinking warm things. I really like snacking porridge pies but I am not great at making them and you can't really easily get them from around here. Also for a short while in Australia, I thought I could have lived on ice lollies and fruit.
12. Favourite book?
I have just recently got back to reading. I can draw for hours but reading 2 pages makes my brain wander to other things. I could recommend so many great documentaries though, Mission Blue (about Sylvia Earle the marine biologist), Buck (Horse whisperer film was based on this guy), Grey Gardens (!!!) and I'm going to see 'Before the Flood' and 'Louis Theroux My Scientology Movie' next week.
13. Favourite genre of music?
Very hard to say. I get stuck to listening to something for ages usually, different playlists. I did so many runs through the Stranger Things unofficial soundtrack and Björk concert was the best show I have ever seen. But usually melodic things that make me feel good.
14. What are your hobbies?
Snowboarding or well only got back to it after few years break this year so should start doing it more again.
15. If you weren't an artist, what would you be?
As a kid, I wanted to be a makeup artist for circus so I could hang out with fun people and travel haha but my friends are fun and I travel so I would love to be a scientist.