Instagram:
@apakstudio
Website:
www.apakstudio.com
1. What's your story? Where are you from?
Ayumi is from Saitama Japan, Aaron is from Grand Rapids Michigan. We met in art school in Michigan in 1997 and have been married for the past 20 years. In 2017, we decided to separate but we still make art together and raise our son together.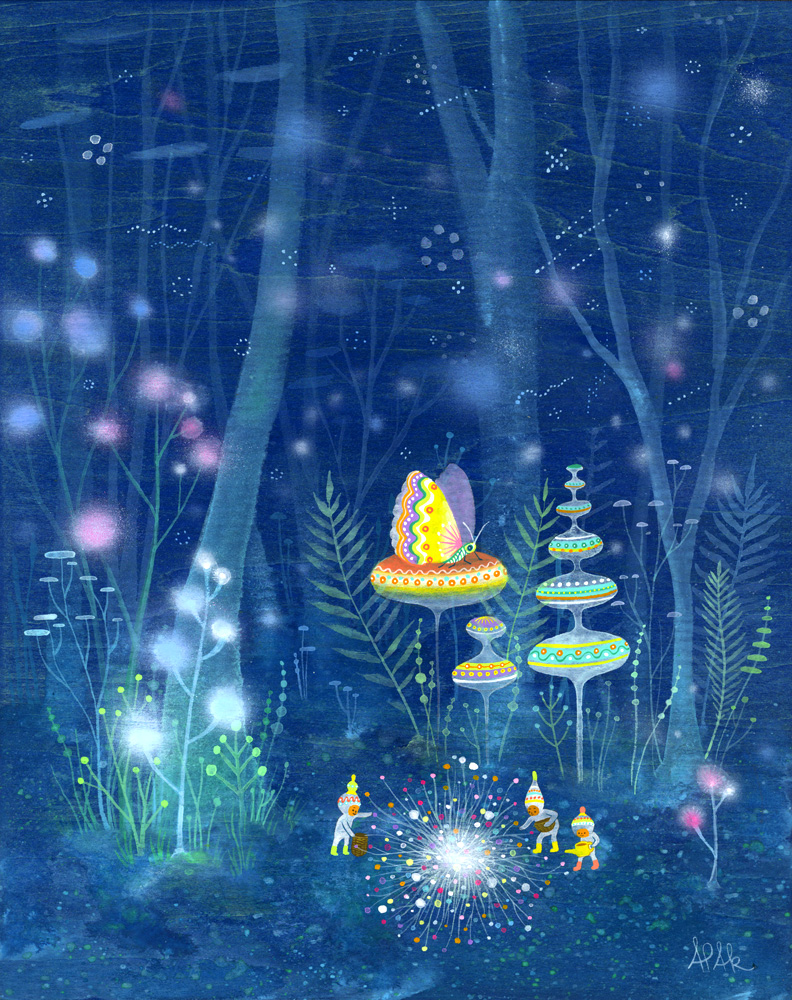 2. Tell us about your aesthetic.
We create rich and colorful gouache/acrylic paintings on wood featuring the utopian lives and adventures of curious little beings living harmoniously in a lush fantastic parallel world surrounded by friendly little animals.
3. What is your favourite medium and why?
We like Acrylic Gouache because it allows us to paint transparently or opaquely. We prefer to paint on wood because it reminds us that nature is the greatest artist and we feel grateful to collaborate with her.
4. What is your artistic process like?
Aaron starts the pieces by painting the environments and passes the art over to Ayumi to explore with her characters. Ayumi passes it back to Aaron to add the finishing touches. Sometimes it goes back and forth 2-3 times until it's done. It's a good formula that works for us because we each get to do what we like emphasizing our strengths and making up for our weaknesses.
5. Who and/or what inspires your work?
Ayumi has always been interested in characters and their stories maybe because she grew up in Japan, Sanrio characters have been a major influence for her as a child. Aaron has always been interested in plants and nature maybe because he was born in the Appalachian mountains. His mom was an art teacher and planted the creativity seed at a young age.
6. What role does art play in your life? How does it change the way you view the world?
Art brought us together and has been an important aspect of our relationship. Everything is art so it's hard to separate life from art but Aaron spends much of his time admiring the magnificent creation of nature, being in the moment, and exploring life with our son Aki. For Ayumi, art is a way of grounding herself in her life. It is like a meditation or journaling, reflecting on herself and the world she lives in.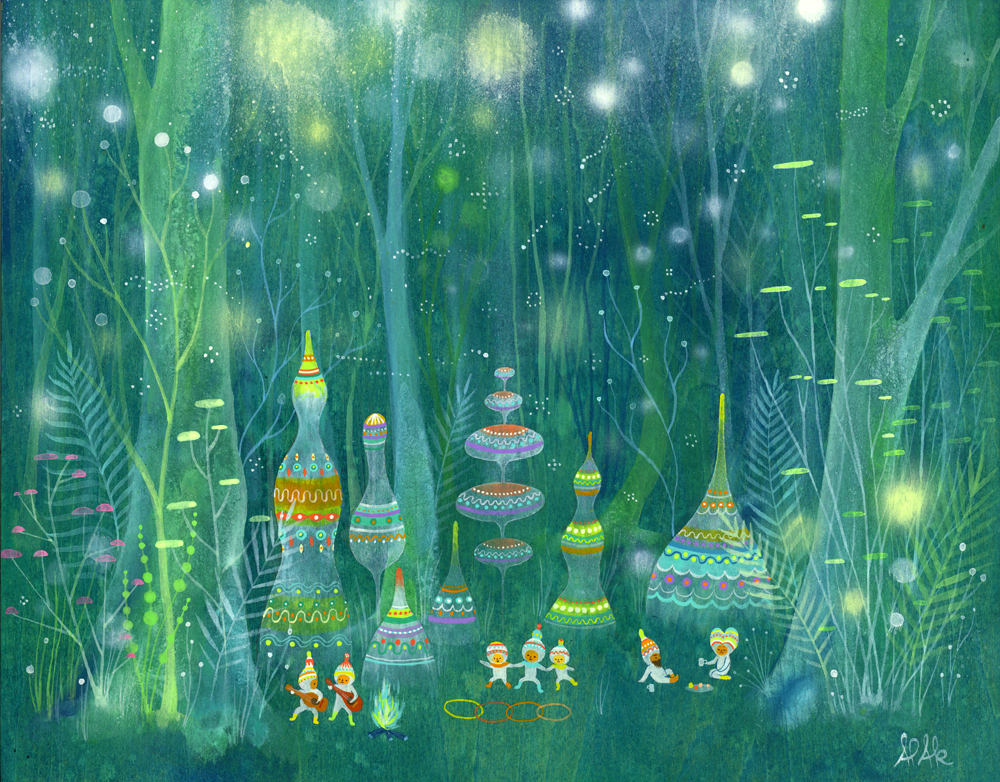 7. Where did you study?
Kendall College of Art and Design
8. Where do you see yourself in five years?
Aaron: Backpacking the PCT Ayumi: Traveling overseas discovering new flavors
9. What about in ten?
Aaron: Living in a utopian commune Ayumi: More traveling overseas discovering alleys
10. What do you hope to achieve with your art?
Aaron: Remind people that there are other worlds that exist that are less dense Ayumi: Appreciation and simplicity in life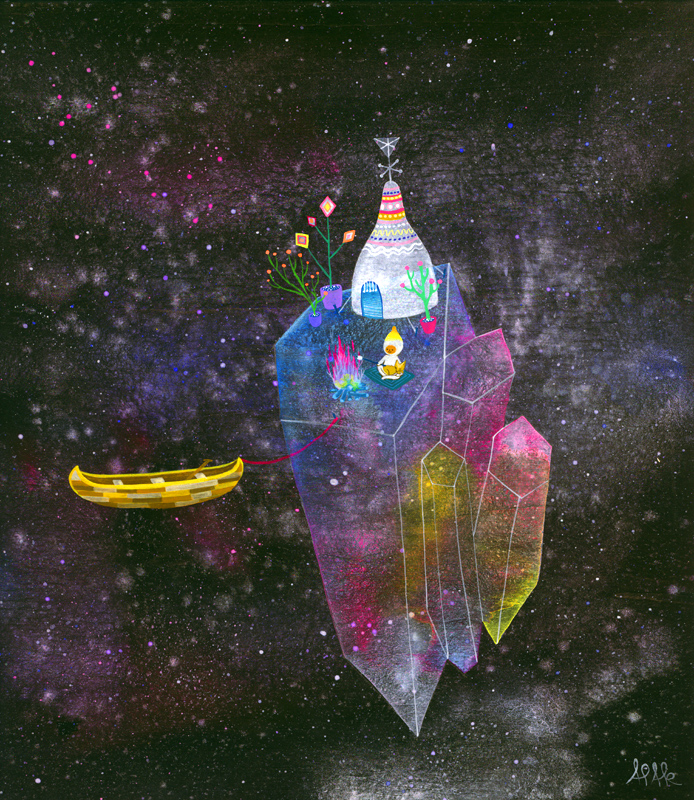 11. Now, tell us a little more about you as a person: what is your favourite food?
Aaron: Lately I've been enjoying cooking vegan grilled cheese Ayumi: Asian noodle soups any time of the day any season.
12. Favourite book?
Aaron: Ishmael Ayumi: Momo
13. Favourite genre of music?
Aaron: Future Folk New Age Electro Ayumi: Folk Electro African jazz
14. What are your hobbies?
Aaron: Watching People, Exploring the Earth, Looking at Stars, Breathing Deeply Ayumi: Cooking and eating with friends. Moving my body and doing yoga. Occasionally bouldering and swimming. Paddleboarding will be a new hobby to be next summer.
15. If you weren't an artist, what would you be?
Aaron: A botanist. Ayumi: I'm already working as a dental assistant and really enjoying it.