Instagram:
@apricotjoy
Twitter:
@apricotjoy
Tumblr:
littleapril.tumblr.com
Website:
www.aprilmilne.com
1. What's your story? Where are you from?
I was born in Montreal, but my parents moved to Vancouver when I was a baby, so I've basically lived here my whole life. I think a lot of people who grow up in Vancouver feel ambivalent towards it, and there were a lot of times growing up when I felt like I hated this city. But I'm really glad now that I grew up here. It's so beautiful, and I love the diversity of the city and the friendships that I have here. It feels representative of my family -- my mom is Filipino and my dad is Canadian. It's my home.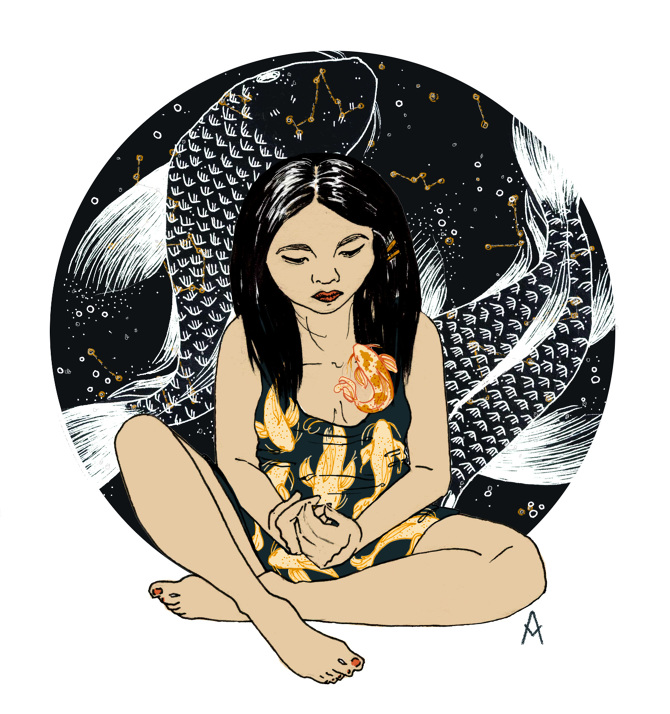 2. Tell us about your aesthetic.
Honestly, this is something I'm struggling with. I think every artist innately has a 'fingerprint' -- you can see their spirit in the particular way they draw a line -- but I still feel like I'm struggling to find a consistent way to express myself through my art. I don't know that I have a particular 'style' the way many illustrators do. And I resent the pressure to have a style, a little bit -- all I want to do is play. I don't want to feel confined.
3. What is your favourite medium and why?
I like working with a mixture of graphite, brush pens, and coloured pencils. I especially love brush pens from Daiso and Yokoyaya 123 (local Japanese dollar stores)! They are honestly the bomb.ca.
4. What is your artistic process like?
The art I make is very much tied to the poetry I write, which might not always be apparent in what I post online. I usually start off with either a line of poetry that I've written, or sometimes a dream-image that's still floating around in my headspace, and make a few thumbnails. Then I move on from there...
5. Who and/or what inspires your work?
Growing up on the Northwest coast; relationships; memories and the way we perceive them. Night-dreams and daydreams.
6. What role does art play in your life? How does it change the way you view the world?
In a general sense, art has taught me to look at things more carefully, to reflect and question and prod. Drawing especially - I draw every day. It's a way for me to process, to unwind. Often it helps me to listen, and more often still it helps me to communicate.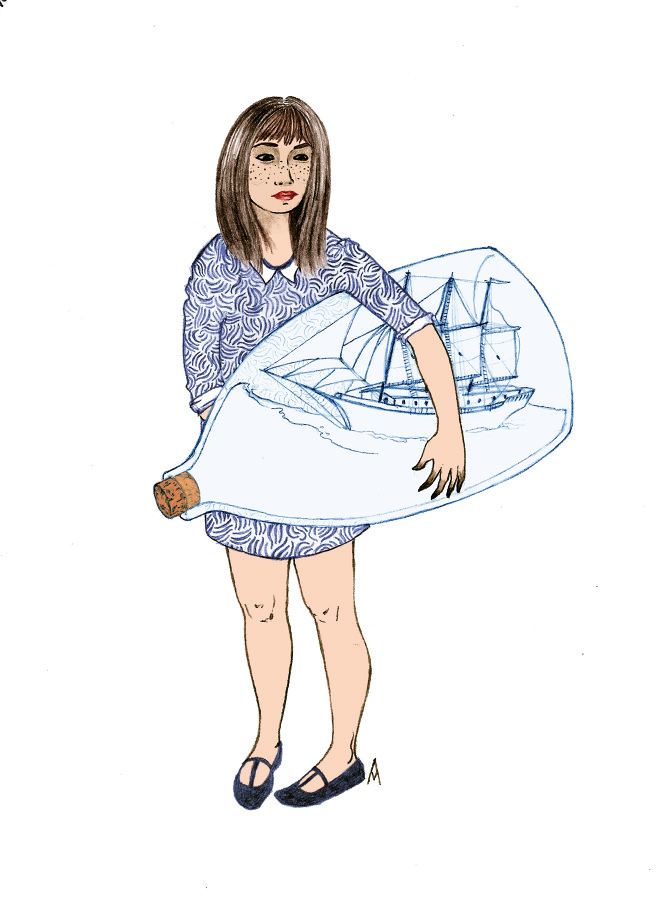 7. Where did you study?
I was in the Fine Arts program at Langara College for two years before I transferred to Emily Carr University of Art + Design, where I got a BFA in Illustration.
8. Where do you see yourself in five years? Working in an agency?
In five years I'd like to be a published author/illustrator, ideally. Fingas crossed! Perhaps I will be working in an agency, I'm not sure.
9. What about in ten?
In ten years I'd hopefully be doing the same thing that I see myself doing in five years... I'd also like to be supporting myself solely through my art and my writing. This is the ideal plan, though I have slim hopes about this actually happening. Writing and illustrating books and children's books is my biggest dream.
10. What do you hope to achieve with your art?
It sounds super corny but I want to bring magic into someone's life. I remember being a little kid and obsessing over the Chronicles of Narnia and Peanuts. I remember being older and finding so much solace in the painting 'Girl with a Pearl Earring'. So many books, comics, and artworks have made my life multitudes richer. I'd like the work I create to do that in turn.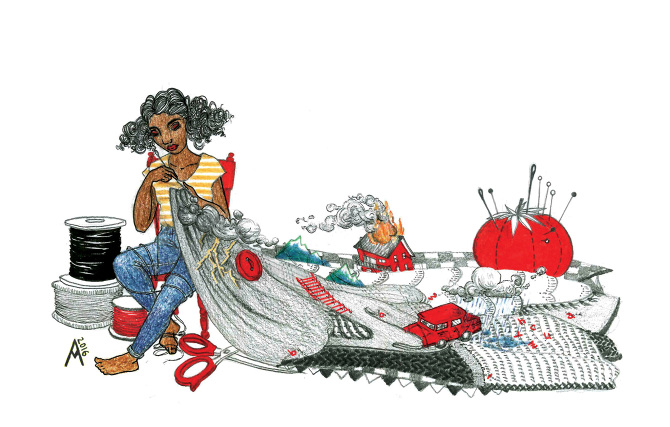 11. Now, tell us a little more about you as a person: what is your favourite food?
Augh! Everything! I'm a snacker.
12. Favourite book?
I'm a hugely indecisive person and I love books so this is an impossible question. I can give you an immediate-but-not-wholly-representative top-three though: the Chronicles of Narnia, Your Voice in My Head by Emma Forrest, and the Little Prince.
13. Favourite genre of music?
Anything on CBC Radio 2. Also hip-hop.
14. What are your hobbies?
A good TV show is usually at the forefront of my slacking off time. I just finished watching The Night Of, and I'm currently on season 4 of The Wire. (Ten years late, I know.) Another big hobby of mine is napping. A solid nap is a key to living a rich and fulfilled life.
15. If you weren't an artist, what would you be?
A librarian. Or maybe I'd be making music for movie soundtracks...which has always been a secret dream.