Instagram: @aromju
Website: www.aromju.com
1. What's your story? Where are you from?
Hi, I am Arom Ju. I am currently working as a freelance illustrator based in Seoul, Korea.
I studied Textile art and Fashion design at university and then worked as a textile designer at a company for two years. Regular company life didn't suit me too well, so I decided to quit to become a freelance illustrator. Among other things, the freedom to work hours I set for myself (all night long if I want, rather than the usual 9 to whenever) suits me far better.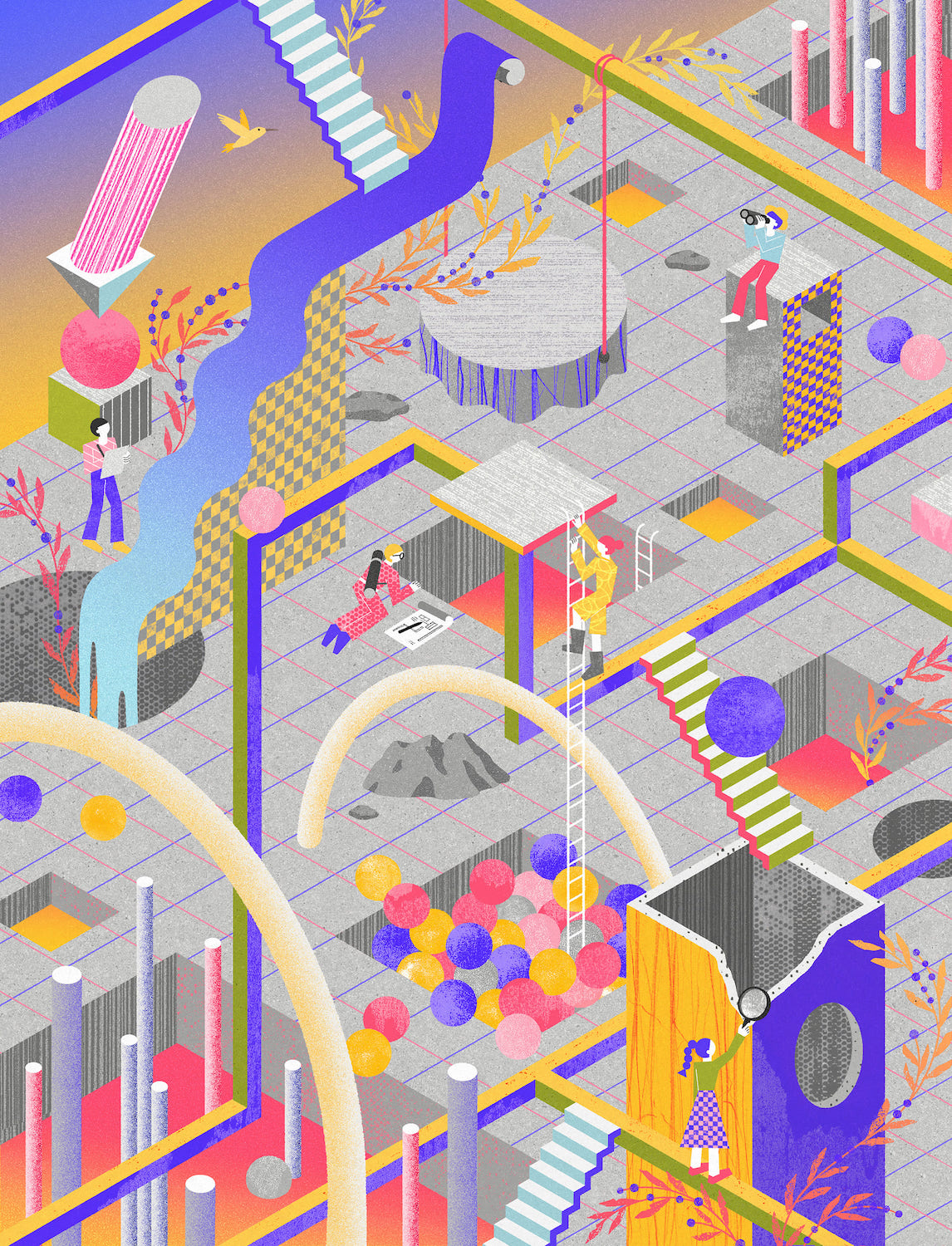 2. Tell us about your aesthetic.
I like to create unfamiliar but attractive visual harmonies where elements that might not fit in the real world come together in the picture. I am attracted to surrealistic expressions. I particularly like to use grid patterns. I prefer vivid as opposed to blurry colours, and refined expressions rather than unclear or distracting ones.
3. What is your favourite medium and why?
I would say mixed medium. I use both hand work and digital work. I tend to use Photoshop for finishing touches and most of latter part of the work, but I really like to make sources of the work (such as textures, patterns, etc.) using various materials before I start working digitally. So, I guess that's kind of mixed medium, not just one medium.
4. What is your artistic process like?
I tend to take notes of what comes to mind at various moments of my daily life, when I'm reading books, watching TV or taking a walk. When a video is floating in my head, I draw a rough sketch of it in a drawing book. That way, things accumulate and end up gathering as one theme. Later, I'll build up the overall image based on those accumulated images and work it out from there. Parts are gathered, organized and then connected to the work.
5. Who and/or what inspires your work?
I think the will to break away from reality and everyday life inspires me to work.
The starting point for most of the work begins with negative reality and frustrating daily life, but the process of unraveling it into a work is expressed with bright and hopeful content through positive and entertaining 'imaginations'.
6. What role does art play in your life? How does it change the way you view the world?
I think that even the same ordinary scene or event in daily life can be expressed completely differently depending on the artist's perspective and thoughts, and that's why art exists. Art makes me look at things from a different perspective and think about what I wouldn't usually consider; it also enriches my existing emotions.
It's also the thing I'm currently most concerned with in terms of my own work; I would be thrilled if my work could also play that role for someone else through a different perspective.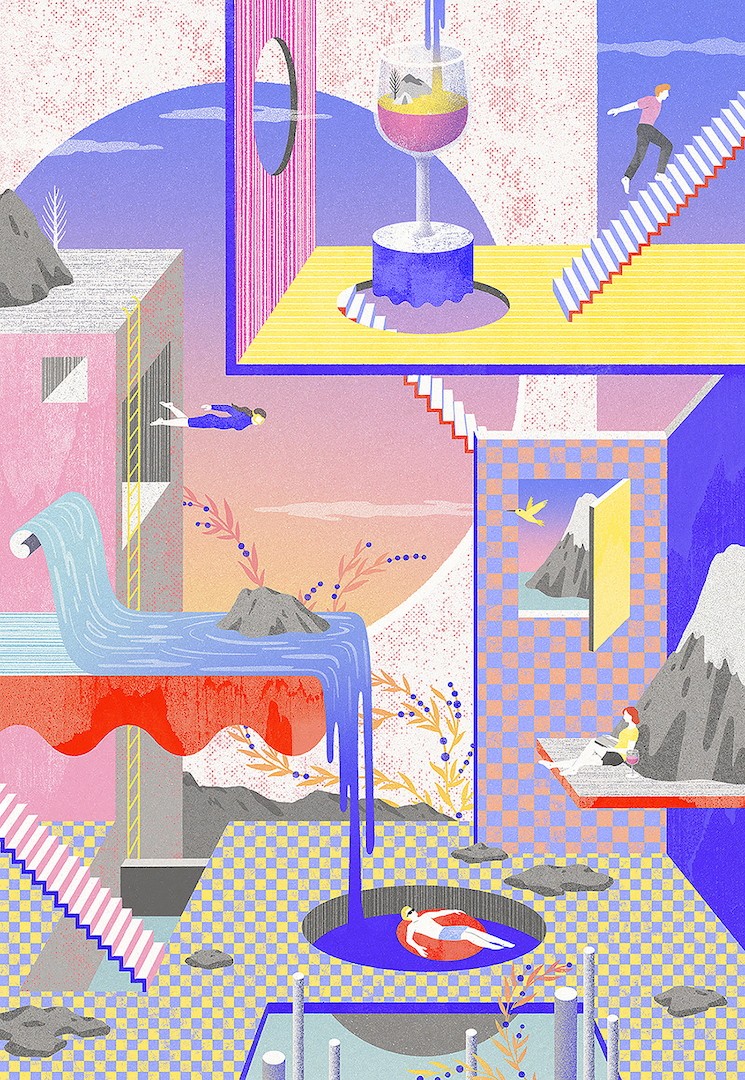 7. Where did you study?
I studied at Hongik University in Seoul, Korea.
Funnily enough, having worked as a freelance illustrator for several years, I am now studying at Hongik again for a Master's degree in Illustration.
8. Where do you see yourself in five years?
I want to continue to work as I do now and hopefully I will have a more distinct identity as an artist and be able to work more actively through independent publishing, picture books, commercial exhibitions, etc..
9. What about in ten?
I know that the most difficult and important thing to do is produce good work consistently. Many parts of my life will change, but I want to see myself working as an illustrator/artist steadily even after 10 years.
It would be nice to have developed a stronger personal identity and richer themes in the work and, perhaps, also be able to enjoy it with a more relaxed mind.
10. What do you hope to achieve with your art?
I want to be an illustrator who can move freely, without putting limits on the media through which I express my work. I want to work in various fields including independent publishing, picture book, commercial, exhibition, etc.
Although illustration is painting that puts purpose first, I constantly think about the identity of my painting and reflect myself in it. Rather than being trapped in one genre or purpose, my goal is to cross media and eventually become an artist with a more distinct identity.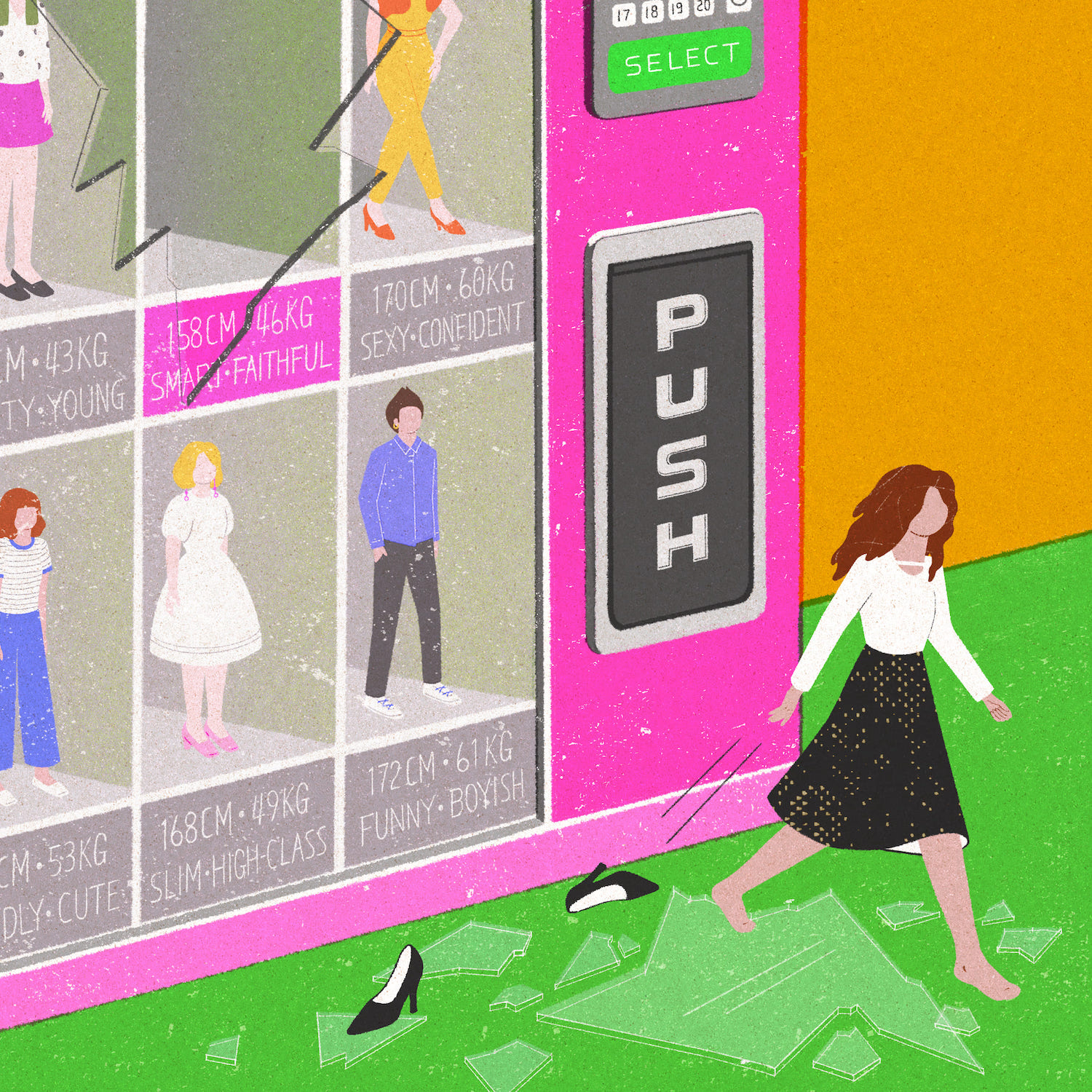 11. Now, tell us a little more about you as a person: what is your favourite food?
Rice! Risotto, fried rice, and pilaf. I like rice more than noodles.
12. Favourite book?
Sophie Calle's Exquisite Pain
Beyond the book's function of simply delivering text, it is a book that is intended to deliver more intuitively and intensely by visually utilizing the book's properties. I want to say that it is a work of art rather than a book.
13. Favourite genre of music?
I listen to hip-hop, modern rock, jazz, and other genres depending on my mood. When I work on pictures, I usually like to work with Lofi beats in the background.
14. What are your hobbies?
Walking with my dogs Eunbi and Kkabi, shopping, visiting beautiful places, and going to exhibitions.
15. If you weren't an artist, what would you be?
Probably a lawyer. Until middle school, when I was asked what my dream was, I would always say "painter" or "lawyer." Now that I think about it, I think it's a very different kind of job, but I think the two opposite sides coexist within me. After high school, I decided to go to art school and ended up walking that path but, otherwise, maybe I might have studied hard and become a lawyer.