Instagram:
@artemsolop
Tumblr:
motloch.tumblr.com
Behance:
www.behance.net/artemsolop
1. What's your story? Where are you from?
I'm from Ukraine, spent my post soviet childhood and teenage years by drawing cars and Turtles, watching Van Damme movies and playing 8 bit games. I had huge interest in graffiti and music and was dreaming to become a comic artist. Started my career as a graphic designer, but 7 years ago moved to video game industry. Currently I'm 32, I live in China and work as full time Art Director for video games.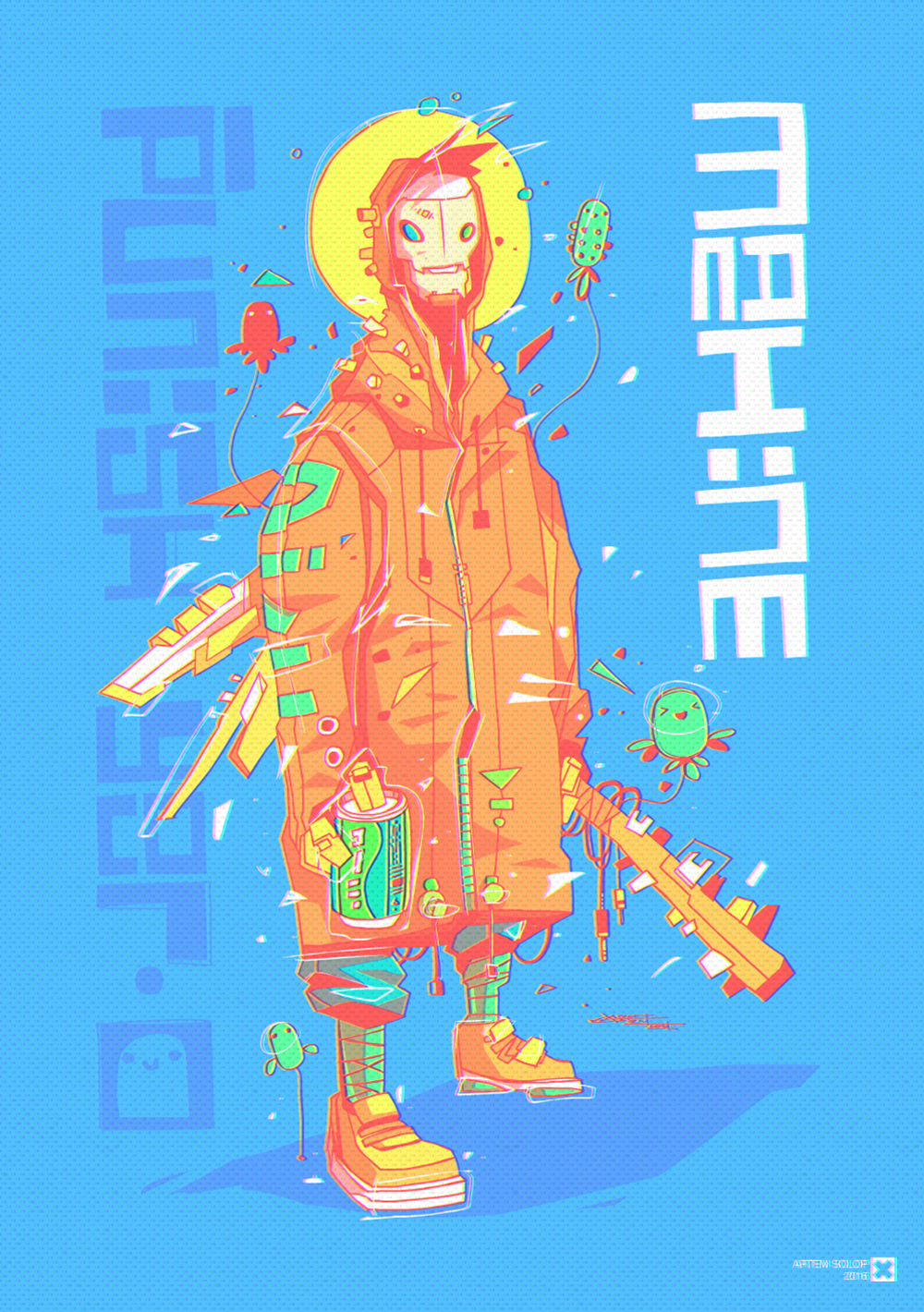 2. Tell us about your aesthetic.
Brutal, energetic and vivid style with strong visual impact. A mixture of comics, graffiti, poster art and graphic design. Sketch and vector graphics are my favourite visual expression tools
3. What is your favourite medium and why?
Ballpoint pen (0,7 mm thickness at least). I like the ability to use pressure to control the line thickness when accidental marks and stains provide feeling of picture being produced quickly in dirty environment.
4. What is your artistic process like?
I draw in sketchbook, scan it and throw some digital madness over it. Textures, filters and stuff. If drawing is especially good I take my Cintiq to put vector lines over it. I use Flash for lines and colours while adding details and typography in Illustrator.
5. Who and/or what inspires your work?
Music (80-90's stuff mostly), Nintendo and Playstation video games, 80-90's anime, graffiti. Akira, Wipeout XL, Jet Set Radio, Designers Republic, Futura 2000…
6. What role does art play in your life? How does it change the way you view the world?
Probably important role. I don't know. I just transform visual noise into another type of visual noise and sometimes think of talent being a God punishment, not a gift.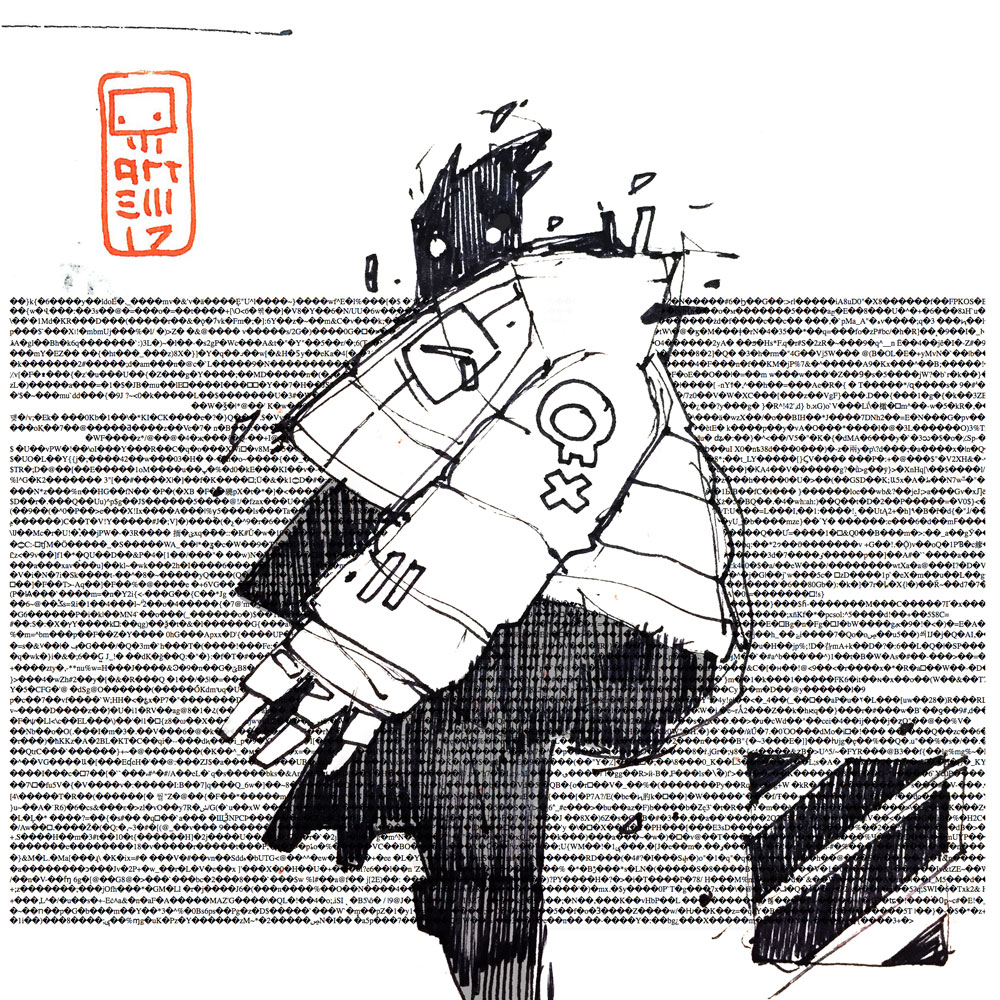 7. Where did you study?
Art school and university in my hometown Mykolayiv. I'm bachelor of graphics design and stuff.
8. Where do you see yourself in five years? Working in an agency?
Agency? No way! I heard designers are required to wear suits there. I'll return to Europe, keep myself busy in video game industry but paint canvas and make album covers in free time.
9. What about in ten?
Chopping off my ear in bathroom during coffee break in an Agency.
10. What do you hope to achieve with your art?
Fame, glory, respect.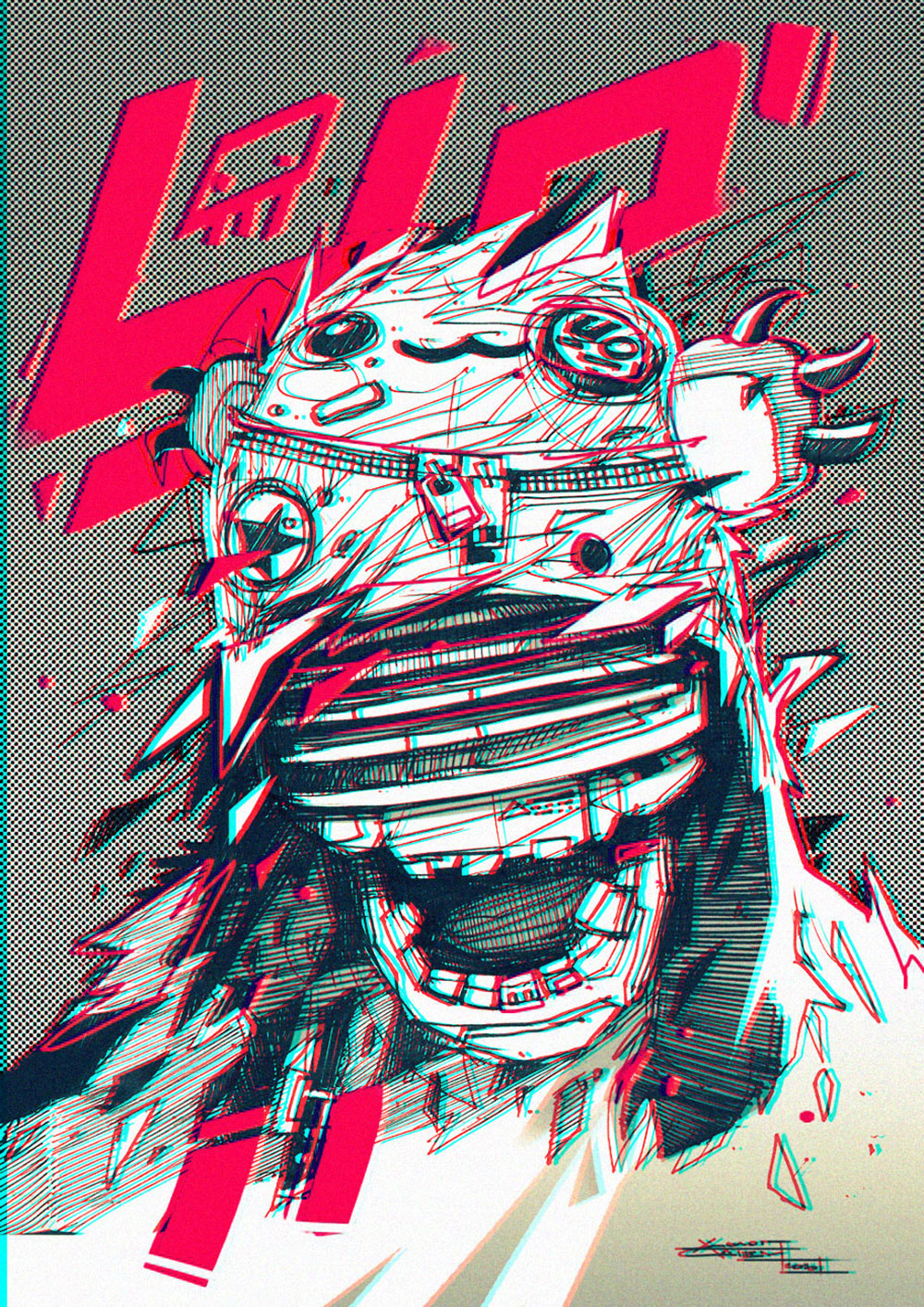 11. Now, tell us a little more about you as a person: what is your favourite food?
Anything cooked by my lovely wife Nataly.
12. Favourite book?
The Old Man and the Sea by Ernest Hemingway.
13. Favourite genre of music?
There's no simple answer here. Synth pop, acid house, breakbeat, electro industrial, punk, new wave, brit pop...I like The Clash, Pet Shop Boys, Yello, 808 State, Oasis, Blur, The Charlatans, Underworld, New Order, The Orb, Front 242 etc. 90's albums of David Bowie are amazing. Of course I listen to Talking Heads, Misfits,Nine Inch Nails and Rob Zombie. Beastie Boys and DJ Shadow are great examples of creative musical approach. Indie dance, nu-disco stuff is cool too - TRST, Cut Copy, Neon Indian, Holy Ghost… Have you heard of Kauf, Client Liaison? I discovered Bandcamp and Soundcloud in 2012 and this is my source of music since then. I like post punk and retro, synth, chill, vapor - all this "wave" kind of music there.
14. What are your hobbies?
I make lo-fi electronic music. Processing cheap drum machine and Nintendo through guitar pedals and stuff. It's awful but this is how creative freedom sounds like. Currently obsessed with plastic models of Japanese robots.
15. If you weren't an artist, what would you be?
Unemployed.