Instagram:
@artshobi
Facebook:
www.facebook.com/crqd14
Website:
www.artshobi.com
1. What's your story? Where are you from?
I'm illustrator Shobi, drawing the temperature of life. Sometimes I want to share warm temperatures and sometimes cool temperatures. I grew up in Busan, a beautiful marine city in Korea. I usually draw inspiration from my travels. 삶의 온도를 그림에 담는 일러스트레이터 쇼비 입니다. 때로는 따뜻한 온도를, 때로는 차가운 온도를 나누고 싶습니다. 전 한국의 아름다운 바다도시인 부산에서 자랐습니다. 세계를 여행 하며 영감 받은 것을 그립니다.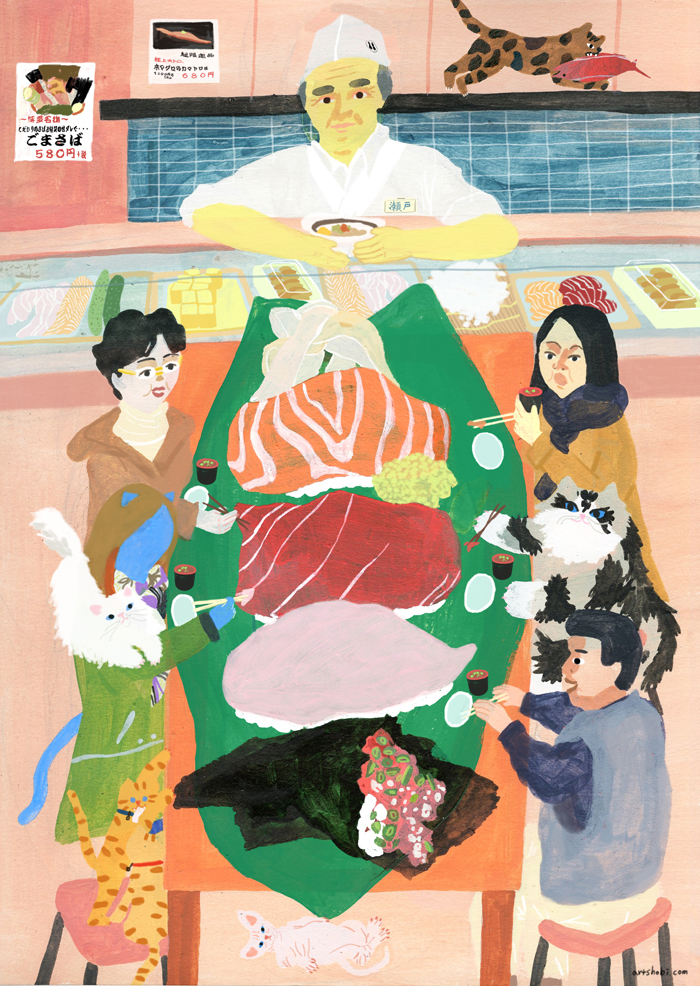 2. Tell us about your aesthetic
I seek metaphysical things. I enjoy catching things that are not visible, but feel intuitive. Especially when I travel away from everyday life, these things revolve around me. I express these things as fantasy elements in my work. I also like bizarre or black comedic expressions. 저는 형이상학적인 것들을 추구 합니다. 우리의 눈에 보이진 않지만 직관적으로 느낄 수 있는, 드러나지 않는 것들을 포착 하는 것을 즐깁니다. 특히 일상에서 벗어나 여행 할 때 이러한 것들은 제 주변을 맴돌곤 합니다. 주로 판타지적인 요소로 표현 하고 기괴하거나 블랙코미디적인 표현들도 좋아 합니다.
3. What is your favourite medium and why?
My favorite medium is acrylic. Acrylic can express variously according to the amount of water such as the softness of watercolor, the rough feeling of acrylic, and the matryi of oil painting. It is interesting that the correlation between acrylic and water seems to be similar to the relationship between people. 가장 좋아하는 재료는 아크릴입니다. 아크릴은 수채화의 부드러움, 아크릴 고유의 거친 느낌, 유화의 마띠에르 등 물의 양에 따라 다양한 표현을 할 수 있습니다. 이런 아크릴과 물의 상관관계는 사람 간의 관계의 이치와 비슷한 것 같아 흥미롭습니다.
4. What is your artistic process like?
I am inspired mainly by travel. Recently I traveled to South America. As I travel, I record my thoughts in drawing and writing. After I return from my trip, I work based on the my record. Then the thoughts of travel combined with the current thinking, and the creation is born. 주로 여행을 통해 영감을 얻습니다. 최근엔 남미일주를 하고 왔는데, 여행을 하며 느꼈던 생각과 감상들을 글과 드로잉으로 기록합니다. 여행에서 돌아온 후, 기록 했던 것들을 바탕으로 본 작업에 들어갑니다. 이 때에 여행 당시의 저의 생각들과 작업 하며 떠오른 아이디어가 결합되어 또 다른 창작물이 탄생 합니다.
5. Who and/or what inspires you?
I am also stimulated through other works of art, such as movies and novels. In particular, I admires Charlie Kaufman, who recently became a director. I applaud his brilliant imagination and solid narrative structure. 영화나 소설과 같은 다른 예술 작품을 통해 자극을 받기도 합니다. 특히 최근 감독으로 입봉한 시나리오 작가 찰리카우프만을 존경합니다. 그의 기발한 상상력과 탄탄한 네러티브 구성력에 찬사를 보냅니다.
6. What role does art play in your life? How does it change the way you view the world?
Art is the only way I communicate with the world. I spend most of my time in drawing, and if I can not do it, I would be a zombie who lost soul. Art has given me the power to observe the back of the world more deeply. 예술은 제가 세상과 소통하는 유일한 방법이고 세상의 이면을 더 깊이 관찰 할 수 있는 힘을 길러주었습니다. 대부분의 시간을 그림 그리며 보내는데 아마 창작 을 하지 못하면 영혼 잃은 좀비와 같지 않을까요?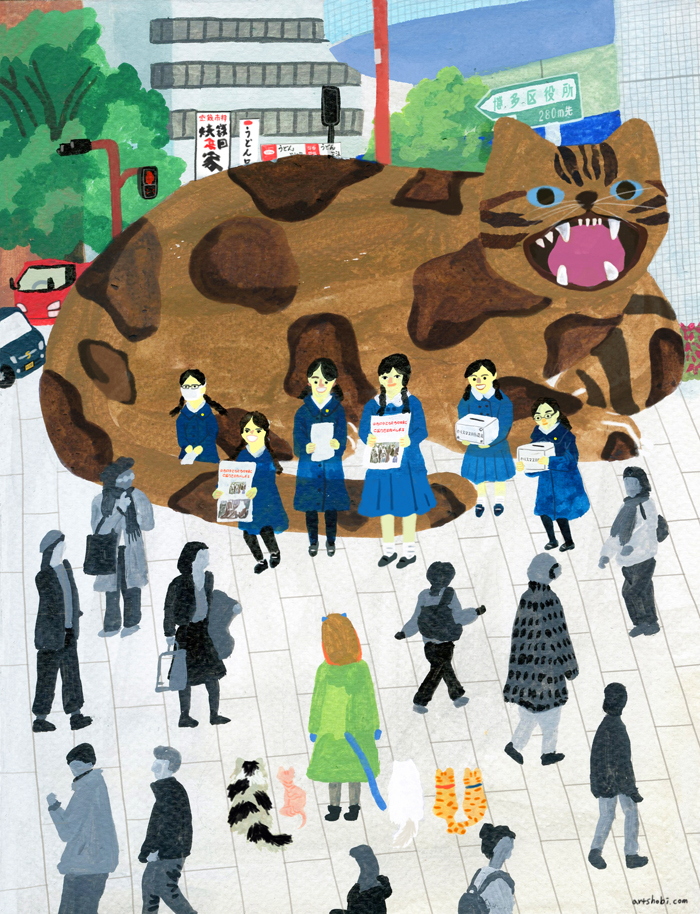 7. Where did you study?
I studied contemporary art and design at a Korean university. 한국의 대학에서 현대미술과 디자인을 공부했습니다.
8. Where do you see yourself in five years?
I want to do more abundant work than now. I think I will have a loving husband and child, and I will draw something I can not express now. 지금보다 더 깊고 풍부한 작업을 하고 싶습니다. 아마 그때 쯤엔 사랑하는 남편과 아이가 생겼을 것 같아요. 지금 표현 할 수 없는 더 많은 것들을 그리고 있을 것 같습니다.
9. What about in ten?
I recently traveled to South America to celebrate my thirties. Maybe in ten years ' time, I'll leave somewhere to celebrate my 40th birthday. 최근에 30대를 맞이하는 기념으로 남미일주를 했습니다. 십년 뒤엔 사십대를 기념하기 위해 어디론가 떠나지 않을까요?
10. What do you hope to achieve with your art?
I hope that my work will not stop at my subjective satisfaction, but will affect many people and change their lives. I also dream of changing not only individuals but also irrational social structures. 저의 작품이 제 주관적인 만족에서 그치지 않고, 많은 사람들에게 영향을 미쳐 그들의 삶을 변화시키길 바랍니다. 또한 개개인뿐만 아니라 불합리한 사회 구조 까지 점차 바꿀 수 있기를 바랍니다.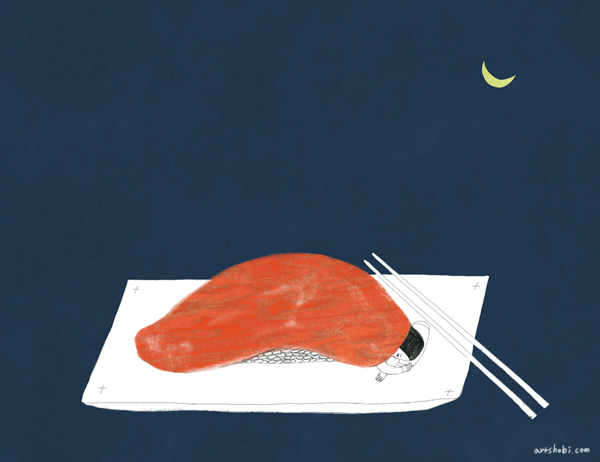 11. Now, tell us a little more about you as a person: what is your favourite food?
I like high protein foods because I care about health care for drawing pictures for a long time. 장시간 그림을 그리기 위해 건강관리도 신경 쓰는 편이라 고단백 음식을 좋아합니다.
12. Favourite book?
I love graphic novels and picture books. Blankets by Craig Thompson and Dawn by Uri Shulevitz are on the top of my favourite list. I like the warmth of the blanket and the quietness of the dawn. 전 그래픽노블과 그림책을 좋아해요. 특히 크레이그 톰슨의 담요가 주는 따뜻함과 유리슐레비츠의 새벽이 주는 고요함을 좋아합니다.
13. Favourite genre of music?
I like musicians who sing softly and peacefully. For example, King of Convenience. 보통 잔잔한 멜로디와 편안하게 이야기 하듯 노래 부르는 뮤지션들을 좋아합니다. 예를 들어 King of Convenience의 음악처럼 이요.
14. What are your hobbies?
Riding a bicycle, observing a person, meditating, lying with an animal, drawing pictures, managing health, and exploring some knowledge. 자전거 타기, 관찰하기, 명상, 동물과 누워있기, 그림 그리기, 건강관리, 지식 탐구
15. If you weren't an artist, what would you be?
According to the teachings of Da Vinci, I think the key to the truth of the world lies in art and science. I want to explore science, which is the opposite field of now. 다빈치의 가르침대로 세상의 진리의 열쇠는 예술과 과학에 있다고 생각합니다. 지금과는 정반대의 영역인, 과학을 탐구 해 보고 싶습니다.